Nokia Lumia 1520 Protective Cover – A closer look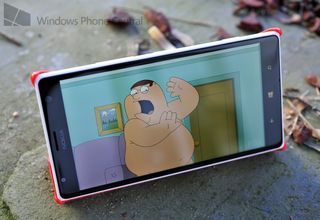 Following the full review of the forthcoming Lumia 1520, it seems appropriate to show the CP-623 cover in more detail.
The Protective Cover for the Lumia 1520 comes in Red or Yellow and it will cost around $40. Currently, the Microsoft Store has it listed as out of stock (opens in new tab), but presumably the case should be available this Friday. It's not clear if AT&T Stores will offer the cover, though AT&T sometimes passes on official Nokia accessories.
As you can see in our video review, the CP-623 is an 'ok' accessory. The soft, felt cover protects the display when placed in your pocket or bag, and the hard shell back cover (with corner protection) shields against minor drops and banging.
The cover doesn't latch in any way, flopping around a bit, but it can be rolled back on to itself to be used as a kickstand (as seen in our lead photo). It works but it's a little tricky and cumbersome.
Luckily, the cover adds very little to the size of the Lumia 1520. On the negative, this does not offer wireless charging, making it of limited appeal to those who desperately want that feature.
Do I recommend the CP-623? Yes, for basic protection. It's decent and gets the job done. It is expensive though for $40 and we're not exactly blown away by its design, so set your expectations low for the cover. Personally, if you're not prone to drops and you think you can go a few weeks, you may want to wait for some other third party options to become available.
Daniel Rubino is the Editor-in-chief of Windows Central, head reviewer, podcast co-host, and analyst. He has been here covering Microsoft since 2007 when this site was called WMExperts (and later Windows Phone Central). His interests include Windows, Microsoft Surface, laptops, next-gen computing, and for some reason, watches. Before all this tech stuff, he worked on a Ph.D. in linguistics and ran the projectors at movie theaters, which has done absolutely nothing for his career.
Would like this for my 925

+925 Only one option if you want to have wireless charging and protect screen - pouch.

At a minimum, for $40, this thing needs a magnetic solution to at least keep it open or closed.

As a MS freebie its fine but agree it should be able to turn on the screen the cheapest flip cover cases for my nexus 7 ,$8.99 turn the screen on and also lock down on it.....ill pass for now

Agreed. This should have a magnetic cover that automatically shuts the phone off. That's what i always loved about my blackberry. Drop it back in the case and i know it's been turned off

At least. Ridiculously overpriced. There isn't much to it and it's just plastic.

The MS store gave the black variant away with the preorders. I am not sure if I would have spent 40 bucks on it, but as a freebie it seems to be OK

I ended up cancelling my MS preorder when AT&T started the 50% online sale, as well as the minimum $100 trade in. Turning in my old Samsung Focus S for a 1520 for $0. I'm sure better cases will come for $40.

Dan, do you think its possible to take my extra wireless shell from my 1020 and remove the wireless charging coils and stick them to the back the the case? I just thought that perhaps this may be my solution since plugging the phone with a cable is no longer something I want to revert to.

No idea...I think no? I think this a PMA version and not Qi...

Keep in mind Dan, the wireless charging tech is not inside the phone when it is optional like this. All the circuitry is in the charging coil and the prongs on the phone essentially act as leads to the inside of the phone much like the USB plug. The phone doesnt care whether the charging coil is PMA or Qi, they will both work.

The Lumia 1020 has a 2 prong charging coil. The 1520 is 3 prong. However, the 925 is also 3 prong. As soon as I get my 1520 in, I am going to test it with a 925 charging coil. Keep an eye on the 1520 forum posts as i will be posting my findings there.

I'll be super interested on what you find. I really would like Qi charging. AT&T prolly will never screw us over again because no one is going to buy the ugly looking PMA cases after most phones use Qi.

Does it protect against flat faced drops on the glass?

Going with 'no'. Think of it as a cover, not so much as a case.

subtle and clever photo "cover" image used to illustrate your protective cover "exposé."

Glad someone noticed, lol

Poorly conceived product. Gonna go for a while without unless I find the 1520 too slippery

Looks like crap. 50 cent crap.

Flops around just like the surface covers, and people still seem to love those. Shouldn't be a negative here and not the bigger tablets

Mary Jo Foley and a few others have noted that as a criticism for the Surface. And yes, I think it should latch...at least for $40.

I'm getting the HHI Dual Armor Composite Case with Stand for Nokia Lumia 1520. Found it on Amazon for 9.99. Might add some size but it will definitely look great and protect the phone, AND it has a better looking and sturdier-seeming kickstand.

That's a massive case, lol...I might order one for the site.

Yeah I'm a little paranoid because I finally am upgrading my LG Quantum because I dropped it outside in the cold and the screen shattered. I've never had phone cases before because it covers/ruins the beauty of the phone, but now that I've had my first screen shattering experience, I don't want another one.

Saw that. It just look so ugly! why can't they make smooth designs they do for like iPhone and Samsung? Never seen any great case designs for Nokia.

Checked on amazon. They have plenty of cases for the 1520 already, some of them really nice (leather). I will probably try a few of those to see which one is best, but they all look a lot better than the Nokia one :)

I found amzer on eBay for 10$. Gonna try that. I also found real leather case from Europe, custom made any color but too expensive for me. Alot good looking cases are always made for iPhone. Pisses me off!

I don't know if this is an obvious question but how would one go about taking pictures with that case on?

You can, but yeah, you have to have the cover flipped down.

Should have a lower cut on the front or glance notifications and yes wireless charging built in

AT&T has the Belkin flip cover. I'll probably go with that. Don't really care about wireless charging.

What about the flip cover?

This looks really good to protect the screen from scratches :)

We keep seeing this protective cover in all sorts of posts, but why are not hearing anything on Nokia's wireless charging cover? Launch date is approaching and still no work from Nokia?

Is it me, or does this case cover the speaker?

More designs would be nice. Artsy designs or offer a custom case service.

Stupidly negative review. Shut the fuck up please.

Just bought this, poor design. I've just bought the CP-623 cover for the Nokia 1520 phone. For a genuine accessory that retails for $39 its a fairly poor case that looks like it was designed by a c grade third party. 3 out of 4 microphone holes are completely blocked. The speaker is muffled and changes the sound quality drastically, They have only allowed 1 pinhole for the sound to come out and a very shallow channel of less than 1mm wide, you may as well have put duct tape over the speaker completely. There is no point subscribing to nokia mix radio and paying for premium sound content when its destroyed by your 'genuine' case
Windows Central Newsletter
Thank you for signing up to Windows Central. You will receive a verification email shortly.
There was a problem. Please refresh the page and try again.