Samsung Notebook 7 Spin (2018) review: A simple 2-in-1 laptop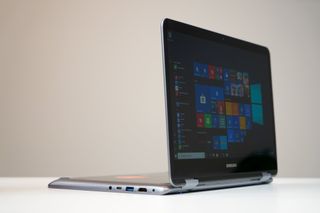 Announced in January at CES 2018, the Samsung Notebook 7 Spin is a flexible PC designed for professionals, students, and those looking for entertainment. It's not the most exciting laptop we've covered at Windows Central, but it's a solid device for someone who isn't looking for the latest and greatest device.
The Notebook 7 Spin has a 13.3-inch Full HD rotating display so you can use it as a traditional laptop or a tablet. It supports sketching or jotting down notes on the fly, but the Active Pen is sold separately. If you're used to seeing tiny bezels on Samsung Galaxy phones, you'll be disappointed with the Notebook 7 Spin. There's plenty of black space surrounding the display, especially at the bottom.
On a positive note, the hinge feels very solid. The display doesn't move very much from the angle you set it on. There's a 480p front camera above the screen, but don't expect to use it for selfies. Even the quality of video calls isn't that great.
Samsung Notebook 7 Spin's specifications are basic
Swipe to scroll horizontally
| Category | Samsung Notebook 7 Spin |
| --- | --- |
| Processor | 8th-generation Intel i5 Quad Core |
| Memory | 8GB RAM |
| Storage | 256GB |
| Display | 13.3-inch Full-HD Touch |
| Dimension | 315.8 x 215.4 x 18.5mm |
| Power | 43Wh |
| Weight | 1.53kg |
| Stylus | Active Pen |
| Security | Fingerprint, Windows Hello, Privacy Folder |
The port selection should make most users happy. The left side of the laptop has HDMI slot, USB type A, USB Type C, and headphone jack. The right side has a USB Type-A and power button with built-in fingerprint scanner for Windows Hello. Turning on the laptop and logging in isn't instant. You'll need to press the power button and leave the finger slightly touching the button for a few seconds to log in with Windows Hello.
The backlit keyboard feels very comfortable to type on with 1.5mm key travel. There are a few function keys that stood out. There's a shortcut for Samsung Settings, which gives you a few more options not usually included in Windows Settings. There's also a toggle for consulting mode which quickly flips the display, so it's more convenient for the person sitting in front of you to view what's on the screen. There's also a function button for HDR mode. It doesn't magically turn the display into HDR, but it adjusts the shadows and highlights of the image for a similar effect.
Placed below the keyboard is the touchpad which works as expected. It has precision drivers, so it supports built-in Windows gestures. The surface of the touchpad is smooth and comfortable to touch. It's also responsive, like all other laptops we've tested with precision drivers.
The speakers are placed at the bottom of the Notebook 7 Spin, and they sound great. I'd say they even sound better than the speakers on the more expensive Surface Book 2. For a richer audio experience, I recommend watching a movie or listening to music while the laptop is in tent mode.
Samsung Notebook 7 Spin adds enhancements to Windows 10 for Samsung Galaxy users
The Notebook 7 Spin comes with Windows 10 and handles everyday tasks like web browsing, word processing, checking emails, and watching movies as well as expected. With just 8GB of RAM, don't plan to do much heavy lifting. I notice some lag when multitasking with more demanding apps like Adobe Lightroom or Photoshop, but the target market for this laptop won't find themselves doing that frequently.
I wish Samsung gave the option for more storage. The 256GB internal drive will get filled up quicker than you expect, so expect to buy an external drive sooner than later.
Samsung included a few extra apps. There's Samsung Messages which lets you send or receive messages on your computer or your phone. There's also Samsung Studio Plus which allows you to produce personalized movies from your photos and videos. The Samsung Link Sharing app also makes it easier for Samsung Galaxy phone (opens in new tab) users to send and receive files across devices. There's also a Security folder which lets users keep files private. These are all great features that are not usually found by default on Windows 10.
Battery life is impressive on the Samsung Notebook 7 Spin; in my use it easily lasted through a whole day. One thing to note is that while the Notebook 7 Spin has a USB Type-C port, you can't charge the laptop through that port. You'll need to use the included barrel plug charger.
Final thoughts
Overall, the Samsung Notebook 7 Spin isn't a very exciting laptop, but it's a good choice if you're looking for a basic 2-in-1 device. The battery life and speakers are excellent, and if you're a Samsung Galaxy phone user, you can take advantage of the pre-installed apps such as Samsung messages and Link Sharing. The Samsung Note 7 Spin is available in select countries starting in the first quarter of 2018 in the U.S. You'll find it at Samsung.com (opens in new tab) and Best Buy (opens in new tab) for $899.
Pros:
Excellent backlit keyboard
Superb battery life.
Good speakers.
Great touch display.
Cons:
Very little internal storage.
Can't charge device though USB-C
Windows Central Newsletter
Get the best of Windows Central in your inbox, every day!
I wish Samsung would still sell laptops in my country. I would like to replace my SP4 with one of these especially since they have brilliant pen input.

When you say "all day" battery life, how many hours are we talking about and with what level of brightness? Thanks!

I think they mean 6-8 hours. Probably business hours when at the office, more close to 8 hours.

Need to shave about 1lb off of it. Just a tad heavy.