The new Amazon daily deals are in, and one of them is a huge collection of Razer gaming gear from mice to mechanical keyboards to streaming mics. All of these products are discounted with some on sale for as much as 50% off. While there are a lot of options in this sale, it's worth noting that similarly setup sales on Amazon had options sell out over the course of the day. Some of these might as well, so if you see something you like just go for it. Also remember that unlike some of the deals we're sharing for Black Friday this Razer sale is good for today only.
PC Upgrade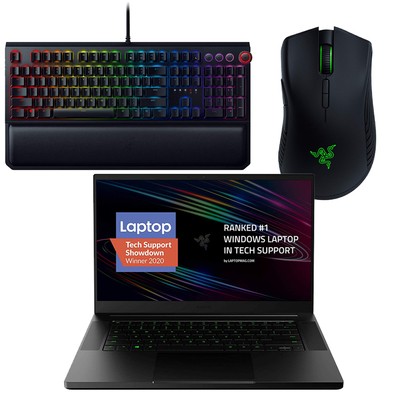 Razer PC and gaming mice, keyboards, headsets & more
The items on sale here include gaming mice, mechanical keyboards, true wireless earbuds, streaming microphones, and more. There's even a Razer Blade 15 gaming laptop on sale for $300 off. Get new gear for as low as $33.
Up to 50% off
The big ticket item in this sale is the Razer Blade 15 gaming laptop, which is down to $1,299.99. This laptop sells most often for around $1,600 even if it has dropped to $1,500 a couple times. Today's deal is a new low and a huge discount.
The specifications include a 10th-gen Intel Core i7 processor, a Nvidia GeForce GTX 1660 Ti graphics card, 16GB RAM, and a 256GB SSD. It also has a 15.6-inch 1080p display with a 144Hz refresh rate. Get Wi-Fi 6, Thunderbolt 3, and both USB-A and USB-C ports.
Another possibility is the Razer BlackWidow Elite mechanical keyboard. Get it for $84.99 today. This is the lowest price we've ever seen on this keyboard that normally goes for around $130. The keyboard uses Razer's Yellow switches and has a ton of customization including programmable keys, Razer Chroma for RGB lighting, and Hypershift that allows all keys to be remapped for complex commands.
Get the Razer Kraken X headset for $17 off its regular price, the Mamba wireless gaming mouse for $14 off, or the Hammerhead true wireless earbuds on sale for just $67.99. Thse are only a few of the ways you can save, so be sure to check out the whole sale.
We may earn a commission for purchases using our links. Learn more.