Senua's Saga: Hellblade 2 reappears at The Game Awards 2021 with gameplay footage
Check out its gameplay footage debut.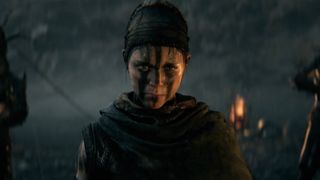 (Image credit: Xbox Game Studios (screenshot))
What you need to know
Senua's Saga: Hellblade 2 received a longer trailer at The Game Awards 2021 that debuted gameplay footage.
The trailer showcases Senua and a band of warriors fighting a giant monster before retreating, Senua seemingly recognizing who the creature is.
Hellblade 2 currently does not have a release date.
Senua's Saga: Hellblade 2 made its debut at The Game Awards 2019 alongside the announcement of the Xbox Series X, so it's only fitting it returned in 2021 with a brand new extended trailer. It looks and sounds as incredible as ever, to be expected when the first set such a high bar in terms of visuals and sound. You'll definitely want to play this one with headphones when it comes out (which is unknown, because we unfortunately didn't get a release date).
The gameplay trailer showcases Senua and a group of warriors facing off against a monstrous creature within a cave. The creature drives them out of the cave while they set is ablaze with flaming spears. As they retreat, an arm reaches out towards Senua before the camera focuses on her face in recognition and fades to black.
The first Hellblade focused heavily on mental health, specifically psychosis, and its sequel will be no different. Ninja Theory is consulting with mental health professionals as part of The Insight Project to depict Senua and her struggle.
Hellblade 2 currently does not have a release date, but we know that it will launch in Xbox Game Pass for Xbox Series X, Xbox Series S, and PC. Though a last-gen release does not appear to be in the cards, it's possible that Microsoft and Ninja Theory may release it through cloud streaming, allowing those with older consoles to still play it.
Jennifer Locke has been playing video games nearly her entire life, and is very happy Xbox is growing a stronger first-party portfolio. You can find her obsessing over Star Wars and other geeky things on Twitter @JenLocke95.
Says cloud gaming at the end of the vid so I'd say yes last gen consoles will be able to play.

Of course they can, this is the future.
Windows Central Newsletter
Thank you for signing up to Windows Central. You will receive a verification email shortly.
There was a problem. Please refresh the page and try again.