Shuffle through your Spotify playlists offline with the new $86 Mighty Vibe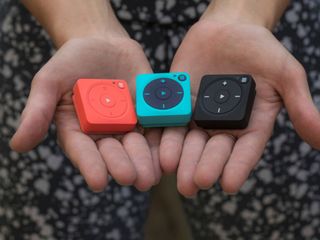 Mighty has introduced a new-and-improved way to listen to your Spotify playlists offline. Dubbed the Mighty Vibe (opens in new tab), this $85.99 gadget is actually a new iteration of last year's plain-old Mighty (opens in new tab). Unfortunately, that model was littered with issues such as spotty connections, an unimpressive battery life, and inadequate playback. The new version improves on all of those issues, and brings those improvements to a nice little black, blue, or red package. As you'll see on the product page (opens in new tab), the company was super transparent in the issues they faced with the first model. The new version doesn't come with a steeper price tag, either.
Basically, this little gadget streams your Spotify music offline. It does require a Spotify Premium account, which you'll want to keep in mind before purchasing. It updates each night so you always have fresh music, and you can easily select the playlist you want using its Voiceover Playlist Navigation. It pairs to your phone and headphones (opens in new tab) via Bluetooth, but you can also use a pair of wired headphones (opens in new tab) seamlessly with it.
The Mighty Vibe can store more than 1,000 tracks. It has a five-hour playback battery life and clips onto clothing, making it perfect for athletes or traveling. Your purchase is also backed by a one-year warranty. You can pick yours up here (opens in new tab).
See at Mighty (opens in new tab)
Louryn was seven when her shopping obsession began. It started with eBay and quickly escalated to Black Friday. Now she's a shopaholic -- no day is complete without a pile of packages on her front porch. She justifies it by refusing to pay full price. She also loves Skyrim, makeup, and beer. Find her on Twitter @lourynstrampe
But why do they come in Nintendo Switch colours?

" streams your Spotify music offline" Yeah, I'm pretty sure streaming offline isn't possible :)
There is probably a better way to phrase that ;)

Why not just purchase a sub-$50 Android phone that could do the same thing with better battery life, more features, more storage, and a lower price tag? Even my old Lumia 640 was only $30 when I got it in 2014

I don't really see a point in this.
Windows Central Newsletter
Thank you for signing up to Windows Central. You will receive a verification email shortly.
There was a problem. Please refresh the page and try again.