Use this simple app to download the Windows 10 Anniversary Update right now
By Daniel Rubino published
Use this simple app from Microsoft to force your Windows 10 PC, tablet, or laptop to grab the latest version of the Windows 10 Anniversary Update!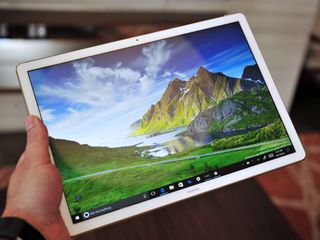 Microsoft released the Windows 10 Anniversary Update today to millions of PCs and laptops. We have a detailed guide on ways to get it. Then the official ISO files became available for those wanting to do a fresh install or upgrade. Now, a fourth way has appeared using a very familiar app: Windows 10 Update Assistant.
If that name rings a bell it is because many of you likely used it in the past to upgrade Windows 7 or Windows 8 to Windows 10 for free. The same app has now been repurposed for use with the Windows 10 Anniversary Update.
So why use it at all and not just Windows Update (via Settings)? Simple, not all PCs "see" the update on Microsoft's servers. Case in point, my favorite Huawei MateBook has been stuck on build 14383 for weeks now on the Insider program and still can't see the official update. I have no idea why that is the case, but I'm taking matters into my own hands with the Windows 10 Update Assistant.
If your PC, tablet, or laptop is not getting the update via Windows Update and you don't feel like using any of the other methods, here is how to get started!
Upgrade using the Update Assistant
Navigate to support.microsoft.com/en-us/help/12387/windows-10-update-history

(opens in new tab)

using your favorite web browser
Click the blue Get the Anniversary Update now button
Download and save Windows10Upgrade28084.exe (5.52MB)
Run Windows10Upgrade28084.exe
Choose Update Now
The app will check your device's compatibility
If you pass the CPU, Memory, and Disk Space requirements you can hit Next
The app will now download the update files and prepare for installation
Once completed the app will restart your PC to finish the installation (or you can force it to restart)
That's it! Obviously, this is a very hands-off tool. As long as your computer meets the requirements, you should be up and running in no time.
As a reminder, using this method keeps all of your files, apps, games, photos, etc. on the device.
If you do run into problems with the Anniversary Update make sure to consult our extensive guide "Windows 10 Anniversary Update common problems and how to fix them".
More Windows 10 resources
For more help articles, coverage, and answers on Windows 10, you can visit the following resources:
Daniel Rubino is the Executive Editor of Windows Central, head reviewer, podcast co-host, and analyst. He has been covering Microsoft here since 2007, back when this site was called WMExperts (and later Windows Phone Central). His interests include Windows, Microsoft Surface, laptops, next-gen computing, and arguing with people on the internet.
I just used it. Took about 40 min and it works great!!!

Nice! My MateBook is about to restart. Finally can have the AU on it (well, the least version at least).

Daniel can you please confirm if the media creation tool gives us the anniversary update. Trying to create a bootable USB for my tablet but what I'm seeing I think is from July 2015 ISO. Please confirm.

It does, I wrote an article about it earlier.

I have one question. My PC ran 10586, upgraded from win 7, but the OS died on it lately. I'm planning to make a bootable USB drive, but I'm not sure, if I make it with the Media creation tool (with the AU), will Windows still be activated after the install? I have a DVD with 10240 on it, but I don't want to update twice if I can avoid it :D

Does it now, though? I used the tool a day after your original article and it didnt include the AU update (yet it still went ahead with re-installing the current version)

Working great on 30+ installs

Simply download the Media Creation Tool, right click and you find it in the file info which version you will get.

My upgrade assistant says thank you for upgrading but it didn't download anything. I'm a insider running 1607.14393.10. Is that mean we are already updated?

That is the latest insider version, released just before the Anniversary update. This is strange, as I thought Mobile also got this build, but I see that my 950 is still sporting 14393.5

Nope, definitely just for PC. http://www.windowscentral.com/windows-10-cumulative-update-released-insi...

Ya, you're on the latest version already. If you go to the Download the AU page linked in the article, then scroll down, you'll see an update for the AU update which is listed as the 14393.10 version you're already sporting

Hi Can you please tell me the size of the update? I am on metered connection

I also wanna know the size of the update... Posted via the Windows Central App for Android

Hi Daniel, I have a Hp X2 tablet with 32 gb internal. For the anniversary update it says it needs 20 gb. Is there a solution for this?

I upgraded this morning and the anniversary update introduced so many bugs, I'm considering to roll back or do a fresh install. It's really no fun at all. The Start menu is very unreliable, taskbar icons disappear, the settings app crashes, explorer hangs, Edge hangs, tiles can't be right-clicked, my soundcard got de-installed and so on and so on. Anybody else experiencing these bugs?

I am an insider my PC is running latedt build from fast ring. I dont have to de anything right? Im already on AU?

Can you give me a link for the wallpaper? :O

That page lists the change log for 14393.10 too..: Addressed issues that cause high battery drain when a Windows 10 Mobile device is idle or the screen is off ​Would love that that change!

The update shows up in Windows Update, and I have already installed it.

Same here. One of my PC at work has been stuck on build 14383 as well. It's W10 Enterprise on insider program fast ring. Updating using the Update Assistant now! Thanks for the tip!

I am enjoying AU... It feels faster tbh

Thx for this! Just got a Surface Pro 4 i7 2 weeks ago, joined fast ring last week and didn't have the update yet. Downloading now :) Posted via the Windows Central App for Android

Lumia 2520, red, best tablet ever, doesn't work. Stuck on 8.1 RT (but that's probably not a bad thing)

Your avatar picture matches PERFECTLY with your reply to his comment!!! C-C-C-Comment Breaker!!!

No it is a bad thing. There are many apps that are being updated to win10 and therefore you won't be able to update them on 8.1 RT. As much as an MS fan boy I am, I'm pretty mad about this as I got my brother and mom to buy Surface 2's and in less than 2 years they are pretty much outdated. When you spend $600 on a product you expect it to last more than 2 years. Very pathetic.

Um, Windows RT could NEVER be upgraded to Windows 10. It's been written about many, many times. Not for a while though, given that the upgrade to Windows 10 was about a year ago.

Thank you Daniel! I clicked the upgrade advisor link and in less than a minute my desktop is downloading the AU.

I discovered this by accident! Upgrading my laptop right now. Whoo hoo!

Will this work on a Surface RT?

No. No. No. We've had this discussion. Windows 10 it's not coming to RT!

I know. I was just joking.

RT is a much more polished, smooth OS than what the current Windows 10 is. I hope we get the 10 RT to hack on these things one day.

I wouldn't say that. IE on RT as nice as it was, had annoying bugs of its own, for example.

im getting an error something went wrong 0x80070057 contact microsoft support. it downloads ... and quickly gets this error. retry... same thing.

Same here, on multiple devices...

Same here. Getting the same error on two machines.

Probably this error message in the logs: Decrypt ESD file failed, error message is [Decoding failed. ] error = 0x80070057 Not sure of fix/workaround.

Me too...Anybody figure it out ?

I also had this. I restarted and tried the tool again, it finished installing, more I'm waiting got the updates after restarting

well I too was getting this on multiple PCs. after a nights sleep I decided to try the Media Creation Tool. It downloaded a new copy of W10 AU and created an image in C:\ESD just from using the Update Now button which is different than the way MCT used to work but SO FAR it appears to be going farther than with the Upgrade Assistant. Upgrade Assistant created it's copy in C:\Windows10Upgrade. Im wondering IF some source replicas still had the July 29th date check in it. When I reran the Update Assistant before it did not download a new copy just reused the one it already had. Note - I had run disk cleanup and removed Windows.old on the PCs I was haveing trouble with although I dont know why or if it would matter. Going to try Update Assistant again on the next PC... Edit: using the desktop icon to rerun produces the same result and that is using an executable C:\Windows10Ugrade\Windows10UpgraderApp.exe It verifies the download 100%, doesnt redownload, and then fails at 2% everytime when I run it. so im going to backup a step and rerun the original dlwnloaded file Windows10Upgrade28084.exe ... that did exactly the same thing, no difference. im going to try deleting C:\Windows10Upgrade and $GetCurrent folders to force it to redownload. Edit2: Redownloaded and failed again at 2% exactly the same. Going to Media Creation Tool on 2nd machine...

Same exact issue. 2%. Have tried deleting the install folders 'softwaredistribution' in , turning off firewall and antivirus, running sfc/scannow, Nothing works, yet. Other machine went fine. Have Lenovo laptop with the issue.

do not pass go, do not collect $200, go directly to the Media Creation Tool. use the dowonload tool now. I did 7 machines with the MCT and not a single hickup amoung them.

I'm now 0 for 3 with the Update Assistant and 3 for 3 with the Media Creation Tool. Note also that when you go to the Media Creation Tool link there are two options "Update now" or "Download tool now". use Download tool now. Update now actually runs the Update Assistant and I get the same failure as above. Download tool now is completely different and works fine for me using the "Upgrade this PC now" choice in the tool. See Daniel's "Media Creation Tool" document for setp by step instructions http://www.windowscentral.com/use-media-creation-tool-update-windows10

It asks for 20GB of free space for installation but my Vivobooks internal memory is just 32GB

Get the iso, copy it to an external drive, reset your pc to get maximum available space, copy back the iso to install. I thought these low memory devices had memory card support.

If you have an SD card go to storage and point it there when installation or downloading and it will have no issue.

I get error about storage..... lol I got 17 gb free

Exactly, I got stuck a few builds ago for that reason. Would simply go so far and then restore the last version. You have to jettison some things to be sure you have space.

I just downloaded the ISO with the tool and did it manually, worked just fine :D

Most people do not see these updates because they have the "defer updates" option checked in windows update -> advanced options.

Which version is anniversary update. Now I am running 14393.10

Keeps looping on me, will download and prepare to install. . This is my work laptop without any insider builds ever installed. I may try again tomorrow or go Insider, but was wondering if anyone else was running into this?

Using this tool now. WC is the best! Thanks Daniel

Would my Windows 10 still be activated when I clean install using the AU iso? I am using 10586

i used this, and it says, my display is not compatible with windows 10, its a sony viao, and im running windows 10 already :(

if you tap learn more in the update section this tool is there

My custom built, DIY gaming rig received the update today over Windows Update, and my 2-in-1 is on the insider fast ring, so obviously it has it too. My wife's Lenovo all-in-one, however, is still not seeing the update yet. Perhaps I'll use this method tomorrow to get her up and running too if WinUpdate hasn't caught up by then! Thanks for the tip! :-)

On my way home from work. I can't wait to get it.

seems like the upgrade is targeted upon new devices with latest BIOS nad firmware. -_- . no surprise i havent got the update yet.

It's worth the ad blocking extension all by itself. The rest is gravy.

The ways u have mentioned probably seems for a pc update but how to get the anniversary update on w10 mobile??

You wait til its released or join insider and get it before others do

I had Insider for the very first release of Windows 10... not a fan of the constant rebooting and installing xD

what is the size of anniversary update of 64bit window trying to update with media creation tool

Update :) Updating right now. My PC found the bits without any issues.

My surface Pro 2 got to about 91% installing the update then all of a sudden it said it was restoring the previous version of Windows. Well that sucks. Trying again now.

This tool doesn't work with the Enterprise version of Windows 10.

Same problem here. Is there another way of forcing the upgrade on the Enterprise version?

I am using the iso file now.

How you using the iso? i downloaded the iso files, when i install, it said that my version is not compatible for it to install.

Than you have the wrong iso file.

Windows Spotlight doesn't work! (14393.10) Weather live tile doesn't work! (14393.10)

Took about 20 mins to install (without download time) on i7 + SSD sata

About the same here, i7 3820 and Samsung SSD

Great that they have added this, in my mind, makes more sense than the media creation tool in name alone. Just updated my desktop and Cube i7 Stylus and both went flawlessly :)

How to get Windows 10 Anniversary update on Windows Mobile 10?

Current news says it'll be released on August 9

We will have to wait - again :/

Join the Insider program and choose release preview.

Nice, the tool tells me that my display isn't ready for Windows 10. This for a Surface Pro 3.

Or just become an insider and update with release preview

I got an error the first time it asked to restart after installing, but I removed my cordless mouse usb receiver from my laptop, and then tried again and it successfully installed the anniversary update.

This update brought full functionality on my 10" Asus Transformer T100TAF tablet, in the past the sensors for position did not work, i had to lock my screen into landscape so it wouldn`t sit in flipped mode. Now with this update everything worked fine. Except for the minimum required 16 GB free for installation, had to dock the keyboard for more space, it has a 500 GB drive. After install i have 12 GB free (with installed apps) from 28.5 GB usable (32 GB model) For an Atom tablet with only 2 GB of ram this Win 10 RS build is amazing, it also boots quite fast 35 seconds on reboot (it has to load everything from scratch)
15 seconds from a shutdown
6 seconds from start to the PIN input screen

Oh no, "something went wrong". Not sure what. Downloads it but the error 0x80070057.

Try this command in CMS "sfc /scannoe", or try restart your PC

Try the Media Creation Tool. see my comments elsewhere in this thread.

Used this earlier. Wasn't sure whether to do a clean install using the refresh tool or upgrade. Settled on upgrading

WHAT VERSION IS ANNIVERSARY UPDATE

Too bad... I can't put it on my tablet. Requires 16GB free. I delete everything from inside and still cannot put it in. Any suggestions for that? Ill appreciate it

The best part about this is that I am updating from Windows 10 1511 to the Anniversary update and it says my video card is incompatible with windows 10..

Thank You for this little app that helped me update from 14390 in which I was stuck on. Now I have the latest build 1607 (14393.10). Thanks again

Killed 2 my PC's... SP 3 and now even Toshiba Satellite... SP 3 does nothing, Toshiba cycles on booting. F*ck.

My G drive didn't show up after the update. All my user files were on this drive. No desktop, OneDrive, pictures etc.

The au update gets almost complete and then rolls back to the previous version. I have tried to download agian yesterday, same thing. This morning I tried agian, same thing. Any idea what is causing this yet? I have a Surface Pro 4 i7. Posted via the Windows Central App for Android

Finally done it, Windows 10 Anniversary is installed in my Dell Inspiron 5548 laptop, I have enabled developer mode and installed Linux subsystem for Windows and its the best thing I've seen in many many years. Its like having Cygwin but now natively in the OS so it should be much faster than cygwin. Also, it keeps the colors as an original Ubuntu console something that cygwin didn't had.

Finally updating my Surface Pro 3 thanks to this method.

so my windows need to be activated to get the update ?! uf
Windows Central Newsletter
Get the best of Windows Central in in your inbox, every day!
Thank you for signing up to Windows Central. You will receive a verification email shortly.
There was a problem. Please refresh the page and try again.