Skype Preview's SMS Connect: A promise of things to come
If SMS is your go-to way to message, you'll want to follow the progress of Skype's SMS Connect.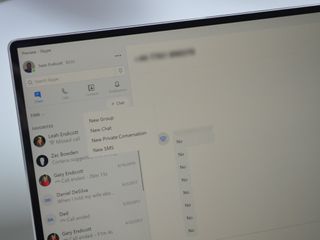 Online messaging services are growing in popularity, but for many people, SMS is still the go-to way to message. Skype has had a number of attempts to allow users to send SMS messages from a variety of devices, but the most recent iteration may be the most promising.
Skype Preview's SMS Connect works with Windows 10 desktops and PCs when a user has Skype set up on their Android phone. It's still in preview so it's not perfect, but there's enough available already to talk about what Microsoft needs to do with it to make it mainstream.
To get the app you'll need to be running Skype Preview on both your Android phone and your Windows PC or Mac. It's worth pointing out that this works on older versions of Windows.
A promising future
As mentioned earlier, this isn't Skype's first foray into SMS messaging. You've been able to message from Skype accounts for a long time and Windows 10 Mobile had a couple versions of sending SMS messages from your PC. But this version is aimed at Android phone users, aligning it with Microsoft's vision of mobile computing regardless of the platform. The fact that it works on Windows 10, older versions of Windows, and Mac computers is very promising because it seems unlikely that Microsoft would work on support for three major platforms and then pull the plug, though you never know.
To set it up, you just open Skype's settings on your PC or Mac and pair your phone. It worked quickly for me and I sent messages right away. There were some issues with sending messages but I'll credit those to it being the first release of a preview feature.
I've been harsh on Skype in the past but I'm happy with SMS Connect. Skype is still used by millions of people on a regular basis and if Microsoft can get SMS Connect to be an iMessage competitor then that'll be a huge win for them.
Some gaps to fill
While I"m generally happy with SMS Connect, there are some gaps to fill before it can compete with other messaging apps. This is understandable since it's in preview but Microsoft has to iron these out before release, not halfway fix them and then change their mind as they have in the past with SMS related feature.
First, messages show up as completely independent threads from messages with the same person. Microsoft at least needs an option to combine these threads to stop users from having to jump between multiple conversations with the same person.
Second, despite the fact that I created a message by clicking a preexisting contact, the person's name didn't appear on the message. This is a bit of an odd bug but I imagine it will be fixed.
Lastly, Microsoft needs to see if there's a way to roll this out to iOS, at least onto iPads. This might be impossible with its limitations but maybe there's a chance Microsoft can get around it by working through the cloud. SMS Connect can be a great asset to users with Android phones but if messages sync with their PC, Mac, Phone, and not their tablet, some will turn their nose at it. But for people who aren't on iOS, that won't matter in the slightest.
Overall thoughts on Skype Preview's SMS Connect
Skype Preview's SMS Connect is yet another step in Microsoft's long journey to bring SMS messaging to every device it can. Previous attempts have failed or been abandoned but Microsoft seems determined to make this work. This is evidenced by the widespread support of SMS Connect on Mac, multiple versions of Windows, and Android phones but is also clear because of Microsoft's efforts to release their Your Phone app.
SMS Connect isn't perfect yet, and it would be unfair to expect it to be. It works well enough to show promise for what could be an easy to use cross-platform SMS messenger that works with an app many people already have.
Windows Central Newsletter
Get the best of Windows Central in in your inbox, every day!
News Writer and apps editor
Sean Endicott brings nearly a decade of experience covering Microsoft and Windows news to Windows Central. He joined our team in 2017 as an app reviewer and now heads up our day-to-day news coverage. If you have a news tip or an app to review, hit him up at sean.endicott@futurenet.com (opens in new tab).
Your first issue was one that occurred when they introduced this in W10M. Kind of disappointing to see that they have gone all this time to roll it out to other systems with the same issues. You didn't report anything about the speed difference between just using the default SMS app or disappearing messages but I imagine they still persist also.

As long as they manage to code dual sim mode successfully, i'll give it a try. For now, it works only with one phone number and that's a little disappointing.

I know "they're all gonna laugh at me", but I've been using this on my Windows10 Mobile devices for years and still am. The only fault I find in that implementation is that Skype is a little slower to open than the SMS app and sometimes it takes a bit to resolve the phone number to a contact...

Agreed, I found it to (eventually) work really well. And then MS rolled out a new version of Skype on my PC that deleted the feature... :-(

I still use it on my PC with the UWP Skype app...the Preview exe does not have it that I am aware of...

It's never existed in "classic" Skype, nor their newer horrible "desktop" Skype. For insiders, it was removed from the UWP months ago. So if you are still using it now, you are probably going to lose it when 1809 gets pushed out. When they took the feature away, I immediately dumped Skype on my phone. Was glad to get the reliability of the built-in messaging app and the return of battery life.

Like @breaker119, I use this between my Windows Phone and UWP app on multiple computers daily. It works great. I love Skype and its mobile integration with my Windows Phone. Do you think that it's missing from the Insider version (I've not tried it), because they're working on other things and that's just broken in the Insider build, or do you think it really is their plan to remove this feature? I sure hope it's the former. My only complaint, and it's not a big deal, is that sometimes it recognizes my wife's (or other people's) phone number when she texts and includes it in the same thread with her Skype messages and sometimes it treats her phone as a different account from her Skype account and keeps them separate, but those are just minor annoyances.

I was using it on my Win10M but found one glaring problem that was never fixed.
Messages were ordered according to network time stamp, not local device time. I had issues with people in other time zones displaying messages out of order, making conversation damn near impossible. Switched back to the SMS only app.

I have been doing the same, Lumia 950xl has worked great with the SMS connection with Skype. been very happy and will continue to behappy with it.

I'm with you. Use it daily. Love it.

Me too. But Skype preview for pc broke this in august removing it from the app. I'll try later. I do expect it to still work again.

Definitely agree with your review, Sean. I have an iOS device and would LOVE the ability to send/receive messages from Skype. iMessage makes that extremely difficult, however. And I'm not very keen on having a Mac when my Surface Book does so much more. I guess we will stay tuned and hope for the best. Until then, SMS through a different phone number is the best I can hope for.

Just another example of why this is only a half-baked solution. All the platforms would have to allow you to change your default messaging client (in EVERY respect) to another app.

@ sean, You forgot that it doesnt copy all tbe history of the conversation. And there is no notification.
But the most important thing is that i want to use my skype app on android to send sms so it is more unified!!

My issue with Skype as an SMS client is that it simply doesn't support all the things supported in the native Messaging app on Windows phones. I have Cortana turned on permanently. Skype doesn't support the full functionality that Messaging does. It doesn't recognize phone numbers or dates/times so that you can simply tap on them to create a Calendar appointment. Skype simply pales in comparison to Messaging. The bottom line for me is that, regardless of platform, if I can't function 100% hands-free, I have no use for it. The ONLY platform you can do that on is Windows, only with Cortana.

I hope it comes to Skype for Xbox One. I loved that integration with my Windows phone.

After loving the mobile product, being abandoned yet still trying to support this company in spite of their insular approach, I no longer give a toss

Yes, for the 0.22% of us globally, the W10 mobile -> PC pair seems to work good enough (though at times it just stops relaying messages for no apparent reason), perhaps a better solution than another half baked Skype solution will occur before my W10 mobile officially falls off the radar December 2019. I actually don't like Android or iOS, so whichever has a cleaner messaging solution that'll tie with my laptop / PC / other devices, I suppose will win. Don't see myself becoming a Apple fanboy.

Another feature worth hoping for is sending SMS with the Skype Web Client. if the objective is to have Skype act as a broker for your messaging needs, regardless of channel, or interface, this is a must-have.

I used to get SMS messages on my Surface through Cortana, and all of a sudden, it just quit working. I would love to have unified messaging through Skype.

didn't google allow user of Android Messages to sync sms through a web client? you can be on windows, mac, linux, any browser will do, what now, seriously. they had promise years ago, but they scrapped and re-launched enough to let everyone else catch up.

Unless you are using Google Voice (subject for the separate conversation), in order to send SMS through the browser, Android Messages has to be your *default* SMS app on your Android phone. Switch to something else, and the functionality is gone.

Sounds like a pretty good reason to use Android Messages as the default SMS app on Android. Just curious, what better SMS app alternatives are there that offer functionality as useful as this feature?

It's a no-go for me. Running the latest Skype for Windows 10 desktop app and Skype Preview on the phone. Device (my computer) is not showing up in the list of "Connected Devices" in the Android Skype Preview app. You may want to let users know in case they don't know how, like I didn't, on how to join the Skype Preview program within the desktop app. In Settings, under Help & Feedback, scroll down to the bottom and switch the toggle for Skype App Preview. You will need to go to the Microsoft Store app and check for updates to get the new Skype Preview app. Latest Skype Preview Android app version is: 8.30.76.41
Latest Windows 10 Skype Preview app version is: 8.30.76.65 **Edit** Restarting the desktop app, the SMS option in the Settings now appears and the device name is the same as it shows up in the Android app. This setup was definitely anything but smooth, for me at least.

I for the life of me couldn't figure out how to get this working. Your comment though at least showed me how to sign up for the Skype app preview program. So, thank you for that! I let the app update in the windows store. Closed the apps multiple times and reopened, restarted my pc even. Still no option in the messaging tab in the settings for sms on the PC though in the skype desktop or windows store app. I'll figure this out eventually! Are you running a preview build of windows 10? If so are you on slow, fast, skip ahead? I'm just on the release preview.

I'm hoping that it'll show up on Skype for Linux. KDE Connect can only reply to messages, unfortunately. Though that's a very slim hope.

Thanks, but I'll stick to Pulse SMS for now.

I would really like to like it, but... 1) I was not able to find a way to send SMS to the number, not in my contact list and 2) my contacts are normalized to contain country code -- SMS bounced saying that number is not valid. I will, certainly, provide a feedback to the Skype Preview program.

Am I the only one wondering why Microsoft seem to be out of sync with the Skype team once again?! Or why would they develop a similar feature in both Skype and Your Phone?
Windows Central Newsletter
Thank you for signing up to Windows Central. You will receive a verification email shortly.
There was a problem. Please refresh the page and try again.