Hands-on with Windows 10's new 'Your Phone' Android SMS features
SMS sync is now available in the Your Phone app, and we've gone hands-on with its new features.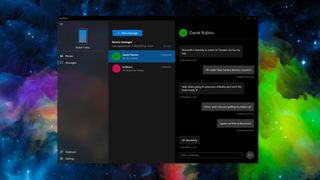 (Image credit: Windows Central)
Last week, Microsoft rolled out a second new feature to the Your Phone app on Windows 10 that further integrates your smartphone and PC. Now, Windows Insiders can test out SMS capabilities in addition to Photos sync, allowing you to send, receive, and read SMS conversations that you're having on your Android phone in the Your Phone app.
It's still a little rough
I've been giving the new SMS capabilities a go over the last several days, and my first impressions are somewhat mixed. I love the user interface in the Your Phone app. It uses columns, with the middle one showcasing all the conversations on your phone, and the far right one showing your selected conversation in full.
The app can sync all current SMS conversations from whatever SMS app you're using on your phone, and even syncs your contacts so that you can start new conversations directly from the Your Phone app, too. The idea is that you shouldn't ever have to pick up your phone to initiate or respond to SMS messages. I have noticed that contact photos don't sync, however, meaning everyone has a blank profile picture in chat windows.
The actual syncing between your phone and PC could use some work. When you set up the SMS syncing for the first time, it works well, but soon after it begins to really slow down. I often find now that new SMS messages aren't showing up in the Your Phone app at all unless I hit the manual "refresh" button to force the app to resync with my phone.
This also means that the app isn't always automatically refreshing for new SMS messages, and as such I'm often not receiving popup notifications when using another app when an SMS comes in, making the SMS sync capabilities useless. The Your Phone app appears to stop functioning if the app itself closes, meaning you won't receive popup notifications when a new SMS message comes in unless the Your Phone app is open.
You also can't respond to messages directly from popup notifications, which is annoying. I'm not particularly satisfied with the overall speed of sending messages, either. It takes around five seconds, sometimes more, for a message to send. This is because it's sending the message directly to your phone through Wi-Fi, and it's just not fast. I shouldn't have to press a manual refresh button to see new messages. It should just show up right when a new message hits my phone.
Not perfect but lots of potential
Your Phone is still in preview testing, so there's plenty of time for Microsoft to fix these issues. I'd love for them to add contact profile photos and improve how the Your Phone app syncs and presents new messages. It also really needs to be faster if it's going to be useful. Right now, the SMS syncing experience is rather frustrating.
Microsoft is expecting to roll out Your Phone to the public alongside the Windows 10 October 2018 Update in early October. So far, the app only works with Android phones, because Apple refuses to let third-parties access data like SMS conversations for syncing with the Your Phone app.
Have you tried Your Phone? Let us know in the comments.
Windows Central Newsletter
Get the best of Windows Central in in your inbox, every day!
Zac Bowden is a Senior Editor at Windows Central. Bringing you exclusive coverage into the world of Windows on PCs, tablets, phones, and more. Also an avid collector of rare Microsoft prototype devices! Keep in touch on Twitter: @zacbowden.
I'm not expecting it to get better considering ms's past attempts

A "little" rough? Your definition of "little rough" is extremely forgiving.

It's a Preview. As such, a "little" rough is fitting. If this was a general release, the criticism is justified.

It's Microsoft. General release = Perpetual Alpha™

Except this isn't a General release so I fail to understand your point.

yeah I can act like I haven't used Microsoft products for the last 3-4 years too

That doesn't mean you can generalize the experience with past apps/services across the board. Does a pattern of this happening make it more likely that it will be true this time too? Maybe, probably a higher chance. But you can't say for sure until it's officially released.

I have Verizon and they have an App that syncs messages between my pc, tablets and Android phones now. It will be interesting to see how this one compares to Verizon's.

I'm failing to see the differentiation between SMS capabilities of My Phone and the new SMS integration within Skype. Why introduce what is, to the end user, the same feature in two different products?

One integrates over the cloud the other is just directly from your phone (basically for people who don't like the idea of wanting all their texts everywhere or maybe don't want to use Skype). I think that's the difference.

That's the specific technical difference, but for average consumers who may not understand they achieve largely the same function: sending SMS from my PC. The not-using-Skype argument is probably the best answer I've seen; just in case the brand is so toxic to people, you still want users to at least have a method to send SMS via PC.

Ah I see what you're asking. The other thing is I think the my phone app will have more functionality in terms of how integrated it is with your phone, like the photos thing that it first started with. I'm guessing down the line it will have multiple features aside from the texting, whereas the skype sms syncing is purely just for that.

Integration into People Hub? 😉

Yeah. What is the story on that. I have got my people on my taskbar. It shows an incoming message, but hard to find them.

Does any of this work properly with RCS messaging?

Possibly but since O2-UK aren't going to roll out RCS support until hell freezes over I can't try it.

Yes it's ridiculous that O2 don't support RCS

so there will be two text message (sms) options for Windows 10, Skype and Your Phone. You'd think they'd focus on making Skype a platform agnostic messenger that includes unique features like this, but instead offer Your Phone. Must be a piece to their longer range goals. Maybe a test bed for the next version of windows as a service?

It's early days but as the article says, there is lots of potential. It only took a couple of app updates to get SMS working at all and fix some bugs, more fixes/features will come after RS5 release I reckon

Sounds like there's no reason at all from me to switch from using Push Bullet, which syncs immediately, gives me notifications no matter what app I'm using, and does have profile photos.

Doesn't actually do much. Even the contacts photos don't appear.

I'm looking forward to this feature more than anything else in the October 2018 update. Hopefully, it is more consistent than SMS via Cortana.

It also doesn't display MMS images yet. I agree that it has great potential and, if it reaches that potential, I'll definitely find it useful.

But my phone (950) already syncs with my PCs. Too bad I can't do what you say My Phone app does on my PC when I get a notification of a missed call or text. I thought Cortana was going to more deeply integrate with my email and SMS messages. It seems to track my tasks I talk about in my emails already.

now where is my Surface Phone with full Windows 10 on?

How does this compare to the dell connect app at this stage? It would be interesting to see how it compares with dell connect app when "your phone" app is released for general availability.

At this current stage there is no comparison. Dell Mobile Connect is nearly instant and has yet to crash.

Please remake MSN Messenger it was great 🤔

Been using "Your Phone" since it was released and so far I'm not impressed. Coming from Dell Mobile Connect to this leaves a lot to be desired.

This, UWP, for Windows Mobile!!

Wouldn't mind a Windows Mobile Variant as I'm still clinging to my Elite X3

I sure wish that I could get my SP3 and Pixel 2 to pair with the Your Phone apps. I'd love to be able to try this out. My phone app says they are paired, but the SP3 app says they aren't. I try to pair them just about every day, but no luck yet.
Windows Central Newsletter
Thank you for signing up to Windows Central. You will receive a verification email shortly.
There was a problem. Please refresh the page and try again.