Hands-on with Windows 10's new 'Your Phone' Android SMS features
SMS sync is now available in the Your Phone app, and we've gone hands-on with its new features.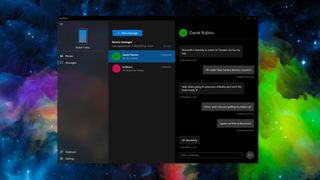 (Image credit: Windows Central)
Last week, Microsoft rolled out a second new feature to the Your Phone app on Windows 10 that further integrates your smartphone and PC. Now, Windows Insiders can test out SMS capabilities in addition to Photos sync, allowing you to send, receive, and read SMS conversations that you're having on your Android phone in the Your Phone app.
It's still a little rough
I've been giving the new SMS capabilities a go over the last several days, and my first impressions are somewhat mixed. I love the user interface in the Your Phone app. It uses columns, with the middle one showcasing all the conversations on your phone, and the far right one showing your selected conversation in full.
The app can sync all current SMS conversations from whatever SMS app you're using on your phone, and even syncs your contacts so that you can start new conversations directly from the Your Phone app, too. The idea is that you shouldn't ever have to pick up your phone to initiate or respond to SMS messages. I have noticed that contact photos don't sync, however, meaning everyone has a blank profile picture in chat windows.
The actual syncing between your phone and PC could use some work. When you set up the SMS syncing for the first time, it works well, but soon after it begins to really slow down. I often find now that new SMS messages aren't showing up in the Your Phone app at all unless I hit the manual "refresh" button to force the app to resync with my phone.
This also means that the app isn't always automatically refreshing for new SMS messages, and as such I'm often not receiving popup notifications when using another app when an SMS comes in, making the SMS sync capabilities useless. The Your Phone app appears to stop functioning if the app itself closes, meaning you won't receive popup notifications when a new SMS message comes in unless the Your Phone app is open.
You also can't respond to messages directly from popup notifications, which is annoying. I'm not particularly satisfied with the overall speed of sending messages, either. It takes around five seconds, sometimes more, for a message to send. This is because it's sending the message directly to your phone through Wi-Fi, and it's just not fast. I shouldn't have to press a manual refresh button to see new messages. It should just show up right when a new message hits my phone.
Not perfect but lots of potential
Your Phone is still in preview testing, so there's plenty of time for Microsoft to fix these issues. I'd love for them to add contact profile photos and improve how the Your Phone app syncs and presents new messages. It also really needs to be faster if it's going to be useful. Right now, the SMS syncing experience is rather frustrating.
Microsoft is expecting to roll out Your Phone to the public alongside the Windows 10 October 2018 Update in early October. So far, the app only works with Android phones, because Apple refuses to let third-parties access data like SMS conversations for syncing with the Your Phone app.
Have you tried Your Phone? Let us know in the comments.
Get the Windows Central Newsletter
All the latest news, reviews, and guides for Windows and Xbox diehards.