'Your Phone' SMS integration with Android now rolling out for Insiders on Windows 10
Insiders can now sync SMS conversations from their Android phone using the new Your Phone app in the Windows 10 October 2018 Update.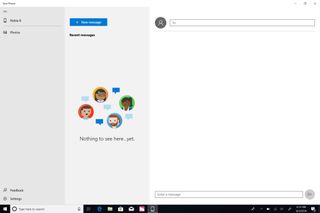 Microsoft is rolling out the next big Your Phone integration feature today with users who are currently beta testing the app. Now, in addition to sharing photos directly from your Android phone, you can now also sync and send SMS text messages too. SMS sync only works with Android phones at this time and is currently only available for users in the Windows Insider Program.
The new SMS integration is something Microsoft touted as a feature back in May 2018 when it first announced Your Phone to the public. The first beta release of Your Phone didn't include the feature, however, with Microsoft promising that it will be adding more features to the app over time. It appears Microsoft is planning to have both photo and SMS sync ready for the public in the October 2018 Update coming in a few weeks.
From our early impressions, the SMS integration works well. Since it doesn't rely on the cloud, SMS conversations update rather quickly, and there are even toast notifications that pop up so you can see your missed texts in the Action Center. Unfortunately, those notifications aren't actionable yet, meaning I can't answer them directly from the notification itself. Hopefully, Microsoft adds this in a future update.
For now, SMS integration is now rolling out to Insiders, including an update to the Microsoft Apps app on Android to enable the functionality. Microsoft is expecting to ship Your Phone alongside the October 2018 Update next month, so the company is ensuring everything is working properly with Insiders before release. Have you tried Your Phone yet? Let us know in the comments.
Windows Central Newsletter
Get the best of Windows Central in in your inbox, every day!
Zac Bowden is a Senior Editor at Windows Central. Bringing you exclusive coverage into the world of Windows on PCs, tablets, phones, and more. Also an avid collector of rare Microsoft prototype devices! Keep in touch on Twitter: @zacbowden.
Shame we can't do this with W10M. Sometimes Cortana will relay an SMS, but you can't create a new SMS or look up history to respond to previous messages.

I still use Cortana to send messages all the time. Finding/copying links and typing long things is just so much more natural on my desktop. As soon as they removed W10M SMS sync from Skype UWP I could at least get rid of the **** that was Skype from every device I owned. I really wish I could sit down with all the different divisions and tell me -why- everything that used to work(like Messagin app) doesn't work or every few months fills in with bits and pieces of what we had. As a developer, I can't imagine reinventing the wheel, ripping out working code, etc. They had an existing backbone and all they had to do is create an Android app to route through the same channels.

Cortana stopped giving me phone notifications a few months ago, but if I do 'continue on PC' it works, just no SMS/call notifications

Syncing seem to be very slow. Messages take a minute or two before showing up. Did not get any notifications in the action center and do not see a way to enable them

Regarding notifications in action center. They show up, but only if the app is open. Also, MMS media content is not supported

I get notifications even with the app running. Your Phone app isn't even listed in Settings/System/Notifications and Actions'

How do I use this on the Lumia 950 and HP Elite x3 phones?

Sell them and buy a current platform.

thats a terrible suggestion. those phones still work. i myself have a lumina 960 and its by far the best phone i have ever used.

The biggest drawback for going Android is battery life. On all the phones I've tried over the past year, they only last 6-7 hours on full charge. Windows Phone (and even my friend's Blackberry Priv) lasts 12 hours easily.

Actually I was using many different Android and Apple devices over the past 14 months before getting frustrated and coming back to Windows 10 Mobile.
.
I tried out Apple iPhone 8, LG G6, Samsung Galaxy S8, HTC 10, Samsung A5, OnePlus 5T, Alcatel Idol (Android version), and Sony Xperia L2.
.
None of them had the features that were on W10M:
- Always On Display
- 14+ hour battery life with medium use
- Not being able to SMS or call using your laptop (similar to how Apple phones and laptops do)
- No video call transferred to/from laptop and phone
- Notifications show up on laptop when not using phone
- Phone switches to speaker mode automatically when I move it away from my head during a call
- Call recording feature
- Universal clipboard (copy something from laptop and automagically paste available on phone) = well only iPhone would do this if I use a MacBook laptop as well (which I don't).

I had a 2017 Galaxy A5 with Oreo and it lasted me the full day. My iPhone 7 with iOS 11 also gets through a full day. Maybe the apps you use are draining the battery and or are not optimized properly with your devices. I mean if Win10 mobile was so good why aren't they developing new phones for it?

Chicken and Egg issue here, Market Share low was a result of less apps. Developers were waiting for market share to increase and then develop apps which never happened.

Galaxy has had the Always On display since the S7, if not prior. The reason the other things exist in W10M is that it's the same cross- platform OS. It's apples and oranges. Of course Android isn't going to magically sync a clipboard across a network with Windows....or Linux, or Mac OS... As you noted with Apple, you can do this if using an iPhone and Mac. You can't expect differing OS's to seamlessly integrate.

Samsung phones have an always on display

This app does not work with W10 mobile. You need Skype for SMS relay on W10 mobile and desktop.

"your phone" not working in my region. South-east Europe

Too Bad, they Do Not integrate that in Skype.

well they did and it sucked so much that it made SMS and Skype both unusable

Yea. I'd like to hear how Skype plans to use SMS, which I hope they add.

Seems to working alot better than skype relay did but still a few bugs like taking some time for the notification to come through or the app to refresh itself but that might just be the wifi connection, another bug i seem to have is duplicating messages in the app

MSFT is trash for supporting the competition and abandoning their loyal WP10 supporters.

To be fair, they told you two years ago that windows 10 mobile would be axed. Not their fault that you never took the hint Gabriel. It seems dell mobile connect is still a better solution than microsofts own version. I get all my notifications in my status bar, and they come in as soon as they arrive on my iPhone.

Any experience of dell connect using Iphone? I really hope MS does some kind of magic and bring iphone support to 'Your phone'. They haven't said a word about iphone message integration.

iPhone is trash with ANY service including Dell Connect. You need to have the phone ON and unlocked for anything to work (which kind of defeats the purpose), and you can't do things like mirroring. If you want a PC/phone experience you only go Android here. Anything iOS, as always, will be a massive user compromise.

The unlocked thing is fine Dan. I don't care about mirroring my phone on my computer. Screw playing games from my phone on my computer, screw using mapping from my phone on my computer, etc. IOS works great on dell mobile connect, you get all messages send and receive, calls send and receive, your address book syncs, and there are going to be more third party integrations soon for dell/apple. What is a useful purpose of mirroring your screen?

yeah the very least they could have done is kept something for Windows 10 Mobile users even if it meant that only SMS relay would work.

"yeah the very least they could have done is kept something for Windows 10 Mobile"

BS. Sorry. Windows Mobile was at best 1-3% market share at its PEAK. What do you think it's in 2018? 0.02%? Couple hundred thousand users? Yet, you want them to sink resources and dev time to something we 100% know is dead/EOL? What world do you live in that this makes any sense for a company to invest in? If you say "good will" I'm done.

Dan, you have been trying to beat it into the fan babies heads for 2 years. Might as well stop.

How does this make Microsoft trash?
Microsoft was losing tons of money trying to keep the Windows Phone platform afloat. It was time for a change, by supporting all platforms.

Isn't this what Cortana is supposed to do? This functionality worked very well for between my Android phone and my PC. But it stopped working this summer and hasn't worked since. I still get notified on the PC when I miss a call on my phone, but text messages don't sync. If they really want to grow the Cortana user base, seems like making it sync messages correctly is better than developing yet another app the mimic part of Cortana.

Before, you could reply to a text, but not engage in a full conversation. (Entire conversations would not sync.) Unless I missed something...?

Quite honestly, Android Messages for web with a web wrapper works better than this, including notifications while the app is closed and MMS. I can see this becoming a useful tool overtime, however if it doesn't support RCS, it will likely lose users as support rolls out to more carriers

Thank god. Granted, I wish the entire SMS suite of technologies were retired, but until then this is necessary.

SMS is still the only universal texting system as far as I know. It may only work on cell phones but it is definitely across all platforms.

"who use SMS anymore."

People in the US still do. WhatsApp is not really a thing here (and there's already a solution for WhatsApp users anyway).

But does it support MyPeople yet? This is the sort of thing it should work flawlessly with when complete. Might actually make MyPeople something developers want to integrate with.

MS need to bring cellular telephony to Windows 10.
I don't need a phone with an always connected cellular PC. This app is already DOA for me as I will not use the other mobile ecosystems.

First iteration seems to work great! I am using it with Textra, and this solution keeps my away for the Google/Android app ecosystem. Does anyone know if I can connect to two W10 PCs? I have a desktop and a notebook and have not tried it across machines yet.

I don't get notifications even with the app running. Your Phone app isn't even listed in Settings/System/Notifications and Actions'

Try mySMS app on Android. Probably a better product than M$ would ever produce. Its well worth the price being able to do SMS when no other option is available.

I do not use SMS since everybody uses WhatsApp! It's been almost three years now. If I receive an sms I will add his telephone number to my contacts and invite him/her to use WhatsApp.

For whatever reason, my Surface Studio and Surface Book 2 both continue to tell me that my Pixel needs the latest app, even though my phone tells me it's connected. I get that everyone wants software to be simple and easy, but I really think it would be helpful if there was more error reporting built into the handshake process.

Well I am now receiving action centre notifications for SMS, even with the app closed (straight after rebooting PC I had one). So that's working now, all it needs is the contact pictures to work
Windows Central Newsletter
Thank you for signing up to Windows Central. You will receive a verification email shortly.
There was a problem. Please refresh the page and try again.