Skype says it's 'here to stay' as it announces new modern look
Skype gave us a peek behind the curtain by outlining its upcoming features and changes.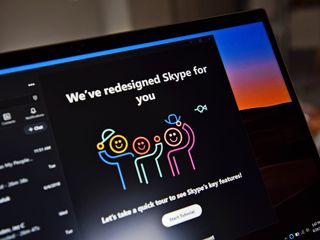 (Image credit: Windows Central)
What you need to know
Microsoft detailed its plans for "an improved, faster, reliable, and super modern-looking Skype."
New themes, color options, and a refined look will roll out to Skype in the future.
Skype's performance will improve by 30% on desktop and over 2,000% on Android in key scenarios.
Microsoft outlined plans to improve Skype, including a more modern design and improved performance in a new blog post (opens in new tab). Skype says that it's "here to stay" in its post that breaks down several upcoming changes and new features.
Skype plans to upgrade the call stage, which it says is the most important part of the platform. The app will soon have new themes and layouts, including improvements to how Skype shows a grid of video feeds.
In the future, if someone joins a call with just audio, they'll be able to have a custom background behind their icon. These are the same backgrounds that people can choose from for video feeds, so they should look familiar and help fill the call stage.
Skype will also improve chat headers, add fluent icons, and support customizable themes with more color options. Notification sounds will also be customizable.
The performance of Skype in key scenarios will be improved by 30% on desktop and over 2,000% on Android. Skype will also support all browsers in the future.
Microsoft has a new feature for Skype on the way called TwinCam that allows people to add a smartphone to a call for an additional camera angle. The company doesn't provide an exact timeline for its new features or the changes on the way to the app, though the aforementioned blog post states that the changes are on the way this year.
Time will tell if these changes greatly impact Skype users. Microsoft recently brought on a new CVP (Corporate Vice President), Manik Gupta, to oversee the company's Skype initiatives. For context, the video-calling platform has been derided as irrelevant or noncompetitive by some people in recent years, meaning changes could be an attempt to reassert Skype's place in a world with Microsoft Teams, Zoom, and other competitors.
News Writer and apps editor
Sean Endicott brings nearly a decade of experience covering Microsoft and Windows news to Windows Central. He joined our team in 2017 as an app reviewer and now heads up our day-to-day news coverage. If you have a news tip or an app to review, hit him up at sean.endicott@futurenet.com (opens in new tab).
Hilarious. It's literally coloring the feathers on a headless chicken.

You think "New themes" is going to save it? Skype isn't even an afterthought at this point.

No, I don't think you know the definition of the word literally.

Def doesn't know what literally means

Just pack it in, Skype. It's over. 6% market share post-pandemic.

I blame Microsoft. They pushed Teams when they should have focused on Skype. Now we're stuck with a business app for our private calls.

Skype was dying long before the pandemic. When you lose hearts and minds its hard to get it back. Teams however skyrocketed, so obviously it work. You not btw because Skype still exists and is even getting love.

I haven't used Skype for years. Forget it still existed.

Microsoft probably didn't know that when they made these plans.

The ONLY reason they are doing this is to mollify the Enterprise users who have on-premise Skype for Business installations.
Those users have not moved to Teams because it is lacking some MAJOR features of Skype (POTS Integration) and there is a substantial licensing cost associated with moving to O365 E3 licenses.
These Enterprise customers also have substantial investments in hardware/software and integration with their POTS phone systems, and the requisite customization of their Skype installations that requires. Everybody else has moved on to either Zoom or Teams/O365. I give Skype another 3 years max before it is put out to pasture permanently.

That seems unlikely: Skype and Skype for Business are unrelated. Skype for Business was built on Lync and just name-changed to Skype for Business because, at the time, Skype was a popular and positively viewed brand among consumers. But nearly everyone who had used Skype for Business has been moved successfully to Teams, which is basically everything from Skype for Business plus a LOT more (but there are a few niche features from Skype for Business missing from Teams like the POTS integration you mention).

"... will roll out to Skype in future"
A future that will never come. A future where there will be no place for Skype even within Microsoft ecosystem. Microsoft had the chance to give a new life to Skype with W10 meet now and W11 Chat. They utterly wasted both with Teams for consumers(what a stupid name) and now they have spoiled both. Even the new feed section in Duo 2 leads to Teams. People are fixated with Teams as a work app and it will never be a chat app.

Did Microsoft sell Skype or something?

That's not have Microsoft works. They buy something and kill it. They don't sell again or to be honest the company won't attract any buyers

I'm a fan of Teams and Skype and use both regularly, so I'm a good target customer for this and even I don't understand this. Is it still going to be that bizarre Teams for personal use (a product that works fine, but serves no purpose -- it's basically a lesser version of Skype) that's built into Windows 11 chat? If so, then why continue to update and promote Skype as a competing product? This just creates chaos, confusion, and ensures that neither product gets the full focus and support it needs to fully succeed. This is SO SIMPLE MICROSOFT: Keep pushing Teams for business use. Have Skype be for personal use. Ensure that it's possible for Skype to contact anyone in Teams and vice versa, if the Teams admin permit it in the security settings. In Windows 11, support both of them natively, with Teams integration for enterprise chat and Skype for personal chat. Further, if Skype is going to continue, it is basically the Chat section from Teams. So there, boom, let Chat in Teams be the portion that integrates with Skype. That solves everything except for the OneDrive/SharePoint file sharing built into Teams, even within Chat. No problem: If anyone in a Chat group is not approved to be part of the Tenant, they can't access the files. If they need access to the files, the file must be approved for public sharing or there should be an easy way to submit outside (Skype) users to be submitted for permission for Guest access, which already supports file access. This is all so obvious. I'm sure there are others here familiar with both products. If you're going to preserve Skype and Teams both, isn't this the way to do it? Any faults with this or anything I'm missing?

Or, if MS really sees a purpose for Teams for personal use (I don't, but maybe I'm missing a larger strategy, maybe they believe there's a value in using only 1 name for communication chat apps and conference apps), then turn Skype into that. Create a clear branding transition, "Skype is now Teams for personal use!" Ensure all Skype accounts and contacts open in Teams for personal use and announce a brand naming transition date and end of life for all references to the Skype name. Beyond the merge, do everything same as above to ensure the Teams for enterprise use and Teams for personal use integrate. They don't today -- you can have both Teams for enterprise and Teams for personal open at the same time, and the login window can show you both at the same time and there are some UI similarities, but that's about it. Other than that, they are two completely separate and unrelated products.

Well, since Teams is built upon Sharepoint as a back-end, that won't be easy to split the parts off into Skype which has a completely different back-end and protocols. Microsoft has lots of issues with differentiating their products between Enterprise and Consumers, mostly caused by in-fighting among the various VPs for R&D dollars internally. They need a CLEAR break between the Business products and Consumer Products, but the Licensing morass on the Business side won't really allow that as so many of their Consumer products are used in the SOHO market that they desperately want to up-sell into their Enterprise tiers.

Compared to Google's messaging platforms it's positively simple 🤣

why? I thought the plan was to replace this with teams?
i mean i guess it's cool that skype isn't dead but why does teams for consumers exist if this is right here???

Fragmentation has killed skype.
Their focus should have been fixed in one direction rather than having skype, Lync (skype for business), teams, GroupMe etc. Skype should have just been re-built as the present Teams software while retaining the skype name. Maximum of just 2 versions (if a single version won't be feasible).
1. Skype
2. Skype Enterprise

Microsoft, Again, too afraid to comit to something,now all items suffer

is the 'new + improved' still Electron based? the single most important question was not covered in this article.

Does this also apply to Skype web? I uninstalled Skype desktop app sometime back. Every time there is an update, it will show a badge. If I try to update it, it closes and does nothing. I manually reopen it and it is still the same. I have to go to the website and download the update manually. I instead installed Skype web as an app and no longer have to worry about updating it.

Personally, I can't stand Teams as does my family and friends. And forget about Zoom (I just don't trust it). And anything related to China—no matter the cost—is no-go for me!

This Skype update should have been integrated into teams surfacing teams for consumer features so that on Android if your not a business user u can use Skype to communicate to desktop. In doing so re brand teams for consumers to Skype on win 11 and integrate them as above. U should not need the teams app to swap back n forth. It should be teams (business work and enterprise) Skype (consumer and Xbox and gaming) But they should absolutely share the backend and they should share feature sets where appropriate.

I signed up for an account just so I could comment on this post about all the functionality Skype has lost over the years. For example: Skype can not be made the default calling app in Windows; no ability to click a phone number to call via Skype from Outlook on the desktop; the "call with Skype" link in Windows default mail app doesn't work; Skype contacts don't sync with Outlook / Microsoft contacts. If they bring those back that could help make Skype useful again, and maybe I could use those free minutes I get with my M365 subscription. Is that still a thing? I tried posting this a few days ago and I thought my post appeared here but now it doesn't. In the nice email I received from Dan Rubino welcoming me to Windows Central and Mobile Nations, his email signature gives his address at the wpcentral url. The last line of Dan's email says "Thanks again for choosing to be part of the best Windows Phone community around!" How did he know I had been a Windows Phone devotee? Hope springs eternal. Does Skype still work on Windows 10 mobile?

Yes, Skype does still work on Windows 10 mobile.

Not a single mention of ARM64 support. So the 30% gain will be lost in emulation. Skype used to even be a native ARM app when it was a UWP :(*

Skype is way better than Teams Chat. The consumer product. It's clear its getting love because its still so popular, but clear Teams is Microsoft's focus.
Windows Central Newsletter
Thank you for signing up to Windows Central. You will receive a verification email shortly.
There was a problem. Please refresh the page and try again.