Slack's CEO doesn't see Microsoft Teams as a threat
Even though Slack has less daily active users than Microsoft Teams, Slack's CEO doesn't see it as a threat.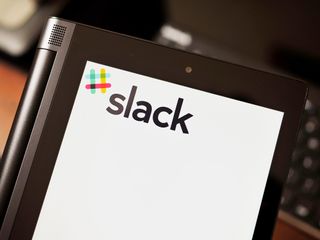 What you need to know
Slack's CEO said that he doesn't view Microsoft Teams as a threat.
The CEO compared Microsoft Teams vs. Slack to Bing vs. Google.
Microsoft Teams recently surpassed Slack in terms of the number of daily active users.
Slack's CEO, Stewart Butterfield, said that he doesn't view Microsoft Teams as a threat "if it's based on the bigger distribution." Butterfield spoke at length in an interview at the Fortune Brainstorm Tech conference (via CNBC). In the interview, he spoke at length on Slack, its progress, and its priorities as a company. At the 17:05 mark, the interviewer turned the interview towards Slack's biggest competitor, Microsoft Teams.
Butterfield goes through some history regarding large companies trying to compete with smaller companies that had a specific focus. He points out that Microsoft tried to compete with Google using Bing and invested tens of billions of dollars but is at a 9 percent market share (8.6 according to NetMarketShare). He also draws a parrallel to Google trying to push Google+ to compete with Facebook. He states that the lesson they've learned is that "A smaller company, if it has real traction with customers in some cases has a bit of an advantage against a larger company with multiple lines of business."
He later added that "If it's based on the bigger distribution, I don't think that's really a threat."
While Stewart points out two examples with Google+ and Bing, they aren't direct parallels to Microsoft Teams. Bing never approached the same market share that Google had, and Google+ always lagged behind Facebook in terms of engagement. Microsoft Teams has already surpassed Slack in terms of daily active users. Microsoft Teams launched in March 2017.
Stewart points out in the interview that the larger you get as a company, the harder it is to focus on the quality of a service and user experience, adding "So if the competition was based on the quality of user experience, and that's where all the effort is, that would probably be more daunting for us."
He also states in the interview that Microsoft is an incredible company and a good partner to work with. Slack recently announced integrations with Office 365 so it seems the companies have an understanding and a mutual interest.
Portable (and affordable) power accessories we love
Each and every one of these charging gadgets will keep your favorite gear and gadgets going for longer, and none of them costs more than $30.
VisionTek 8,000 mAh micro-USB power bank (opens in new tab) ($13 at Dell)
This compact dual-output powerbank can speedily recharge any and all your devices, thanks to a two-amp "fast charge feature," using its micro-USB out port. Its simple design includes an LED indicator, and it costs about as much as a single ticket to the movies.
Panasonic eneloop AA batteries (opens in new tab) (From $13 at Dell)
Panasonic's rechargeable batteries are among the best available, and just a couple of them will keep your favorite remote, mice or other peripherals powered up when you need them. They're also eco. And the company's affordable charger (opens in new tab) fits and charges both AA and AAA batteries at the same time.
Belkin Qi Wireless Charging Pad (opens in new tab) ($30 at Dell)
This unobtrusive Qi wireless charging pad looks good (and kind of like a UFO …) and easily charges all your Qi-compatible device up to 5W. Its LED indicator lights up when you're charging. And it costs just $30.
News Writer and apps editor
Sean Endicott brings nearly a decade of experience covering Microsoft and Windows news to Windows Central. He joined our team in 2017 as an app reviewer and now heads up our day-to-day news coverage. If you have a news tip or an app to review, hit him up at sean.endicott@futurenet.com (opens in new tab).
Wow an actual article that isn't an advert for Amazon

If Butterfield is the CEO and can't figure out that Teams is a real threat to Slack, their board should fire him immediately.

I think he came off pretty poorly in the interview honestly. Microsoft Teams already has more users than Slack on a daily basis. Why wouldn't you view that as a threat?

PR is often at odds with reality (and what they truly believe).

Teams is included in all O365 packages, for Slack you have to pay extra...

Gates (at first) didn't take the Internet seriously as something Windows needed to support. Ballmer didn't take the iPhone seriously as meaningful competition for Microsoft's mobile platform. Look where that kind of thinking got them.

He's a fool if he doesn't perceive Teams as a potential threat. Microsoft may struggle mightily with consumers, but the same cannot be said for enterprise. Microsoft can boast additional integrations with existing Microsoft services, powerful AI and cloud features, and has the resources to pour into the project. Just because Teams isn't the same level of polish now doesn't mean it won't be later.

I miss Teams, my new company use Slack, nothing against Slack but in big companies and big projects Teams is much better

Maybe Slack removes 10k viewable message limit (in free version) after this 🤔
Windows Central Newsletter
Thank you for signing up to Windows Central. You will receive a verification email shortly.
There was a problem. Please refresh the page and try again.