Smarten up your home with a refurbished Philips Hue starter kit at $30 off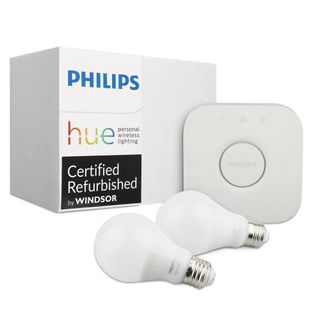 A smart home ain't a smart home without some smart bulbs. Whether you already have a plethora of home tech, or you want to get started without spending a ton of money, today tech-rabbit's official eBay store has a deal worth checking out. Pick up the Philips Hue White A19 2nd-Generation Starter Kit (opens in new tab) for $39.99. This manufacturer-refurbished kit has a value of $70, and the products are as good as new without the shiny full-price cost. They've been tested to work perfectly. They also ship for free.
(opens in new tab)
You'll get two white smart bulbs, plus a Bridge that controls up to 50 lights. These bulbs are compatible with Alexa (opens in new tab), Google Home, HomeKit, and more, and the only thing you'll need to supply is a Wi-Fi network and an app download. While there aren't tons of fancy color options with the white bulbs, you can still do plenty of neat stuff. Mimic the sunrise or sunset for natural waking and sleeping. Set warm white or cool white for the perfect ambiance while you work or read. Design schedules that keep your lights looking active while you're away, or ensure that your lights are off if you're at home and can't remember how you left them.
I should warn you: once you start adding smart bulbs to your home, it's really difficult to stop. Check out the [best smart home products under $50]https://www.androidcentral.com/best-cheap-smart-home-products-under-50) when you're ready to buy some more. It won't take long, I promise.
Windows Central Newsletter
Get the best of Windows Central in your inbox, every day!
Louryn was seven when her shopping obsession began. It started with eBay and quickly escalated to Black Friday. Now she's a shopaholic -- no day is complete without a pile of packages on her front porch. She justifies it by refusing to pay full price. She also loves Skyrim, makeup, and beer. Find her on Twitter @lourynstrampe