Snag a Lenovo Stick PC at Amazon UK for £50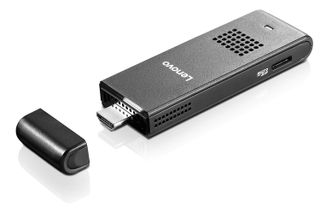 If you're looking for a great deal on the ultimate in PC portability, Amazon UK is currently offering Lenovo's Stick PC for £50 as its Deal of the Day. If you're counting, that's a massive discount of £80 from the Stick PC's normal price of £130.
For your money, you'll snag a PC on a stick with an Intel Atom CPU running at 1.33 GHz, 2GB of RAM and 32GB of storage and an SD card slot. Though it's not going to be doing any really heavy lifting, it's not a bad option for web browsing or conducting presentations when plugged into a monitor, TV or projector. And while this is an older model that comes with Windows 8.1 on board, you can of course upgrade to Windows 10 for free.
If you live in the UK and you're interested in checking out this deal, be sure to hit up the link below to get started.
See at Amazon UK (opens in new tab)
Dan Thorp-Lancaster is the Editor in Chief for Windows Central. He began working with Windows Central as a news writer in 2014 and is obsessed with tech of all sorts. You can follow Dan on Twitter @DthorpL and Instagram @heyitsdtl. Got a hot tip? Send it to daniel.thorp-lancaster@futurenet.com.
Can I play counter strike global offensive in low settings on this?

Reading the buyers comments, its not really suitable for video, I doubt it would be able to handle global strike

Getting tired of these UK only deals.

+830. Although that's probably what the international readers think of the US deals.

And people in the UK ( & other parts of the world ) get tired of the US exclusive deals to.

How is it a UK only deal when Amazon will ship it overseas?

Well technically this isn't a deal that they have thought "we'll just aim it at UK". It's that the UK amazon website have decided to put it on sale. Anyways we're getting fed up with MS favouring US over other countries all the time so it's good to have some "[Other Country] only" deals.

Like us inthe UK get fed up of the Windows Central competitions that are for US only too...

I wonder what's the best mini PC out there? Does anyone know I really want one to couple with my 40 Samsung smart TV?

Look into making your own using the Intel NUC as your base.

The InFocus Kangaroo isn't half bad. Though it's still just an Atom processors so..

Raspberry pi 2 with OSMC. Plays everything you throw at it. Cant handle netflix, but I guess your tv does that. Only thing I didn't manage yet was an uncompressed Blu ray rip via NAS, supposedly it can handle that as well thou. UI and handling is great.

Intel NUC Posted via the Windows Central App for Android

With the rise of stick PCs and continuum ready phones, I'm surprised someone hasn't tried to mass market a cheap "dumb" notebook yet to utilize this. They really should.

What? There are plenty of those. HP Stream series, Acer Cloudbook, and a couple others. You can find Windows 10 notebooks for as cheap as $169, regular price. They're basic, and not at all fast machines, but they're out there.

I think he means just a screen, mouse, and keyboard in a laptop shape, where you plug the stick PC into the monitor and plug things into the stick.

I think he means a 'lapdock', i.e. no processor, just an easily portable screen+battery+keyboard.

Yeah, thanks! Thats what I meant. I know that these stick PCs are cheap and continuum can be useful too (especially when you've got stuff/work on the phone you can't be bothered with to take migrate to the cloud) and a dumb dock can be useful when you need mobility. Upgrades would be easier too since you don't need to buy a lot of new equipment, just a new phone or stick. Price it at $50-100 and its a deal.

Crazy... Yet my Windows phone does not have hdmi out.

My Blackberry Z10 does :) Posted via the Windows Central App for Android

Mine does. Through USB-C though but it works

Just buy a Miracast dongle. Wireless is the future. Posted via the Windows Central app

You may want to read the verified purchases reviews. This will be a nightmare to upgrade to Windows 10 apparently (which probably justifies why Lenovo issued a new version with the exact same specs but W10 in it).

Yep, I just went through them and they are not inviting at all. And the Win 10 version is at 100 pounds. Still a small discount from the 130 original price but not sure if worth the money.

This is all because some people can't work out how to boot from USB if things go wrong. Contrary to the Amazon reviews, it can boot from USB (press esc at start to get to boot menu) but ONLY from a UEFI boot partition. People on Amazon don't understand UEFI and so believe it can't boot from USB. A quick Bing search gives up the info needed, so I've ordered one.

I have one plugged into the back of my TV, with a wirelese keyboard. Works great for video. No 4K support though.

Just ordered 2 ( 1s for the GF ) should be perfect for adding to a tv for basic internet use & catch up tv services.

They should be prised this all the time who wants 2 spend 200 quid on a stick when they can just buy a laptop with the same specs 50 pound cheaper it makes no sense to price them the way they do Posted via the Windows Central App for Android

Just to make the pricing clearer, this has barely ever been on at £130, it's been reduced from £79.99 to £49.99; still a good deal but not quite as amazing as they make out.

Stay away from any 32GB variant of these things. If this is at all similar to Intel's, new builds from MS may render this unusable. RMA'd mine from Intel and Windows Update broke the new one within one day with a new Win10 build and Intel is no help.

I getting a few devices like these for our conference rooms. I wish I could snag a few for $50... Or so us dollars, lol.

Just gone on Amazon. Price is £99... http://www.amazon.co.uk/gp/product/B012VFLIOI?tag=hawk-future-21&ascsubt...
Anyone know why this article says £50?

No idea, they where definitely £50 when I went to Amazon. Maybe stock ran out OR deal time ended?

Lee thank you for the confirmation... I'll ask
Windows Central Newsletter
Get the best of Windows Central in in your inbox, every day!
Thank you for signing up to Windows Central. You will receive a verification email shortly.
There was a problem. Please refresh the page and try again.