Snag the Lumia 950 XL for just $380 from B&H Photo, but you don't have much time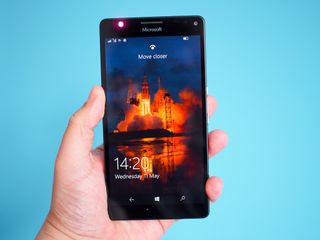 B&H Photo has a $379.99 (opens in new tab) price tag on Microsoft's unlocked Lumia 950 XL, which is the lowest price we've seen for the Windows 10 Mobile smartphone. However, that price won't last for long.
The discount is a one-day flash sale for the 5.7-inch phone, which means you don't have much time to take advantage of this deal. B&H Photo's "Deal Zone" price comes just one day after Microsoft permanently lowered the cost of the Lumia 950 XL down to $499 (opens in new tab) on the Microsoft Store site.
Thanks to NiteCourt and Ankit for the tips!
See at B&H Photo (opens in new tab)
Windows Central Newsletter
Get the best of Windows Central in in your inbox, every day!
It stil is a gorgeous phone! It's sadly just all about the apps :( or the lack there off ...

I've heard so many complaints about it though. The 950 has gotten far better feedback up until now.

heh, i bought it for 730USD, price now 380USD and will go down in the near future impossible to sell it for a reasonable price. My worst purchase since 1990 when i bought a SONY tv

Same here... but I have seen it happening to many other phones too...

This happens to practically all phones today. Even the top of the line Samsungs. Just compare the price of the S6 at launch with the price today.

forget it Apple barely loses from its original price, Samsung its cheaper yes -10/20% after 6months, NOT 50 - 60% SHAME

Not really true. I can get the Note 5 for like 530 bucks. Compared to the price it was on release (about 830), I'd say that's significantly more than 10-20% discount. Also, I think phone companies are realizing that its better to finish stock at a "cheaper" price (they still make profit, believe me) than just have it lying there in storage (where it costs more money).

Yes, I have 950xl and my girlfriend 950. Her phone work very well no issue at all....and mine is always freezing, random restart, gets hot enough to make omelet, app crashing, photos doesn't load...list goes on and on...

It could be your SD card, have it tried any others?

I have been using Lexar's UHSII/U3 MicroSD since I go the phone in December... so far it got more than 5k images and a number of 4k videos shot by 950xl. I will backup and format the card and see if it makes any difference! https://www.amazon.com/Lexar-Professional-microSDXC-UHS-II-LSDMI128CBNL1...

Ya, you are right.... Attached the card to PC for backup and now my PC is freezing!!!!

Those are the exact symptoms of the problems inherent to the SD810 chip that made it so infamous. Guess Microsoft didn't manage to tame it as well as people thought.

They had a firmware update at windows 10 anniversary; the 950 is set to update automatically, I had no problem with it. I manually update the 950XL, it was running hot until I updated it.

I've used both a decent amount, and I haven't noticed a difference between the two in regards to stability. Both can get really hot, but that is also true on Android phones running the same SOCs. I think it just happens more on W10M, as it seems Mobile Edge is not quite as efficient as Mobile Chrome.

They have the most important app any smartphone could need which is a web browser. Unfortunately for Windows 10, Edge is its achilles heel. It has been terrible on most web sites and the user-invoked functionality that is germane to the application itself is choppy and hardly ever performs well.

Ooh I would have never guessed that a Lumia would ever be in their deal zone. Whoa. If the regular 950 was there, I would buy it again.

I would buy this if all the app makers weren't trying to beat Usain Bolt in the store. Truly, I'd be buying a paperweight at this point if I were to bite on this deal. Unless you are looking to get burned yet again, probably the wise option is to buy into a platform that have future.

It has a future, and Microsoft isn't going to give up on it's UWP developer program either.

If only I can get it in India :(

"Just" is such a strong word in this case... :)

Where is the Display Dock fire sale? Just sayin'

Go to eBay. You can usually get an open box Dock for around $60.

These guys offer singer great deals. I live in Canada, and I've purchased from them before. The free shipping, and taking in the exchange rate, it's still cheaper than purchasing from here in the great white north.....,lol

They are also really good about returns. Very reasonable company to do business with.

That really says something ¬_¬

Nah, it doesn't say anything. They have had random things in their deal zone, including a Nexus 5x, which I took advantage of.

Been an owner of 950xl for almost 2 months now. I got mine from a very stingy sale at Sydney flagship store. My honest experience with the phone is neither great nor worst. Most of the time was too frustrated with the buggy OS and the constantly crashing WC app even with the Preview release. I won't recommend the phone unless you're willing to dispose $370+ unconditionally. I don't mind the app gap I just want a rock solid phone and OS.

Yeah, if you scroll too quickly in the comments on the WC app for W10M, it will pretty much crash every time.

Wow, amazing deal. Where is the new version though, the surface phone, anything... I want to buy something new, but the x3 just doesn't seem to have the camera, or a dedicated camera button

Actually the camera on the Elite isn't bad at all. The colors are cooler than on the 950 but the pictures it takes are pretty crisp. Sad about the lack of a camera button though. If there is a Surface Phone though, it's likely they'll give it the Surface Book treatment and keep it under wraps. Here are camera comparisons between the 950 and the Elite.
https://windowsunited.de/2016/08/11/hp-elite-x3-tageslichtaufnahmen-im-f...

Well let's agree to disagree because I doubt the nexus got as many discounts.

I'm guessing that you don't read any other tech sites? I have seen many discounts for the 5x and the 6p over the past few months. There's kind of always one, the discount might not be amazing though, but it is there.

It's been more than nine months since the Nexus and the 950 were released. It's not at all strange for the prices to be cut now for any phone released near the end of last year. Don't forget that people are also going back to school and deals tend to coincide with that.

Come on HP. Release the X3!

The apps situation is more dire than ever IMO. Regarding the 950XL I have tried two and both of them have significantly worse reception than the 950 phones I have. Not sure why, but the XL is often dropping into 4G in the same area the 950 gets LTE - and the 950XL is often a couple of bars lower than the 950. Even found a time when 950 had weak reception but 950XL had no reception in same area. I surmise the 950XL heatpipe is interfering with the antenna or simply the 950xl has a less robust antenna than the 950 due to space the heatpipe takes up.

Well, this may be on a tangent, but I purchased the 950 last week from AT&T. I returned it 2 days later. To me, it did not offer a huge difference in speed or convenience over my 640. Two days ago I found a used 1520 on craigslist. This phone exceeds all expectations. Even though it is a couple years old, it feels like a flagship phone. There hasn't been a single hiccup or pause while switching or opening apps. My wife, once a windows phone user, wants me to find her one.

Bought the phone today. For USD 380, its a steal, and will keep me going happily till the new Surface Phone comes out next year :). Not going to spend 700 bucks on HP's elite X3, especially since the company's been SUPER CRYPTIC abt the camera performance.

Still pains me it cannot be used on Verizon. Would SO give it a shot.

I don't know anyone in the US to help me buy this :((

I'm on the fence. I've got 30 minutes to make a choice. What do ya say: YES or NO. Help me decide.

It's my understanding the 950 and XL are top notch hardware and I do like WM very much it seems the main rub is they don't look or feel premium. Come people help me!!! 20 minutes to go buy or don't buy???

I'd buy this in a heart beat if I hadn't owned it already :), by the way, it is down to $369.99 today, if you still haven't bought it.

Took the plunge, bought it yesterday, will be here tomorrow. Happy...I hope.

Considering buying one. Anyone on T-mo? Can you confirm if visual voicemail or WiFi calling work?
Windows Central Newsletter
Thank you for signing up to Windows Central. You will receive a verification email shortly.
There was a problem. Please refresh the page and try again.