Snag this Windows 10 laptop from Dell for just $110 at Best Buy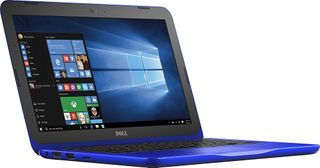 (Image credit: Dell)
Best Buy currently has the Dell Inspiron 11.6-inch Laptop with Windows 10 on sale for a mere $109.99 (opens in new tab). That's a $90 discount from its normal $199.99 price tag.
That's definitely one of the lowest prices we have seen for a new Windows 10 laptop. The 2.82 pound Dell Inspiron has a 1366 x 768 resolution display, along with 2GB of RAM and 32GB of Flash storage. It's not a hardware powerhouse but if you want a second PC for work or play, this might fit the bill. It even comes with a year of Office 365 Personal, which is normally worth $69.99 on its own.
This special discount is part of Best Buy's big 50 hour sale (opens in new tab) to celebrate its 50th anniversary. Other PC discounts include a Dell Inspiron 15.6-inch laptop, with an Intel Core i3 processor, 4GB of RAM and a 1TB hard drive, for $249.99 (opens in new tab), an $80 price cut. There's also the HP Pavillion x360 2-in-1 laptop, with an Intel Core i3 chip, 6GB of RAM and a 500GB hard drive, for just $349.99 (opens in new tab), a $150 discount. The sale will end on Sunday, August 21, at 12:59 a.m. Eastern time.
See at Best Buy (opens in new tab)
Windows Central Newsletter
Get the best of Windows Central in in your inbox, every day!
My iBall laptop which also has 32 gigabytes of storage and 2 GB of RAM and without Internet port and driver for also come for the price this and it is the maximum retail price and not a discounted price I am loving it so far this computer also be good Posted via the Windows Central App for Android

My iBall laptop which also has 32 gigabytes of storage and 2 GB of RAM and without Internet port and driver for l Posted via the Windows Central App for Android

I have a ASUS transformer book and struggle with its 64 GB storage. Wouldn't 32 be mostly filled by W10 and updates?

Yeah, you'll need to insert some extra micro-sd storage card to alleviate that problem. Fortunatly those come very cheap now.

Are u able to update with a sd card...say for instance the anniversary update

It's a hassle to only have 32gb, even with very few apps and files. You would need the anniversary update on a USB drive with at least 16gb of storage so there's free space. I have one tablet with 32gb and one with 64gb. 64gb should be the minimum to avoid hassles. Although, MS has made it better for OS updates, and OneDrive files can be moved to SD so they won't stop synchronization now, so that's good.

Yes you are right I had to uninstall a few applications to do that and once I also had to insert external 1TB memory disc but after that I have no issues in fact it was very brilliant idea of Microsoft to allow us to do this Posted via the Windows Central App for Android

Yes I have been able to update in fact your question is valid because it did say that I was running low on storage so it actually needed 16GB of storage so I uninstall the windows Store apps and games updated it and then again installed it . What more can I complain for a device I got for around hundred twenty dollars Posted via the Windows Central App for Android

So if you say 64 gb is not enough how I would say about my 16 gb tablet :D

I have on of those 16GB/1GB tablets here. Whoever at Microsoft thought thas was a doable thing should be fired at the spot.

Except that Microsoft doesn't have any 16GB/1GB Ram tablets.

No, but they set the minimum requirements that hardware vendors need to meet, and "someone" at Microsoft decided that cutting the requirements low enough to allow vendors to ship seriously gimped hardware was a good idea. Apparently they didn't learn from Vista. (Much of Vista's bad reputation stemmed from setting unrealistically low hardware requirements so hardware vendors could ship "Vista Capable" hardware that wasn't.)

Which one do u have? Ur not using a sd card?

I have a laptop from iBall it has 11.6 inch screen and yes I use a 64 GB SD card all my data documents videos music are stored on SD card and applications and programs are stored on the 32GB internal storage so far good have not gone into any storage issues Posted via the Windows Central App for Android

32 is unusable. I bought a cheap Acer for my grandma. In general not a horrible laptop, but... Nothing installed except for office and there isn't enough space to install TH1.

Actually there's 32GB of internal storage and I have added an external SD card of 64 GB storage I store all my apps on the 32GB and my documents videos and files on the 64GB I have in fact used one Windows Central article to move the windows library to SD card so far I have no issues and its been running great in fact I have the office 2016 professional entire Suite installed and I have no problem and I also have lots of application from the Windows store actually I don't use many applications I only use the ones from store and a few popular ones I am a light user actually a student so works for me fine plus it also has a 10000 milliampere hour battery and it would last marathon on casual usage it last 3 to 4 days Posted via the Windows Central App for Android

I have the HP Stream 11 and Windows 10 takes up 26 of the 32GB, i couldn't even get the anniversary update, a memory card is not useful in that situation. Also 2GB of RAM is not enough to run a full Windows desktop very well. It can't even play the My Little Pony Friendship is Magic app all that well either... you know, for my daughter.

Interesting, W10 on my Stream 11 takes less than 9GB. Updated to Anniversary without issue. Try doing a system disk cleanup.

I actually tried a clean install including wiping the disk and it corrupted the whole system. Had to have HP send a flash drive with 8.1 (as that is what it had when I bought it) to reinstall. Haven't re-upgraded to 10 (which they said I could do without charge) as I have more available space with 8.1.

Run disk cleanup and then click the button to clean up system files. Then, select all the things eating up your space.

I believe I will wait to be sure all issues with the anniversary update have been ironed out and then try again.

There is actually a nice freeware program called WizTree that scans your hard drive and sorts the files by the directories by size. I found out after my pc slowing down more and more over time that W10 was copying some of my files over and over again into a temp directory from the app data folder. It ended up taking half a 2TB HD before i saw the issue and ran the scan. Some kind of bug, hasn't happened again since.

the inspiron 11 laptop is ungodly slow when web browsing .. i own it ... it runs Office 365 well but its celeron chokes surfing the web especially on script heavy sites.

My Stream seems to flow better since adding Adblock.

The store display model of that Dell had a message on the screen about insufficient storage, as if it were telling me to steer clear.

All I can say is...You get what you pay for...

My 32 gb/ 2gb Indian tab works just fine. A little mem card is all I needed to add. I found no value in Win 10 upgrade so went back to 8.1. Recommend everyone the same. Takes about 10 Gb out of 32 and runs like a charm. Cloud storage helps too.

8 inch perfectly good Win 10 tabs cost about 90 dollars now and 10 inch about 150. That's what a PC should cost. The rest is all kids play.

Just in time for the kids. "Little dudes, you're getting a Dell!"
Windows Central Newsletter
Thank you for signing up to Windows Central. You will receive a verification email shortly.
There was a problem. Please refresh the page and try again.