NVIDIA Studio makes life easier for students in creative fields
Increase the performance of your graphically intensive programs.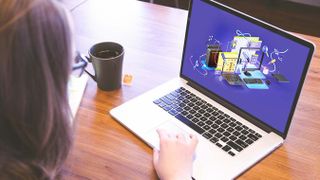 (Image credit: Windows Central / Pixabay)
If you've ever used creative software, you know that some of those more graphically intensive programs can run very slowly and less effectively on certain systems. As we head into another school year, it's important for students pursuing creative majors to have one of the best laptops or the best desktop computers with processors that can handle graphically demanding tasks. Otherwise, you might find yourself struggling to keep up with the rigorous demands of your assignments. The thing is, there are so many computers on the market that knowing which laptop or desktop to go with can be a daunting undertaking.
One way to make sure you choose a good laptop or desktop for creative programs is by purchasing one that is part of the NVIDIA Studio ecosystem. These products include powerful hardware and software to increase performance for graphically intensive tasks in a wide range of creative programs such as 3D animation, video editing, game development, manufacturing design, illustration, photography, graphic design, architecture, broadcasting, and more. It's perfect for getting the results necessary for students or professionals in creative fields.
Best NVIDIA Studio laptops for creatives with RTX 40 Series GPUs
Note that any graphically demanding program from intensive video games to creative software will blast through battery power somewhat quickly. You'll want to find ways to keep a laptop near an outlet when on the go or grab one of the best laptop charging accessories to help it last throughout the day.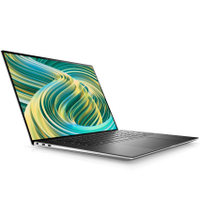 Dell XPS 15 | See at Best Buy
As you can see from my Dell XPS 15 review, this is a powerful laptop whose GPU is more than capable of handling creative apps and high-level media processing. Specifically, creatives want to go for the OLED display over the FHD one for better color accuracy and contrast when viewing their projects. A 1TB SSD is a great size for storing your work as it's rather large but keeps the laptop from costing too much. Dell also offers larger memory and hard drive sizes if you think you'll need more space for your work, as high as an 8TB SSD and 64GB RAM.

Recommended configuration: Intel Core i9 13900H | RTX 4060 | 16GB RAM | 1TB SSD | OLED display

✅Pros: Powerful performance, great battery life, Thunderbolt 4 ports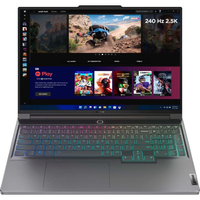 Lenovo Legion Slim 7i | See at Lenovo
Marketed as a gaming laptop, this device is ready and able to handle any modern graphical programs you put on it. As you can read in our Lenovo Legion Slim 7i review, it offers excellent performance even when on battery power, which is especially good for students or professionals on the go. As long as you choose the following configuration, it will work incredibly well with even your most demanding creative software. Of course, if you think you don't need as much space for your creative projects getting a lower SSD or RAM is useful, it'll cost less too.
Recommended configuration: Intel Core i9 13900H | RTX 4070 | 32GB RAM | 1TB SSD
✅Pros: Great performance on battery power, value buy, built-in number pad, Wi-Fi 6E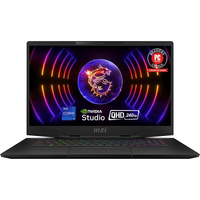 MSI Stealth 17| See at Amazon
Though it's a rather expensive laptop, the MSI Stealth 17 does provide very powerful abilities that allow it to easily tackle high-end graphical software. The miniLED display has a 144Hz refresh rate to help you see the latest visuals sent from the system. Plus, the 4K resolution combined with great color accuracy and strong contrast ensures details come through vibrant and crisp on the panel. It's a great choice for anyone as long as they can be somewhat near an outlet. The battery life is admittedly not so great.
Recommended configuration: Intel Core i9 13900H | RTX 4080 | 16GB RAM | 1TB SSD
✅Pros: Amazing system performance, 144hz refresh rate, 4K display, great color accuracy, strong contrast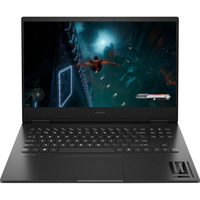 HP Omen Transcend 16 | See at Best Buy
The IPS display's color accuracy isn't the best, but this laptop does offer a 165Hz refresh rate and solid performance to keep up with your demanding creative programs. Thanks to the second M.2 SSD slot, you can easily add additional storage for your growing files if you need to. Plus, you might find the built-in number pad gives you better control when activating hotkeys in your creative programs.
Recommended configuration: Intel Core i5 | RTX 4050 | 16GB RAM | 512GB SSD
✅Pros: Great performance, plenty of ports, extra M.2 SSD slot, built-in number pad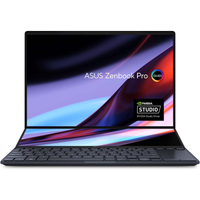 ASUS Zenbook Pro 14 Duo OLED | See at Amazon
This unique laptop features a regular OLED screen along with a slimmer screen below it that pops up above the keyboard at a 12-degree angle. That way, it's easier to multitask between programs or use the secondary screen as a touchpad for quick commands. Having two screens means it doesn't have the best battery life, however, it does offer a 120Hz refresh rate with amazing color accuracy. With NVIDIA Studio and a powerful GPU, it can easily run more demanding programs.
Recommended configuration: Intel Core i9 13900H | RTX 4060 | 32GB RAM | 1TB SSD | OLED display
✅Pros: Unique second screen, solid performance, amazing color gamut
Best NVIDIA Studio software for creative students
NVIDIA Studio Hardware minimum requirements
When looking for a laptop or desktop that's compatible with NVIDIA Studio, you'll want to keep the platform's minimum requirements in mind. Devices that are specifically designed around the ecosystem will have a badge like the one pictured above to indicate that they can utilize NVIDIA Studio right out of the box.
Swipe to scroll horizontally
| | |
| --- | --- |
| GPU | GeForce RTX 3050, RTX A1000 or higher |
| CPU | Intel Core i5 (H Series) latest gen, AMD Ryzen r5 (H Series) last gen, or higher (The latest Intel or AMD CPUs) |
| RAM | 16GB or more |
| SSD | 512 GB NVMe SSDs or larger |
| Display | Factory-calibrated OLED, miniLED, or IPS displays with wide color gamuts up to 100% DCI-P3 and 1440p or 4K resolution |
Why should I enter the NVIDIA Studio ecosystem?
More computers & processors
- ChatGPT can now plan PC builds
- Best GPUs
- Best CPUs
- Best gaming laptops
- Best gaming monitors
Anyone who is trying to get into a creative field or who is already part of one will likely need to rely heavily on powerful graphical performance supplied by a desktop or laptop's GPU. NVIDIA is the best GPU manufacturer today when comparing Intel vs AMD vs NVIDIA. As the official website explains, "NVIDIA Studio systems deliver the ultimate in performance thanks to dedicated ray tracing, AI, and video encoding hardware. Plus, AI app acceleration, advanced rendering with NVIDIA DLSS, and exclusive software like Studio Drivers, NVIDIA Omniverse, and NVIDIA Broadcast, all combine to give you unmatched power and efficiency in sleek and elegant designs."
Whether you're at school taking classes in creative fields or you're a professional creator, NVIDIA Studio is a fantastic way to increase your productivity by accelerating the performance of your creative programs so you can keep up with all of the assignments and projects that come your way with as smooth an experience as possible.
NVIDIA Studio compatible creative apps
Thanks to specific drivers, NVIDIA Studio greatly improves these creative apps' performance via GPU-acceleration. You can learn more about what NVIDIA Studio does for each program on the Creative Apps Acceleration page.
Adobe After Effects
Adobe Illustrator
Adobe Lightroom
Adobe Photoshop
Adobe Substance 3D Designer
Adobe Substance 3D Modeler
Adobe Substance 3D Painter
Adobe Substance 3D Sample
Adobe Subustance 3D Stager
Audodeks 3DS Max
Autodesk Arnold
Autodesk Maya
Autodesk Revit
Blender
Cinema 4D
Corel Draw
Cyberlink Powerdirector
D5 Render
DaVinci Resolve
Daz Studio
DxO PhotoLab
Enscape
Filmora
Houdini
JianYing
Lumion
Marmoset Toolbag
NVIDIA Iray
Keyshot
Notch
OBS Studio
OctaneRender
ON1
Pixar Renderman
Redcine-x Pro
Redshiift
Rhino
Sketchup
Steamlabs
Topaz Labs Denoise AI
Topaz Labs Gigapixel AI
Topaz Labs Sharpen AI
Topaz Labs Video Enhance AI
Twinmotion
Unity
Unreal Engine
V-Ray
Vegas Pro
VTube Studio
Xaymar
XSplit Broadcaster
NVIDIA Studio FAQ
What is NVIDIA Studio?
It's the combination of the best NVIDIA hardware and software utilized together in laptops and desktop computers in order to increase performance for graphically intensive functions. This makes it especially useful to anyone using creative software for things like digital drawing, video editing, 3D animation, architecture, manufacturing design, streaming, and much more.
Why should I use an NVIDIA RTX GPU for creative projects?
Within the GPU space, NVIDIA is known for offering the most powerful graphics cards on the market today. RTX GPUs, in particular, are the top-of-the-line offering powerful real-time ray tracing to simulate real-life lighting and reflections ideal for game development, graphic design, drafting design, and other 3D computer graphics software. Additionally, NVIDIA is the foremost processor manufacturer in the AI sphere allowing for super-fast AI-enhanced options like upscaling resolution, video retiming, and more. Plus, thanks to enhanced improvements over previous GPU models, the RTX GPUs have better video and image processing abilities with things like sharpening, color correction, and upsampling to help creative programs like Photoshop, and Premier Pro work a whole lot faster. In short, having an RTX GPU will save you time and headaches.
Can any laptop or desktop work with NVIDIA Studio?
No. NVIDIA Studio is only compatible with specific configurations that work together to run the platform in a way that's specifically optimized for demanding creative work. This includes utilizing powerful enough GPUs and CPUs plus specific amounts of storage necessary to handle graphically intensive tasks.
As far as GPUs go, NVIDIA explains that "GeForce GTX 10-series and up, GeForce RTX series, TITAN V and RTX, NVIDIA RTX series and all Quadro products released since 2012" are the only Studio-capable GPUs. You also need one of the latest Intel or AMD CPUs like the Intel Core i5 (H Series) latest gen, AMD Ryzen r5 (H Series) last gen, or higher. RAM must be at a minimum of 16GB while hard drives must be 512GB SSDs or larger. In laptops, displays must be 1440p or 4K and factory-calibrated with wide color gamuts.
How do I install NVIDIA Studio drivers?
You can go to NVIDIA's official driver downloads page and use the drop-down menus to select the drivers you want and download them manually. However, the more convenient way to install NVIDIA Studio drivers is to use the GeForce Experience app to automatically update drivers as they release so you don't have to worry about getting behind on anything.
Is a gaming computer always a good choice for creatives?
Not necessarily. Of course, if you're working in graphically demanding creative programs then you'll want a laptop or computer with a powerful graphics card as well as a CPU that can reach higher clock speeds with faster refresh rates and response times. These features are more common in gaming laptops and gaming desktops, which is why many NVIDIA Studio-compatible devices are gaming devices.
However, creatives also need to consider touchscreen and stylus options for working directly on the display or monitor. Not to mention, you'll benefit more from a laptop or monitor with higher color accuracy and a better contrast ratio as this will help you see your projects in precise detail. As long as you find a laptop or desktop setup that meets these requirements, it will be great for your creative needs.
Get the Windows Central Newsletter
All the latest news, reviews, and guides for Windows and Xbox diehards.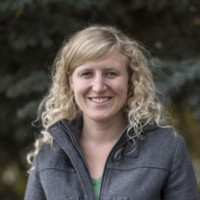 Self-professed gaming geek, Rebecca Spear, is one of Windows Central's gaming editors with a focus on Xbox and PC gaming. When she isn't checking out the latest games on Xbox Game Pass, PC, or Steam Deck; she can be found digital drawing with a Wacom tablet. She's written thousands of game guides, previews, features, and hardware reviews over the last few years. If you need information about anything gaming related, her articles can help you out. She also loves testing game accessories and any new tech on the market.