Microsoft unveils GPU support for Windows 365 Cloud PCs, adds new security measures
Windows 365 gets a security upgrade and GPU support.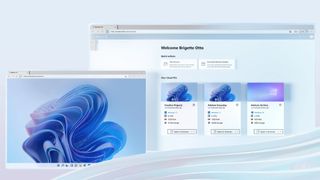 (Image credit: Microsoft)
What you need to know
Microsoft has unveiled a handful of improvements coming to Windows 365 at Ignite 2023.
The company is adding support for GPUs, custom managed encryption keys, watermarking, and more.
Microsoft is also launching a new "Windows app" that lets users link their Cloud PCs in one centralized hub.
---
READ MORE FROM IGNITE 2023
Microsoft has taken the wraps off several key improvements and new features coming to its Windows 365 Cloud PC service and Azure Virtual Desktop during its Ignite 2023 conference today.
Firstly, Microsoft is launching a new app called the "Windows app" that acts as a one-stop shop for all remote-based Windows PC connectivity. Whether it be a Windows 365 Cloud PC, Azure Virtual Desktop, Microsoft Dev Box, or your own Remote Desktop setup. This app will be available on Android and iOS, and will serve as a hub for all your Windows PC needs on the go.
Microsoft is also announcing several improvements to the Windows 365 service itself. Launching in preview today is a new Cloud PC tier with support for dedicated graphics cards, which will be useful for customers looking to conduct GPU-heavy tasks such as photo and video editing, 3D modelling and data processing.
The company is also touting the ability to use AI to simplify security and management of Windows 365 Cloud PCs in an organization. AI will be able to assess Cloud PC usage among employees, and suggest which Cloud PCs would be best for each person who requires one.
Other new features coming to Windows 365 include the ability for an enterprise to encrypt Cloud PCs using their own encryption keys, and a new "Customer Lockbox" function that will ensure Microsoft cannot access the content of a company's Cloud PC without explicit approval first.
Other security enhancements include the ability for a Cloud PC to be watermarked or have screenshots turned off to stop employees from capturing sensitive data.
An overview of all the Windows 365 improvements
Windows App, in preview, will be the place to connect to any devices or applications across Windows 365, Azure Virtual Desktop, Remote Desktop, Remote Desktop Services, Microsoft Dev Box and more.
Windows 365 GPU support, in preview, will make it ideal for workloads, such as graphic design, image and video rendering, 3D modeling, data processing and visualization applications.
Windows 365 AI capabilities will help customers reduce costs, increase efficiency and further simplify security and management of Windows 365 Cloud PCs. One example will be applying AI to assess Cloud PC deployment and utilization to provide recommendations to help organizations better forecast and right-size their Cloud PC investment. This capability will be in preview in the coming months.
Azure Virtual Desktop Autoscale for personal desktops is the Azure Virtual Desktop native scaling solution that automatically starts session host virtual machines (VMs) according to schedule or using Start VM on Connect. It then deallocates or hibernates session host VMs based on the user session state (log off/disconnect). The deallocating capability is now generally available, and hibernating session host VMs is in preview.
Single-sign on (SSO) and passwordless authentication support for both Windows 365 and Azure Virtual Desktop is now generally available for Azure Virtual Desktop and Windows 365, along with third-party identity provider (IDP) support. Microsoft is also actively working on enabling the same capabilities for Azure Virtual Desktop approved providers.
Windows 365 Customer Lockbox, in preview, will ensure that Microsoft support engineers can't access content to do service operations without explicit approval.
Windows 365 Custom Managed Keys will allow organizations to encrypt their Windows 365 Cloud PC disks utilizing their own encryption keys. This feature will be in preview soon.
Watermarking, screen capture protection and tamper protection support for both Windows 365 and Azure Virtual Desktop are now generally available, protecting against unauthorized access and manipulation of data, keeping sensitive information protected and maintaining organizational data integrity.
Get the Windows Central Newsletter
All the latest news, reviews, and guides for Windows and Xbox diehards.