Sonic CD coming to Xbox Live, Sonic 4 Episode II planned for 2012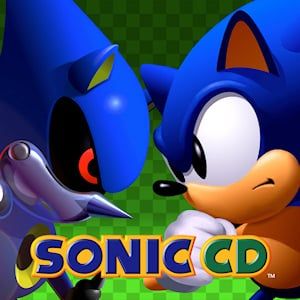 Sega surprised everyone today by announcing a new Sonic the Hedgehog game for Windows Phone. No, it's not a surprise that they're doing a second one after Sonic the Hedgehog 4: Episode I turned out so well (see our review) (opens in new tab). What we didn't expect from the next mobile Sonic game is that it would be a port of… Sonic CD.
Sonic CD (AKA Sonic the Hedgehog CD) was originally released on the Sega CD/Mega CD, a CD-ROM add-on for the 16-bit Sega Genesis/Mega Drive console, back in 1993. It marks the first appearances of Sonic's would-be girlfriend Amy Rose and fan-favorite villain Metal Sonic. Sonic CD has seven huge zones, each with three acts, as well as unique 3D special stages. Most uniquely, Sonic can travel into past and future versions of most stages by passing through time portals at high-speeds. Successfully defeating Eggman's Robot Generators in the past actually changes the future for the better. Sonic CD also features a fully animated intro and two different endings. By the way, it's my all-time favorite Sonic game.
Head past the break for details on the new Sonic CD port and the concept video that helped make this port a reality!
Sega hasn't released a ton of information about the new Sonic CD port, but it's still enough to get excited over. The game will be coming to XBLA, PSN, PC, iOS, Android, and Windows Phone (as an Xbox Live title). It will feature true widescreen support in which the field of view has been expanded from the original, rather than stretching a 4:3 image. The original Japanese soundtrack (also used in Europe but not the US) returns, and it now loops properly rather than pausing at the end of each song. Gamers can select between the original Sonic CD spin-dashing and physics or the Sonic 2 and 3-style, which worked a bit differently.
This super slick Sonic CD port is a result of programmer Chris Whitehead's fan project, the Retro Engine, which impressed Sega so much that they licensed it from him. Check out his original video from 2009.
Sonic CD has no official release date yet but we expect it by the end of the year.
In other Sonic the Hedgehog news, we've learned from Eurogamer that Sonic the Hedgehog 4: Episode II is coming in 2012. It looks like Sonic CD will tide Sonic fans over while allowing Sega to improve on the physics and level design criticisms that dogged the first Episode. The long wait for Episode II should also give Episode I plenty of time to go on sale, giving gamers who refuse to buy Xbox Live games at the $6.99 price point a chance to try it out.
Source: Eurogamer (opens in new tab)
Windows Central Newsletter
Get the best of Windows Central in in your inbox, every day!
Paul Acevedo is the Games Editor at Windows Central. A lifelong gamer, he has written about videogames for over 15 years and reviewed over 350 games for our site. Follow him on Twitter @PaulRAcevedo. Don't hate. Appreciate!
Looks great! This is exactly the kind of games that XBL on WP7 needs going forward, focus less on Word and Puzzle games and more on some real, core experiences.

I don't care about Sonic CD but I like that it's gonna come at the same time as the Iphone version =)

You should care. It's fantastic.

Sonic CD is one on my favorite Sonic's of all time. Having this head to WP7 is fantastic!

I've never bought an Xbox Live game on its day of release, due to price, but I'll be refreshing the marketplace until it finally lets me buy this. This really made my day!I've still got Sonic CD for my Sega CD, and a "Japanese" version I made of the US version but with the Japanese soundtrack. It's definitely one of the best Sonic games ever. Hopefully the port will live up to my expectations, which is being a fairly straightforward port with sounds intact and likely iffy controls.

It's very cool of Sega to launch this on WP7 alongside the other releases. I'm glad to see others are planning to support the game too.

Only one problem with this: it has only the Japanese and European soundtracks.Not that there's anything wrong with them but....NO SONIC BOOM!

That's what YouTube is for!

Funny how I post this in the morning in the forums and then they throw up the headline. Look foward to it. A real true Sonic fan here.

We got the info directly from a Sega press release (+ my own research to find out more about the port). But if you'd like to submit tips, either use the Contact link at the top or PM me through the forums. Definitely appreciate your support, FirePro Master.

Love seeing the Windows Phone logo among all the others.

Will do, I didn't think it would have made the headline that's why I signed up just to throw it in the forums!!

Good to see Sonic CD getting ported finally. Its been on the fans request pages for ages! Im still not sure, controls aside, it will ever live up to Sonic 3 & Knuckles in my books. Its still by far my favorite Sega/Sonic game of all time.

I never got a change for finish sonic cd because my cousin poured orange juice in the CDX (still mad) but Sonic 3 & knuckles was damn near perfect (as knuckles, sonic sucks!).

so cant wait for this!! woooo!So hope they bring over Sonic 1, 2, 3, Sonic and knuckles over eventually too.Id be all over all of them! haha

I have never been a huge fan of the sonic games, but I'll be interested in trying out Sonic CD when it comes out for the WP7. Although personally the $7 price point is too high for any game on WP7. $5 is probably the max I would spend.
Windows Central Newsletter
Thank you for signing up to Windows Central. You will receive a verification email shortly.
There was a problem. Please refresh the page and try again.