Sprint confirms Windows Phone 8.1 update for HTC 8XT and Samsung ATIV S Neo this summer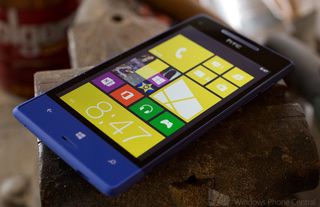 Sprint just dropped us a line to let us know that the Windows Phone 8.1 update that was announced at Build 2014 will be coming to a few of their handsets this summer. The HTC 8XT and Samsung ATIV S Neo are mentioned explicitly, though specific dates and details will be mentioned later on.
Windows Phone 8.1 is going to have a bunch of cool stuff, like background images for Live Tiles, lock screen themes, and the Cortana virtual assistant. This is good news overall for Sprint subscribers, but there are a lot of phones that we're waiting to hear about when it comes to 8.1 updates. Any ATIV S Neo or 8XT owners in the house?
Windows Central Newsletter
Get the best of Windows Central in in your inbox, every day!
I am also surprised to hear this news but I'm guessing the update wont be released untill the end of the summer. I have the Ativ S Neo, but I want a Nokia Lumia Windows phone on the Sprint's network.

Good job Sprint..glad to see my Ativ S Neo will get the love it deserves...

Good to hear of course, but it'd be nice to have a better idea of when.

Ahhh! It is very hard to wait. Please provide update today.

LOL! Agree but we gotta wait......

Nokia to call it's update for Windows Phone 8.1 as Lumia Cyan...... So, no more cherry blossom pink and blue Blue ==> Cyan Source: http://conversations.nokia.com/2014/04/02/windows-phone-8-1-update-every...

How is that WPCentral did not pick this up yet?

Yyyyyyaaaaaaaaaayyyyy....................

Any word on the htc 8S update. That's the only unconfirmed phone so far.

Bice kroz aplikaciju Preview for Developers ;)

Going to buy a 8x,some feedback guys? how's the camera,audio quality,the screen?

I own the Ativ s neo but my girlfriend the 8xt...I really really like it. Besides the infernal memory, which will be fixed in 8.1, it is a very nice Phone. Good feel, pretty durable, and Beats sound nice. Good camera too.

Thanks for the reply, it is going to be my ffirst smartphone and it was only 200$ here so thought that it would be better than the lumia 6** phones

It is miles better than the 620 or even 630, which is ridiculous with a 4.7" screen at 480x854. The 8X has a very high PPI with 4.3" at 1280x720. I just wish it was AMOLED, that would have been great, but it is still a nice screen. Sunlight visibility not too good. The beats audio is kind of a gimmick, but the sound quality is good (beats is only turned on when you use earphone). The speakers are also decent.

The 8xt has been marvelous! Owned it for two months now and haven't missed my android at all.

Thanks tony, appreciate you feedback.Just one Query How has the audio been does it distort at loud volumes? I keep about 200 songs with me,not a big collection but i want good music quality on my phone. The music quality on my 2012 nexus 7 (got it for 120$) is pathetic.. and how is the evernote app? IF you have it?

I like and use the evernote app. I've not noticed anything lacking in it.

Thanks for letting me know:)

Probably not even relevant anymore, but the phone has great audio. Enabling Beats audio removes about a decibel from max volume, but sounds like a real speaker with some depth (no rattle, no tinniness). without it, still decent for say, listening to a podcast while you paint in room (my last sunday for you).
Can't vouch for evernote, but OneNote is flawless on this thing.

If you mean the 8xT, I can also agree, the 8XT is awesome! It doesn't have high-end spec this-and-that (screen resolution, memory, camera, etc. etc...), but it is a great phone.

They are the same phones,just the t is a sprit variant in the us&a... 720p is enough for me and the camera seems to be better than the motog,what have you noticed? WOuld appreciate your feedback.

They are most definitely NOT the same phone... 8XT has an MicroSD card slot and Boomsound, and only works on Sprint (CDMA), and only 8GB Storage...8X has 16GB Storage, No MicroSD slot and No BoomSound...they're cousins...but not the same. I chose the 8XT over the Ativ Neo S because I wanted BoomSound and like the HTC Camera app (not available on 8X from what I remember)...and felt HTC would support the 8XT better than Samsung would the Ativ S Neo...so far they're about equal...though the 8XT did receive GDR3 where the Ativ S Neo didn't...which is now mute. I've been really happy with my decision...I'm sure Ativ S Neo owners love their's...they're both good.

Makes sense for the first time...

No way! HTC and Samsung actually SUPPORTS their window phones?!

No way, Sprint actually supports their Windows Phones???? Well, we will see if the update ever actually gets released. That's why I joined the developer preview program.

Sweet, HTC 8XT owner here...glad to hear we're going to get the upgrades!

Why the eff does Sprint not have a Lumia? I was really hoping things would change and they would get the 930

questions that need answers... I wish a journalist would conduct an interview with Nokia as well as Sprint to get to the bottom of this.

Well no Sprint Nokia today so we got the updates at least.

thats weird that sprint would be first

other carriers will actually have new phones shipped with 8.1 already on it. I'm willing to bet that Sprint wants these updates to hold us over for another 8-12 months or so. SMH

I've got the NEO but I'll have it through the preview program long before they update it.

GREAT NEWS. Sprint showing us WP lovers some love back.

Any word on the Lumia 810?

I upgraded to a 925 recently, being the prices for it have dropped. I suggest you do the same. I LOVE my 925 and I'm a hug Windows Phone fan as well, but 810 got a RAW deal. It SUCKS, but I'd recommend you just move on like I did. 810 R.I.P :-(

This is great news! Not so surprising, in the sense that they previously did good with GDR3 when it came to the 8XT sooner than later. Who knows though, there is no concrete date given (for any carrier for that matter), so I'll still have to see it to believe it, but there is hope for sooner than later. Great news indeed, but greater news would have been the breakthrough of a Nokia device onto Sprint.

Better info from Sprint would have been not just WP8.1 coming this summer, but NEW WP8.1 DEVICES coming this summer.

That's what I was hoping for. Even an updated Samsung Ativ like Verizon is getting.

please, please stop making sense. Sprint is basically feeding us scraps while other carriers are getting 4 course meals.

I love my HTC 8XT! Sprint was the first to get official GDR3 too! I'm going to Developer Preview it next week, because early Summer is too far away for me though.

Yes, but only for the 8Xt. Not for the Neo.

I'm an 8XT owner, and I'm hoping that somewhere deep in the bowels of Samsung, that they skipped the GDR3 update for Neo owners so they could focus on 8.1 for you guys! Maybe the Neo gets it first this time...

While I appreciate the thought, allow me to laugh disdainfully at the thought that Sprint and Samsung will do anything to support the Neo in a timely manner. HAHAHAHAHAHAHAHAHAHAHA!!! Ok, now to go back to thank the Microsoft gods for the Developer Preview Program.

Well, I was trying to be positive! But, yes the Developer Program is a big part of me staying on WP.

What about htc 8x??? ;((((

How about the HTC 8x for verizon

Any idea about intrnational HTC 8X ? hope it doesnt take them too long to release this update for public.

I'm an 8XT owner, I've been surprised how much I like this phone. The GDR 3 came down on my phone before I heard about it on these blogs and such, so I'm looking forward to getting 8.1. Sprint has recently upgraded their network where I am, I just hope they bring new handsets to us soon, even if I'm happy with mine, it's nice to have options.

I've been really happy with the 8XT as well...but am hoping for an HTC One WP variant. (Though, honestly, I like the (M7) form factor over the (M8) One for size...) Here's hoping for some new hardware soon!!!

love my 8xt also. Glad Sprint is sticking with us. Iwould like 6" screen though. Wp8.1 on a one max chassis would make me upgrade.

I'm glad Sprint will actually be supporting the update. Although I wish they'd announce a new device. All these newer devices coming out on multiple carriers, but Sprint is still just sitting back with mid-to-low tier phones.

Well Sprint is starting to do things better. And not having to wait a year is wonderful. Now if they us developers some tools for their services and I will be happy and even higher than cloud 9.

I can't wait for the update on my Ativ S Neo!

Man, I hate it how carriers decide whether or not a phone gets an update. I'll probably be able to upgrade my device by the time Verizon hands out 8.1 for my 8x

Sprint needs to conform that it will get some new WP handsets this year.

Why to wait another 3-4 months when the system is ready ? :-/
Btw aren't iOS updates available as soon as Apple announces them ?

The real question is, will Sprint be releasing any new WP 8.1 devices?

while other carriers are getting new devices, Sprint is merely updating the OS (something that should be done regardless) lol what a cheap and terrible approach. The day cannot come soon enough for me to switch carriers.

Yay I'm glad. I have a HTC 8xt. And I love it so much. It will be great with 8.1

Is almost the end of Summer and still no word from Sprint about this update. Sprint you are the best on staying behind everyone concerning Windows phones.

Exactly. I want the REAL version. Something that works. Promises promises.

[broken promise intensifies]

Hey . Summer is over and no 8.1. What's the deal?

Exactly!! Summer ended the other day. Let's go Sprint, update already or at least give us some info as to what is going on (or not going on). We are tired of being left in the dark.
Windows Central Newsletter
Thank you for signing up to Windows Central. You will receive a verification email shortly.
There was a problem. Please refresh the page and try again.