Stack, Poki, ROCKRADIO and more are your Windows Phone app highlights for the week!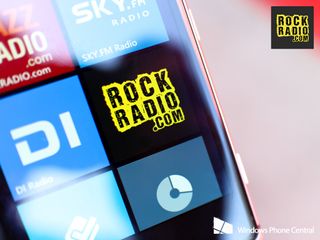 A lot can happen in a week, especially in the Windows Phone Store. New apps come and old favorites get updated with new features. Which is exactly why we like to take a little time to reflect and help highlight any cool apps you might have missed. This week we'll look at Stack, Poki, myTube and others!
New
Stack – We like clean and beautiful apps. The cherry on top is when those apps are very functional. Which is exactly why we like Stack, a new Buffer client for Windows Phone. With Stack you can automatically schedule updates to go out to your various social networks, like Twitter and Facebook. This is an indispensable tool if you're planning a product or apps launch. Or maybe you just want to increase your social media clout. Grab Stack in the Windows Phone Store. ($1.99/Trial coming)
Geico – Great news if you're a Geico Insurance customer. There's a new official app out on Windows Phone. The app allows you to check your Geico policies, view and access digital ID cards, pay your bill, change your payment plan and much more. Get Geico in the Windows Phone Store. (Free)
ROCKRADIO.com – We're big fans of Digitally Imported (DI.FM). Which means we're also pretty big fans of its sister networks JAZZRADIO.com and SKY FM. We're even happier to see ROCKRADIO.com join the Windows Phone club. The new app gives you access to over 40 stations with every genre of music imaginable. Grab ROCKRADIO.com in the Windows Phone Store. (Free/Subscription option)
Updated
Xbox One SmartGlass – The one app to control your Xbox One picked up an update this past week. There aren't any new features in Xbox One SmartGlass. Instead you'll find the app cleaned up a bit with easier access to your Game Clips. Grab the new Xbox One SmartGlass in the Windows Phone Store. (Free)
myTube – One of the best YouTube clients for Windows Phone went to version 1.5 this past week. Indeed, it's myTube with a new Live tile, logo, new themes, improved audio-only streams and much more. Get the new myTube in the Windows Phone Store. ($0.99/Trial)
Poki – Our favorite Pocket reader picked up its first update this past week. Poki is now at version 1.1 and introduces new features and fixes. The new features you look forward to include auto-completion for tags editing, new Live tiles, Vimeo & YouTube support and more. Get the latest version of Poki in the Windows Phone Store. ($1.99/Trial)
Beta
Nokia Camera –Live life on the edge? Then you should be running the beta for Nokia Camera. It's a look at features and functions coming to future versions of Nokia Camera. The update this week brings a new design for the photo library, the ability to automatically play videos and more. Grab Nokia Camera Beta in the Windows Phone Store (Free/Lumia only)
Toib – Looking for another YouTue client on Windows Phone? Then join the beta for Toib, a beautiful new YouTube app from the dev behind Phonly. The app is beautiful and worth trying out. More info on joining the beta can be found on the original post.
Games
FIFA 14 – Big fan of football/soccer? Then you're going to want to pick up FIFA 14 for Windows Phone. The game requires 1GB of RAM, but gives a pretty compelling football experience on Windows Phone. FIFA 14 gives you access to real players, real teams and real leagues all for free. Get FIFA 14 in the Windows Phone Store. (Free)
Purple Cherry X – Looking for an emulator to run all your old favorite GameBoy Advanced games? Then you're going to want Purple Cherry X, a new GameBoy Advanced emulator for Windows Phone. Grab Purple Cherry X in the Windows Phone Store. (Free)
Have any favorite apps from the past week? List them below!
Get the Windows Central Newsletter
All the latest news, reviews, and guides for Windows and Xbox diehards.