Surface 3 LTE now at AT&T, T-Mobile on July 31, Microsoft Stores in late August (Update)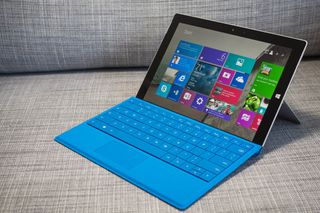 As promised, AT&T has begun selling the Surface 3 LTE with 2GB of RAM and 64GB of storage. The 10.8-inch tablet with the additional 4G LTE hardware is available for $599 without a contract, $499 with a two-year contract, or $30 a month for 20 months under AT&T's installment plan.
Microsoft has also announced that its store website will have unlocked 64GB and 128GB versions of the Surface 3 LTE available starting today, with AT&T and T-Mobile SIM cards for the tablet also available at Microsoft Store retail locations. However, at the moment, the site does not yet show the tablet as being available. We will update this post when that happens. In addition, T-Mobile will begin offering the Surface 3 LTE to business customers in its @Work program starting July 31.
Update: Looks like Microsoft was a little too anxious as they have now updated their blog post:
Looks like you'll have to wait a bit longer if you want the unlocked version.
Check out the 64GB Surface 3 LTE at AT&T (opens in new tab)
Source: Microsoft
When in India ... Btw will the upcoming sp4 will have a variant with lte.. Sp3 doesn't..

But what about after sales?

Do you have AT&T in India?

Nope but we've got more carriers that screw us less ( let can be used with 3g too!!).

When in India, do as the Indians do.

Haha.. I got my sp3 when I was in us last. Yeah after sales could be a problem..

Please when is this surface 3 LTE device going to be available globally?

Something tells me it will be with Windows 10 installed.. Wait.. Im sure...

Nope it doesn't Posted via the Windows Central App for Android

I'm curious to see if Microsoft will offer reasonable trade offers for anyone wanting to go from a regular 3 to an LTE 3. I love my 3 but wouldn't mind the feature.

They don't do trade-ins. Also, Surface 3 with LTE was announced with Surface 3, so not sure why they'd owe you anything. You knew it was coming, you should have waited would be their explanation.

I'm not saying it as if they owe me. I just wonder what they value a regular 3 at in this case, in the vein of regular hardware trades that I'm aware they do.

@terrokkinit: Craigslist... Get more $$ than a trade in anyway...

Or, get murdered. One of the two.

Daniel, any of mentions Verizon?

That's not completely correct Daniel. If you can take it to a physical store, they do trade-ins for an in store gift card though, to be honest, finding someone to buy it would more than likely get you more return on your money.

They do trade-ins actually at the Microsoft Store for electronics, including Xbox and other competitor's stuff. I don't see why not, anyway :) but also, Dan trumped me, so maybe he knows something I don't. Oh well.

I think he interpreted my message as a swap request. But I mean just like you say, a hardware trade for store credit. I have a few friends that work at the store near me, I'll try asking them and report back with anything.

Reasonable trade offer sounds pretty clear and not some kind of free upgrade. So you was pretty clear and reasonable. Be interesting what you hear so don't forget to report back.

I just got 20% off for my original non-functioning RT on the 4GB/128GB LTE version. Final cost $479. I am not sure what you would get for 3, but I was pretty happy with that.

There's a 4GB LTE version?! I would take advantage of a trade in if I could trade in my Nokia 2520 tablet.

Only for business customers?!

No, I was able to order mine as a personal user.

Omgosh.... This is soon-to-be launched on T-Mobile! I'm so excited! :-D (Yes, for business now, but could be for consumers later...who will know?)

T-Mobile, I'm telling you now. (As I'm sure many other readers will agree with me.) If you make this available for consumers on JUMP! pricing, yes, I will buy. No questions asked. I want this. Like....yesterday want this ;)

Yes, I will buy it instantly!!!

I've spoken with both a T-Mobile representative and a representative at the Microsoft Store via telephone and have confirmed thru them that not only will you be able to get the S3LTE on JUMP, but that you can also initiate a JUMP at the Microsoft Store and have it active on your T-Mobile account when you leave the store. If this information turns out to be true, the advantage of going to the Microsoft Store is that you will be able to get the 4GB/128GB model while in the beginning T-Mobile (and AT&T apparently) will only be offering the 2/64 model in store. The T-Mobile representative I called also said that July 31 is also the date these tablets will be available to the public along with the business customers mentioned in the article. Though I am confident, this information is only as accurate as the representatives I spoke with, so take with a grain of salt. I have an iPad with JUMP and would love to upgrade to the new Surface 3, especially since the new JUMP doesn't require money out of pocket...

....I want to hug you. Thanks for the info!

Why VZW and M$ hate each other? *sad panda*

Microsoft's employees get unlimited data on VZW's network. They very much have a strong, working relationship together. As for lack of VZW stuff? That I can't say as to why...it's the main reason I switched to T-Mobile.

Does this indicate most MS employees use the iPhone?

Hmm thinking about selling my laptop and my Dell Venue 8 Pro to get money as a down payment and then just get on a contract that I can pay off during Income Tax return. Just might have to.

Pls what about the performance of the dell venue pro 8? Is it manageable for small tasks and what about battery life

My 1.5 yr old Dell venue pro 8 (1st Gen) still gets about 8 hours of battery life per charge, and that's being used to read webpages, type word documents with a Bluetooth keyboard, and similar tasks. As to performance, for its size it does fine. I can play games like FIFA ultimate team with no issues, but good luck getting any steam games to run, unless they're 8-bit arcade games. The real ticket for me is the pen support, which has improved considerably since they released the third version of the pen in I think march of this year.

Does this mean you have to pay full price if you get it at Microsoft Stores? Also, if you buy a phone with contract at Microsoft Stores, can you still do the monthly payments?

I am not sure -- difference in getting it at the MS store is that you may be able to get the 128gb model. At&T only has the 64gb atm

I called them but they didn't know anything about the LTE version in the physical store.

The Microsoft Store is an authorized AT&T reseller, so they can access your account info and such, and therefore can change your service plans. But in my experience, the Store employees were always bitter about it because apparently AT&T kept changing the authorization codes, and made the employees' lives hell while trying to access the info. So your mileage may vary.

Too bad the Surface 3 doesn't have the FFC to support Windows Hello. As tempting as this is, I think I'll wait on a real Windows 10 tablet (Surface 4?)

Just saw this after my post lol.. It doesn't support Windows Hello? That's garbage. Not getting it now..lol

I'm pretty sure it doesn't have the FFC (front facing camera) hardware that "Windows Hello" requires. Someone correct me if I'm wrong. Dan?

3.5MP Fixed Focus front facing camera -- taking from the specs on the At&T product page https://www.att.com/tablets/microsoft/surface-3.html#sku=sku7660343

Right. Windows Hello requires Intel's RealSense 3D camera harware, which this Surface 3 doesn't have.

Those cameras look a little like a Kinect setup.

You expected the budget minded device to have a Realsense camera in it? not sure why so many people are surprised by this.

Not really a budget device. And it's newer tech that wasn't design specs for most current gen products.

I'm going to get it.. Wish I can trade my Surface RT and get the price knocked down on AT&T.

Woke up this morning to check the specs. Was gonna run in there and grab this tablet. But... saw the 2gb RAM. They've gotta be kidding me. I guess my Surface Pro 1 will have to last me a little longer (it's doing just fine, besides the abysmal battery life). They definitely almost had a customer in me if they just ate the cost to sell the 4GB version...

You can get the 4/128 version direct from a Microsoft store

Just tried there. They have no clue about this.

My friend told me that not only would you pay the $30 a month, but also an access fee. I thought sicne I had a 6GB data share plan on AT&T, I could just add this device. Guess not *sigh*

I don't know about the "access fee", an activation fee, yes, but you'll have the $30 a month, PLUS a required monthly data plan which is at least another $30 a month. So look at tacking at least $60 a month to your monthly wireless bill.

It's $10/month and uses my 10gb family share data; also there is the $30/mo for the Next payments. Only additional charges is if you would add device insurance, etc.

Yeah, for tablets the access fee is $10 per month. Not too bad, but still something to consider. At least they don't charge you access fees for these like they do phones ($15-$40).

yea its $10 extra if you add it to your current mobile share plan...40 isnt bad and I was a little bummed about the 2gb ram too but i watched a decent amount of reviews and it seems to be well capable with 2gb...im gonna try installing VS on it to see how well that runs...

Devices on AT&T should only run $10 per device. Phones are $40-$25 = $15.

Addition: if you get it prior to 01 August, you bypass the $15 activation fee

Bummed about the 2 GB of RAM.

Read the rest of the article

I did. But the Microsoft stores don't even know that they sell this. Go down to one and see how confused they are.

Why? That's plenty for this type of device IMO.

Not really, if you want to start using Visual Studio or Photoshop while having 10 browser tabs open. That would be a true laptop experience anyway. Then there is only 20 some GB of storage. If you get a good SD card to make up the storage the price almost becomes a wash and your still stuck with 2GB ram. Phones are comming with more memory than that. Systems should not be made and sold under 4GB in 2015. Otherwise, it should just be an RT device.

This has 64 not 32. Posted via the Windows Central App for Android

I'm talking about usable storage. The system takes up most of the space on the 64 GB model. 64 GB has 23 GB of usable space and the 128 GB has 83 GB of usable space.

Needless to say you won't be buying one then. Hope you find the 4/128 Posted via the Windows Central App for Android

Well, I may if too impatient, lol.

I got it. So far not too bad. I may opt to return for the 128/4 if they get some availability before 14 days.

I'm in love with it. I personally don't need the extra space and rAM. Going to go to best buy and get the dark blue cover and pen holder Posted via the Windows Central App for Android

Just FYI the system is only taking up 15.5... Posted via the Windows Central App for Android

That, sir, is incorrect. 64GB and 128GB models have 36GB and 96GB of available space, respectively.

Microsofts site says 37 and 93. https://www.windowscentral.com/e?link=https2F%2Fclick.linksynergy.co...

Those numbers came up on another site. But I can see they were wrong now.

Isn't win 10 supposed to use less space? So maybe count on the extra storage when it rolls out?

Are you really serious that you want to run Visual Studio on a device not intended for it. Surface 3 is a casual tablet/hybrid. If you want to do that, better go for SP3.

Eh, perhaps not. I may want to but VS would be rough to use on such a small device. I've seen it run fine on SP2s. But I'd want in in a docking station at least.

I want the pro 3 with win10 on it

I've been noticing alot of good deals on Craigslist lately. Maybe there's a bunch of ppl selling to upgrade to SP4.

Excited. Picked up the only in the store with the stylus. Posted via the Windows Central App for Android

Yeah, every store has 1 in stock for some reason.

Yeah another store had 2. The one I went to was setting up the display. Posted via the Windows Central App for Android

Oo now that sounds good T-Mobile..

If purchased on a two year contract with a 640 xl on next, it'll be 399.99.

Do they sell the keyboard attachments at the AT&T stores? I was trying to find them on their website and was unable to.

Yes...just the black one tho. And the pen as well.

Most stores have like 1 unit.

The one I went to had 2, but you are right. Low availability right now.

Tethering SP3 for free is too easy. Pass.

Just got mine. They will probably go fast today, the store I went to only had gotten 2 in stock today, and I got the last one.

One more question. To get the $30 a month deal, do you have to sign up for a new tablet plan (or whatever it's called)? I'm already paying $10 a month for my Lumia 2520 and I would just want to take that SIM card and put it in the Surface.

It should be a simple $10/month extra "tablet" addition (this IS a tablet, right AT&T?) but I have a feeling they will try to milk $30 as a "Laptop."

Assuming you are saying that the 2520 is already on AT&T, then check your account online (could save you a trip to the store) to see if the line you have it on has a NEXT upgrade available. If it does, you go in to the store and complete the upgrade on the existing line already present. You will just have to sign the new NEXT agreement for $30 a month/20 months. You are already paying the $10 a month tablet access fee as you mentioned, so the only thing it should cost you out the door, is tax. You will also get a nice new shiny sim card to boot, and the rep should even swap it out for you.

This is correct. For some dumb reason I had to get a new SIM number. But everything stayed the same. I didn't have time till argue about the number and I never use it. Posted via the Windows Central App for Android

Go with tmobile. They have better deal for data.

And if T-Mobile isn't very good in your region? Pay less for unusable data?

can anybody confirm if the LTE versions will have GPS?

Should I think it's part of the LTE radio.

Yes Posted via the Windows Central App for Android

Those prices are not bad at all. I think MS plan just might be working.

Sp 4 need to have lte !!!!!

Can anyone answer this: If Microsoft is selling an unlocked version of the 4G lte tablet, does that mean it will work on Verizon, since it does not need to have cdma since it's data only?

Technically yes, but it is up to Verizon if they will give you a SIM card or activate the device for their network. You will have to find out the supported bands too.

Correct. The unlocked Surface 3 LTE supports bands 700, 1700/2100, and 1900MHz. So hardware wise it would work on Verizon's LTE network. Outside of that though it wouldn't see any network at all.

I just picked mine up through the Next program like I usually do. My store only received two units though!

Ok is LTE tablets even needed anymore when you can just use smartphone to share to share the internet with your tablet?

Yes. Yes it is. Posted via the Windows Central App for Android

Think twice about buying any Windows technology to use on T-Mobile. History shows they repeatedly and randomly just decide to drop support.

I agree. At least the developer preview app allowed me to get most major updates by circumventing tmobile. Very annoying though. Anyone know if/when the surface 3 will be available on tmobile? I have been using my RT over tethered wifi from my cell phone which works ok, but I have had a couple stressful situations when my phone died or tethering got throttled and would like my business tablet have its own data connection. Most aticles I read say August 31st but I cannot find it anywhere.
Windows Central Newsletter
Get the best of Windows Central in in your inbox, every day!
Thank you for signing up to Windows Central. You will receive a verification email shortly.
There was a problem. Please refresh the page and try again.