Surface Book 2 vs. Dell XPS 15: Which should you buy?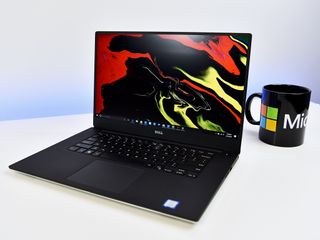 Microsoft's 15-inch Surface Book 2 is one of the finest laptops on the market today, but that doesn't mean it stands without some stiff competition. Dell's XPS 15, also a fine device with impressive hardware inside, comes at a significantly lower price but without a few of the key features that make the Surface Book 2 the special device it is. Let's take a look at exactly how the two 15-inch laptops compare to help you decide which is best for your needs.
Surface Book 2 vs. XPS 15: Specifications
Category
Surface Book 2 (15)
Dell XPS 15
Processor
Eighth-gen
Intel Core i7-8650U
Seventh-gen
Intel Core i3-7100H
Intel Core i5-7300HQ
Intel Core i7-7700HQ
Display size
15-inch
15.6-inch
Display resolution
3,240 x 2,160 (touch)
1,920 x 1,080 (non-touch)
3,840 x 2,160 (touch)
RAM
16GB DDR3
8GB/16GB/32GB DDR4
Graphics
NVIDIA GTX 1060 (6GB)
Intel HD Graphics 630
NVIDIA GTX 1050 (4GB)
Storage
256GB/512GB/1TB PCIe SSD
500GB HDD + 32GB SSD
1TB HDD + 32GB SSD
256GB/512GB/1TB PCIe SSD
Camera
Front-facing 1080p
Rear-facing 1080p
Front-facing 720p
Biometrics
IR camera for Windows Hello
Fingerprint reader (optional)
Ports
Two USB-A 3.1
USB-C 3.1
Two Surface Connect
SD card reader
3.5mm audio
Two USB-A 3.0
Thunderbolt 3
HDMI 1.4
SD card reader
3.5mm audio
Xbox Wireless
Built-in
None
Battery
80WHr
56WHr
97WHr
Dimensions
13.5 in x 9.87 in x 0.57-0.90 in
(343mm x 251mm x 15-23mm)
14.06 in x 9.27 in x 0.45-0.66 in
(357mm x 235mm x 11-17mm)
Weight
4.20 pounds (1.91kg)
4 pounds (1.8kg) non-touch
4.5 pounds (2kg) touch
Price
Starting at $2,499

(opens in new tab)

Starting at $1,000

(opens in new tab)
Surface Book 2 vs. XPS 15: Performance
The 15-inch Surface Book 2 is intended as the high performance option of the lineup, so it comes only with an eighth-gen Intel Core i7-8650U processor (CPU). You're getting four cores for great performance, but it also has a 15W thermal design point (TDP). Compared to the seventh-gen Core i7-7700HQ in the XPS 15 that has a 45W TDP, the eighth-gen CPU is going to be sucking up less power.
When it comes to raw performance, these two CPUs are closely matched, though the one in the Surface Book 2 has a higher single-core turbo frequency at 4.20GHz. If you're going to be primarily multitasking, you'll likely be able to squeeze better performance out of the XPS 15 when all cores are engaged. If you're in need of a PC with less processing power, the XPS 15 does also come in Core i3 and Core i5 configurations, saving you a bundle of cash.
Likewise, you can go as low as 8GB or as high as 32GB of RAM in the XPS 15, whereas the Surface Book 2 is set at 16GB. As for the hard drive, the XPS 15 has some budget-friendly hard-disk drives (HDD), but like the Surface Book 2, also comes with PCIe solid-state drive (SSD) options up to 1TB in size.
The big difference in performance here is in the graphics card (GPU). The cheapest XPS 15 model uses integrated Intel HD Graphics 630, but the rest have a dedicated NVIDIA GTX 1050 with 4GB of GDDR5 VRAM. This is enough for a decent gaming experience, but compared to the NVIDIA GTX 1060 with 6GB of GDDR5 VRAM in the Surface Book 2, it won't compete.
Winner: Surface Book 2. The XPS 15 does come in more configuration options, but the GTX 1060 in the Surface Book 2 will outperform the GTX 1050 all day.
Surface Book 2 vs. XPS 15: Display
The IGZO displays that Dell uses in the XPS line are downright gorgeous, stretching seemingly from edge to edge without much bezel at all. Whereas older models were capped at 1800p, you can get a 4K touch version alongside the standard 1080p non-touch version. Either one will serve you well, offering up a high color gamut and deep contrast.
The Surface Book 2's display has a 3:2 aspect ratio, making it seem boxier than usual. It's perfect for tablet mode when you remove the display from the keyboard, and is the perfect shape for use with the Surface Pen (which is no longer included with the laptop). The bezels here are also thicker than on the XPS 15, something that might help a lot of you decide.
Winner: XPS 15. The fact that the Surface Book 2's display can be removed and be used on its own with a Surface Pen does certainly count for something, but strictly speaking appearance, the XPS 15 has it beat.
Surface Book 2 vs. XPS 15: Design and features
The Surface Book 2 has a modular design, meaning the display can detach from the keyboard base. There's still decent battery life in the tablet, though the bulk of it, along with the dedicated GPU, is housed in the base. The two pieces attach at the fulcrum hinge, and can be separated with the click of a switch. For something a bit different — mainly to get the display closer to you while retaining a base to sit on, the display can be replaced backwards to face out when closed.
The XPS 15 is far less complicated, designed to be a standard notebook and not much else. Made from aluminum on the outside and a carbon-fiber finish on the inside, the XPS 15 sits at about four pounds for the non-touch version and 4.5 pounds for the touch version. The Surface Book 2 weighs about 4.20 pounds.
For ports, you have similar USB-A 3.0 and an SD card reader, and while the Surface Book 2 has two proprietary Surface Connect ports, it is lacking a Thunderbolt 3 port that the XPS 15 has. If you're a gamer, though, the Surface Book 2 has Xbox Wireless built right in, making it easy to connect a gamepad.
The keyboard and touchpad on both laptops are comfy, though you're getting more key travel with the Surface Book 2 (1.55mm compared to 1.3mm). Both have large Precision touchpads, and there is an adjustable backlight behind the keys.
As far as logging in with Windows Hello, the Surface Book 2 has an IR camera above the display. The XPS 15's standard 720p is below the display — giving a nose view at best — and doesn't support Windows Hello, but you can choose to add a fingerprint reader.
Winner: Surface Book 2. Though the XPS 15 makes a great notebook, the Surface Book 2's modular design and bonus features make it the winner.
Surface Book 2 vs. XPS 15: Battery
If you opt for the basic XPS 15 model, you'll get a 56WHr battery, smaller to make up for the size of the HDD. For other models using an SSD, you get a 97WHr battery. Battery life varies depending on whether you have a dedicated GPU and whether you have the FHD or 4K version, but you can expect about ten hours of straight use with the lower-res display and running a GTX 1050.
The Surface Book 2 can hit about the same life, getting about 10 hours of standard use from a charge. This number is impacted by the GTX 1060, and if you remove the tablet from the base, you'll only have access to about 20 percent of the total battery reserve.
Winner: Tie. Both laptops can provide all-day life, but are impacted by the dedicated GPUs.
Surface Book 2 vs. XPS 15: Price
Considering the 15-inch Surface Book 2 starts at a whopping $2,500 (opens in new tab) and the XPS 15 comes in with a model that costs just $1,000 (opens in new tab), it's kind of clear who the winner is for anyone who wants a cheaper device.
See at Microsoft (opens in new tab)
However, that base model of the XPS 15 has no dedicated GPU, has an HDD, and is running a Core i3 CPU. Compared to the Surface Book 2, there's no performance contest. If we look at an XPS 15 that's closer matched to the entry-level Surface Book 2 — Core i7, 16GB RAM, dedicated GPU, and a 512GB SSD — it's clear that you can still save nearly $1,000 by sticking with Dell's laptop.
See at Dell (opens in new tab)
Winner: Dell XPS 15. You get a lot of laptop for the price you pay, and though the Surface Book 2 has a lot going for it, the price can be prohibitively high.
Surface Book 2 vs. XPS 15: Conclusion
Like with a lot of laptop comparisons, the final score comes down to a tie. Here, the XPS 15 has a better display, costs far less, and offers a Thunderbolt 3 port, but the Surface Book 2 offers better performance, a few important extra features, and a killer design.
The price will likely play a big part is choosing between these two, but it's safe to say that the XPS 15 makes a great notebook while the Surface Book 2 makes a great notebook and more. If you're in it for Windows Mixed Reality (WMR), keep in mind that either of the laptops can run it, though you'll likely want to check out my guide to adapters to get it all set up.
More resources
Check out our in-depth reviews for far more information about these great devices.
Cale Hunt is a Senior Editor at Windows Central. He focuses mainly on laptop reviews, news, and accessory coverage. He's been reviewing laptops and accessories full time since 2016, with hundreds of reviews published for Windows Central. He is an avid PC gamer and multi-platform user, and spends most of his time either tinkering with or writing about tech.
As someone who has owned 3 surface devices I can tell you first hand. Dont buy one. Why? Simple. They are unreliable. I have had to return a surface pro 3 and a Surfacebook due to hardware failires, and my replacement surfacebook touchscreen just broke. My current Surfacebook will be my last. I`ll get a Lenovo next time, as I simply dont trust Microsoft to make hardware that lasts.

Good luck with Lenovo then. I hate their screen to death.

I no longer trust them either. My SP4 developed the well known shaking screen issue about 4 months ago. I'm not out of warranty so SOL there. I also had a Surface 3 which broke. Luckily I will had warranty on that one. Really want to try out a Surface Book 2 though...

I bought my first Surface device, an SP4 (the SB/ SB2/ SL/ SS/ Surface Pro: none of these are available my part of the globe...) 6 months ago. Bought it at a Store, where there were at least 40 other Brands and Models on display. The wife and I just couldn't take our eyes off the SP4's stunning display! So, although we had in mind a budget that was just half what the SP4 cost, I actually had the wife saying "Lets go for it!", for the first time in our 22 years together! :) The more I used the SP4, the more I fell in love with it, discovering the ease of Windows Hello, the blinding speed of its SSD, the crystal-clear (though not very loud, one might beef...) Sound, the Type Cover that makes typing almost fun, the Butterfly-touch-yet-extremely-accurate TouchPad and so on! I have now purchased the Surface Pen (latest one, with 4096 Levels of Pressure Sensitivity) at a huge cost this part of the world, although not all its features work on the SP4. I'm learning how to use a Pen - again - after ditching Pens years ago, for the Keyboard!! :) Only ONE issue I notice with the SP4 is, when I connect it to a Projector (using Microsoft's own excellent Mini DP to HDMI Cable), my Mouse runs off the Screen, randomly jumping all across the 12.3" screen real estate! It becomes completely unusable! Instead of taking the easy route of cussing Microsoft, I got myself the Arc Mouse, again at a huge cost - I do not want an ordinary Mouse to steer my SP4!! That solved the issue, in the sense that I can now easily use my SP4 while it is connected to a Projector too! So now, my only worry is that I do not drop the SP4, even though I hold it like it was a newborn baby, at all times... I update Windows 10 regularly, stay off the Slow/ Fast Rings (on the SP4 at least) and do not have any other AntiVirus on it - letting Windows Defender do all the defending. I do not want to consider any other Laptop in future other than one with a Surface Branding, when the SP4 breathes its last - hopefully, many fruitful, fun-filled years later! P.S. It is priceless, watching heads turn and some faces colour a peculiar shade of Green, when I walk into a room full of people, the SP4 carried like a File! :D

I've had the original Surface Book since it came out and while I went through "Hot Bag" and some of the early firmware problems, it has been a very reliable machine. I would buy a Surface Book 2 for sure.

sb 2 vs xps 15 2in1 should have been a fare comparison

It will be, however, the xps 15 2 in 1 is not released yet...and it's the next device I am buying!

I can't seem to get used to the keys being on the underside when in tablet mode.

I have a dell 2 in 1 now. I don't use it in full tablet mode as I have an ipad for that. What I like about the 2 in 1 form factor is tent mode. While traveling on planes etc, it gives much more room without the keyboard sticking out as It would in normal "laptop" mode. Windows is not as a tablet anyways. The texture app is non functioning, the reading apps are not as good, The Major devices being used as windows tablets are heavier and clunkier than the ipad. However, Apple trying to pass off the ipad pro as a true computer is just as silly. Thats why I have both. My dell is my main computer and my ipad is my consumption device.

I'll definitely do a comparison in the near future.

Neither, buy the Surface Laptop with the i7. Best machine I've ever owned, came from the original SB which I loved.

If want an alternative to XPS 15 without discreet GPU. Then yes;")

I certainly like the look & feel of the SB2 but found that the configurability of the XPS15 was too attractive to not buy into. I went with the i7 and HD display (which was one of those nice configurables) and have really loved this machine. The Type C dock is a very nice bonus. Not sure what the option is to drive multiple monitors with the SB2, asssume it's the Surface Dock + Mini DP -> DP adapters. Otherwise, I wasn't aware what your single plug dock options are. Again though, still a fan of both.

Anyone knows where to find all the wallpapers used in this review?

Microsoft should include a pen in the Surface book 2 because of it's price.

In t his case clearly the surface book. But both are a bit to big for truely mobile device. I had the Surface 3 (non-Pro) for 2 years and then upgraded to the XPS13 2in1 last summer. Great device - but even with the thin bezel just a bit to big for my feeling. I prefered it over the Surface because of the awesome keyboard.

Comparing apples to oranges;")

Both are deal breakers for me. XPS 15 : web cam below display is unacceptable. Surface Book 2 : I'm not paying that much for a laptop with no Thunderbolt 3 port. Although if I was forced to choose I'd probably choose the Surface book 2. To me it would be the perfect laptop of it had thunderbolt 3.
Windows Central Newsletter
Get the best of Windows Central in in your inbox, every day!
Thank you for signing up to Windows Central. You will receive a verification email shortly.
There was a problem. Please refresh the page and try again.