This $10 pen holder for Surface Duo and Surface Duo 2 completes the device
Always have your Surface Pen with you, thanks to this simple accessory.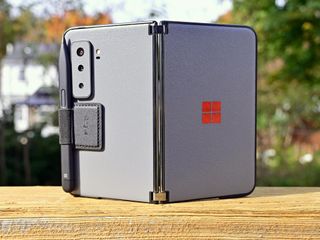 (Image credit: Daniel Rubino / Windows Central)
What you need to know
Ringke has a $10 universal pen holder that works great with Surface Duo and Surface Duo 2.
The holder works with the original Surface Pro Pen and new Surface Slim Pen.
The simple accessory solves many problems and is cheaper than Microsoft's Surface Duo 2 Pen Cover.
One of the neat things about Surface Duo and Surface Duo 2 is the ability to use a Surface Pen with it. You can use handwriting recognition in Gboard, take notes in OneNote, annotate a PDF in OneDrive, or markup a photo.
However, securing the pen to the device is tricky. There was never really an answer for this with the original Surface Duo. Surface Duo 2 does let you stick the pen magnetically to the front, and you can spring an extra $65 for the forthcoming Surface Duo 2 Pen Cover, which also wirelessly charges the pen.
Image 1 of 3
If neither option sounds great, this $10 Ringke Pen Holder is an easy recommendation.
First spotted on reddit, the pen holder is simple enough. It costs $10, but you get three of them in the bag, which is good if you change skins or need an extra for your Surface Pro. In these photos, you can see the pen holder with the SopiGuard "Rugged Bedrock Grey" skin.
Peel back the Ringke's 3M sticker and attach it to your device, and you're good for the road.
There are a few great things about going this route with the Ringke:
It's much cheaper than the Surface Duo Pen Cover ($10 vs. $65).
You can attach your pen to the front or back of the device.
It works with the new Surface Slim Pens and the original round Surface Pro Pen.
If used on the back, you don't get the slight wobble from the camera bump that offends some people.
Because it's a stretchy loop, there is no chance of the pen coming off in your pocket or bag.
This works with Surface Duo and Surface Duo 2.
So far, the Slim Pen 2 for Surface Duo 2 is like all my pen use for Surface products. I rarely use it, but I'm glad it's there when I need it. This approach has only gotten better with Surface Pro X, Surface Pro 8, and Surface Laptop Studio, where the pen is now stored in the device. Using the Ringke Pen Loop is very similar — I keep the pen with Surface Duo 2 all the time now. Heck, it even gives something extra to grip when grabbing it.
Image 1 of 2
Of course, you may wonder about flipping the displays into "phone mode" or "one-handed mode." Anyone using Surface Duo 2 can tell you that this is a big nothing burger as it does not impact usage. In fact, with the pen attached this way, it is consistent (versus the camera bump), which may give people some extra peace of mind. It also solves the wobble complaint some have when laying Surface Duo 2 flat (so long as you keep the pen in place, of course).
Using this pen loop could also be a much cheaper solution for new owners. If you already have a Surface Pro Pen, you can use it with this $10 loop for Surface Duo 2. That's much better than dropping $135 for a Surface Slim Pen 2 and the $65 Surface Duo 2 Pen Cover. It also works just fine with the new Surface Duo 2 Bumper.
Overall, if you like the idea of having a Surface pen with you all the time, it's easy to recommend the Ringke Pen Holder.
(opens in new tab)
Bottom line: For just $10 (for 3x), this pen holder sticks to the back of your Surface Duo and Surface Duo 2 to make sure you never lose your pen (and that you always have it with you).