Why I'm sticking with Surface Laptop instead of Surface Book 2
I am a Surface user who prefers the Laptop over the popular Book 2. Here's why.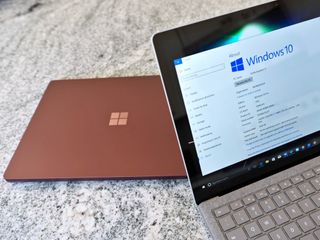 Microsoft's original Surface efforts were unique and exciting. I started with a Surface RT and eventually upgraded to the Surface 3 a few years later. On the inside, however, I was never really a true believer in the "tablet that can replace your laptop" form factor Microsoft was pushing. I always preferred the more traditional laptop form factor, with a sturdy keyboard base and a hinge that didn't spin all the way around.
So when Microsoft announced the Surface Book in late 2015, I was beyond excited. Microsoft was finally building a device that positioned itself first and foremost as a laptop, not a tablet. I got one the second it became available in the UK and used it almost exclusively as a laptop. I would only ever really detach the base to show off to friends.
So imagine my surprise when Microsoft announced the Surface Laptop in 2017. It was as if Microsoft had peeked at my wish list and decided to build the device of my dreams: a true, no compromise laptop. A laptop in its truest form. I picked one up right away and forgot all about my Surface Book until later that year when the Surface Book 2 was announced.
Related: Surface Laptop review
Surface Book 2 announcement
The Surface Book 2 announcement was the first time Microsoft had announced a Surface product that I had no real interest in. I couldn't think of a reason why I'd switch from the Laptop back to the Book line. The Book line is still a hybrid, with additional features and design choices that I simply don't prefer.
The Surface Book hinge, for example, is still present. What I don't like about the hinge is that it makes the device rather thick when closed. That, plus the fact that the Surface Book is top heavy like the Surface Pro, make the Surface Book a terrible choice for a "lap" top PC. While the Surface Book is more "lapable" than the Surface Pro, it most certainly isn't as lapable as the Surface Laptop. The Surface Book 2 is also heavier, which isn't preferred when you buy a laptop for its portability.
I recently had the chance to try out the Surface Book 2, to decide for myself whether I'd want to switch back. The short answer is no. Even with the improvements that have been made in Book 2, I still prefer the Laptop.
Why Surface Laptop?
I simply don't need the extra features or power that the Surface Book provides. The Surface Book 2 has many different models, ranging from relatively mid-range to very high-end. When it comes to laptops, I'm only ever really looking for a mid-ranger, something I can use to do writing or web browsing on when on the go. I don't do resource intensive work when I'm out and about. For that kind of task, I have a dedicated PC workstation.
Because of this, the Surface Laptop is more suited to my needs. It's not as thick or as heavy, and it's a little more stylish in my opinion. It's small enough to fit into a slim bag without taking up too much room, and it's also more appropriately priced. The Intel Core i5 7300U with 8GB RAM and 256GB solid-state drive (SSD) Surface Book 2 is $1,499 (opens in new tab), compared to the Intel Core i5 7200U with 8GB RAM and 256GB SSD Surface Laptop which is just $1,299. (opens in new tab)
I also prefer the aluminum materials on the Laptop over the magnesium found on the Surface Book 2. The two things I do prefer on the Surface Book 2 over the Surface Laptop are the all-metal keyboard base compared to the Alcantara one on the Surface Laptop, and the higher-resolution screen on the Surface Book 2. I've had the chance to see both displays side-by-side, so I can see that the display in the Book 2 is much better.
It's all about your use-case
I just don't need a tablet. The Surface Book 2's main benefit is that it's a hybrid, meaning it can be both a laptop or tablet whenever you need it. You can buy a pen, and use it purely as a tablet if you want, or you can put the pen away and use it just like a normal laptop. For me, the added bulk and weight is not worth that trade-off, but if you're someone who needs a tablet often, the Book is likely a better choice for you.
It all comes down to this: I don't buy my "on the go" PCs expecting to do power user-type things. I just want a stylish, clean, and simple laptop. I am not the target demographic for the Surface Book or Surface Pro, and as such, the Surface Laptop is what I prefer and enjoy the most.
Now don't get me wrong. The Surface Book 2 is a beautiful and well-crafted device. It's arguably the best Surface Microsoft makes, but it's just not for me.
Of course, many will need the added horsepower the Surface Book 2 provides, or the ability to detach the display and use it as a tablet. In that case, the Surface Book 2 is absolutely the better choice.
Zac Bowden is a Senior Editor at Windows Central. Bringing you exclusive coverage into the world of Windows 10 on PCs, tablets, phones, and more. Also an avid collector of rare Microsoft prototype devices! Keep in touch on Twitter: @zacbowden.
Great article. I always tell people they need to know how they are going to use a device before they commit to it. I found the surface pro series for the best for me. Enough CPU power, prefect size, enough to do multimedia with out the need for games. I can run virtualization with the i7 and also my audio video editing apps. The size is prefect for those on the go that can't stand the weight of other platforms. And having the ability to turn it into a tablet to watch a movie while traveling also helps.

Yes, but sometimes knowing how you will use a device isn't so easy when many times it's about discovering how devices can be used when you actually have one and then it's too late. Studio mode for inking with SB is something that people can't imagine until they use it.

I'm not so sure you're right.
If you're a journalist, of course you know an iPad is really the high end for you.
Word is really all you'll ever need.
If you buy a SB, its what we call impulse buy.

You are saying he doesn't know the difference between an iPad or SB...

I LOVE my Surface Book. I love the hinge. I am a programmer, and I am also a heavy notetaker and spend a lot of time in the studio mode with the pen in OneNote. And I am surprised how often I use the clipboard detached from the base. E.g. reading kindle books with my son. SB is the perfect device for my needs and I would be very unhappy if for whatever reason MS would stop producing it.

Agree, studio mode is a massive plus when considering inking. This is the thing that pushes me towards the SB II.

I agree, I have the SB2 and really was surprised at the quality and how well it functions as a laptop and tablet. I was initially worried the detachable screen compromised the laptop functionality, but the engineering is so good. I think it really is the ultimate laptop and will keep buying future iterations if their made.

Nice summary of the surface portfolio and relative strengths and weaknesses Zac. But I disagree with one point - after years of tolerating 'lap burn' with various notebook designs (hp, Fujitsu, dell) I immediately discovered the genius for mounting the 'heat' in the upright screen section while the keyboard remains cool and light weight. The sp4 kick stand was a huge upgrade vs sp1/2 and sp3. Genius design.

I never thought about that, good point!

Good one, Zac. Preference differs and then there's this use case scenario.

I miss my Surface Laptop. Sold it and then bought an HP Spectre x360. Loved the 3:2 screen aspect ratio and amazing speakers. But the battery life on the Spectre lasts way longer and Wi-Fi is stronger/faster. Better ports too. Looking forward to the Surface Laptop 2!!

That's interesting, as I have considered the HP as well. Have the X3 and love it. The 3:2 screen and precision mouse 🐭 push me over the edge though...

Great article. I completely agree with "It's all about your use-case"

I stopped using tablets after getting SB. Now I have SB2, and the tablet battery life is better. Excellent for reading, esp on the toilet.

I'm the opposite. I started off with a HP TC1000 in the early day and was all in on tablets. Then, they all went to laptop hybrids. The portability was lost. I then went to an iPad when they came out because they were a "real tablet". It was ok, but lots of workarounds to get things done. When the Surface came along, I was pretty happy to get back on windows - even RT could do a lot more than the iPad as far as file manipulations, network drive access, printing, etc. I'm on a SP4 now and still use it tablet mode a lot - especially at home. The biggest disappointment has been the lack of tablet, touch oriented apps in the store. I'm starting to lose hope that the situation will ever improve. I'm actually considering an iPad again since they've improved on a lot of the missing functionality of the past.

The article says it all with the line, "I just don't need a tablet.". Why would you choose a hybrid (which will have to make design choices based on being a hybrid) over a traditional clamshell.

We'll, being able go use pen with the reattached SB in studio mode for one thing.

The, I don't need a tablet part, probably means inkng isn't that important to the user i would assume.

I agree with most things though what I disagree on is that most people do not know what is useful to them until they have it. I recently bought the Surface Book 2 and in reality, I had no other reason then I thought it was cool. Now that I have begun using it, I couldn't imagine life without it! I am no power user, and I have never owned a tablet, but it has been more useful then I could have ever imagined! My only thing to add would be to try one out at your local electronic store to see what you could be missing. And you may well confirm what you already knew, but there is nothing wrong with that!

Hey Zac, I understand what you mean about the SB II and it being good for people that want a tablet, but it's not just that. I am in the position where I am deciding what to get because I never wanted to get the SB I because I thought the specs weren't up to par the same as Studio, and I have the Pro 4. The Pro 4 for me is great as a device for travel and because it's just so darn flexible in its use. However, as I want a bigger screen and less portability from another device, I can go with the SL or SB II, and the thing that tips me over to the SB is still being able to use pen for design as it can be detached and reattached in the studio mode. Inking is important to me and I use my own a lot more every day compared to 6 months ago. The SL isn't great for pen use even if I never use the SB completely like a tablet, it has more uses for me. In saying all that I would love to get both the SL, SB II and am hanging out for the Studio II.

I just can't see anything unseating the Surface Pro as the perfect device for me. It's just easily the best value for the dollar, as far as I'm concerned.

Eh... The real benefit of the surface book is having a dGPU. The surface laptop can't be used for anything mroe than the most basic of visual work.

Um... Laptop has no GPU correct... Go the Book

I purchased a Surface Book 2 for the Church I attend. The painted aluminum chassis of the Surface Laptop had me worried that it would be subject to scratches. I would get a Surface Laptop for myself should my Surface 3 or Surface Pro 3 fail.

I totally agree about the SB2 hinge vs the clean design of the SL. These two are kinda apples/oranges, but the SL offers a unique clamshell experience. Yeah, the port shortage is annoying, but it's otherwise a great device.

I'm onboard with your conclusions here. I've owned lots of differing form factors too and still prefer a standard laptop config. I'm not as convinced on SL though, there are so many great devices that offer more for the same or less money.

I used to carry around my paper notebook+pen and laptop everywhere. Now I only bring the sb2 + magnetic surface pen and it's been great!

Is it just me or are the complaints about weight of laptops a bit absurd? I get it, ergonomics, repetitive motions,, strains, but we are talking about devices under five pounds. I used to manuever water heaters and air conditioners on shelving from a forklift so i am more than happy to haul any 5 pound laptop around these days. Just feels like a numbers game of thinnest, lightest, etc. I think it's just me... 🤔

Personally, I love the 2 in one form factor and surface pen. It works perfectly for me for portability as a musician (including using it in as a tablet for pfs instead of sheet kusic when performing), as a teacher, for meetings, sharing amd using it as a tablet and I use thebkickstand feature quite often for all the above. As has already been said one has to resrarch and know what your needs and lifestyle is to make the committed choice.

I thought that it was pretty obvious that if you are the sort of person that does not need the power of a sb2, all you do is type and use the web, and have no use for a two in one, then obviously you will prefer a surface laptop. No need for an article... This is just common sense

You don't even need a Surface Laptop for basic web use & word processing. Just pick up any old laptop.

I can see your point until you state the SB2 is top heavy. I have Dell Laptop for work and compared to the SB2 I see no difference when they are sitting in my lap. However this entire article about personal preference so I the end it's only your opinion that matters for you. On the Aluminum vs Magnesium vs Alcantara keyboard. I would rather have the metal keyboard, Aluminum or Magnesium makes no difference. I have a Alcantara keyboard for my Surface Pro and all it really does is act as a cover for when the device is not being used. From a weight standpoint, it seems like the SB2 and the MacBook Pro are the same, the Surface Laptop is more like the MacBook and MacBook AIR and the Surface Pros are right in that category too. The mentioning in the apple products was just for comparison, I used a MBPro for a week at work and was never happier to get my Dell back. That even includes the fact I used Bootcamp to install Win 10 and used Windows OS exclusively. The Keyboard on the MBPro is HORRIBLE, I hope Microsoft never follows Apple in that hardware change. Also having to use a usb-c to usb-a dongle for everything is a huge pain. I wish the SB2 had full thunderbolt 3 but I'm glad it still has a USB-A port.

I love my Surface Pro 2017 so much. And I find it plenty "lappable". More so than the original Surface Book. I've used my dad's Surface Book (1) and it's cool in a way. But it just seems so big and the inability to tilt it back much (to prevent tipping over) and the lack of "lapability" compared to the Surface Pro made it a non-option for me. The one thing that would complete the Surface Pro for me is a quad core CPU. I have the dual core Core i7 with 8 GB/256GB and while it's wonderful, I could use the oomph of the quad core. The Surface Laptop is pretty slick (love the colors!) but I have no desire for a traditional laptop.

Zac I do personally like the surface laptop
Windows Central Newsletter
Get the best of Windows Central in in your inbox, every day!
Thank you for signing up to Windows Central. You will receive a verification email shortly.
There was a problem. Please refresh the page and try again.