A look back after a year using Microsoft's Surface Laptop
The Surface Laptop is now a year old, so how have things like the Alcantara keyboard and Windows 10 S held up? We have answers.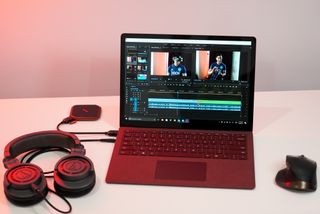 It's been a little over a year since Microsoft's Surface Laptop hit store shelves, which is a long time in the world of tech. When the Surface Laptop first launched on May 15, 2017, many were curious as to how the device would hold up. After all, there were two outstanding differences between the Surface Laptop and other laptops on the market: it ran Windows 10 S, and it used Alcantara fabric on the attached keyboard base.
I've been using the Surface Laptop as my primary laptop over the last year, and I have some thoughts on how things are holding up with the device. One year is a major milestone in the lifecycle of any device. How has the Alcantara held up? Has the app situation on Windows 10 S improved? How is the port situation?
Read on for answers.
Related: Surface Laptop review
Surface Laptop and Windows 10 S
Microsoft has changed up Windows 10 S quite a bit since the Surface Laptop was released. Windows 10 S is no longer a standalone edition of Windows 10. Before, Windows 10 S was an edition just like Windows 10 Home or Windows 10 Pro, but to make the choice easier for hardware makers to use Windows 10 S, Microsoft changed it so that Windows 10 S is now a mode that runs on top of Windows 10 Home or Windows 10 Pro.
This doesn't mean much for the Surface Laptop, however. With the Windows 10 April Update, users on Windows 10 S on the Surface Laptop were upgraded to "Windows 10 Pro in S" mode for free. Windows 10 S is now a mode, so the "switch" from Windows 10 S to Windows 10 Pro on the Surface Laptop is free forever, not just for a limited time. That's great news for those who felt pressured into the switch or never got around to doing it in time. Now there's no reason to do it unless there's an app you need that isn't in the Store.
The app situation has also improved. The Microsoft Store on Windows 10 S has most of the top apps a consumer would be looking for, including Spotify, iTunes, Amazon Music, Twitter and Facebook. But there's still an issue with web browsers; Microsoft Edge is still the only web browser available on Windows 10 S devices.
That might be a problem for many of you, but it's not for me. I use Microsoft Edge and have since it launched back in 2015. Microsoft Edge is also a much better browser today than it was a year ago, and it's only going to continue improving with upcoming releases of Windows 10. If you must use Chrome or Firefox, Windows 10 S still isn't a viable option for you.
Surface Laptop hardware
Let's start with the biggest curiosity of the Surface Laptop: its Alcantara keyboard. It looks and feels great, but fabrics of any kind can get dirty. Microsoft's previous efforts with Alcantara keyboards often ended up looking really gross after only a few months of use. With the Surface Laptop, however, Microsoft coated the Alcantara in polyurethane which helps fight against stains and grease marks.
Related: What the heck is Alcantara anyway?
Because of this, the Alcantara on the Surface Laptop has held up incredibly well. However, the polyurethane coating isn't perfect. After a year, there are signs of faint palm marks on the fabric. It's not terrible, and in most cases, you probably won't notice. But if you look close, there is some discoloration where you hands sit.
Of course, this all depends on how you treat your Surface Laptop. And I don't think the Alcantara is a deal-breaker, because for me it has held up well enough. However, I've seen reports online of Surface Laptop devices looking way worse than mine after just three months of use.
Regarding ports, I've found the single USB-A port to be limiting. I'd much prefer if there were two USB-A or one USB-A and one USB-C. Also, the lack of an SD card slot got to me more than I thought it would. I don't often take photos on my DSLR, but in the rare times when I do, it sucks not having that port.
Other things, including the battery, are all holding up very well. I'm still able to leave the house without my Surface Laptop's charger in the morning and feel comfortable getting through a day's worth of work.
Overall, this is my most favorite Surface yet. It may not be category-defining like other Surface devices, but it's still fantastic. It just needs USB-C and slightly better protected Alcantara.
Get the Windows Central Newsletter
All the latest news, reviews, and guides for Windows and Xbox diehards.