A look back after a year using Microsoft's Surface Laptop
The Surface Laptop is now a year old, so how have things like the Alcantara keyboard and Windows 10 S held up? We have answers.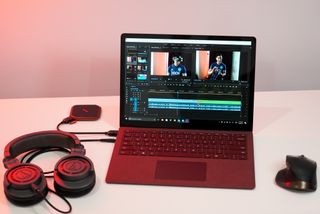 It's been a little over a year since Microsoft's Surface Laptop hit store shelves, which is a long time in the world of tech. When the Surface Laptop first launched on May 15, 2017, many were curious as to how the device would hold up. After all, there were two outstanding differences between the Surface Laptop and other laptops on the market: it ran Windows 10 S, and it used Alcantara fabric on the attached keyboard base.
I've been using the Surface Laptop as my primary laptop over the last year, and I have some thoughts on how things are holding up with the device. One year is a major milestone in the lifecycle of any device. How has the Alcantara held up? Has the app situation on Windows 10 S improved? How is the port situation?
Read on for answers.
Related: Surface Laptop review
Surface Laptop and Windows 10 S
Microsoft has changed up Windows 10 S quite a bit since the Surface Laptop was released. Windows 10 S is no longer a standalone edition of Windows 10. Before, Windows 10 S was an edition just like Windows 10 Home or Windows 10 Pro, but to make the choice easier for hardware makers to use Windows 10 S, Microsoft changed it so that Windows 10 S is now a mode that runs on top of Windows 10 Home or Windows 10 Pro.
This doesn't mean much for the Surface Laptop, however. With the Windows 10 April Update, users on Windows 10 S on the Surface Laptop were upgraded to "Windows 10 Pro in S" mode for free. Windows 10 S is now a mode, so the "switch" from Windows 10 S to Windows 10 Pro on the Surface Laptop is free forever, not just for a limited time. That's great news for those who felt pressured into the switch or never got around to doing it in time. Now there's no reason to do it unless there's an app you need that isn't in the Store.
The app situation has also improved. The Microsoft Store on Windows 10 S has most of the top apps a consumer would be looking for, including Spotify, iTunes, Amazon Music, Twitter and Facebook. But there's still an issue with web browsers; Microsoft Edge is still the only web browser available on Windows 10 S devices.
That might be a problem for many of you, but it's not for me. I use Microsoft Edge and have since it launched back in 2015. Microsoft Edge is also a much better browser today than it was a year ago, and it's only going to continue improving with upcoming releases of Windows 10. If you must use Chrome or Firefox, Windows 10 S still isn't a viable option for you.
Surface Laptop hardware
Let's start with the biggest curiosity of the Surface Laptop: its Alcantara keyboard. It looks and feels great, but fabrics of any kind can get dirty. Microsoft's previous efforts with Alcantara keyboards often ended up looking really gross after only a few months of use. With the Surface Laptop, however, Microsoft coated the Alcantara in polyurethane which helps fight against stains and grease marks.
Related: What the heck is Alcantara anyway?
Because of this, the Alcantara on the Surface Laptop has held up incredibly well. However, the polyurethane coating isn't perfect. After a year, there are signs of faint palm marks on the fabric. It's not terrible, and in most cases, you probably won't notice. But if you look close, there is some discoloration where you hands sit.
Of course, this all depends on how you treat your Surface Laptop. And I don't think the Alcantara is a deal-breaker, because for me it has held up well enough. However, I've seen reports online of Surface Laptop devices looking way worse than mine after just three months of use.
Regarding ports, I've found the single USB-A port to be limiting. I'd much prefer if there were two USB-A or one USB-A and one USB-C. Also, the lack of an SD card slot got to me more than I thought it would. I don't often take photos on my DSLR, but in the rare times when I do, it sucks not having that port.
Other things, including the battery, are all holding up very well. I'm still able to leave the house without my Surface Laptop's charger in the morning and feel comfortable getting through a day's worth of work.
Overall, this is my most favorite Surface yet. It may not be category-defining like other Surface devices, but it's still fantastic. It just needs USB-C and slightly better protected Alcantara.
Windows Central Newsletter
Get the best of Windows Central in your inbox, every day!
Zac Bowden is a Senior Editor at Windows Central. Bringing you exclusive coverage into the world of Windows on PCs, tablets, phones, and more. Also an avid collector of rare Microsoft prototype devices! Keep in touch on Twitter: @zacbowden.
I share your wish: I'll buy a "Surface Laptop 2" if it hast an USB-C port and better Alcantara. Hope we can have it soon.

Judging from Surface Book 2, they would replace the mini display port with USB C for Surface line.

Or the wait for the mythical Surface Dongle.

Microsoft needs to invest in IP68 certified laptops, why? Because Global Warming, people who spend a grand on technology need to have a way to protect their investment from bad weather, just like today smartphones from Samsung, Sony and Apple are waterproof, the same needs to happen to laptops.
Just my 2 cents.

I wont even bother with the Global Warming part. But the reason phones have IP ratings is because you take your phone everywhere, and use it everywhere. That means pools, lakes, people's bathrooms (unfortunatley), etc. These are not places one would use a laptop. Also it is a lot harder. Phones have 1 or 2 ports and are passivley cooled, laptops have many ports and fans. If you really need water resistence, there are laptop cases for that.

Aside from global warming, there are places where it's just much more humid or have a higher possibility of water damage (e.g. hurricane prone places, tsunamis, etc.). And I'm not saying water proofing = tsunami proof or hurricane proof; but it could be helpful. If the technology is there to be able to support this and doesn't drive up costs too much then why not?

Thanks Zac. I 've had my Surface Laptop not quite a year now as I waited a month before I gave in. Mine is the burgundy model and I don't use it every day- trading off with the Surface Pro, but I haven't seen the issue with the Alcantara that your silver model shows. And frankly, I suspect some of those videos of damaged fabric were deliberate abuse. I switched out my Laptop to Pro so I could get my Office 365 subscription apps on the device. I don't think I really needed to do that, but I did. Under the new Mode configuration, can a user go back and forth between S and Pro or Home? My laptop gets great battery life in use and non-use. I left it behind while I was in the UK for a month. When I returned home, the battery had dropped from 100 percent to 95.

Good to hear they're holding up. Will definitely at least consider one when my Yoga 900 gives up. Wish they'd do a 360 hinge though in Surface Laptop 2. Tent and presentation modes are pretty cool to have. You don't think you'll use them but then find yourself using them all the time when you have them.

With its low weight and 3:2 screen a 2-1 formfactor would indeed make a lot of sense.

Yep. I would forgo a book 2 then and get the laptop if it had tablet and tent folding options like my dell 2 in 1 was. I wish they would change the classification of 2 in 1 to convertible and vice versa. My dell is a convertible, the surface pro is a 2 in 1. Makes logical sense.

Because of the lack of a 360 hinge I never considered a Surface Laptop, but I do love the slim profile of the Surface Laptop compared to my SB2. If the Surface Laptop 2 comes out with a 360 hinge, I am almost certainly going to give it a go.

I hope they make a version without the alcantara fabric. Im going to study this upcoming fall, and one without that would be a great deal for me :)! (i guess surface book works too, but i want something really portable)

Thanks for the update. I'm really hoping for a version 2 with USB-C. Now the the MateBook X Pro is out I'm curious how MS will respond.

The lack of SD-card is my biggest issue. It is alsow my biggest issue with the Surface Pro. SD-card reader is still a thing, and I hoped and hoppes that Microsoft would hear the outcryes from discrunteld Mac users after they took it away. Specialy for unites targeted for creaters and education.

Had mine, silver, half a year now. Using it everyday for work, no sign of wear. Battery is great. My only complaint is slow SSD. It's Toshiba one. Even it has 8gb ram I still feel it sluggish compare to my SP3 also 8gb ram.

I remember I read that all Surface laptop model ship with touch screen. I think, with the next Surface Laptop iteration it should be a convertible laptop (360 rotation). As it awkward to use the touch functionality or inking capability with that form factor (non convertible).

I know a lot of people here want more ports and an SD card reader. I can see a 2nd USB-A or USB-C would definitely make things better but there are many very small SD card to USB plug in type devices that are very small that would work without issue. Let's face it, adapters are becoming the norm today. The mac book pro has only usb-c ports no sd card reader built in, with iphones a person has to use an adapter to use headphones (unless you go Bluetooth). I think Microsoft would be better served adding 1-2 usb-c or better yet 1-2 thunderbolt 3 usb-c ports.