Surface Pro 3 buyers on Microsoft Store website get a free year of NYT Crossword app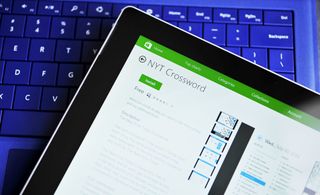 Microsoft has a new promotion for its Surface Pro 3 tablet, as folks who buy the device via the Microsoft Store website will get a year's worth of access to the recently released New York Times Crossword app for Windows 8.1.
The subscription, which normally costs $39.99 for a year, will also cover the Windows Phone version, in case you own a smartphone with that OS as well. The apps were both launched last week and allow users to access the daily puzzle and calendar archive for free for seven days. After that, you can still play the mini-puzzle for free, but access to the full daily crossword and archive requires a paid subscription.
If you are a fan of the NYT Crossword and have also been waiting to get a Surface Pro 3, this is the perfect promotion for you. The deal will expire on October 6. What do you think of this latest deal for the Surface Pro 3?
Source: Microsoft (opens in new tab), Microsoft Store (opens in new tab)
Windows Central Newsletter
Get the best of Windows Central in your inbox, every day!
Four letter word: "Let's make one!"

"First" is the answer. I don't know if that is the right clue...

It would be funny if BobLoblaw was actually a she

Yeah, but to be ultra clever a first comment that would have been a puzzle would have won the day.

Answer: Meal? Camp? Sexe? Love? ;)

todays breaking news is that. android broke windows pc record in malware, spyware attacks. really droid is a piece of shit. even shit is better.

Is there any way to redeem this subscription offer if you bought SP3 prior to the app debut?

I want to know as well. Would be nice if existing owners aren't left out.

Argh.... I just bought a SP3 Sat morning....

I just got mine today. Argh!

I pre-ordered mine before they were selling it in stores, and received it on the release day. I hope you can, because that would be a fail to only let future buyers take advantage of this.

"incase you happen to own a smartphone with that OS as well" I'm going to go out on a limb here and say that perhaps, maybe, JUST MAYBE, most of the people on this site own that kind of phone. Just my observation.

I'm pretty sure John just copy-pastes articles from a news aggregator or an RSS feed on Windows Phone, haha. That, and then he adds "What do you think about *title of article*?"

what about give us a free year of skype unlimited subscription like what you were doing with Surface Pro 2 , that oughta help get more customers

They did that only for surface 2 owners

Very unfortunate it was limited to the Pro 2 and the current 2, especially since they strongly hinted it'd be included again. Honestly, with how much they make by selling each Surface vs. how much those extras goodies cost, doesn't it all but make sense to continue the offer to drum up sales? At the Pro level, at least.

Nope. I got it with my Pro 2/512GB as well.

Damn, literally bought mine 7 days ago, haha! Don't care though. Crosswords aren't my thing, but you know, free stuff...

Meh, Microsoft cancelled my preorder 10 min after their call centre closed, on the day surface pro 3 was released. Islandwide sold out on the model I want too. I'm never going to preorder from Microsoft store again.