How to sync Edge data between Windows 10 devices
How do you get your favorites and reading list onto all of your Windows 10 devices?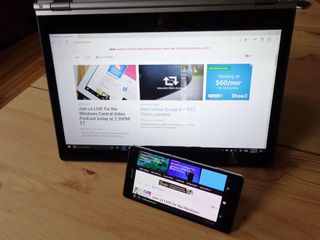 Microsoft Edge has a feature that lets you sync that data between devices as long as you're signed in with a Microsoft account. This keeps you from wasting time searching for the same websites, and it gives you a more familiar experience no matter what device you're using. Let's take a look at how to set Edge to sync.
How to sign into Edge with a Microsoft account
Before you can start syncing Edge data between devices, you must be signed into your PC using a Microsoft account. When you set up your PC for the first time, if you signed in with your Microsoft account, you can move on to the next section. If not, follow these steps:
Click the Start button.
Click the Settings button. (It looks like a gear.)
Click Accounts.
Click Sign in with a Microsoft account instead.
Type the email address associated with your Microsoft account and hit Tab on your keyboard.
Type your password.
Click Sign in.
How to sign into Edge with a Microsoft account on Windows 10 Mobile
If you skipped signing in to your Microsoft account when you first set up your phone, you can still sign in later. Here's how:
Swipe down from the top of the screen.
Tap All settings.
Tap Accounts.
Tap Your info.
Tap Sign in with a Microsoft account instead.
Type the email address associated with your Microsoft account.
Tap the Password field.
Type your password.
Tap Enter.
How to make Edge sync between Windows 10 devices
Now that you're signed in with your Microsoft account, you must go into Edge's settings and enable syncing between devices. When enabled, any websites you add to your favorites list or reading list on this PC will also show up in the same lists on other devices you signed into with your Microsoft account and then enabled syncing.
Launch Edge from your Start menu, desktop or taskbar.
Click the More button in the top-right corner of the window. (It looks like three dots.)
Click Settings.
Click the switch below Sync your favorites and reading list so that it turns On. You might have to scroll down a bit to find it.
How to set Edge to sync on Windows 10 Mobile
If you want Edge on your phone to sync with your other devices, you must go into Edge's settings and set it to sync.
Launch Edge.
Tap the More button in the bottom-right corner. (It looks like three dots.)
Tap Settings.
Tap the switch below Sync your favorites and reading list so that it turns On.
How to change other sync options
Now that you're syncing Edge between devices, you might want to know where to find additional sync options in Windows 10.
Click the Start button.
Click the Settings button. (It looks like a gear.)
Click Accounts.
Click Sync your settings.
Click the switch below Sync settings.
Click the switch below any items you want to sync so that it turns On. Options include:

Theme.
Internet Explorer settings.
Passwords.
Language preferences.
Ease of Access.
Other Windows settings.


Do you keep Edge consistent across your devices? Let us know in the comments.
Windows Central Newsletter
Get the best of Windows Central in your inbox, every day!
Senior Editor, Laptop Reviews
Cale Hunt is formerly a Senior Editor at Windows Central. He focuses mainly on laptop reviews, news, and accessory coverage. He's been reviewing laptops and accessories full-time since 2016, with hundreds of reviews published for Windows Central. He is an avid PC gamer and multi-platform user, and spends most of his time either tinkering with or writing about tech.
I never had a problem with syncing between pc and mobile but after i had to do a hard reset on my lumia 950xl the sync on edge has stopped working. All the options are turned on and i went through this walk though and double checked all my setting and they all check out, but still no sync.

This feature never works for me. I add my articles to reading list and after a week I still don't have them synced despite all syncing options being on on both pc and mobile. I just use twitter to tweet and later fetch it from the tweet link on mobile.

Edge favorites on my 950 stopped syncing several bulds ago. (Fast ring). I confirmed the settings and accouts. If it's a bug, I hope they fix it soon. I miss having this feature.

My only guess at a solution: Turn off sync on both devices and restart both. Turn on sync and restart both.

I believe it's a known issue. I'm no longer on Preview builds and Edge syncing stopped working for me several months ago between my desktop PC build and my SP3. Even with everything up to date, all settings toggled and re-toggled, nothing seemed to work until last week it randomly started syncing between the two--reading lists and all. There's also this thread (https://answers.microsoft.com/en-us/windows/forum/windows_10-networking/...) on the Microsoft messaging boards.

This. Have multiple PCs and a W10M phone and syncing has stopped working since long time ago. It synced briefly last week as well for me but since then, it's stopped once more. This includes issues syncing Windows theme/desktop wallpaper/settings as well. Edge reading list/fav syncing has never been reliable, one of the things really pushing me towards Chrome/Firefox (which in addition has multiple account log in).

If only edge would support logging in directly just like chrome does. that way I could sync my stuff even though I am not logged in with my microsoft account

The list of stuff that Chrome (and Firefox) can do that Edge cannot is unimaginably long, and includes basic things like, "sync with the mobile device you actually own." Also, they said that they would support Chrome extensions, but they're still about 10 million short. It's too bad, because the Edge is basically the only browser that really performs well on Windows tablets (especially cheap Atom tablets). But there's no excuse for the fact that they've been working on it for years and it still doesn't have a modern feature set.

How many years have they been working on Edge vs the number of years they've been working on Chrome.

The answer depends what you consider "working on." Edge is based on IE (its rendering engine is considered a fork of Trident), which Microsoft has been developing for over 20 years. Chrome was first launched 9 years ago. But that's not exactly a fair comparison. WebKit, which was the engine for earlier versions of Chrome, had already been in development for many years before Chrome. If we pretend that Edge is an entirely new browser, built from the ground up for Windows 10 (it's not, but let's pretend), then the real question we should be asking ourselves is why did Microsoft think that 2015 was a good time to start building a web browser from scratch, when there were already many entrenched, mature browsers built on open source components on which Microsoft could have built it's 'new' browser? Why did they wait for almost a decade to react to the threat that Chrome posed?

Never worked with my 950 and Surface 3 PRO

The sync is not always consistent, I deem this function very unreliable, it is only frustrating. The Reading List is the worst part of it, the favorites do get sometimes updated after minutes or hours, but Reading List ...

Double post, thanks to slow WC app.

Doesnt make it any better but im happy to see im not the only one with this problem...

Doesn't this sync automatically by default?

And still no syncing browser tabs.

Syncing is fine, the only missing option is syncing the currently open tabs across devices. If memory serves, Explorer could do that on Windows Phone 8.5.

I have a PC on RS1 GA, a 950 running latest insider build and a 630 stuck on TH2. Sync works totally fine on my PC and 950, but on 630 it never worked.

All my data syncs eventually but it usually takes hours to days for favorites to sync to my other devices.

Cant believe they cannot figure out a simpler way to snyc our bookmarks/passwords.. (hint: just copy how chrome works!)

Oh, is this supposedly a working thing now? In actuality, this is the key thing that led me to abandon WM in December 15, get a Nexus, and switch all of my services over to Google. Well, that and the fact that there was no good upgrade from my Icon on Verizon, but frustration with MS's sync issues made it easy. I was so excited to be a part of the whole W10 universal apps on PC and mobile all working together idea. But this right here, never worked. Nothing ever synced. And believe me I tried all kinds of fixes. This was getting really bad with Cortana about the same time; I would delete things from my Calendar, Cortana still tells me it's happening. Delete, refresh, hard reset, nothing at all. I just felt that MS was getting....sloppy with their services. And the endless excuses about bugs being expected and so on, when it being obvious users were acting in place of actual QC people, was no longer acceptable. Unable to have these things, which should be simple, rendered MS unreliable to me. Can't provide me with a phone, and even if, can't trust that my stuff will sync. And honestly, since using a Nexus and all Google services on my PC (Chrome, Gmail, Calendar, Drive) I have had no complaints. Anything I do on my PC reflects almost immediatedly on my phone. Everything works. And I'm not yaying this because I loved WP for years (starting with my Trophy) and my PC. Always used MS services too. But honestly they just don't seem to really give a crap about the day to day things for regular people. And that sucks.

I have made sure I did all this but it never synced anything for me. But then I checked the size of my favorites folder and it was just over 1MB. That's where the problem lies. Edge is unfortunately using the roaming data folder for all data it wants to sync. But as a developer, I know that this sync is limited to 100KB (as I currently know). If it is more than that then it will stop syncing.

Works across all of my Surface's and PC's but no longer works from my mobile. Most of my bookmarks were on mobile, then they stopped syncing. Now I have 1 set of bookmarks across all my other devices, and another, larger set of bookmarks on my phone that I cannot get to sync to any of my other devices. Now, I could do a complete recovery of my phone and upgrade it to Windows 10 mobile again and maybe get this to work. But then I would lose all my previous bookmarks because it would then sync the bookmarks from my other devices. If I backup my mobile bookmarks to OneDrive then they will override the bookmarks on my other devices. Not only does syncing not work correctly but the bigger issue that there is no way to control what syncs with what. There is no way to know what will override what or prevent possibly losing settings or bookmarks on some devices because you sync a new one. Think about it, if you have 2 devices, each with different settings and bookmarks and you turn sync on, you have no way of knowing which settings and bookmarks you will end up with. It's a disaster.

Never had a problem syncing my mobile egde browser with my Win10 PC browser. Once it's setup and working properly it's very ideal.

Looks like we are all in the same boat. :) Edge sync on my Lumia lives its own life. Synchronizes. Stops. Synchronizes again and stops again. As a rule, when Windows updated, it's re-synchronized. But stuck between updates. Looks like that's WM bug as synchronization between my notebook and tablet (2x1 hybrid) goes smooth.

For those that are having sync issues can you determine if your MS account has been upgraded to the new Outlook.com? I believe not sure that it is related. I believe that if you log in to outlook.com on a browser and it says "Outlook Mail" in the top left corner your account has been upgraded. Had this issues for months and now works perfect on multiple Win 10 PCs and mobile's.

My account has been upgraded to the new Outlook for a few months now. Maybe slightly longer. I have a new laptop, a Surface 3, Surface Pro 4, NuVision Tablet, and a Kangaroo all running Windows 10 and they all sync with each other. My phone does not. And my gaming rig, which I chose to leave on 8.1 used to sync with my phone until my phone was upgraded to Windows Mobile 10.

It doesn't work on my 630 both before and after the Outlook upgrade.

What get me is things like on my 950xl my emails sync in the inbox but i made a folder on outlook.com and i called it "important" just for emails i want to keep and find quickly.
Well the outlook app on my 950xl wont sync that folder but the outlook app on my samsung tablet will. Why does Microsoft make the apps on other ecosystem better then on there native ecosystem???

Ha ha, after writing about how the sync on edge no longer works I just opened it on my phone and found that it had just synced after me trying to get it to work for the past month. Classic.

Would be SUPER​ helpful if Windows update stopped breaking experiences like this. Every so often, I launch Edge after an update and it thinks I've never opened Edge before...all my favorites are gone, everything is cleared (I'm not an Insider, and this happened to all PCs in my household). I've been lucky whereby simply restarting the PC refreshes Edge and it loads my favorites again, but cache, cookies, are cleared...along with my reading list (which I use all the time and have many items saved to it). Luckily I'm still able to view my reading list on Windows Mobile, but it doesn't make any sense if it's supposed to be in sync between devices and it doesn't appear up to date on one and it's all there on the other.

This is one of the things I'll really miss when I get that S7 Edge to replace my 950XL (Which I just got a return label for after owning and using it since launch).

I've gone through this process on my old HP laptop and also on my new Surface Pro--both are running Windows 10 version 1803--and I can't sync my Edge browsing history. I barely use my old HP laptop anymore because I have a new Surface Pro, so I infrequently turn my HP laptop on, and consequently when I turned on my HP laptop today I had to download some Windows updates that my Surface Pro had already downloaded. Regardless, looking at my Edge browsing history on both devices, I can see that they are not being synchronized.