The foldable PC era begins as Lenovo's ThinkPad X1 Fold goes live for preorders
By Daniel Rubino last updated
A full Windows PC with a foldable display, 5G and inking has never been done before, and now it can be yours.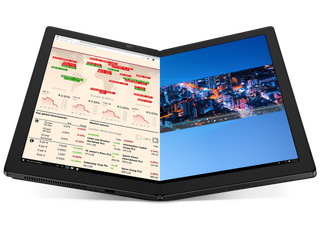 (Image credit: Lenovo)
What you need to know
Lenovo's first foldable PC is now up for preorder.
Pricing starts at $2,500 plus extra for accessories like the keyboard.
Shipments are expected later in October/November
Lenovo isn't making a ton, so get your order in now.
It was way back in May 2019 that Lenovo teased the world's first PC with a foldable display dubbed the ThinkPad X1 Fold appropriately. Lenovo later gave the world a better look at it during CES 2020, where the company revealed more details about this ground-breaking concept device.
Starting today, September 29th, the concept becomes a reality as you can now pre-order the X1 Fold for yourself with various accessories.
The ThinkPad X1 Fold features many high-end Ultrabook specs like the latest Intel Core processor with Hybrid Technology and Gen 11 graphics, high-speed RAM, up to 1TB of storage, Windows 10 Pro, and a couple of Type-C ports for expandability. There's also built-in Wi-Fi 6 and options for 4G and 5G for an always-connected ability. But the star of the show is the display – a gorgeous 13.3-inch QXGA (2048x1536) OLED that supports touch, inking, and quite literally folds in half.
Lenovo knows the $2,500 asking price (without keyboard), and the radical nature of its design will not command a vast audience. The company is honest in acknowledging that ThinkPad X1 Fold is not a "high-volume" product, and while it is not limited edition per se, they are not making many either. That sounds a lot like how Microsoft is approaching Surface Duo, recognizing that this is a category that will take time to build.
Category
Lenovo ThinkPad X1 Fold
OS
Windows 10 Pro
Display
13.3-inch flexible QXGA (2048x1536) OLED
4:3 aspect ratio
DCI-P3 95%
Processor
Intel Core processor with Intel Hybrd Technology
Graphics
Integrated Intel UHD Gen 11
Memory
8GB LPDDR4X 4267MHz
Storage
Up to 1TB PCIe-NVMe M.2 2242 SSD
Webcam
5MP HD RGB+IR
Ports
1x USB-C Gen 1
1x USB-C Gen 2
SIM card
DisplayPort via USB-C
Wireless
WWAN 5G/LTE/4G Capable
WLAN 802.11 AX
LTE CAT 20
Bluetooth 5.1
Audio
Dolby Atmos Speaker System
Battery
Up to 11hrs
50Wh
Rapid Charge support
Weight
999g (2.2lbs)
Dimensions
Unfolded: 299.4x236x7.8mm without cover
Folded: 152.2x236x27.8mm with cover
Pen
New Active Pen
As to what the ThinkPad 1 Fold can do and who it is for, Jerry Paradise, Vice President, Commercial Portfolio at Lenovo PC and Smart Devices Group, has written an extensive blog post detailing as much. Here is a snippet:
While it is not clear if the ThinkPad X1 Fold will be a hit, it is evident Lenovo has been thinking long and hard about it. The company has been working on the design and concept for over four years, and it truly believes ThinkPad X1 Fold is "a concept that illustrates the future of computing and offers a window to the potential that such a category can fulfill."
And since CES, the company has been doubling down on stress testing, reliability, and software tweaks that let users take advantage of one display that folds into two. The company also strengthened and enlarged the built-in kickstand based on tester feedback.
The idea of having a foldable PC that can connect to 4G and 5G, supports inking, can act as an e-reader, and yet is small enough for a small bag is undoubtedly fascinating. In describing the use cases for ThinkPad X1 Fold, Lenovo gets to the point and rightly asks, "why wouldn't you want one?" Besides the high price, we cannot think of many reasons.
Our folding future
Two screens are better than one

Take the power of a full Ultrabook PC with you on the go with a device that transcends boundaries and categories. The ThinkPad X1 Fold is the world's first foldable Windows 10 PC, and you can now pre-order one with and without 5G. Grab a pen and the keyboard to make it unique.
Daniel Rubino is the Executive Editor of Windows Central, head reviewer, podcast co-host, and analyst. He has been covering Microsoft here since 2007, back when this site was called WMExperts (and later Windows Phone Central). His interests include Windows, Microsoft Surface, laptops, next-gen computing, and arguing with people on the internet.
Is there any word on the Surface Neo? The Duo if referenced but I would think this falls into the Neo's category. Is the Neo still on the table?

Neo is officially delayed as Microsoft focuses on bringing Windows 10X to single screen devices in 2021 due to the pandemic/shift to work at home/EDU market needs.

Gotchya Dan, thanks for the information.

Looking forward to the Neo, it's on my wish list for future purchases.

Pen support on a foldable, huh? Wonder how resistant it is to scratches.

Lenovo helped Motorola build the Razr smartphone. I heard that screen is supposed to be durable.

Looks like a step back in bulk IMO. But I like where technology is going for folding devices. After watching a video, the bulk is not as bad as I first thought. This looks quite awesome. Bit out my price range. I would love to see a thin Pro X fold like this vs a 2 screen Neo.

I still use my Lenovo YogaBook for consuming and meetings; it's such a versatile little device with it's 'watchband' hinge, and the active pen is brilliant for highlighting notes with the keyboard switched off. I've been awaiting something similar with a more powerful processor - although, having said that, the more MS trims the bulk off Windows it actually just gets better compared to what it used to be.
Don't think the ThinkPad X1 Fold is quite there, but looking forward to the NEO
The old YogaBook is still a good companion to my Surface Pro though ;)

Agreed. I use my Yogabook all the time. It's definitely aged well.

In theory, the idea of having a foldable tablet / computer might be nice, but in my view, as of the year 2020, the needed technological building blocks to build a really mass market appealing device are not yet there. For one, up to now (year 2020), electronics is mainly built from silicon transistors, which make it bulky and not flexible. In theory, the ongoing development of carbon nanotubes for transistors, memory,... that could be ready for commercialisation between 2025 and 2030 should allow the development of thinner, lighter weight, and very importantly (somewhat) flexible electronics : I believe it is a key necessary technology to really realize convenient thin, lightweight and flexible devices in which the elextronics is also (somewhat) flexible that would have real mass market appeal... One can check the work done by MIT professor Max Shulaker and DARPA research program 3DSoC...

You miss the point that folding happens only on the very small portion of the device, while the rest is always completely flat and thus doesn't need any special technology?

Foldable "Laptops" makes much more sense then Foldable phones in my opinion. While this isn't the size that I would prefer, 11" semi-folded and 13.3" unfolded, there is alot of opportunities: 13.3" semi-folded and 16" unfolded
14.2" semi-folded and 17" unfolded
16.0" semi-folded and 19" unfolded
17.0" semi-folded and 20.4" unfolded Can you imagine a 14.2" laptop on the lap (no pun intended) that can transform into a massive 17" tablet to put on a desk when available? That's insane! This doesn't look to be shipping with Windows 10X though.

Windows 10x not ready yet

Agreed, I want to see bigger sizes too, especially since it has a kickstand in it. Though the current size does make sense for inking / pen usage, which Win10 lends itself well for.

Kind of tempted by this as an owner of a Fold 2. I don't think I'll pull the trigger though because the folding aspect isn't as valuable as on a phone. With the Fold 2 I have a tablet that I can fit into my pocket. With the X1 I'm still going to have to lug it around in a bag or my hand, so the portability isn't terribly improved. It may even be a step down in portability as it looks pretty thick and unwieldy. Anyway very cool product, I'll check back to see how it looks in 2-3 years, as well as hope it would be substantially cheaper.

using the word Fold in the name is already getting tired

Well it's better than bendy thing device 🤷‍♀️. I mean there's literally only one product that uses the Fold.

Looks very interesting. Too bad about having to wait for W10X.

Why has no-one said about the outdated windows version on the preview pic?

Windows XP tablet edition all over again. If you want something to gather momentum, you either have to catch the younger gen or price it right. This, due to price, will just float around for awhile. Shame. I'd buy this device, I honestly would, but the price of iPads and machines are just stupid. Anyone remember the UMPC machines, that then became Mids before vanishing?

Its a 1st gen device, makes sense they make it hard to get one. Lenovo obviously want to prevent having a bulk of X1 Folds that they could not sell so this is much safer way. Same like Samsung Fold Z line, which is also very expensive since it is new tech (just like this) and it is still a success.

Having two 9 inch screens seems bigger than necessary but I guess the can't be much smaller an fit a comfortable keyboard.

Smaller and it would enter in the Duo size area, where Android makes more sense than Windows which would conflict with this being a device meant for productivity (/Thinkpad).
Windows Central Newsletter
Get the best of Windows Central in in your inbox, every day!
Thank you for signing up to Windows Central. You will receive a verification email shortly.
There was a problem. Please refresh the page and try again.