The foldable PC era begins as Lenovo's ThinkPad X1 Fold goes live for preorders
A full Windows PC with a foldable display, 5G and inking has never been done before, and now it can be yours.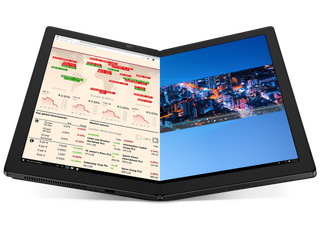 (Image credit: Lenovo)
What you need to know
Lenovo's first foldable PC is now up for preorder.
Pricing starts at $2,500 plus extra for accessories like the keyboard.
Shipments are expected later in October/November
Lenovo isn't making a ton, so get your order in now.
It was way back in May 2019 that Lenovo teased the world's first PC with a foldable display dubbed the ThinkPad X1 Fold appropriately. Lenovo later gave the world a better look at it during CES 2020, where the company revealed more details about this ground-breaking concept device.
Starting today, September 29th, the concept becomes a reality as you can now pre-order the X1 Fold for yourself with various accessories.
The ThinkPad X1 Fold features many high-end Ultrabook specs like the latest Intel Core processor with Hybrid Technology and Gen 11 graphics, high-speed RAM, up to 1TB of storage, Windows 10 Pro, and a couple of Type-C ports for expandability. There's also built-in Wi-Fi 6 and options for 4G and 5G for an always-connected ability. But the star of the show is the display – a gorgeous 13.3-inch QXGA (2048x1536) OLED that supports touch, inking, and quite literally folds in half.
Lenovo knows the $2,500 asking price (without keyboard), and the radical nature of its design will not command a vast audience. The company is honest in acknowledging that ThinkPad X1 Fold is not a "high-volume" product, and while it is not limited edition per se, they are not making many either. That sounds a lot like how Microsoft is approaching Surface Duo, recognizing that this is a category that will take time to build.
Swipe to scroll horizontally
Category
Lenovo ThinkPad X1 Fold
OS
Windows 10 Pro
Display
13.3-inch flexible QXGA (2048x1536) OLED
4:3 aspect ratio
DCI-P3 95%
Processor
Intel Core processor with Intel Hybrd Technology
Graphics
Integrated Intel UHD Gen 11
Memory
8GB LPDDR4X 4267MHz
Storage
Up to 1TB PCIe-NVMe M.2 2242 SSD
Webcam
5MP HD RGB+IR
Ports
1x USB-C Gen 1
1x USB-C Gen 2
SIM card
DisplayPort via USB-C
Wireless
WWAN 5G/LTE/4G Capable
WLAN 802.11 AX
LTE CAT 20
Bluetooth 5.1
Audio
Dolby Atmos Speaker System
Battery
Up to 11hrs
50Wh
Rapid Charge support
Weight
999g (2.2lbs)
Dimensions
Unfolded: 299.4x236x7.8mm without cover
Folded: 152.2x236x27.8mm with cover
Pen
New Active Pen
Image 1 of 24
As to what the ThinkPad 1 Fold can do and who it is for, Jerry Paradise, Vice President, Commercial Portfolio at Lenovo PC and Smart Devices Group, has written an extensive blog post detailing as much. Here is a snippet:
"The best way to describe X1 Fold is that it is the chameleon of personal computing devices, adapting to its environment. You need it to be a laptop because you're drafting a long-form blog like this one, sure it can do that."
"Open it up, put it on its stand, connect to a USB-C dock and multi-monitor setup at home or in an office and get to work. Classic PC functionality with no compromises. So, it is a laptop? No, it's more, especially on the move. Fold it into a book and scan your social media posts. LinkedIn on the left side and Twitter on the right, or simply relax and read the latest blockbuster novel. But then an email comes in from the boss. She wants to review the quarterly sales tracker presentation. Quickly turn X1 Fold into laptop format (but remember, it's not a laptop!) and connect to the video conference on the upper half of the display, while you review the presentation on the lower half. Use the pen to make those all-important annotations."
"When you get to your appropriately social-distanced face-to-face board meeting, you can open the Fold up tablet-style to clearly present the sales tracker on the 13-inch display and simultaneously connect to the larger meeting room monitor. On the way to the airport, take advantage of 5G to video conference the family and then stream your favorite show while waiting to board your flight."
While it is not clear if the ThinkPad X1 Fold will be a hit, it is evident Lenovo has been thinking long and hard about it. The company has been working on the design and concept for over four years, and it truly believes ThinkPad X1 Fold is "a concept that illustrates the future of computing and offers a window to the potential that such a category can fulfill."
And since CES, the company has been doubling down on stress testing, reliability, and software tweaks that let users take advantage of one display that folds into two. The company also strengthened and enlarged the built-in kickstand based on tester feedback.
The idea of having a foldable PC that can connect to 4G and 5G, supports inking, can act as an e-reader, and yet is small enough for a small bag is undoubtedly fascinating. In describing the use cases for ThinkPad X1 Fold, Lenovo gets to the point and rightly asks, "why wouldn't you want one?" Besides the high price, we cannot think of many reasons.
Our folding future
Two screens are better than one

Take the power of a full Ultrabook PC with you on the go with a device that transcends boundaries and categories. The ThinkPad X1 Fold is the world's first foldable Windows 10 PC, and you can now pre-order one with and without 5G. Grab a pen and the keyboard to make it unique.
Windows Central Newsletter
Get the best of Windows Central in in your inbox, every day!