My initial thoughts on the Surface Pro 3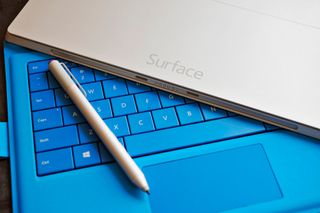 Yesterday was an important day for Microsoft. With the announcement of the Surface Pro 3, Redmond is continuing to show that they're in this for the long-haul and perhaps more importantly, they're actively improving upon their previous work. A Surface Mini was not revealed as expected, but it sounds like for good reason, including the possibility of it contradicting the "one device to rule them all" message.
Sitting in the same room with Microsoft CEO Satya Nadella, Stephen Elop and the who's who in tech media, it was fascinating to watch Panos Panay – the corporate vice president for Surface Computing at Microsoft – take the stage and sell us on the idea of the Surface Pro 3. Soon after the now familiar promo ad for the device, the audience cheered and enthusiastically clapped. It was an odd thing because it felt genuine; people were seriously excited about this announcement.
Fast forward 24 hours and most of the 'new tech high' has worn off, and a few of us who have the Surface Pro 3 are digging deep into this new creation. Being sold on the idea is one thing, but using it and actually liking it is another. While it's much too early for a review, here are some of my first thoughts on the Surface Pro 3 and Microsoft's chances of success with it.
It's really well built
All of Microsoft's Surfaces have so far felt very premium, and the Surface Pro 3 is no different. Machined parts, no wobble or creaks, the Surface Pro 3 feels the price it fetches. The Surface Pro 3 isn't meant to compete with budget computers; it's an all-in-one, high-end, high quality device that demonstrates the best of Microsoft. Here, I think it succeeds.
I love the color
My favorite device up until now has been the Surface 2 and Surface 2 with LTE. Part of the appeal was the metallic grey color, because I just find black boring. Making the Surface Pro 3 in that same color scheme makes the device stand out. It's also less dreary.
It's light and it's heavy
The Surface Pro 3 weighs 1.7 pounds. That's on the heavy side for a pure tablet (versus 1.44 pounds for iPad Retina; just 1.0 pound for iPad Air), but it's not prohibitively heavy. By that I mean it still feels good to hold, partly due to it being so thin. Is it too much tablet? Maybe, but it's not as silly as the Lenovo Yoga and flipping that to be a tablet. The Surface Pro 3 at least feels like a legit tablet on its own and dare I say, it feels more tablet-y than the Surface Pro 2 too.
But if you think of the Surface Pro 3 as a laptop, it's very light (MacBook Air is 2.38 pounds by comparison at 11 inches; 2.96 pounds at 13 inches). When tossing it in my Ultrabook shoulder bag, I'm reminded just how light it is when compared to even standard Ultrabooks these days.
The new kickstand is great
Having a kickstand on a tablet was nice (Surface gen 1); having two positions was better (gen 2), but having an almost infinite amount of positions is the best. The kickstand has always been the cornerstone of the Surface series, and it's one of the main reasons I'll choose it over a Lumia 2520 any day.
It will be fascinating to see how long this new hinge lasts. I will say it's very stiff, so stiff that you feel like you may break it off at first. Good problem to have, I suppose.
The pen holder is awkward
As you could tell from Mark's earlier article, the pen holder is a bit odd. Having said that, I'm not sure what else Microsoft could do to resolve this issue. They can't put the pen into the device (it's already too thin and packed too tightly) and the pen is too unique to abandon. C'est la vie.
It's fast
Running an Intel Core i5-4300 (1.9-2.5 GHz), it's easily the fastest Surface I've used. I couldn't imagine the Core i7, though I assume some of you need that much horsepower. For me, for now, I'll take the extra bump in battery life. Seeing as how fast the Core i5 feels, I have high hopes for the cheaper Core i3, which is good for those of you on a budget.
Battery life seems legit
No, I haven't performed any battery tests*, but from using it all day and having hordes of people ogle it all night, it still had 30% by midnight. It doesn't feel like I need to monitor the battery on the Surface Pro 3, which is a good thing. We'll see though how that holds up over the next few days.
*Microsoft rates the battery life at about 9 hours for web-browsing
Front-facing speakers are awesome
Nokia got the front-facing speakers rights on the Lumia 2520, so I'm glad to see Microsoft follow suit. Having stereo speakers produce sound aimed at your face is the only way to go. In fact, it feels downright silly to have speakers on the sides. Considering these are supposed to be 45% more powerful than the last version, they're exciting. They won't shake the room, but they will envelope you when using the Surface.
2160 x 1440 resolution nails it
I have a few quad-HD devices (2550 x 1440) and while the resolution is remarkable, scaling on Windows desktop can be trying at times with some items just being tiny. The resolution on the Surface Pro 3 is ideal with everything scaling nicely; nothing feels too small so far.
3:2 is better than 16:9
I'll explain why Microsoft went with 3:2 for screen dimension on the Surface Pro 3 in another article, but for now I'll just say I prefer it, especially in portrait mode. My older Surfaces now look odd being so long in the horizontal plane. Sure, I get that 16:9 is good for movies, but 3:2 is much more natural for daily computing, and that's what this device is for, as opposed to being a media-centric device.
The pen…works
Okay, I'll catch flak for this but I'm just not a pen and paper user. My knowledge on Wacom versus N-trig lacks and my handwriting is just as terrible. Also, this Surface Pro 3 needs some more software before the new pen can be fully utilized.
But it is cool.
Clicking the pen button to launch OneNote – even when the device is locked – is a neat trick and very useful. The Surface team heavily researched what makes the perfect pen, including the ideal size, the ideal tip, the ideal weight balance and even how resistive the coating should be for your grip. Once you try it, you'll see that this isn't a gimmick.
It's quiet and there's no heat
Yes, the Surface Pro 3 does have a fan, despite some previous reports. In fact, it has a highly customized fan that Microsoft has allegedly been working on for three years. It's neat technology but to the user, all you need to know is this: you'll rarely (if ever) hear it, and you won't feel it. I did manage only once so far to get it to crank lough enough to be audible. It sounded like steam hissing a bit, and it was very temporary.
You can make the Surface Pro 3 slightly warm (not searing) when pushing the CPU, but my Lumia 1520 can easily get hotter, for reference. If it weren't for the radial vent, I would swear this was an RT device, to be honest.
The new trackpad is way better
The old trackpad was barely useable, but Microsoft has addressed that with the Surface Pro 3. It has 70% less friction; it's larger, and it has a very firm and satisfying 'click' when you push it down. Fun fact: it's evidently made from little glass beads to give just the right feel for your fingers.
New power connector for charging is also better
I wrote on this earlier. The power cord has been completely re-worked and is 87% (my calculation) less annoying than previous versions. See my previous report for more information.
Initial conclusion?
Up until now, I've been a Surface RT guy instead of Surface Pro. My reasons?
Lighter and thinner
Better battery
Better camera
Better color scheme
It was my 'lay back and relax' Windows device that I could snap a keyboard on if I wanted to do some "real" work. Not too real, mind you, for that I have a Dell XPS 15 with a Core i7 or my dual-27 inch desk setup. But if I needed to do some emails, web searching, Twitter responses, etc., my Surface 2 was my go-to device. The Surface Pro 1 and 2 though were too thick, too pricey, and their screens were too small for my liking. For that price and size I'd just use my Ultrabooks and be done with it.
With the Surface Pro 3, Microsoft has addressed nearly every concern of mine, even the cameras (which aren't amazing, but are better than the Surface 2's). The device feels like the best of the Surface 2 combined with the Pro's hardware, but now with a bigger screen and some new innovation.
The only thing missing for my likes? Give me an LTE option.
The Surface Pro 3 is an impressive device. I'm not sure if it's the device for everyone, or whether or not it will even sell well. But I can say it Microsoft is trying hard, and if anything, they have set the bar for quality and even innovation. So far at least, I feel good about grabbing this instead of my Surface 2, and I'm even more likely to leave a laptop behind. Let's see how it all works in the coming days but yeah, I'm impressed.
Have a question about the Surface Pro 3? Ask away and I'll try to answer! If you want more discussion, jump into our Surface Pro 3 forum.
Get the Windows Central Newsletter
All the latest news, reviews, and guides for Windows and Xbox diehards.
Daniel Rubino is the Editor-in-chief of Windows Central, head reviewer, podcast co-host, and analyst. He has been covering Microsoft since 2007 when this site was called WMExperts (and later Windows Phone Central). His interests include Windows, laptops, next-gen computing, and for some reason, watches. Before all this tech stuff, he worked on a Ph.D. in linguistics, watched people sleep (for medical purposes!), and ran the projectors at movie theaters because it was fun.