Total Conquest update adds Xbox Live support and more for Windows Phone and 8.1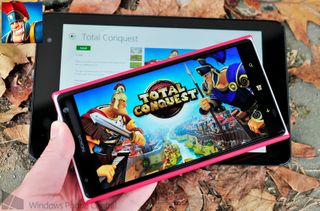 Gameloft continues to update a number of its games for the Windows Phone and Windows 8.1 platforms. Today, it released a major update for its free-to-play historical strategy game Total Conquest that adds Xbox Live support along with some other new content, features and improvements.
Gameloft previously told Windows Central that many of its non-Xbox Live games for Windows Phone and Windows 8.1 would soon be updated to include Xbox Live features, and this is certainly an example of this support. But there's much more for fans of Total Conquest to check out today. Here's the changelog:
The ultimate test of strategy & teamwork
Battle rival factions across a map of the Empire
A new unit only available as a Conquest Mode reward
Explodes upon death & returns to the fight once per battle
Graphics Upgrade: Environments that are more vibrant & stylized
Request reinforcements via chat for the exact troops you need
We will post up news when more Gameloft titles gain Xbox Live support.
Thanks to Sachinmeet for the tip!
Get the Windows Central Newsletter
All the latest news, reviews, and guides for Windows and Xbox diehards.
I hope game loft update six guns

Damn waiting for six guns.

Hope so. Because I am not able to install this game on my Lumia 520 through PC. It shows that game is already installed. Update is long overdue!

Thanks for keeping your promise, gameloft! I hate your microtransactions driven games but at the same time love your support for Windows Phones :|

A lot of Xbox live this month !

Xbox live trending! It looks like something hide behind!

Awesome. Its raining Xbox game!!!

Minions Rush Windows 8 version also needs to be updated to add Xbox...

Why did something happen to you?

Im already hooked on Royal Revolt 2... Tried to keep on World at Arms or Age of Empires CS but those games make me feel im working more than playing =P Anyone played all the mentioned and this one? Its any fun?

yeah, It's quite a work if you want to catch up with other players

Castle Siege is a slow burn. But you can control your units, which adds a whole dimension and connects you to the battle.

Nice....now if we can get Xbox achievements in cloud raiders.

Still no xbox for Asphalt 8 windows 8.1

is this a Clash of Clans clone ?

Yes. The main ones are this, Cloud Raiders. AoE Castle Siege and Star Wars Commander. I am playing them all and will stick with one I prefer when I get a bit further in. All very good. All very comparable in my limited beginners knowledge. On my iPad I am playing Clash of Clans, Pirate Plunder, Dino On Fire, (Star Wars again) and Boom Beach to decide which I prefer. So many games :)

Yep, but more than clash of clans. I recommend this over CoC.

Great Gameloft. Posted via the Windows Central App

This is the 6th Gameloft game to be updated with Xbox Live in the past 2 weeks. Boom.

Off topic, Minion rush is always stuck at three loading screen for me.. Anyone else facing this?

Me. It needs internet perhaps. It downloads itself again and then starts running. I deleted the game coz of that though.

Xbox live for ROYAL REVOLT 2!!

Also microtrasctions for it, in-app purchases ar too costly for me...

I'm waitinf for Minion Rush and Asphalt 8 update for Windows 8.1.

Me too! Where is the update on Windows???

Hope they add XBL support to Blitz Brigade. If they do I'll consider downloading it again. Oh, add more maps. Same maps get a bit stale.

Guys I have been playing this game for a long time now. Now that it is Xbox integrated I already have completed 19 of 20 achievements, but I still didn't get any gamer points yet. What should I do?

Another one! This is great news. Let's keep them coming.

We need clash of clans game for WP.. Please support me..

Hi players I have big bug of this Game. Watch my video. https://www.youtube.com/watch?v=Uv7N1wbM2TQ when this link not work search on Youtube Hicabi Tekin Total Conquest bug

It wont let me load my game now its gets almost loaded an kick off