Two known issues in Windows 10 PC and Mobile preview builds 14393 get fixed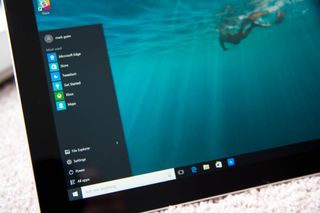 Microsoft has now fixed two previously known issues in the Windows 10 PC and Mobile preview builds 14393 that was released earlier this week to Insider members in the Fast ring.
Windows Insider head Dona Sarkar updated her blog post to reflect those fixes. One of those bugs was on the PC side, with some Surface Book notebooks and Surface Pro 4 tablets were experiencing bluescreen errors due to a camera driver issue. In her updated blog, Sarkar stated:
The other issue was on the Windows 10 Mobile side, with Wallet users getting asked to type in their PIN twice when using tap to pay from a locked phone. Sarkar has updated the blog to state:
Let us know your experiences with this latest preview build of Windows 10 in the comments.
Windows Central Newsletter
Get the best of Windows Central in your inbox, every day!
Except the audio over Bluetooth stutters a lot! It's painful to hear. Not sure if the upcoming FW fixes it or we need a new build.

Haven't had this issue. What device are you on? Is it all Bluetooth devices or just one specific one? Is it all music/media apps or a specific one?

I've had this show up on pretty much every app: Groove, Podcasts, etc. I'm using 950 XL with latest insider fast w/o the latest FW. Happens on all Bluetooth devices.

Oh ya. My guess...you probably need new firmware. What Bluetooth devices? In your car only?

Yeah, I'm hoping the same. Will probably hard reset too once I get the FW.

I can only say that it affects the 950 and 950 XL.

Happens to me if I'm trying to do something else on the phone (like load a webpage). Never had this problem with 8.1 on a Lumia 521. It's almost as if audio is not getting full priority, and it's affecting playback as a result.

I have noticed this for a long time. It's something associated with Universal Apps. Groove on my computer stutters but when I use Windows Media Player, I do not get the problem. If you want to test this out, open some heavy programs on your PC and then try playing music with Groove music. Do the same thing with Windows Media player working in the background.
And before any of you say it's my computer, I have an i7 with 15GB of RAM.

Weird. Don't have that issue

I use BT audio with Audible for 2 hours a day and it has been almost flawless. Occassionally (20 minutes or so) i get a little hiccup because the phone is diong something but, i was using my Galaxy S6 Edge for a bit to try it and it was WAAAAY worse.

Thanks, do you have the latest FW?

I used to have this issue more often on 8.1. I found i could pause the music/audible and restart out and the stuttering would go away for a short time. Annoying. In my wife's newer car, it didn't have the issue, so I never really thought it was my phone at fault. Several builds ago the issue stopped regularly happening in my car also. I know I've done a full reset and It's on the fast ring for updates.

What about live tiles stopped working after launch Apps corner

Anniversary update Is now complete

Anniversary update Is now complete

I found issue in version 14393
Bogus touches create when i connect to pc via usb
Any else have this
Or have some solution

I can't get the darn wallet to verify my supported card. I type in the CVN then I go to an error page saying that "something happened on our end"

Same here, one works, 2 dont. All supported they say

Keep the updates coming since we don't want the haters to find any problems with Windows 10, now do we? Also I'm a happy Windows Insider that provides feedback on everything I do :)

Yup, got the wallet update last night

This build seems super solid, seems they have fixed battery issue on older handsets like my 930 :)

My Icon's battery life has also improved dramatically!!

Now if only they backed up some of your loyalty card entries. I did a restor a few nights ago only to find my wallet is empty. I can maybe see not backing up the credit cards.

That would be nice. I hate having to go online to scan my cards again. (I don't have the physical cards or fobs

Both of my primary payment cards work with the wallet, but I have yet to add them back in.

Nope bsod still Posted via the Windows Central App for Android

Installation of Blustacks and Virtualbox crashing the system when Hyper-V is activated on my Surface Pro 4 i5 Touchscreen is not reacting for some seconds Edge is using all available RAM when using Adblock or Adblock Plus extension

Is this the last build before the anniversary update (which means - is this the anniversary update?)

I think it depends on issues being found with latest builds. Once the known issues they've been announcing are gone, then it's a matter fo confirming no regression bugs (new issues introduced with the new build) or other missed surprises, it will lock for RTM.

I've noticed that audio stutter's over bluetooth. Particularly when multitasking or navigating between apps or sections in apps. Edge scaling is still a complete disaster (many websites display 5 words a line w/ text from various lines overlapping). And the bluetooth action center toggle often freezes things. While there really aren't many bugs left the ones that are left are pretty brutal.

Yeah that's SO ANNOYING. (audio stutter).

I'm on b.14393 now, but my phone(Lumia 535DS) reboots each time whenever I make or, receive a call for the last 5-6 insider fast ring builds...soft resetting didn't solve the problem...do anyone have any solutions?

how many builds since you hard reset your phone.? If it has been a while, i sugges hard resetting. It helps a lot especially on lower config devices.

bro do you face any files delettion problem...? actually in my case pictures and videos got deleted automatically.

In this b 14393 my 830 screens blinks n goes blank for 3 secs. Help???

Does it affect your glance screen too?

Superb build nothing any problem in my 730

Just improve battery problem otherwise all is well in my 730

Does anyone else have the issue with the delayed sending of text messages? I have a 950XL and it's the bane of my existence. I will send a text and it will remain in the text field for up to a minute with the send button grayed out before actually sending. It does not happen consistently but is a regular occurrence. I upgraded to 14393 last night and the issue remains. I tried a hard reset about a week ago, hoping that it might resolve the issue, but it did not.

I have not seen this. What I have seen though is that some apps like Bank of America are not logging in after you put in the password. They are taking a long time that they just time out before you actually get into the account. This is happening on mobile but not on the PC.

It has been a thorn in my side for several months now. I keep hoping that each new build will fix the issue but it doesn't.


Happens to me as well. Painful. Legit the worst. What carrier do you have.

I've noticed a couple of second delay but its never been as long as you've stated.
Could be linked to the number of messages you have stored on your phone? Either in total or a particular thread.

Guys, anyone with Internet Sharing issues?

Windows Camera just got panorama feature!

Try doing a reset. I can confirm that the past 2 builds have been the most stable. I have seen fewer and fewer bugs.

Hats off to the Microsoft mobile insiders they are so hard working luv them

Still getting battery drain with this build on 830 even though that was mentioned as a fix. Fully charged at 7am dead or approaching dead by some 11:30-1200. Very light usage.

Is it possible (I know you wouldn't want this to be the case) that it's just the phone battery itself? Could it be that it's aging and doesn't hold much of a charge anymore? That is inevitable for the battery and it can be somewhat unpredictable when the decline becomes noticeable. For most phones, it won't happen for a couple of years, but lifespan is on a bell curve, so for some phones it will happen even if the phone is only several months old.

Now wifi issue needs to be fixed

Is anyone else having the windows central app crash while opening in this build?

I'm on Threshold and Windows Central app crashes while opening it and using it.

Hi
Insider head,
Lumia 535 Charging takes long time,nearly takes 6Hrs to complete 100%,even now I am using new Battery

Still need to fix WiFi issues, constantly stops and now the speed is one third of former speeds.

They still didn't fix copy issue on Mobile device. We can't select text on edge browser to copy it.

Wow this build sucks on my 950xl. Like it works well but battery drain is terrifying. Apps like groove Messenger and even windows central (probably apps in general) are using like 20-30% each (says battery stock battery app).
Edit: Nevermind, Messenger simply in background is using 55%. Groove 17%. Phone is discharging at 16.7% per hour.

Edge browser not opening for me. Restarted but still an issue. Anyone else?

My Lumia 950 is hot all the time with thius build, the battery drain seems huge and its taking an incredibly long time to charge, this is the first build that i think will need to roll back from.

Anybody there with screen blinking issue?

I have installed recent update 14393 and am now having issues with SMS.
- some have received Chinese characters instead of my text that was sent in English.
- I have multiple text digests for the same person. When I go to send a text, Cortana asks me if I want to text 1 Bob Smith or 2 Bob Smith.

Wait there's more....
- sometime my screen severely dims and I have to reboot. Lumia 950. With 14393 update. Yes I did soft, medium, and hard boiled resets.
Please help. I am getting frustrated enough to consider dumping my Microsoft phone and getting a Google or iPhone.