UK Windows Insiders offered some special Surface Book-Xbox One S bundles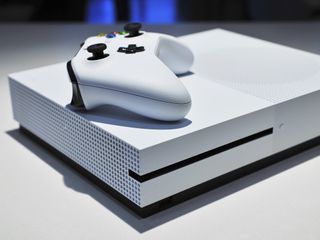 (Image credit: Daniel Rubino / Windows Central)
Windows Insiders in the UK are getting emails offering them some special Surface Book-Xbox One S bundles, saving them some money compared to buying the notebook and game console separately.
Windows Central reader "mryosh" was one of those Insiders and sent us his email detailing those special bundle deals. One combines the Surface Book with Intel's Core i5 processor with the 500GB FIFA 17 bundle version of the Xbox One S. Insiders can get this bundle with the Surface Book that has 8GB of RAM and 128GB of SSD storage for £1,318.99. saving them £230, or they can get the same bundle with the Surface Book that has 16GB of RAM, a 256GB SSD and a discrete GPU for £1,608.99, saving them £240.
The other bundle deal combines the Surface Book that has an Intel Core i7 processor with the 1TB Xbox One S FIFA 17 bundle, along with an extra Xbox One Wireless Controller and a Wireless Display Adapter. Insiders who get this bundle with the Surface Book that has 8GB of RAM and 256GB of SSD storage will pay £1,869.94, a savings of £339. The bundle with a Surface Book that has 512GB of SSD storage, 16GB of RAM and the discrete GPU (misidentfied as having a i5 procesor in the email) will be sold to Insiders for £2,258.97, a savings of £390. Finally, getting the bundle with a Surface Book that has 1TB of SSD storage will cost £2,653.97, a saving of £395.
Again, this offer is only being sent to Windows Insiders in the UK, so if you are one of them you might wish to check your inbox or spam folder if you want to take advantage of this deal.
Thanks again to "mryosh" for the tip!
Get the Windows Central Newsletter
All the latest news, reviews, and guides for Windows and Xbox diehards.
Thats a darn good deal. I hope the next Surface Book will have at least a GTX 1060 though

That's not possible. Wait, is it?

Yes. GTX 1060, 1070 and 1080 all made it into laptops. GTX 1060 is for thin laptops. The Razer Blade already has it. 1070 and 1080 are for your typical back breaking high-end gaming laptops.

Cool, and who knows what Panos have in mind. He is a genius.

That would Br a 1060M right?

No. Nvidia has squandered the 'M', or Mobile gpus for laptop with the release of the gtx 10-series.
To my knowledge, this is true for the 1060, 1070, and 1080. Not sure about the lower cards tho. Although, do note that these new non-M branded GPUS for laptops are a little bit specced down compared to their desktop equivalent, such as having the number of their CUDA cores, memory speed, etc tuned down by 5%. But real world tests (look it up at YouTube) shows that the performance difference is almost negligible.

Ah interesting they dropped the M. But it sends out the message that performance is identical....Surely they don't have the exact same specs when put in a notebook though? It's got to still be a mobile version of the chip?

They should have been doing this for all insiders.

With the money they saved on internal testing salaries, we should be GIVEN a Surface 3 at least :P

Saw this morning and just said "I wish" then went back to sleep!

I have a SB already, and despite being a PS1, 2 and 3 owner im leaning towards an XB1s as my next console.because of the UHD drive, so hoping maybe for a special insider deal on the console.on its own

It looks like only the first bundle is a good deal, all the rest are cheaper bought separately

I want that Surface Book Core i5/16GB! They don't sell that configuration here in Australia, we have to buy the maxed out i7 model to get 16GB RAM.

Got the email, but not the bank balance.

+1 Posted via the Windows Central App for Android

Nice kit but can't afford it Posted via the Windows Central App for Android

I'm mryosh. Sorry forgot to add my user name to the email

Hey Myrosh, what phone were u using? Posted via the Windows Central App for Android

Ooh about time insiders started getting exclusive deals ;). Can't wait to see how this pans out (pun intended haha).