Unlocked Verizon HTC 8X available for $149 on Groupon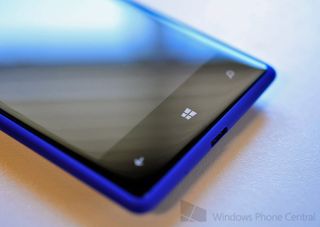 The HTC Windows Phone 8X has been around for some time, but it's still a relevant smartphone and will be upgraded once Windows Phone 8.1 is released by Microsoft.
If you're still seeking a Windows Phone deal, check out Groupon where you can pick up the 8X (Verizon refurbished and unlocked) for $149.
This discount for consumers enables purchasers to save $250. It's not a low-end Windows Phone by any stretch too. You've got dual-core powering the operating system, 4G LTE, 8GB of internal storage, 1GB RAM and a 4.3-inch 720p display.
The listing has the handset available in both black and blue. You'll need to hurry as there's only a matter of hours left.
Source: Groupon (opens in new tab); thanks, Ben, for the tip!
Windows Central Newsletter
Get the best of Windows Central in in your inbox, every day!
Rich Edmonds was formerly a Senior Editor of PC hardware at Windows Central, covering everything related to PC components and NAS. He's been involved in technology for more than a decade and knows a thing or two about the magic inside a PC chassis. You can follow him on Twitter at @RichEdmonds.
Wow, might buy a second, just because.

Good deal for someone who wants to give WP a try. Global capabilities on this model means it works on other carriers as well.

Tempting. Tax might push it out of my budget.

I didn't know Verizon version was GSM too? :-o

LTE is GSM based, so for global compatability and LTE connectivity Verizon puts a GSM radio in all of their smartphones. FCC mandated they leave their phones unlocked because of their nationwide LTE band 13 network, so you can use their phones on other networks, however they don't always work as expected (ex: T-Mobile texts will only send on their 2G gsm network, not over their 3g network). Also, the 8X only has Band 13, so it doesn't connect to T-Mobile or AT&T's LTE networks

Cool! So that means the Samsung odyssey follow the same rule? :P

Make sure it's a Verizon one and not a US Cellular version

MMS WON'T WORK UNLESS YOU USE IT ON VERIZON. Every time this site and others post a Verizon 8X deal they never mention that it has broken MMS when used on a carrier other than Verizon.

Well that's a dealbreaker. I use MMS quite a bit. Thanks!

You need to be able to change the APN settings (believe you can do that now after GDR2 update), but IIRC i was able to get MMS to work on AT&T and T-Mobile, but T-Mobile SMS only worked on 2G for some reason.

No, the APN settings are buried in the firmware. I have the 8X with the GDR3 update and MMS will only work on Verizon.

But what about group text.

I haven't had an issue with SMS or MMS and have never been on Verizon.

You're using a Verizon branded HTC 8X? When I tried one on AT&T it was impossible to make it work. The HTC Connection setup app says it can't find the SIM card and Verizon removed the MMS APN settings from the OS.

does this have LTE bands on AT&T network?

No, but it will work on 3G. But it won't have MMS.

This is the same price I paid for my Lumia 521 last year. At the time, it was the cheapest one there was... argh... so tempting to get this one until something good with WP8.1 comes out later this or next year. Works with AT&T prepaid/Payg, right?

Picture Messaging pretty much. (Multimedia Messaging Service)

MMS stands for multimedia messaging.....picture, video or audio messaging.....htc has an app called connection setup that is supposed to fix this problem but it has only worked for a few people unfortunately

That's a crazy good deal. Good phone by the way. I have a black one. But the corners are scuffed up a little bit.

will it work with T-Mobile USA?

Prefer the 925 I just bought :P

I want it, but I already have a 928.

Verizon RS should jump at this. I already have two (Blue and Gray/Yellow). I love the phone. Will upgrade to a Nokia when I am eligible but this phone is probably 8/10 if I had to rate it.

This phone is really awesome imo. Gf just got it late last year for free. Only downside is lack of Nokia apps, though you do get Here Drive at least. Don't think I could do without Nokia Camera.

Are these used or manufacture refurbished?

I just have to mention, by personal experience using this phone for over a year, it does get pretty warm just by being on, thus battery drain. I am not sure how this compares to Nokia devices having never owned one. I have always found this device to have a pretty abnormal battery drain of over 15% per hour or more depending on usage (not idle.) I used to get the rated standby time of 4-7 days with this device when it ran old firmware before GDR2 released. However, after updating, I have been unable to get more than a day and a half out of this thing. (Might be battery wear.) On another note, the Otterbox Commuter case is a good accessory for this device.

I've had mine for about six months and had no problems with it being hot or going through a battery too quickly. At least I don't consider it quickly. I recharge mine every night but it would go through about two days if I don't use it heavily. I wish it had a user replaceable battery and a micro-sd slot, but those aren't deal killers for me. It has enough CPU, storage, memory, and battery for me anyway. I've had several compliments from others on how well they like the appearance of this phone. Someone above asked if it was refurbished and I did see at the bottom of the article that they are. The last paragraph is after a break of some sort so you may not see it unless you look.

I just got this phone. Liking it so far.

I think a new 925 for $230 is a far better deal than a used 8x for $150. I say this as a current 8x user who just ordered a 925

Cant you input your APN settings manually to get the MMS to work? You'd need to contact your carrier or find the APN settings online somewhere though. May have to give it a few tries or something (or reboot the phone after entering the settings) to get it to work. Or did they block out the APN settings part?

From what i understand, after the portico update the option to manually change mms apn was removed.....on my 8x with gdr3 update I can only change internet apn manually

8GB? Thought all 8X on VZW were 16GB?

Dropped mine in water for a millisecond and it went into the boot loop of death, can't bring it back! Enjoying a second hand 822 only because of the work Nokia has done to the OS. The 822 is not in the same league with design and feel. The screen is outstanding too.

I had a 8X for a couple of months then changed over to a 925. Both are great phones but with the Nokia suite of apps, the 925 is just that much better. oh... and glance screen.

Very disappointed In wpcentral. This is not the first time you have advertised something that led customers to make bad or misinformed decisions. You say on this post that it has lte and 4g and all,these bells and whistles... Meanwhile unsuspecting WP enthusiasts who may not know any better are licking there chops at the chance at getting away with this steal of a deal. You neglect to mentioned carrier support. You neglect,to specify what function will work with what carrier. I do not know who your financial endorsers are but I used to feel comfortable with the information I get here. Now I do not. You have an obligation to the thousands of subscribers on your site who trust you to be forth,comi,g and disclose these types of things that will piss people off when they realize they,can make phone calls but not Skype video calls because the 4g and or LTE service is not compatible with their provider. Shame on you. I have watched you boast crappy products, services, un safe,mods etc with out proper warning. I admit you bring the mist up to date relevant news faster than anyone but I question where your values lie. Your site and the information contained will now be taken with a huge grain of salt.

You may or may not be over reacting.

I am... My apologies. I just got screwed on a order for something totally un related. My bad.

Why are you being mature? Dont you know this is the Internet? Posted via the WPC App for Android!

It does say Verizon version. How is that misleading?

*looks at post* *looks at 1520* *thinks about selling 1520 and getting 8x and Surface2* *looks at post* This is a real tough call

IS IT AVAILABLE WORLD-WILDE? CAN I BUY IT IF I'M FROM EGYPT?

Are we sure that this phone is going to get WP 8.1?

Just got mine in the mail. It looks new, not a scratch on it. Also it looks like these have 16gb of storage, not the 8gb described in the article.
Windows Central Newsletter
Thank you for signing up to Windows Central. You will receive a verification email shortly.
There was a problem. Please refresh the page and try again.