Alleged Windows 10 installation interface shown in leaked screenshot [Update: Now with video]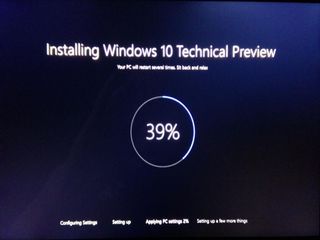 Microsoft is still tinkering with the user interface aspects of Windows 10 and that apparently extends to the operating system's installation screen. Today, a screenshot made its way to the Internet that allegedly shows a pretty major revamp of that screen.
The leak comes from the OSBetaArchive forums via an anonymous source. As you can see, the screen shows that installing Windows 10 is represented by a ring that shows the percentage of its progress in the center. At the bottom, there are percentages shown for specific installation tasks. A few days ago, Neowin reported on the same UI screen but showed a mockup, rather than a screenshot of the actual progress ring.
While a new UI for the installation progress may be a small thing in the overall development of Windows 10, it shows that Microsoft is open to making changes. It's more than possible that this UI is not final, however, and could be changed again before Windows 10 officially launches later this year.
Update: One of the forum members of the same website has now posted an actual video that shows the new installation UI in action
Source: Chris123NT on OSBetaArchive.net; Via: Neowin
Get the Windows Central Newsletter
All the latest news, reviews, and guides for Windows and Xbox diehards.
yeah, that's a bad news, but I think it's not the rumor, it's rather a build update.

Cool! Well, it's about time I will see this revamped installation UI on the next build...

If only the OS itself has the same style

W10 better kill it❗
.......
As I just said: Microsoft is good at making great products, and really dedicated when it comes to support... That I have no complaints about, and is the only reason why most of us are still here.
.......
They just need to quit the BS, and get these products into peoples pockets, and keep them on peoples desk.. That really is their main issue. If MS can figure that out everything else will fall into place.......
....... Honestly I think Apple, and Google, are successful because they aren't afraid to cross the line, take chances, and just go for it... MS can think outside the box, but thinking sometimes is as far as they go, or it takes much to long to implement cool ideas... But, they do have very good ideas... Nevertheless, I personally would like to see them get a little dirty, be less conservative. They definitely need to be more "in your face" aggressive with their approach.
Just my opinion, though.....

I think it's better with this one, just by adding a little bit more animations, and it's should be done.

Yep, I have to agree that this is much better...would also be cool on the phone.... That long ass progress bar is hard to decipher sometimes.

Well, I also hope that it will bring it to the Windows phones, too, rather than seeing the 2-frame-animated-cogs with the progress bar, I would be happier with that details (and that will help those who're stuck when updating their phones!) on my Windows phone.

haha, I thought I was the only one bothered by that 2frame animated cogs xD

Yeah, I think it makes the OS seem antiquated, and simple... They obviously can't utilize too much graphic processing during an update, but there's ways of getting around it, and this looks much better in my opinion.

I do feel like Microsoft needs to be a little bit dirtier.

Yes... Some commercials with sluts having mud fights over Lumia's.... Yes, dirtier... Much dirtier..
.......
Heck, works for Carl's Juniors.... Kate is pretty damn dirty, and it made me go try a burger.

That's why they need to launch the 'Ludicrous Speed' ring.

True, true... But, that's just for us stupid nerds.. Lol... The average consumer needs mud slung on their face.

███████╗██╗ ██╗██╗ ██╗████████╗ ██╗ ██╗██████╗
██╔════╝██║ ██║██║ ██║╚══██╔══╝ ██║ ██║██╔══██╗
███████╗███████║██║ ██║ ██║ ██║ ██║██████╔╝
╚════██║██╔══██║██║ ██║ ██║ ██║ ██║██╔═══╝
███████║██║ ██║╚██████╔╝ ██║ ╚██████╔╝██║
╚══════╝╚═╝ ╚═╝ ╚═════╝ ╚═╝ ╚═════╝ ╚═╝ .............................................................

Awesome!!! [img]http://s04.flagcounter.com/mini/kfoW/bg_FFFFFF/txt_DEDEDE/border_F7F7F7/...

HOW IN THE FUCK DOES THIS RELATE TO ANYTHING IN THIS ARTICLE Seriously, stop with your pompus "I know what microsoft is doing wrong and how to fix it" stuff, I can guarantee you, you do NOT no more than the guys microsoft hired to manage that.

Easier to just go for it when you really don't have to worry about legacy support. If Apple just goes for it, you might have a few poeple complain, but most won't care that the changed features or got rid of features. If Micrsoft just goes for it, they get a ton of flack. Just look at windows 8. There really isn't anything inherently wrong with it. It works fine on the desktop. I use it on desktops and laptops daily. It works fine on tablets. Just the change from a start menu to a full screen start screen got everyone's panties in a twist. The fact is that the amount of time you spent actually using the start menu in a day probably amounts to less than 10 minutes. You start your computer, launch your apps, and you probably might access the start menu a couple of time to access less used apps. They complained about the 2 extra clicks to access the control setting. How often to you actually go into setting in any given day? People keep saying all they want to do is use their desktop. The desktop is just a wallpaper with a bunch of shortcuts pinned it it. It really have much of a purpose. What is important is apps and the access to apps hasn't changed at all. So now Microsoft has to backtrack and bring back the start menu. For me personally, I don't care. I can learn to use any OS fairly quickly. I like the touch controls and will expand to start menu to full screen. It just shows that Microsoft can't really do anything quickly. They have to do things in stages, because their users will complain about any future looking move if it's done too fast.

"They complained about the 2 extra clicks to access the control setting. How often to you actually go into setting in any given day? People keep saying all they want to do is use their desktop. The desktop is just a wallpaper with a bunch of shortcuts pinned it it. It really have much of a purpose. What is important is apps and the access to apps hasn't changed at all." So true! Like you, I can learn any OS pretty easily. But I personally cant stand the Start Menu! I use it less than 0.01% on my Windows 7 computer. Whatever program I need is on my desktop. I really haven't seen anything in Windows 10 that has impressed me. But then again, I'm one of those who thinks MS is taking a step backwards with Windows 10.

Honestly... I think W10 is more fluent.. Everything is on one screen.. Kinda like how WP has two main panes for the OS, where iDroid has screen after screen of apps... It's simpler, and faster.. I didn't think so until I installed the TPW10, but W8 is kinda redundant.... But, it would be nice if MS let power users choose for themselves. It's really just a theme if you think about it.

Well, Im not really talking about what they do with software as much as hardware, and marketing.. But, I am very concerned about W10.. Mostly being bolder with their image, and towards changing perception, is mainly what I meant.... I think they are trying, but maybe dial it up another notch...
......
Basically apply the lessons learned with Xbox, and Surface, across the board.. Those things are resonating well with the average consumer.
.........
Seriously, people are just so spoiled with coolness, and the latest trends in technology, that total functionality isn't enough even in the workplace.... It's just a different era, and MS has to appeal to people accordingly...

Every thing is not like flowing water.....coding is hard job....the interface u see contains millions of lines of code....So be patient and let them do their work.. cheers :-)

Don't forget the cool pulsing animations

I think he means the one that is on Windows 7 times... when the computer is set-up on the first time.

Is this new build going to be a update for the current build or is it a completely new install?

it's rather to be a build update :)

Where is this thing? Jan 23 to March 23 (nearly) a month! Microsoft is probably the only tech company that keeps screwing with its customers left right and centre. Apple release their beta in less than a week after announcement.

precisely, it has been 2 months since the last build update.

Aren't you convinced even with all the explaining from the team for the reasons behind delays?

Well, I'm convinced about the explanation from the team, so I'll give them to take a shot with their explanations. I believe, it will be a success.

You know it is a PREVIEW build right? So they are not "screwing" with their customers in any way.

Not sure how you feel "screwed" because the FREE software preview update is taking longer than you'd hoped. Feel entitled much?

Yeah that is some serious entitlement when they never had to release a preview anyways. I don't see Apple or Google doing this in any form with their OS's, so honestly, take a seat and worry less about how free things are "screwing" you over.

About time the setup UI needed a refresh. Its been basically the same since Vista. Hope they refine it further.

just a little bit more details and animations, and it'll be ready.

"Basically the same since Vista." You know there was an 8 in there, right? It was kind of a big deal because it looked so different.

The initial part of the setup (the part where you choose upgrade or fresh install) for 8 and 8.1 looks just like vista and 7.

The full screen color flashing should be killed. I find it to be too blinding :)

This! I often get dizzy just by letting my eyes see that color in a long time.

It's hypnot----------who? Where? Did I zone out again?

It's sped up. It'll cycle through colors slower in real-time speed. With that said, it looks beautiful.

Yes, it's beautiful, but no, some people can't just accept that because of their eyes issues.

You are right, it must be my eyes that are the problem, I must be "holding it wrong".

Look at the recycle bin :O looks boss!

Haha, you're the only person I've seen say that. Most people have complained about the recycle bin.

Lol, its just because its metro, or Modern UI 2.0 I should say. It matches the rest of the design UI of Windows, that's why I like it.

I'd rather have more 'minimalostic' gray,white, icons. I hate the ones they have now

Similar to Xbox One storage display

Actually yeh, it does! Nice thought there

And after this modern look of installation setup you get that recycle bin LOL.

Ikr wtf!!! Hopefully it's changed. Posted via Windows Phone Central App

Enough with the leaks! Give me some of that Windows 10!

Wait for 23rd March, and they will deliver it to you. Don't you read the announcements in the Insider Hub?

Show a little bit of support for the Chinese WP users: http://wmpoweruser.com/we-are-the-1-alipay-cause-chinese-windows-phone-u...

It's be cool if Windows played music like this while installing.

Even cooler when we can choose which musics we want to play ;)

Lol...never gonna happen without 3rd party software

Well, just put it in Windows UserVoice then, vote as many as you can, and then hope it will be accepted! lol :D

During the Windows XP setup process, the installer would play music. I'm assuming that was the graphical installer and not the text-based one. I miss that.

Whaaat??? That looks hot! lol

Is Spartan available in this build?

No condensed font, please. I know, things will change. But, condensed doesn't look good, IMO. Also, the multi-colour solid BG animation is blinding. :P

Actually it looks very similar to iobits Advance SystemCare progress meter, when finds and fixing system bugs to me.

Interesting that the background isn't flat. Edit: Or is that just glare from it being a picture of the monitor? The video just has a black background.

Good now make your start screen, icons, settings, notification center, notification panel, tiles, icons, file explorer, alarm, look more beautiful than right now

Yes! We need nice professional white / gray minimalistic icons. Not cartoony.

If you want, tell 'em that you'll design the icons for them.

I wish. You should see my icons! Of course you can always download icons, but I want windows 10 to look good from the start.

I want the ninja cat on the unicorn. In fact, all icons should be replaced with the ninja cat!

I would like to see Cortana giving me the installation details. Cortana right from the installation. :D

That would be cool, like she's helping you set up the OS and she talks to you and asks you the questions out lound? Awesome. I'm gonna suggest that

Please do it. As I am not an insider, I cant do it.
Yeah that way it make the installation time pass by.
And after the installation she takes a tour of the OS, just like old days. ;)

Did it under OS Installation category!

I can relate it to the movie 'Her'

Legit. Winbeta had something about this a few days ago.

windows 8 was in ur face all that u mentioned. But it didn't succeed. Thats why they are beimg careful this tym.

I hope Windows 10 on phones get a better setup screen (current is horrible compared to iOS ad Android's one)

I was wondering has anyone downloaded the technical preview on their everyday computer? I was thinking about doing this but decided not to in case it messed my computer up. Posted via the Windows Central App for Android

Last January I tried to install Windows 10 on my primary laptop, the installation was fine but the screen where the colours change in smooth patterns was horribly messed up and it was flashing all the colours rapidly after which my laptop didn't start and I had to format the whole hard drive.
I lost all my data and could only recover Windows from the recovery drive :(

Yep. personal and work. Though just in case something would go wrong my worklaptop has a second SSD with my previous Windows 8.1 install.(in the DVD drive caddy)

So far I have it four of my machines. A very old Dell Poweredge 6000 Pentium Four runs well, Acer Aspire Switch Bay Trail just a cruzzin... Surface Pro 2 friggin awesome and an i5 Samsung Laptop. All great experiences.

I've installed it on my personal everyday laptop Toshiba L755. It works fine. The only feature it lacks is direct search by just pressing Windows logo and start typing. It forces me to use Cortana to search for everything, be it on web or on pc. Internet explorer had it's bugs. Wouldn't even youtube properly so I started using google chrome hesitently. And everytime I open It launches 3 windows (not 3 tabs in a window). There is an other major issue. Not many of the antivirus softwares are yet working (I used Avast on my windows 7 and windows 8.1 previously) Only popular av working as per my knowledge is ESETnod32. Xbox music is cool.

the new looks are good.... but leaks are bad :(

Leaks aren't always leaks...

Refine this setup UI just a little, a little more of Cortana or Azure influence, and get rid of the color-changing background in the final stages, and stay consistent with the Cortana / Azure circle thing guiding through those final steps... Clean, minimalistic and modern...

Why no news that Daddy Long Legs released? http://www.windowsphone.com/s?appid=d99ea662-4e2a-43cc-a9a3-f44f826ae30d

Oh cool, its the Xbox One hard drive fill-o-meter.

It should say "Install-o-meter" under the progress ring. :-D

Halo confirmed, Cortana confirmed!

I'm not sure if it still happens but there was a distro of Linux (Linux Mint I think) that had a sound track during installation. I think Microsoft ought to rip that one off. Just make sure to include an option to do the install without the music but yeah, this looked intriguing as hell.


Cool atleast super modern looks and inspiring.

You can expect only the following percentage values; 17%, 56%, 63%, 100% (and it will sit on 100% for a long time). Yep, I've watched a lot of MS progress bars in my lifetime, would love to have all that time back. ;P

I have noticed this a lot. I think you missed 75%.

So we replace the hourglass ​with a circle and the progress bar with a circle...in the end we still have to wait. Maybe Microsoft should show off Windows 10 while you wait for the install like they did in XP. Windows XP now has multimedia capabilities....or whatever it said....share files with your friends......Windows 10 instead would explain how Cortanna works and show you how to use the multi-desktop feature and pin stuff to start. Spinning circles are not the way to go...might as well say "Please Wait." ​ ​ ​

I made a suggestion that they have Cortana walk you through the setup and show you around the OS. If that's sounds cool you should vote it up!

I don't mind it. From a technical side of things I wouldn't mind seeing a module/component that is being installed under the 'Applying PC Settings' 'Setting up a few more things', like a digital clock type display showing what is installing now. Not big, not obtrusive even greyed out but indication of works going on. That may help those impatient folk seeing that things are being done and if there were a hang on install (which I must admit I haven't experienced in some time), a technician could have some indication of what could be holding up the process.

I hope this applies to the boot screen as well, those little white dots would be better if they had a percentage of how far through the booting the computer has done

That would be unnecessary?
You really want a percentage of how much of your computer has been booted? That may actually cause the booting to slow down, I think. That's my opinion.

Don't understand what is there to get excited about. I see this ring interface every time on Xbox One when there is an update or a game downloaded. Isn't there a convergence happening with Windows 10?

That's the very point of excitement. The convergence, brother.

This is way better than the current progress screen.

I am not sure if I like the new way in design they are going. I really liked the square form factor of metro. Now everything gets a circle form factor

What if it gets stuck at 10?

I think the ring looks better than the progress bar.

Looks like that on my BlackBerry Z10... but in circle.. Posted via the Windows Central on my BlackBerry Z10

Have you seen that new "Recyclebin" icon.... Not bad

This would remember me to DOS

If someone wondered... this is not implemented in build 10036.

Didn't see it install Media Center so it still looks like junk. ;P