Use Cortana to define words for you in Windows 10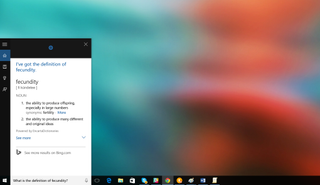 Microsoft's Cortana has many uses including sending emails or checking the weather. One of the best uses though is a simple look-up feature for words and their definitions. Combined with the Hey Cortana voice recognition using Cortana to tell you quickly what a word means is a great hands-free tip.
There are multiple ways to get Cortana to define a word. If you have Hey Cortana enabled you can simply blurt out your request:
You can, of course, also just type in your request e.g "define beatitude" although this admittedly takes some of the speed (and fun) out of using the personal digital assistant.
For many words, Cortana displays the definition within a card, and OxfordDictionaries or EncartaDictionaries powers it. Sometimes, if Cortana misunderstands you or does not have the definition, the assistant opens up a web page after performing a web search for it.
There is not much else to say about the feature outside of it being helpful, especially if you are writing something.
Ask Cortana
If you are using the Microsoft Edge browser and are reading an article with a word you do not know, Cortana has you covered here too. Simply highlight the word using your mouse (or tap if on a touch screen) and right-click to bring up a menu. Choose Ask Cortana and the assistant should grab the definition for you in a slide-out window from the right side.
Highlight word
Right-click
Choose Ask Cortana
The beauty of this method is you do not have to open yet another browser tab disrupting your reading. Instead, Cortana pops in, gives you the definition and then disappears when completed. It's fast, clean and to the point. Even more neat is if you see the little Play button you can press it to hear how the word is pronounced:
Hopefully next time you find a word you are not familiar with Cortana will lend you a hand. All you have to do is ask!
More Cortana Resources
Need more information on Cortana and Windows 10? Maybe these will help you out!
Daniel Rubino is the Editor-in-chief of Windows Central, head reviewer, podcast co-host, and analyst. He has been here covering Microsoft since 2007 when this site was called WMExperts (and later Windows Phone Central). His interests include Windows, Microsoft Surface, laptops, next-gen computing, and for some reason, watches. Before all this tech stuff, he worked on a Ph.D. in linguistics and ran the projectors at movie theaters, which has done absolutely nothing for his career.
Great! Glad to see how to do it since it wasn't working the traditional way.

That's such a drawn out question. :p I just type "define [word]".

Yup, there's a few ways to ask ;) I added in a more direct route. Thanks.

What happens if you ask, "Hey Cortana, what is the meaning of life." Will she define it or give another response

"I've heard from a reliable source that the answer is 42." - Cortana

Thanks to eddude77 for the tip...! You can do this with Cortana windows 8.1

Still waiting for cortana Latin America on my phone and pc

I really like that Windows Central is truly becoming the place to go for Windows 10 tips and tricks with fleshed out help articles like this. Kudos to Daniel and the staff.

I'm sorry but these how-to's sre getting a little silly. Why are there a million and one articles on the same feature? Why is there not just one "Cortana in windows 10" as article. But the ones that top them off so far are the downgrade articles. Why are there two separate articles for downgrading to Windows 7 and 8.1?

Not silly at all. Tried, tested, and true are the words you are looking for, actually. What is the use of writing one giant article if no one can find it? Goes on the front page and disappears into oblivion. What happens when people search? What do they look up? "Cortana in Windows 10"? Is that a realistic question that someone would use Bing or Google for? The answer is 'no'. What people DO do is search for things like "How do I go back to Windows 8 from Windows 10" or "How do I send an email using Cortana". That is what humans actually do. So no, what we are doing is not silly. In fact, we are nearing 9 million unique visits this month (+102%) and over 23 million page views, more than doubling our regular traffic. Those numbers do not lie: we are doing this right are helping people (and Windows 10). Shoot, you can even read the comments here of people appreciating this stuff. You may find it "silly", but we do not determine our editorial calendar on the comment section. So sorry, you will have to continue to pass over articles you find "silly" and hopefully, you now will feel less compelled to leave a complaint in comments about the direction of our work. We put a lot of effort into this site and we want it to be open to everyone, whether they are new users or old-school. Thanks.

I have the perfect Jeremy Clarkson meme to express how I truely reacted to your reply. Too bad you guys dont allow pics so I'll just have to stick with words for now. Reaction: Must be nice. Was just saying... Its just that I feel like the next article will be titled "how to switch your PC on in Windows 10". But like I said... just saying.

It's fine. How do you think we feel having to write these?lol But it's the nature of the site and figured I would write a detailed response. We are trying to build something here that lasts.

I certainly appreciate all these articles. The first app I go to when I wake up in the morning is Windows Central. You guys work hard to find the juicy Windows news so I don't have to. I'm glad to hear this site is doing well!!

Thanks! Much appreicated.

I noticed a long time ago that Cortana for WP 8.1 couldn't define certain words. So I put a request in uservoice for them to add all the words in the dictionary. Hopefully W10 Cortana is more up to date than Cortana on my 1020.

Unfortunately still not as useful as the system-wide define word feature in iOS and OS X. Dont understand why this hasn't been added to Windows, or Android for that matter.

How is it different/better?

Select a word and hit "define" in the menu that pops up. http://osxdaily.com/2012/01/06/access-dictionary-ios-look-up-words/ Very efficient, and very useful. Ask Cortana is similar but is restricted to Edge and I believe requires Internet Access. The iOS and OS X approach works in any app that has user-selectable text and uses an offline dictionary.

I hate these how-to articles too. How do I pin an app to the start menu, how do I turn on airplane mode, how i change power setting from balance to performance, how do I change the accent color from default to pink, how do I etc. etc. Make one or two how-to articles with everything included. If people are still lost, they can create a topic in the forum about there problem. #hash tags been around forever, create some so people can find this 1/2 mega how to articles. No need to reply to my comment. PS How do I turn off my PC.

Well else can I say but 'too bad'? lol Complain all you want, nothing is changing. How hard is it to not read something on the internet? But please, keep all of us informed of things you do not like in the world. It really helps the community here :P

Thanks for these "how to", they help me a lot, usually if I want to know 'how do I' do this or that in Windows, I first check on this site if is article to that fact before searching on the whole internet,
Some of us must learn not to be selfish, I have learnt a lot from these "how to" keep on doing teaching us, our heads never get full with data!

That's cool. Now I will be able to ask cortana whenever Daniel rights an article.

He does right things but you are right in this situation lol

Not sure why, but Cortana suddenly stopped talking completely. Need to see what happened to her.

She's probably on vacation or just giving you the cold shoulder :P.

Well, she is a woman. I'm sure you have done something to piss her off. Good luck figuring out what it is though. Your best move is to tell her she looks fat lately and you are dumping her for a skinny chick. She will start talking for sure.

Now this is something different and great... Good to see how they are improving Cortana

Daniel is there a way to spell out a word that some might not to pronounce - for instance ' bourgeois ' ? - It can be typed out but is there a way to spell out a word in voice.

If you can pronounce it correctly, just say it to her. She'll spell it out.

When is this feature coming back to mobile

"coming back "? so was this feature there on w10m in earlier build?

Same feature should be there on w10m as well. select any word on a web page and then pressing search button should bring the meaning/details about it via cortana.(cortana should open and show the meaning just like she does in edge on PC) and just pressing back button will take us back to the web page we were reading. Similarly while watching a movie trailer or reading about a hotel or something like that just press the search button and cortana should open and bring up details about it like rating, booking, phone number,direction etc with deep links just like on pc without leaving the browser page. this feature is there on PC and on android phones (as bing snapshots), why not on w10m? just integrate edge with cortana on w10m as well. Cortana integration with Edge browser on W10M Vote

Someone could make a Chrome extension that integrates with Cortana and performs a dictionary check of a selected word, just like in Edge!

Waiting for a guide which lets non-american countries use Cortana without changing region
I know ita officially impossible but someone should bypass it or crack it.

Thanks Daniel, as I for one have a Windows 10 folder and Windows 10 mobile folder in MS Edge, and believe me, a lot of bookmarks within these two folders are articles from WP Central...! I'm not a noobie by any means, however did not realize the 'highlight' word in Edge, Rt click, then Ask Cortana feature..nice! btw: Not getting any email notifications from comments on the site??

Hello Daniel ! I read in the comments that some people do not like this type of article "how to", as they believe these actions are too simple to be in an article. I understand their side , but also understand the side of you . My suggestion is that you continue making these articles, but mark them not to appear at the main site index. Thus, these articles will still be indexed by search engines but will not appear in the site's main page. What do you think?
Windows Central Newsletter
Thank you for signing up to Windows Central. You will receive a verification email shortly.
There was a problem. Please refresh the page and try again.