Ubisoft brings Valiant Hearts and Tetris Ultimate to Xbox One and Xbox 360 this summer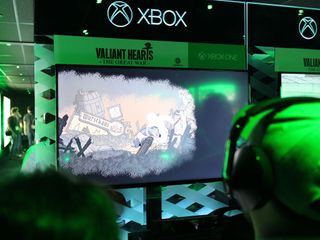 We're still trying to take in the full range of ID@Xbox titles that Microsoft and third-parties showcased during E3 this week. The Xbox 360 has an impressive library of downloadable games already, but the Xbox One will surpass that library sooner rather than later once the games start releasing on a steadier schedule.
It's not only indie developers that have exciting downloadable Xbox One titles in the works. Even giants like Ubisoft have gotten in the fray. Ubisoft actually pushed Valiant Hearts: the Great War during their press conference and on the show floor, a sure sign of faith in the gorgeous World War I-era adventure. Valiant Hearts launches on Xbox One and Xbox 360 later this month. And a little farther off, Tetris Ultimate will arrive on both Xbox One and 360 in late summer. Check out both games' trailers after the break!
Valiant Hearts
First announced at the beginning of May, Valiant Hearts is described as both a puzzle adventure game and an animated comic book adventure. The gameplay involves plenty of character interaction, stealth, and puzzle solving.
Adventure games often feature a strong focus on story and setting, and Valiant Hearts is no different. The game takes place during the first World War, a time period we don't see in that many games. The beautiful cartoon art style really brings locations like Reims and Montfaucon and historical battles such as the Battle of the Marne and Battle of the Somme to life – all in a totally fresh way. We can thank the UbiArt framework, which powers other beautiful games Rayman Origins and Child of Light as well, for that.
Valiant Hearts promises to be an emotional game. Players will control several distinctive characters who are embroiled within the war's trenches, including soldiers and even a nurse. All are tied together by not just their personal stories, but also a faithful canine companion. The dog proves to be an essential part of gameplay, with his sense of smell and small size helping the heroes solve puzzles and stay out of harm's way.
Will any of them come through unscathed, though? The excellent E3 trailer implies that some or all of the team won't survive the war. But Ubisoft promises a touching and comical adventure, so perhaps there is some hope for the story's characters after all. We'll find out when the game arrives on Xbox One, Xbox 360, PC, and Playstation consoles on June 25.
Tetris Ultimate
Alright, so the announcement of a new Tetris game is a bit less exciting than a fresh adventure title like Valiant Hearts. But Tetris Ultimate is Ubisoft's first stab at Tetris, having recently acquired the license after Electronic Arts let it go. And the Xbox One still needs puzzle games like Tetris, so this will fill that hole in the lineup nicely.
Tetris Ultimate features six modes:
Marathon: The traditional game of Tetris in which players try to reach level 15 and score as many points as they can along the way. In my day, this was all the Tetris we needed!
Endless: The level counter goes all the way up to 30 somehow, which should be insanely fast since level 15 is already too much for many mere mortals. And you can keep clearing lines for as long as you survive.
Ultra: A three-minute timed challenge. Tetris Blitz fans should appreciate this mode, as that game lasts for short one-minute stretches.
Sprint: Clear 40 lines as fast as you can.
Battle: Compete against opponents in head-to-head battles.
Power-Up Battle: Up the ante as you battle other players using all-new power-ups. Carousel causes the opponent's Well to move left after each move; Let it Rain drops garbage blocks; and Buzz Saw clears lines from your own field. I've been a fan of power-ups in Tetris ever since the Tetrinet days on PC.
Ultimate also has some cool new social features that should appeal to today's super-social and always-connected audiences. The game's social feeds will alert players to new in-game events and share their friends' scores. There will be traditional leaderboards as well, but it's always good to share friendly details outside of the leaderboards too.
Much like Forza 5, Tetris Ultimate also captures each player's play style and creates an AI version of it. Friends can then compete against each other asynchronously, which (I believe) is a first for Tetris games. And of course, the game supports local and online multiplayer for up to four players.
Tetris Ultimate is due for Xbox One, Xbox 360, and Playstation consoles sometime this summer. The PC version will follow in the fall.
Daniel Rubino is the Executive Editor of Windows Central, head reviewer, podcast co-host, and analyst. He has been covering Microsoft here since 2007, back when this site was called WMExperts (and later Windows Phone Central). His interests include Windows, Microsoft Surface, laptops, next-gen computing, and arguing with people on the internet.
Might get Tetris, but Valiant Hearts looks too much like an artsy-fartsy game I wouldn't enjoy.

Totally wrong. Look up a trailer for it. I saw it when it was revealed at E3 and it looked quite good. Very worthy of a play through.

It's definitely worth playing, but I believe his objection is that the art is attractive and creative.

Sony made a big deal about getting Tetris Ultimate at E3. Funny.

Well Tetris is a big deal to Sony, cause it has the word ultimate behind it. They feel a connection with that word.

YAAAS! More casual games!

Valiant Hearts really isn't a casual game. Tetris though...

Yea I was referring to Tetris. Couldn't care less about Kingdom Hearts or whatever it's called.

Tetris is far from casual. Very competitive.

That's like calling Bejeweled competitive. Although there is high level play in Tetris, puzzle games mostly appeal to casuals.

Lol Xbox is getting Tetris Ultimate... So that take a little wind out of Sony's sail.

Who is the winner of Surface Pro 3?

I am! ...but probably not :(

It takes time to manually tally. You'll win. Be patient.

I'm curios as to why there isn't a damn carrying bag for the XBONE!

That would be nice, right?

There is, it's called the GAEMS Unit.

I LOVE TETRIS!!!!!!! I really want Tetrisphere to come back :(

I'm starting to fall in love with Ubisoft. If they would just announce a Kinect-controlled sequel if Child if Eden for Xbox One, I would propose to hem in a heartbeat.

Fantasia looks a little bit like Child of Eden.

Fantasia looks super gay... But dance central now that's a manly game that I most definitely will be getting

You should not use gay as s pejorative. Very rude.

Yeah, I'm intrigued by Fantasia but just fear it'll be too Disney-fied, whereas Child of Eden was pure art.

I read Vandal Hearts. Realized no and disappointed.

If Microsoft wants me to buy an Xbox One. I'm going to need more classic Sega games added. I want Shining Force and Landstalker. Either of these would also look good on wp8 as exclusives.

I miss the old Sega. They used to be the best gaming company in the world. They've been largely irrelevant since 2001.

The first Tetris, for the first Gameboy, is still the best version I've ever played

You should try Tetris DS then. It's way better.

The douches flagged their own trailer? wtf youtube!

People have been seeing that message on the trailer at some other sites too, but we don't get a flag on our end. It's weird.

man id love to have Valiant Hearts on my Surface 2 <3
Windows Central Newsletter
Get the best of Windows Central in in your inbox, every day!
Thank you for signing up to Windows Central. You will receive a verification email shortly.
There was a problem. Please refresh the page and try again.