This Week in Xbox One News - Rise of the Tomb Raider omits multiplayer, Fallout 4's dialogue, ex-Bungie composer's lawsuit and more! (September 6th, 2015)
This week we're looking at Rise of the Tomb Raider's lack of multiplayer, Fallout 4's mammoth script, the former Halo/Destiny composer's lawsuit and more!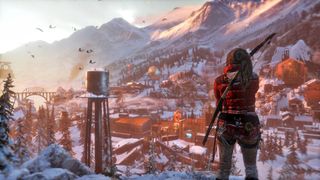 Welcome to our weekly ICYMI for Xbox news!
We'll still be posting major Xbox announcements in the main feed. However, I'll be collecting some of the more nuanced news, rumors and talking points into one handy post every weekend! You can also rely on this weekly column to keep up to date with all the latest game releases.
So without further ado, here's the latest edition of This Week in Xbox One News.
Rise of the Tomb Raider has no multiplayer
Rise of the Tomb Raider is heading to Xbox One as a console exclusive this November. The previous game, simply named "Tomb Raider" featured a rudimentary multiplayer mode, which was light on features and heavy on clunk. Thankfully, rather than spend dev time cobbling together an unexciting multiplayer mode, Crystal Dynamics are focussing 100% on the game's single player.
The quote comes from the Official Xbox Magazine September issue as part of their Rise of the Tomb Raider coverage (via AOTF).
Forced multiplayer modes are a pet-peeve of mine, but there's some business logic behind their construction. The idea being that a multi-player mode is a relatively low-cost way of extending the playable life of a game, stemming the tide of potential trade-ins. If Crystal Dynamics is focussing all of their efforts into the single-player mode, it could mean we'll get some serious longevity from the game's campaign. Here's hoping.
Rise of the Tomb Raider launches on November 10th for Xbox One, Q2 2016 for PC and Q4 2016 for PS4.
Fallout 4's dialogue is complete, features more lines than Skyrim and Fallout 3 combined
Fallout 3 and Elder Scrolls V: Skyrim are both so vast that the average player will struggle to see every piece of content the games have to offer. It seems as though Fallout 4's volume will be similarly daunting.
Bethesda recently announced via Twitter that they've completed Fallout 4's dialogue, which sports an astronomical 110,000 lines of dialogue.
For voice acting projects, the current world record holder is EA's MMO, Star Wars: The Old Republic, claiming the record with 200,000 lines of dialogue. SWTOR features 8 separate, fully-voiced stories for each individual class, in addition to 2 variations (for gender) and narration for each quest, no matter how trivial.
As a single-player RPG with only two main voice actors (one for male characters and one for female), for Fallout 4 to hit 110,000 lines of voice overs is pretty astronomical. It's going to take hundreds of hours to hear all of that dialogue.
Fallout 4 launches on Xbox One, PS4 and PC on November 10th, 2015.
Former composer for both Halo and Destiny defeats Bungie in lawsuit
The mind behind the iconic Halo theme recently defeated his former employer, Bungie, in a lawsuit pertaining to unpaid earnings (via ICXM.net).
Back in April 2014, composer Marty O'Donnell announced that his contract with Bungie was "terminated without cause".
Rumors suggest that the rift began when Activision outsourced the music for Destiny's marketing. Bungie reportedly filed a complaint about the omission of O'Donnell's music, but Activision overruled. Additionally, O'Donnell's requests for Destiny's soundtrack to get released as a standalone item, like Halo before it, was refused by Activision. O'Donnell attempted to sew discord against Activision becoming 'disruptive', according to the reports.
The falling out kicked off legal proceedings, which O'Donnell has now won. O'Donnell picked up $142,500 in unpaid profit sharing, plus $95,000 in unpaid wages. O'Donnell also won the right to shares in Bungie, which run into "significant" amounts.
Congratulations aside, perhaps now that Mr. O'Donnell is free of Bungie, he'd be up for scoring Halo 6.
Bid farewell to Metal Gear Solid with this emotional video from Hideo Kojima
It's no secret that Metal Gear Solid V: The Phantom Pain's development suffered difficulties. A rift between the series' creator, Hideo Kojima, and parent company Konami threatened to overshadow the entire game. Thankfully, it seems as though MGSV has emerged unscathed, with many reviewers calling it a masterpiece.
Hideo Kojima has finally bid farewell to the series. He states in the above video that MGSV bridges the gap between the story arc of Big Boss (MGS3, Peace Walker) and Solid Snake (MGS1, 2 and 4). Hideo also meets various developers from the project, famed press members and the family of a Metal Gear super-fan who recently passed away. Kojima dedicated the video to his memory, as part of a wider tribute to fans of the franchise. If you're a Metal Gear fan, be sure to give it a look.
ICYMI - Some of Windows Central's biggest Xbox articles of the week
Castle Crashers Remastered will burst onto the Xbox One on September 9
Check out the action-packed Halo 5 opening cinematic and prepare for the ultimate drop
New Xbox One game releases for the week ending Sept 6th, 2015
Rugby World Cup 2015 (opens in new tab) - Sports - HB Studios
"Experience the passion of rugby in the official 2015 Rugby World Cup video game. Choose from among the 20 teams in the World Cup and take part in the most prestigious competition in rugby."
Nightmares from the Deep: The Cursed Heart (opens in new tab) - Puzzle - Artifex Mundi
"On a cold, stormy night, the Caribbean Museum curator Sarah Black is making the final arrangements for the grand pirate exhibition's star attraction – the mummified corpse of the fearsome 18th century pirate, Captain Henry Remington."
Quest of Dungeons (opens in new tab) - RPG - Upfall Studios
"Quest of Dungeons is a turn based dungeon crawler game, a roguelike featuring a good old 16-bit retro artistic look. An evil Dark Lord has stolen all the light, so your mission is to enter his lair and defeat him."
Broken Sword 5 - the Serpent's Curse (opens in new tab) - Action & Adventure / Puzzler - Revolution Software
"Paris in the spring. Shots ring out from a gallery. A robbery... a murder... and the beginning of another epic Broken Sword adventure. From multi-award winning Revolution comes the latest mystery in this much loved adventure-puzzle series."
Super Toy Cars (opens in new tab) - Racing - Eclipse Games
"Super Toy Cars is a tabletop arcade combat racing game featuring fast and cool looking cars, impressive tracks made of everyday objects and a bunch of power-ups that will let you destroy your opposition!"
METAL GEAR SOLID V: THE PHANTOM PAIN (opens in new tab) - Action & Adventure - Kojima Productions
"Ushering in a new era for the franchise with cutting-edge technology powered by the Fox Engine, MGSV: The Phantom Pain, will provide players a first-rate gaming experience as they are offered tactical freedom to carry out open-world missions."
The Deer God (opens in new tab) - Platformer - Crescent Moon Games
"The Deer God is a breathtaking 3D pixel art adventure that will challenge your religion and your platforming skills. It's a game about survival, reincarnation, and karma; all set in a breathtaking and unique 3D pixelized world."
Mad Max (opens in new tab) - Action & Adventure - Avalanche Studios / WB Games
"Become Mad Max, the lone warrior in a savage post-apocalyptic world where cars are the key to survival. In this action-packed, open world, third-person action game, you must fight to stay alive in The Wasteland, using brutal on-ground and vehicular against vicious gangs of bandits."
And that's a wrap!
I'm 45 hours into Metal Gear Solid V: The Phantom Pain, sitting at 35% completion according to the game's stats. It seems difficult to find a place on the net that isn't talking about The Phantom Pain right now. After all, you can drive a golden tank. What have you lovely people been playing this week? Hit the comments!
Windows Central Newsletter
Get the best of Windows Central in your inbox, every day!
Jez Corden a Managing Editor at Windows Central, focusing primarily on all things Xbox and gaming. Jez is known for breaking exclusive news and analysis as relates to the Microsoft ecosystem while being powered by caffeine. Follow on Twitter @JezCorden and listen to his Xbox Two podcast, all about, you guessed it, Xbox!
Yay ! The old bungie always wins *-* go marty ! Go joe ! Man 2 more years and we got the old bungie back together to make halo 6 :D and 343 is not longer needed

But 343 is bungie....most of bungie employes stayed in 343

Shhhh...leave him believing that shit equals to chocolate XD

Ah, I really like the look of that game. Need to find time to play. ughhh

Screw Activision. Publishers should not meddle with the game development team or environment. They have done worse than Microsoft ever could have.

When it's their money on the line, they deserve every right to have input on how it's spent.

@Keith Wallace. When it means terminating your contract without cause? Granted there is probably heck of alot office politics went on in the background that ultimately let to that decision and possibly is continuing to impact others. But regardless you can't just terminate a contract just because you feel like it. Furthermore just because it's "your money" it doesn't give you the right to treat people like crap as in the case of Konami.

Thank God the new Tomb Raider joins the new Assassins Creed in having no multiplayer. I hate games with Multiplayer and even more then they have a bunch of Achievements attached only to the multiplayer mode.

I think the same, I love playing a game for the story... Just me... Like the old school games

Funny, I feel the exact opposite on AC. I was interested in Unity for the co-op. The removal has killed all of my interest in Syndicate.

A strong single player is far more important for me also. Saying that, Crackdown 3 is one of the few multiplayer games that has me interested.

Crackdown 3 multiplayer should have everyone interested! It's going to be so much fun.

Agreed. Tomb raider doesn't need a half a$$ multiplayer. Put more into the single player resources.

None of this news matters to me unless/until Microsoft wakes up and adds full keyboard/mouse support for gaming on the Xbox One.

"Wakes up"? Lol, okay... Regardless, they did confirm that Halo Wars 2 will have M/K support.

Then why don't you go play on a PC? The exclusive games won't get that support, so what you want to use a mouse and keyboard on with the Xbox can be done with a PC now.

If you want to use a keyboard and a mouse, you buy a PC. A console is to play with a control, comfortably laying on a couch. It's to relax and have fun.

More good news for Tomb Raider fans. No halfbaked multiplayer getting in the way.

Did a little Forza 6 demo, liked that. Tried a smidge of the Rory McIlroy trial, not sure how I feel about it. Most of my time has been in Halo: TMCC, which has become an unbearable disaster of late. The matchmaking has been horribly unbalanced, people constantly quit, and finding a game gas been dreadfully slow. I'm so ready to get Halo 5 and move on from this game.

Could have been far improved if it had drop in/out multiplayer. IMHO.

I'm happy about Marty O'Donnell he's got such an impressive résumé with Halo. I'd love to see him as much apart of Halo as Jen Taylor is.

Maybe a change org petition to get Marty to go to 343?

Marty has founded a video game development studio; Highwire Games! :D

I've been playing Grandia II Anniversary Edition on my PC via steam all week. I have fond memories of that game on the Dreamcast 15 years ago. Grandia II Anniversary took me away from Rare Replay on the Xbox One, I haven't even downloaded the Forza 6 demo yet. Blasted Ryudo and his shenanigans!!!

Hearing good things about Grandia II Anniversary, I'm longing for a AAA classic jrpg. :(

Does any one care about Bungie? They don't make good games, they make overrated ones, Destiny was one of the most boring lacklustre games I've played in years. As for Halo.... it doesn't have a good story, it doesn't have characters, the level design was all copy and paste, then the last third ruined the only good thing about the game (The A.I) and introduced the Flood, which was terrible and you just backtracked through the entire game. Bungie are like modern day Bioware to me, but at least Bioware made good games in the 90s and I spose KOTOR was ok, even though the controls, combat and UI sucked.

Goood let the hate flow through you

I agree with you on Destiny, but what you said about Halo please just leave you apparently know nothing

It's "sow" discord. My cure (patent pending) for homophonic misspellings: read some books :)

I hate multiplayer too.I don't even have PS +

Looking forward to Fallout 4.