The PowerA FUSION Pro Controller is yet another high-end Xbox One gamepad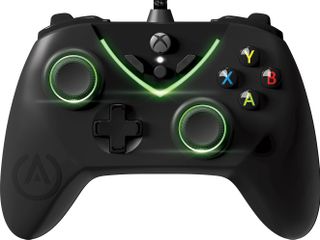 Microsoft will be launching its high-end Xbox One Elite Controller in October for $149.99, and Razer recently announced its own gamepad for the console, the Razer Wildcat, that will have the same price. Now another company, PowerA, has just announced it will release the FUSION Pro Controller for the Xbox One. It will have a number of high-end features but only cost $79.99.
The PowerA FUSION Pro Controller's biggest feature is four extra buttons on the bottom of the gamepad, each of which can be assigned to any game function. The controller also has platter-style analog sticks, dual trigger locks and some custom light effects that give owners a total of 225 color combinations.
PowerA says:
Which one of the upcoming high-end Xbox One controllers do you want most, and why? Let us know in the comments.
I think I need to hold them all before I could decide. If not then I'd automatically go elite!

Why are they all wired? I know it makes the response time shorter, but still...

I was just going to ask that. Are they ALL wired?

Microsoft will only allow their own products to utilize wireless technology. All third party hardware is wired

Not to mention they had to build the receiver from scratch as their wasn't anything like it yet since its based closely to white-fi

They could do what the headset makers do then, make a USB receiver. Wires for contollers in this day and age seems crazy.

"custom light effects that give owners a total of 225 color combinations"

These would very likely chew through your batteries. Same reason you don't see wireless backlit keyobards.

Basically this right here. I wouldnt want to continuously change/recharge batteries during a session because of the lights draining them.

I believe this controller is not wireless though. If you look at the picture is looks like it has a wire attatched to it.

You said it, if you are aiming your controller at gamers, they want wired connections for response times, same reason why you never see a PC gamer use a wireless mouse or keyboard. Plus you don't have to worry about batteries which is always an advantage imo.

i game and I used a Microsoft Sidewinder x8 wireless for a Iong time. You couldn't tell the difference between it and a wired mouse, and it was a really comfortable mouse.

I use wireless, must be the reason I get my ass kicked online.

Alot of wireless mice come with a dock. You just drop it in when your done. Unless your using your mouse for a few days straight without charging, it wont run out.

Xbox One and 360 controller response times have been measured. There's no measurable input lag, so the "wireless is laggier" idea doesn't apply.

Batteries. Some of us don't like using them and we keep forgetting to charge them.
In Wired, we have more peace of mind while gaming.

This would be pretty cool for my PC. Wired won't bother me and I have the Logitech G910 with RGB LEDs in the keys

Elite is really elite tho lol

How about the light combination of OFF? Does this controller allow me to turn the lights off all together? I would like that the most. It already bugs me, the light coming from the Xbox button on the current version of official controller, when playing at night.

The previous Power A Spectra Controller let you turn the lights off, so I'm sure this one does too.

I could only hope you can turn off the lights completely. I bought an after 360 glow controller because it was discounted for PC use and as a secondary controller, and specially when playing at night the glow got kind of unconfortable.

Elite still puts all these to shame.

You've spent a decent amount of time with each one or opinionating based off specs and images?

The controller that costs twice as much as this one is nicer, you say?

I am getting Xeox Pro Analog Game Controller. It supports both Xinput and Directinput.

I am sticking with the Elite. Posted via the Windows Central App for Android

It's there anything similar controller for ps4 in India.I cannot find a single elite ps4 controller

No thanks. I'm still preferring the Elite.

Looks like this(PowerA Fusion) is worth a try since its cheaper.

Interested to know if this will work with PC, and if it will automatically work with all the games the official Xbox 360 and Xbox One gamepads work with (i.e No configuration required, correct screen prompts etc. in most modern games) - If the wireless dongle for PC doesn't come out soon I may have to get something like this instead. Been holding out and splitting a single Xbox One controller between the console and PC for a while now

It's very likely to work with PC with any games that support Xbox One controllers. We'll find out when we get a review unit.

I will support this controller. My previous PowerA Fusion controller was for Xbox 360 and I still have it til this day. Only had one problem and thats when I raged and threw it to the ground and the mic port went bad on me, but i got a new controller within a week. So I will test this out for a month or so and see how it works out.

I bought one today and Been beasting since... It's only 80 bucks... Hair trig locks with the Vespa on Blops3 changes the whole vibe!!!
Windows Central Newsletter
Thank you for signing up to Windows Central. You will receive a verification email shortly.
There was a problem. Please refresh the page and try again.