Weezer to help celebrate opening of new Microsoft Store in Natick, MA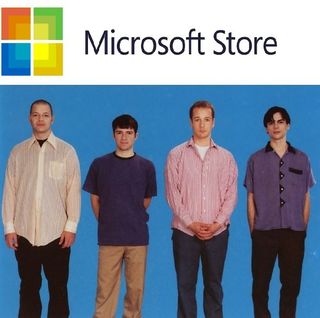 On June 8, Microsoft will be opening its third Microsoft Store in Massachusetts; this one in Natick Mall, just outside the Greater Boston area. To help celebrate the momentous occasion, indie-rockers (somewhat) Weezer will be performing in the parking lot of The Verve Crowne Plaza Natick, across the street from Natick Mall, home of the new store.
The first 200 people in line for the Microsoft Store opening will receive premiere viewing tickets to the show and to a meet and greet with the band post-performance. At least 750 others will also get premiere viewing passes. The opening ceremonies begin at 10:30 AM, followed by the Microsoft Store's opening at 11:00 AM. The gates for the Weezer show open at 5:00 PM.
This isn't the first time Weezer has opened a store as we mentioned their show for last July at the Pentagon City Mall in Virginia.
The Microsoft Store will be an upgrade over a kiosk that was already housed at the Natick Mall. The location of the new store is no mistake on Microsoft's part, as their chief rival, Apple, already has a retail store at the high-end shopping center. Microsoft has been beefing up their presence in the Bay State, especially around the Greater Boston area.
They are also in the process if opening another Microsoft Store in Burlington, MA. Not surprisingly, the Burlington Mall is also home to another Apple Store. It's a strategy that takes Microsoft's side-by-side comparison ads between their products and Apple's to a physical end. Much like their "Bing It On" and "Smoked By Windows Phone" challenges, Microsoft seems to be pretty confident that if consumers take the opportunity to compare their devices to their competitors', then they will reign supreme.
Hopefully, Weezer's performance at the grand opening of the new Natick, MA location says more about the grandeur of the event, and less about the popularity of the band. If you want to attend the event, or just check out the store, you will find it here:
Natick Mall
1245 Worcester Street Suite 3072
Natick, MA, 01760
Level 1, Across from Williams-Sonoma
Source: Microsoft; Via: Boston.com
I wish their was more stores in Illinois

They're opening a store in Woodfield Mall soon, which is exciting.


Wait, the Weezer from over 20 years ago is playing?

Not that I listen to them.

Yup, still active and good.

I'm pretty sure he meant the Weezer lineup in that pic is different than the current roster.

Hope its in a good spot, Natick Mall is pretty big

Ha, i remember a weezer video being included in my Windows 95 installation. We would all watch it amazed you get play video on the computer! It was probably less than 240p, whatever that is haha

That was my first thought on reading this too. Weezer on Win95
I remember thinking 'wow, that's amazing, music and video on a PC!'
I feel old. :(

Island In The Sun. That is all.

Why Microsoft? Weezer was popular 20 years ago, but nobody under 30 cares about Weezer nowadays.

Pretty hard to pick a band that appeals to all age groups. 30 plus have cash to spend

Where the #$&@ is the plus symbol on this keyboard?

I'm 23 and love Weezer.
EDIT: I'm also the owner of a Surface RT (-.-)

Thank you for putting Laura in her place. She sound kinda hot though. :P

Is her last name pronounced "know tech"? Cuz that would be +5000.

I was 23 when Weezer formed. I didn't expect anyone other than middle aged folks like me to care about them.

I don't actually. And I am your age. :)

I am currently 23 and I like Weezer

Well that's better than Kelly F'n Clarkston.

Sweeeeeeeet. I will be there

I think weezer was at the Delaware opening I went to. I wondering if we'll ever get one in Maryland

I think they also,played at the Pentagon City (?) opening.

I swear I saw them playing at a pizza hut opening a couple months ago.

Hell, the might as well make them MS employees. LOL

Hmmm.... Good place to be for new years i hear. There's a twinkie factory there, yes?

Used to be. They tore it down a few years back to expand the then Natick Collection (Natick Mall's former name before going back to Natick Mall).

I can't stand when people say things like "This band is 20 years old and so no one cares about them."

However, Weezer does suck these days. Their new music is a joke. Their stuff from the '90s is really good, though.

Some of us oldies have fond memories of Weezer
The "Buddy Holly" music video was included on the Windows 95 installation kit. Still great stuff after all those years.
http://www.youtube.com/watch?v=kemivUKb4f4



Sharpmango says:
.. Ha, i remember a weezer video being included in my Windows 95 installation. We would all watch it amazed you get play video on the computer! It was probably less than 240p, whatever that is haha X2! It was that "Buddy Holly" song.. that and the Greg Kihn video were on the Win95 disc.

Awesome. Not far from me. Excited to have a full store near by finally. Going into the Boston location is a pain.
Windows Central Newsletter
Get the best of Windows Central in in your inbox, every day!
Thank you for signing up to Windows Central. You will receive a verification email shortly.
There was a problem. Please refresh the page and try again.