Here's what to expect at Microsoft's NYC hardware event this week
Microsoft is holding a hardware event on May 2nd, here's what we're expecting the company to announce, and what we're not expecting them to announce.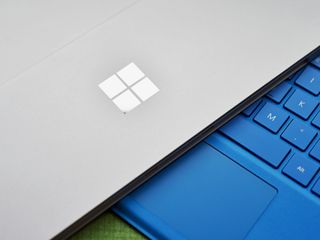 (Image credit: Daniel Rubino / Windows Central)
This week, on May 2nd, Microsoft will be holding a hardware event in New York City, in which the company is expected to unveil new hardware and talk about Windows 10 and the cloud, with a focus on the education market. Unlike previous hardware events, we're expecting this one to be toned down dramatically when it comes to new hardware.
So, what do we expect to be announced? Well first, it's probably a smart idea to cross off the things we know won't be announced. According to our sources, both a Surface Pro 5 and Surface Book 2 are off the table for announcement on May 2nd. It's also incredibly unlikely that we'll see a Surface Studio refresh so soon.
Oh, and definitely no Surface Phone.
What's more, considering Microsoft's own BUILD developer conference is a week later, we probably won't be hearing about any future Windows versions just yet. So Project NEON, My People, etc. are all off the cards, unless Windows 10 Cloud is part of Redstone 3, which we don't think is the case.
A new non-pro Surface
We're expecting Microsoft to unveil some kind of new non-pro Surface device on May 2nd, aimed at the education market running Windows 10 Cloud. It's currently unclear what form-factor this device will take, however if recent rumors are anything to go by, it may be a traditional laptop style device without a detachable display. It could also end up being a successor to the Surface 3, with that traditional tablet form-factor with a detachable keyboard. I'm hoping for the former, however.
Considering this device is aimed at the education market, we assume Microsoft will want to keep the cost of this thing on the cheaper side. That doesn't necessarily mean it'll be super affordable, we're thinking somewhere along the lines of Surface 3 pricing. Remember, with the Surface line, Microsoft want to show other hardware makers how to build the best hardware possible, not undercut them with premium, low-cost devices.
It's unclear how well spec'd the new Surface will be. It could be a mid-ranger, sporting an Intel Core Y processor (formally known as Core M chips), or maybe something a little more beefy such as an Intel Core i5 or i7. Maybe, it'll rock an Intel ATOM or even ARM processor, although we're not expecting Windows 10 on ARM to be ready until the fall.
In regards to its name? CloudBook is the rumor. We're not so sure, as this device is aimed at schools. We'll know for sure on Tuesday.
Windows 10 Cloud
We're also expecting Microsoft to officially unveil Windows 10 Cloud (which we're hearing will actually debut as Windows 10 S) on May 2nd. Windows 10 Cloud is a new edition of Windows 10 that has been in the works alongside the Creators Update, and is a special version of Windows 10 that's locked to the Windows Store for all your apps and games, this means you can't download programs from the web.
If an app you want is in the Windows Store, then it'll run just fine on Windows 10 Cloud. Apps like Evernote, Slack and Photoshop Elements will all run on Windows 10 Cloud as they're available in the Store, but apps like Google Chrome won't. If you do want to run apps from outside the Store on Windows 10 Cloud, you can purchase an upgrade to Windows 10 Pro directly from the Windows Store.
Windows 10 Cloud won't be a version of Windows you can buy on store shelves, but rather will be an edition of Windows 10 available to hardware makers for pre-loading on to their own hardware. Cloud will benefit mostly at the low-end of the laptop/tablet market, however it isn't limited to low-end devices. Hardware makers, if they so please, can pre-load high-end devices with Windows 10 Cloud too, something we expect Microsoft to do with its new non-pro Surface.
Office 2016 Centennial
In the light of a version of Windows 10 that's locked to the Windows Store, we're expecting Microsoft to officially announce that Office 2016 is coming to Windows 10 via Centennial apps, available in the Store. We already know this is coming, as the leaked Windows 10 Cloud builds have Word 2016, PowerPoint 2016 and Excel 2016 all pinned to the Start menu by default, but clicking them takes you to an empty page in the Store.
Office 2016 coming to the Windows Store means devices running Windows 10 Cloud won't be missing out on the full Office experience, and won't have to use the far more limited Office Mobile apps. I'd also say the ability to one-click install an app as complicated as Word or PowerPoint is super convenient to the user.
Another benefit of bringing Office 2016 to the Windows Store is that you'll no longer have to download the entire suite if you just want to use Word 2016. Each app will have their own Store page and install buttons, which is excellent.
Joe Belfiore!
Joe Belfiore recently announced that he was back at Microsoft and working on improving the education market with Windows 10. Considering this hardware event is focused heavily on education, we wouldn't be surprised to see Joe Belfiore make an appearance to show us what the deal is with Windows 10 Cloud.
It would be the first time Joe Belfiore has made a public appearance for Microsoft since his year sabbatical, so it'll be exciting to see him on stage. If not Joe Belfiore, we'll definitely be seeing Satya Nadella at the event.
What do you expect?
That's what we're expecting will show up on May 2nd, but what are you expecting or hoping to see? Let us know!
Get the Windows Central Newsletter
All the latest news, reviews, and guides for Windows and Xbox diehards.