What's been fixed and what's broken in Windows 10 Mobile build 14342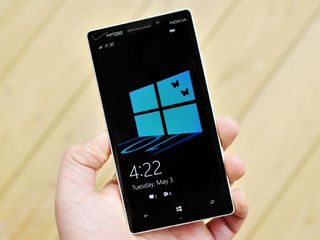 As with all preview builds, the latest to hit Windows 10 Mobile contains its share of bug fixes, as well as some lingering issues. In Windows 10 Mobile build 14342, Fast ring Insiders can look forward to quite the laundry list of fixes, along with just a few issues.
Here's the breakdown of what's new and what's still broken in Windows 10 Mobile build 14342. From Microsoft:
What's fixed
We fixed an issue causing installation of mobile builds to fail with Error 80070002.
Language and Speech Packs should download without any errors.
We have fixed the issue causing DRM-protected content from services like Groove Music, Microsoft Movies & TV, Netflix, Amazon Instant Video or Hulu to fail on playback with 0x8004C029 or 0x8004C503 errors.
We fixed the issue where some users with some non-English keyboards were not able to enter letters such as w, y, and a when typing into the address bar of the Edge browser.
We fixed the issue causing your phone to lock up and reboot when it receives a notification from an app that has "Keep notifications private on the lock screen" turned on under Settings > System > Notifications & actions.
We increased font size and improved spacing of the data migration page after receiving an update.
Polished icons used to identify pages in the Settings app – in particular, updated battery icon to be more consistent with the weight of the other icons.
Improved performance when retrieving updated GPS coordinates while driving.
Goodbye message on shutdown will now remain visible until the last moment, to make it easier to determine when your device is off.
Polished the look of media controls on the Lock screen. When you press one of the media control buttons, it appears "pressed".
We fixed an issue where some apps, including Tweetium, would crash on launch.
We fixed an issue where Action Center's context menus would appear in the wrong orientation if the app underneath was in landscape mode.
We fixed an issue where Lumia 435, 532, 535 and 540 would fail to record video, as well as an issue where advanced camera settings were not preserved when taking a photo with the Lumia 435, resulting in the photo being taken with default settings instead.
Fixed an issue where the same device might be listed multiple times under Connect.
Fixed an issue where quickly pressing the power button twice when Windows Hello is enabled could result in the display appearing stuck off.
We fixed the issue where Groove Music might show an error saying "Can't play – Another app is controlling your sound right now".
When delayed lock is setup, Windows Hello will now say "Swipe up to dismiss the lock screen", rather than looking for your iris.
We fixed an issue where Glance wouldn't be displayed when hovering hand over proximity sensor.
We fixed an issue where multiple UWPs might start crashing on launch after getting stuck on their splash screen.
Known Issues
We are investigating issues with some Dual-SIM devices.
Feedback Hub is not localized and the UI will be in English (U.S.) only, even with language packs installed.
We have reduced the number of instances where boxes are seen when entering emoji. You may still see them in some text fields – we're working on it!
The Settings app may crash when you are re-arranging Quick Actions under Settings > System > Notification & actions. If it does, it could result in one of the Quick Action spots disappearing. If you see this happen, please refrain from changing your Quick Action settings on this build. If you have been impacted by this issue, only a hard reset will revert your Quick Action settings back to default.
Microsoft also notes that this build has removed the Wi-Fi Sense feature that let you share Wi-Fi networks with your contacts. The same move was taken for this build on PC with build 14342 as well. However, if enabled, Wi-Fi Sense will still connect you to Wi-Fi hotspots it knows about. From Microsoft:
Windows Central Newsletter
Get the best of Windows Central in in your inbox, every day!
Dan Thorp-Lancaster is the former Editor-in-Chief of Windows Central. He began working with Windows Central, Android Central, and iMore as a news writer in 2014 and is obsessed with tech of all sorts. You can follow Dan on Twitter @DthorpL and Instagram @heyitsdtl.
Sweet! Charging so I can download it now. Posted from Windows Central for Windows 10
Using the Alcatel OneTouch Fierce XL for Windows 10 (Redstone)

http://answers.microsoft.com/en-us/insider/forum/insider_wintp-insider_i...

Smoothly installed on L540

At least Groove got fixed, but too bad about the Quick Actions.

What about Cortana crashing issue?

Seems to be fine here. Posted from Windows Central for Windows 10
Using the Alcatel OneTouch Fierce XL for Windows 10 (Redstone)

Never really had it before, but now it crashes everytime I try to open Cortana. Was working fine for the first few hours after upgrade, but then it decided to update the language packs as well and now Cortana will crash a few seconds after opening.

I read more and more complains about Cortana crashing as time passes. They need to get their act together. Frankly I'm getting tired of Cortana crashing and seeing that it's not solved with new builds, not even Insider which I'm not even on.

Yeah, thats been an issue since they first released the ability to reorg the quick actions. At least its on their radar and hopefully will be fixed in the next release.

man i am getting error code 0x8000FFFF while installing apps from the stoe in this build...what should i do?

Did you find a solution to this? MY store was working, except for some reason I was not getting certain updates, like the new store itself wouldn't install. But since yestreday I too am getting the same error when I even try to load the store. :(

That disappearing quick action tho.

Wow Lots of updates and finally fixing the Glance Screen Issue....Thank You..... Using a pretty awsome 640XL....

I thought that the glance screen turning off when putting your hand over the proximity sensor was normal. This was posted in a pineapple under the sea.

Agreed, thought it was supposed to do that. Like putting your phone in your pocket Posted via the Windows Central App for Android

The issue here isn't that it turns off, it's that it didn't turn back on. I had that issue on my phone. It being fixed is a huge thing because I use that feature so often

Ohhhh that makes sense lol. Sweet :) that'd drive me crazy too Posted via the Windows Central App for Android

Oh okay I get it This was posted in a pineapple under the sea.

Aggreed. Glancescreen without peek mode is useless. I'm glad now it works again.

I think they have forgotten one really important thing,camera bug. Rich capture isn't working well,most of the pictures are low quality and most time app will just crash or save picture forever,besides it will drain your battery.

This build sounds like it's ready. I may switch to the slow ring now.

What's been fixed is that the BLU Win JR LTE x130e can finally download a W10M build. Never thought I'd see the day but boy am I glad.

Is that the phone that was advertised in MS Stores as being upgradable to Windows 10 Mobile but then never was able to (until now via Insider Preview)

Does anyone know if the Untappd app still has photo freezing issues on the latest Redstone builds? I'm still on slow ring build 14295 but might have to jump back to fast with this latest build.

The gears are at work on my Lumia 640 xl... My BLU hd lte still installing lol

Thank you for the Groove fix! Whatev on everything else.

Does the tile view bug exist in this build?

Been dying for a new build!. Skipped the build right before this one to get this.

We will see if Groove is really fixed. Not too optimistic.

My question is? When do we get to see all this good stuff for the normal folks.

July 29 if you're already on TH2. Posted from Bikini Bottom via my Pineapple PineBook XPS 13"

Yikes two and a half months damn.

It'll be here before you know it. Plus, you'll have a nice, mostly stable OS instead of having to deal with a ton of bugs and wait for MS to fix them! Posted via the Windows Central App for Android

When they do hit public releases, I usually switch to the Release Preview ring for a little bit on my daily phone and I keep fast on test devices, just to watch out for bugs that would 'bug' me. Like if MS Band sync breaks. I switch back to Fast on my main device as soon as there appears to be stuff I can live with on my main phone, that didn't take long with RS1 as it was really just the Band issues near the start.

Well, the Insider program is not for the faint of heart so you should just patiently appreciate those of us who are testing bleeding edge stuff for you. :P Send from Bikini Bottom via my ShellPhone 950 XL

Anyone found a workaround to get this on the HTC one m8?

You could use interop tools to change the phones model to the Lumia icon, but it would be incredibly dangerous. I have an M8 and I'm just waiting for it to be supported

installing redstone builds is not possible anymore on unsupported phones. you will get stuck in a boot loop. you can watch this thread to see if there is some progress made in the future: http://forum.xda-developers.com/windows-10/windows-10-mobile/windows-mob...

Not that many issues... Will download This was posted in a pineapple under the sea.

Glad to see that the Goodbye message on the shutdown screen stays on until your device turns off, as it was on 8.1.

Ikr This was posted in a pineapple under the sea.

A good UX improvement. I used to swipe up the navigation bar (on devices that have it) to determine whether the phone had fully shut down. Won't have to now.

I used to pull back the navigation bar so I can know when W10M really turns off.

Seems very few things has been fixed

19 bug fixes and only 4 known issues...how can you say very little was fixed?!?! Posted via the Windows Central App for Android

They need to fix that huge battery drain when using Edge ASAP

The new build seems better in every way bar battery drain. I'm getting 1% per min drain on idle use.

OMG, what's the dual SIM issues? I'm travelng to Europe and hopping I can just buy a European pre-paid SIM card there and stick it in the #2 slot on my 950XL....

Buy a L640 for $30, unlock it and use it in Europe!

Don't update or use the Fast Insider Ring if your phone is crucial.

When you get the sim, put your main in the second slot and the new one in the first. Or use a different build.

Since build 14322 (or thereabout) the OS effectively reject the Dual Sim concept. If you have two SIMs installed, you will from time to time lose cellular data connection, though the phone will tell you it is still on. You will be unable to access the cellular data settings in Settings, and trying to do this will generally freeze your phone. After some time and several reboots, it will restore cellular data, but the issue appears to get worse with time (or further upgrades, I am not sure). Only solution is to use only one SIM, and then the phone works fine. Swapping the SIM cards around does not help - if two are inserted the problem will surface. Cannot wait for this to get fixed, but atleast the bug is finally being acknowledged by MS, so maybe it will happen in a build or two so I can go back to carrying only one phone again. Main issue I am having with this build (apart from the dual SIM issue) is Cortana crashing as soon as it is opened, and battery life draining at an alarming rate. Keeping the phone plugged in just to get through the day.

I've been stuck with the blue windows logo on my screen after the installing the update. Anyone else having similar issues? I've already tried twice to restarting my unit. L950/ATT. Thanks,

Yes... I've posted in WC's Initial Post regarding it being available. Just the Blue Windows Logo. I have the Dual Sim Unlocked Lumia 950 xl

I hope it is just taking longer than expected to finish installing and not actually bricking my phohe.....wow. It's never taken this long.

Same issue for me on my 950XL dual-sim. Removed battery to reboot twice already and no progress still...

I'm also stuck at the windows logo... waiting for 40 minutes to complete as read from internet..

What worked for me was letting it be on the Windows logo screen for a while. Then force reboot (power button) and after the reboot it worked for me. Although it seems like something you have tried already.

yeah, tried it but now just letting it be in case the install is taken that long to finish things. I'll do another forced reset in 30 mins or so if this continues. Thanks for chiming in.

Same here, Lumia 640XL. Right now I'm waiting it out and hoping, been like 15 minutes already :\

Waiting up to 30 min.. no cigar. Using Recovery Tool now!!!

I'll wait for another 30 mins and then I'll use the recovery tool like ITMedCEO down below.

Maybe try rebooting by long-pressing power first? Still waiting here, hoping it's only taking longer...

Did a forced reboot after about 20 minutes and now back on the blue logo. How are you going DK79. See this thread http://answers.microsoft.com/en-us/insider/forum/insider_wintp-insider_i...

After waiting almost an hour, I long-pressed power and now I'm in, never saw the "migrating data" screen! As of yet, most tiles are gray, even phone etc., hope everything fixes itself... Give this method a try before using WDRT, can't hurt, can it?

I'll wait a bit longer to try this then... damn, this sucks! I hope I don't have to end up going down the WDRT.

Have avoided WDRT so far, but even most internal apps like phone etc. are STILL greyed out but slowly reappearing so I'm hopeful and also hope it works out ok for you!

OK will try waiting the 30 minutes and reboot.... http://answers.microsoft.com/en-us/insider/forum/insider_wintp-insider_i...

Glad to see MS is officially recommending the same. I'd even say wait an HOUR to make sure you don't reboot mid-migration. Good luck everyone!

hello... Mine is stuck too... Did you get it to run?

YES, everything seems to be fine now! Good luck!

MIne stuck too.. Were you able to get it to run?

I'm still waiting. I'll do another reset and then will wait the recommended 30-40 mins prior to using the recovery tool.

Hello... I wait it 37 minutes and did a SOFT RESET... and it finally took me to the ... migrating your data ... KOOL...

How did you do the soft reset please? Kelvin

MS says to hold power + volume down for 10 seconds until it vibrates, but I just held power and that worked for me. BE PATIENT and wait at least an hour before you reboot the phone, and if it hangs again then, WAIT another hour. Good luck!

This was my experience also. It was very long. Seems that the update was progressing in the background with no feedback. Patience is recommended until they fix this.

OK waited about 45 minutes. It booted up now. Many tiles are gray, but that's probably finishing the install of all the apps.

The same situation on 950...

Mine took forever. I rebooted after about 30 minutes, then after another 20. Then went to sleep and after several hours in bed I woke up, rebooted again and it finally loaded.

Seeing this on my 830 now. Knew I should have done a text message backup first. :( Will give it time, but recovery tool looks imminent.

Same thing happening here. Happy though because now I'm just goingt to go back to Release Preview for good. (I was too lazy to do this but now I have to)

Update - let it sit at the Windows logo screen for close to an hour. I then restarted my Lumia 830 and when it came up ... it went right back to the Windows logo. However, this time it moved on to the upgrading apps section and my phone seems to be working again. I'm glad I waited before trying the recovery tool. Still - very disconcerting to see and I hope MS is getting some sort of decent feedback about that experience so it isn't repeated in the next build.

mine is doing this too, glad its not just me..

Argh, so finally it did load after a forced reboot to get away from the Windows Logo, then it rebooted itself 3 times without warning when trying to unlock and finally all apps were greyed out for about 30 mins while they did whatever they need to do. Then after all that I finally got to see if could use my Groove music pass again but no, now instead of a DRM playback issue Groove wont even load at all. Guess it's a full reset after all :(

After installing any build, you should leave the phone alone for an hour or more and on a cool surface just incase to prevent the phone from warming upto to a point it auto shuts down therefore getting stuck in a boot loop.

hello... did you get it to run?... mine stuck too on blue screen

950xl. Been on the blue logo for 20 minutes now...smh.

Update: I'm up and running!!! Frozen phone for 40 minutes. Soft reset loaded up and froze on blue logo. Soft reset again loaded up froze at blue logo for a few minutes then started migrating data. Now I'm up and running.

Glad to some of you have made it. I'm currently playing the waiting game myself.

After nearly an hour I did another reset and it is now in the migrating data phase. I hope MS is takin of note of this to make sure it doesn't happen again. Thanks to all for your replies.

The workaround is to keep taking the USB cable off the PC and entering it until the phone gets discovered by WDRT and once it's back to WP 8.1 you need to update it to W10M official* then to slow ring and finally to fast ring!

I had same issue with Lumia 950 Xl after waited 1 hour, restarted phone 4 times, i plugged it on my computer, restarted for the 5th time, everything is back to normal, after first boot just wait Windows to install all apps, i'm glad didn't make hard reset

Do a reset and it will finish the install. I had the same issue.

Had the same problem as everyone else. WPRT did not work for me at all. Did button hard reset and that got the ball moving. During the reset process, for some reason I decided to not restore from backup. After I was up and running, I decided that was not what I wanted and did a hard reset again. (Yes I now know that was stupid.) Upon doing so I got the spinning gears to run for about 1 second and then the dreaded frown. I am stuck here and multiple reset attempts and the WPRT have been unsuccessful. Any suggestions? Lumia 640, BTW

Same here on my Lumia 950 Dual SIM, stuck with the Windows logo for hours.

Quick Q: Had you had issues w/ your SD card ever? Wondering if this may be a drive/data migration issue...I had seen frozen boot before and it was just doing the update behind it while taking forever (F O R E V E R), this coincided with a really long/slow download of the update beforehand on these occasions. Something to keep in my mind, but hopefully we see them go thru ;) Sent from my Surface Pro 3 using the Windows Central UWP app. BOOYAH!!! ;]~)

Oh sh*t is this a very common issue? I already have the update downloaded, I do NOT want to brick my phone

What about preview release ring insiders? any idea about redstone update for preview release ring??

Is this build good for daily driver for my Lumia 950 dual sim

That'd depend on what kind of issues they're having with dual Sim phones...how helpful of MS to be specific /s Posted via the Windows Central App for Android

I can't send text messages on my 950XL Dual sim but I can on my 950 single sim. I'm not sure why but I'm guessing this may be related to some models (even region variants of the same model) having issues so I'll just use my 950 for now. I don't want to hard reset and lose my Beast Quest progress. For what its with, my XL stopped sending texts during the last build where they mentioned dual sim issues so whatever it is isn't fixed with my device. I'm not saying your 950 DS won't be able to send texts but whatever the issues are with Dual Sim devices, Microsoft is investigating so I thought I'd share my experience thus far.

So basically the dialer bug wasn't fixed

Hey there. For me it seems like it has been fixed. Didn't even realize that! Before, when I would dial 0 or switched between the history, favorites, dial paid, or voicemail the app would close automatically. I just typed a string of 20+ numbers and switched between all of those things and no crashing.... so far. Lumia 950 XL here.

Are we ever going to see new features in Windows Mobile or just endless bug fixes? The Metro design is ruined, number of nice WP8.1 features are gone. I think Microsoft is loosing that little market share they had. I regret buying this 950, if I could put Android on it, I wouldn't hesitate for a second.

The Windows Phone 8.1 design feels so outdated after being on Windows 10 Mobile for a while. It just feels weird .... i like the new design language a whole lot more. Features gone ... which ones do you miss? This release will mostly be finetuning W10M (aka this is what someone would call 'what should have been the first release'). I believe the Redstone 2 and Redstone 3 updates will focus more on mobile related features so you might have to wait a bit longer ;).

Used to be able to put 3-day weather on lock screen. Gone. Had webpage snapshot as icon on tile. Gone. Double tap doesn't wake up. Hate half and quarter faces on people's hub life tile.

Features are vanishing. Basic things like panoramas and PDF Reader and FM Radio etc.

And Quick Actions! What's next? Phone, Email, and Calendar? Tired of this bug filled Build CRAP!!!!!

so don't install Insider builds?

Has Microsoft removed the skype integration with messaging or is that just me?

Not just you, its been removed.

Ugh, I dread this. I really like it in the messaging app. I don't understand why they feel the need to separate them again. That alone will keep me from updating until I feel I have to.

I really liked that feature too.
I think we should've been given an option to either keep the skype integration or use the new skype uwp app. I'm not too sad about it yet, if the new app turns out to be really good then it would be great, I just didn't like the old skype app.

I wish the messaging app would work like the People app. E.g. Having FB, Twitter, LinkedIn, etc apps installed would integrate into People App (like Hubs in WP7/8). I don't see a reason for MS not to do this even if 3rd parties don't use the feature. MS could use the opportunity to get both Skype and GroupMe spotlighted. Best of all it would be optional as users could still use the vendors' app for specialized or newly implemented features.

Did you miss that story about the blog Skype posted regarding their reasons why? Look for it, worth a look... ;) Sent from my Surface Pro 3 using the Windows Central UWP app. BOOYAH!!! ;]~)

I'll try to find it. But honestly I don't care. I want it in the messaging hub. EDIT: Went through the blog and didn't find anything in regards. Do you know the name of the post or have a link?

Keeping goodbye message till last moment is very good feature. Posted from Windows Central app in Lumia 640xl dual sim running stable version of Windows 10 mobile.

the only new design is in settings just about everything else is 8.1, look at pc latest build we now have the app list back just scrolls up and down instead of left to right in 8.1

Skype keeps crashing shortly after opening the app, anyone else seeing that? Lumia 830

i miss read text over bluetooth i have to have cortana on now, and it's good to have onedrive app back

I am afraid to update to this build because 14332 is working perfectly on my AT&T L640!

Don't know about "better" A few of us dual sim 950 xl users couldn't get past the blue windows icon after it installed. We are using the recovery tool to go back! :(

I think Dan meant it is better for L640? The thing is your phone may work smoothly for this build and not so smooth for the next build. This has been my experience on L640. Now that brings another question. How much effort MS puts in in testing the new builds on different Lumia and non-Lumia phones? Is the current build for example focus on old Lumias with native 8.1 OS and the next build would focus on new Lumias with native 10m OS?! I am realy curious to find out the answer to this question....

Well, I don't know about there testing methods (old vs new phones). But, I would like to believe MS wants the same experience regardless of phone - just as long as the phone makes there "capable" list.

I waited and restarted, waited and restarted and it eventually opened on the home screen without even showing me the getting ready. My update is shown as having been installed and my apps are now downloading

Don't agree, draining battery on this build is quicker than a stopwatch! using 930

true for me as well. store is super slow, and chargin takes ages.

My 929 won't charge at all

ok so when I get the sim out the battery life is like it was BEFORE the update

Hey everyone. Does anyone else feel like this is an overall faster and better improvement over the last build? Windows hello is so fast now that even before the "Hello ______!" prompt it unlocks. Opening the Store app is quick also. I also like the white icons in the action center (before the app icons in action center would be the tile so accent color with white icon). Great job on this build! Edit: and the dialing bug I was experiencing is also fixed for my phone. The phone app would close automatically when I tried to dial numbers but now it won't close automatically.

Yeah, it is smoother overall. But there are so many hoops to jump over to get it to work...stuck Windows screen, installed apps and games having to be reinstalled, etc.

I don't like how edge displays webpages now. Some sites are just out of whack now and don't scale properly

This! Particularly posts on fora and comments sections - the text is oversized and overlaps; almost unreadable... :-(

mine has been sitting on the windows logo for a really long time following the gears reboot, lumia 735 :-/

MINE HAS been in the same situation... Did you get your to run?

Hello... I wait it 37 minutes and did a SOFT RESET... and it finally took me to the ... migrating your data ... KOOL...

Mine never did migrating data or the in progrss bars, but I did have a full screen of greyed out tiles that gradually lit up one by one, assume I wasn't meant to see that and something has gone a little wrong....

I had to wait a while - I gave it an hour the last time. Held down the power button after that and when it came back up the next time, it moved on to the migrating/upgrading apps/data screen. It's now back to a Glance screen, showing mail/message counters and showed my home screen with a quick check. Not sure if the apps are done updating/doing whatever they do after an upgrade yet. Shouldn't be much longer there, though.

in the last update they said that they disableto change the "in privete" option from the action center. was that fixed? i didnt read that in this post.

I am unable to play any "Protected" content in Groove. I don't get any errors, but it will just skip every song at a very slow pace...

Is the radio app still gone in this build???

Where's the fix for replying to emails and the backspace key?!?

And it will be forever gone

How about sending 1 SMS to multiple receipients? Why not fix this problem?

Does "Hey Cortana" work? If so how to turn it on?

So, no acknowledgment of the fact that CORTANA IS FLIPPING BROKEN? I'm so sick of this.

Then don't use Fast Ring.

Straight up. Posted via the Windows Central App for Android

Not true. Cortana is broken even on Production. It crashes the first time you invoke her, and afterwards it's random, 50/50. I've read a lot of complains about this and they keep increasing. This is no minor isolated issue.

Sounds like you're broken... O.o Sent from my Surface Pro 3 using the Windows Central UWP app. BOOYAH!!! ;]~)

After two or three previous builds of Cortana not working, she's now working for me after this build. I was nervous as well since they didn't mention the fact that she was broken for a lot of people.


Flashlight seems broken on L640. :(

Please check if your display settings in extras menu has changed or not??my settings in display is using a win8.1 UI

Mine says "Display can't be opened. An app update may be available in the store" ...!!

Are you trying it while charging? Then pull the charger and try again.

When will they finish the complete windows 10 mobile os

Never. Like the desktop version, it's a forever work in progress. Like all software really. Except this one is more exciting. Bugs from TH2 will be fixed in RS1, which in turn will have new bugs. That's how things work.

Microsoft has stated that Windows 10 (all versions) will be their last operating system. There will be no Windows 11. What they are doing and will do from now on is keeping Windows 10 updated with new features and fixing bugs.

I'm a fan so don't shoot me, but how is it that WM10 is still such a cluster *uck? WP 7 and especially 8.1 were "buttery" smooth as we all know but 10 has been a *hit fight since lift off.
WTF is going on??
They dropped the ball over a cliff this time, they are just beyond bad with mobile. Someone or lots of someones needs kicking to the curb for this monumental FK'ed up fubar that is WM10

Increased system requirements? Plus Microsoft still using old and slow chips, like SD400, when SD410, 61x and especially S65x were launched? Modern OS, slow hardware, that's what happens. Performance and smoothness aren't a problem on SD800/808/810 devices

They're also finally going to a "one windows" platform (or closer than they've been in the past), which means a ton of changes behind the scenes. Some, I'll agree, don't really fit the nice vision that they had w/ WP7/8, but a lot are trying to unify the Windows platform so you can have "code once, run anywhere" type apps. It doesn't help that MS was really caught off guard by the iPhone and the Android devices that followed quickly. If you look for some stuff on "Windows Mobile 7" (not to be confused with WP7), you can see how their next iteration planned was likely more of the same stylus-driven Windows Mobile 6.5 stuff. I think if they'd learned a little from some of the shell replacements at the time, they could have been a bit more prepared to run with a better UX but they just weren't ready to change so quickly. I think MS is really trying to catch up/move ahead now, but it's hard to overcome such a deficit in marketshare and make up for those lost years.

Windows 8.1 and before were based off a different OS Kernel version which was based off of a much more mature OS which was good when it came to optimization and speed since the requirements are less, but the new windows 10 is a new version of the kernel and rebuild of an OS so when you start from scratch with a more demanding OS it takes more refinement more optimization and more power from the chipsets being used. Remember they are putting the heart of a desktop OS into a phone.

Hear what you're saying, makes sense, think they should have stuck with WM8.1 tho until 10 is sorted, probably why MS are delaying major support until next year. Think they should have continued with 8.1 for another 12 months then launched a polished & professional system IMHO.

Honestly they are waiting a year or so because only your loyal fans are getting a taste of the current cluster *uck, once they do their push into the consumer market they will have most if not all of these issues fixed. But if the fans didn't get something they could have lost even the most devote.

What consumer market push? Nadella has stated that non-existing corporate market is the focus.

I agree 100%
I think all the major **** ups might be because of the "one core" they are trying to pull off. Hopefully by the end of 2017, windows will be on level with android and iOS. Posted via the Windows Central App for Android

I believe trying to get Windows in multi device forms is where the efficiency dropped. It's tough when a dev has to cater to different hardware. Both iOS and Android were developed from the beginning as mobile focused. On the other hand, Windows 10 mobile is the 2nd rewrite and the code was probably focused on desktop first as that's the MS platform with a larger user base.

Windows nt, 2000, xp, vista, 7, 8, 8.1, 10, windows phone 7, 8, windows 10 mobile; are all based off the same windows nt kernel. They did not "start from scratch"

Windows Phone 8 and later are running on NT, windows 10 is not different

This is a BETA release!!!!

Finally, Groove and bluetooth are once again friends. So far, am very happy with this lastest fast ring update 14342. 950xl is also happy.

I am not getting any updates

Store was updated too looks better

Main screen is better, but the list of items is utterly awful, what a wasting of space.

Cortana crashes & Skype is MIA for me anyway L950XL

Those huge spaces among items in updated Store are utterly awful. :$

@Boopathy Raja Its Like Destiny. It will never be finish forever evolving

As with the previous build the Outlook mail icon badge shows 3 I go into the app, read and or delete the 3 emails, come back to home screen and the badge still shows 3. Hmmm? 640XL

Is it just me. Or does everything seem faster and more responsive with this update?

Is camera workin gud...i found camera is not good no clarity when zooming it gets stuck..im using 640xl

What is the issue with dual sim devices??? I have a Lumia 730 dual sim..

What about the duplicate apps bug, have they fixed it already?

That really erks me.... Posted via the Windows Central App for Android

Hung on restart, blue logo. Never recovered, single sim. Tried WDRT, does not see the phone. Bad day

But display settings in extras option till remain unchanged it is till like windows 8.1 ui in my lumia 640 ds Change it.

The camera is also updated, new shutter sound and new video options on the L950XL at least, you can now adjust brightness white balance and manual focus on the video camera

I would be happy just to get the volume issue fixed. When it just switches to headphones randomly, normally volume up then down brings it back to normal. Sometimes I have to insert my plug into the jack to fix it. Though at times that doesn't work. Posted via the Windows Central App for Android

Thats a wonderful Lockscreen wallpaper you have. Can someone share that Wallpaper? :)

Here http://i.imgur.com/1o8fr4a.jpg

anybody experience a bug where hotspot disconnects when the phone is locked?

Am I the only one who likes that wallpaper? Can you point me in it's direction?

same here, where do we get it

Here http://i.imgur.com/1o8fr4a.jpg

Just installed on a Lumia 550 & unlike others it rebooted got to the blue windows logo & within less than a minute was showing the migrating data screen. Woohoo must be my lucky day!

Really so now Quick Actions are completely broken? Typical MS BS!!!! Two steps forward and 10 steps back every friggan build! Getting tired of this crap!

This is a developer build! It is not broken in the production build.

Typical idiot BS!!!! Uses beta builds that he was told will contain bugs and then complains about the bugs. Getting tired of this crap! Go back to the Production ring and spare us all.

WindowsCentral should put up a post about the log-in screen bug after update. It should save some of us from resetting the phone by just waiting for 40 minutes instead of 20. I waited but apparently not long enough. I am resetting now and updating back.

There's an issue in 10586.318 build in my LUMIA830 that my screen is kind of broken when I move the apps up and down on the start screen and goes to the right from start screen to app side the upper side of the screen behaves weird like breaking up of the tiles or something like that and my screen goes black in between even if I'm using the phone. No matter Windows 10 is not yet ready and I hate it, even after so much of delays and wait the OS still sucks.

After I installed build 14342, my lumia 640 XL restarted itself a couple of times. After that, it always keeps saying that my SD card has some problems and asks me if I would like ths OS to scan and fix it (popup title : "Scan SD Card and fix errors"). But looks like the scan never completes and also I am not able to remove SD card from its slot. Anyone facing the same issue?

Update: The apps from SD card looks to have been loaded now. I waited for 5 minutes after the restart and saw that the apps were loaded fine. I cannot physically remove my SD card though.

Yes ! i have faced though.just ignore it.It'll be working fine.

It says me from earlier builds.. Thats not a big problem. All yu need is to backup and format yor sd card once.

It is working properly now. Though that message appeared when I restart, I just ignored it and after a few minutes, sd card was detected and apps were loaded from SD card.

Update 2 : After multiple restarts, the phone appears to be much smoother now. App store looks amazing now (compared to previous experience.) No wifi issues now.

I install this update on lumia 1520 and it gave death to my phone. Its not turning on after installing. Its black screen. I feel turning on vibration and it shows me blue windows logo but after that complete black screen. Anyone any idead ? Posted via the Windows Central App for Android

Do hard reset using hardware keys. Or else you can move back to Release Build using Windows Recovery Tool..

I have same issue on my L1520. just install the update and my screen is still showing the blue windows logo. Anyone having a clue or assist please. Thanks Kelvin

I want to become a Fast Insider to provide feedback. Any clues if the Lumia Icon is a good fit for this release?

What about the huge WiFi/bluetooth issue. Why doesn't MS say anything about that? They doesn't even mention it under "known issues" ??
Lumia 950

Can i use WiFi sense even if they removed it?

Some features of WiFi Sense still exist. What's been removed is automatically sharing WiFi access with your contacts.

Anyone with dual sim phone having cellular data issues after this update, they said they are still investigating that prob so am scared to take this build but tempted to go with it, pls advice Posted from windows central for windows 10 mobile

No... No issues so far... Although the phone is heating up.... Not sure if that is related to Dual SIM phones......

Which phone are you using? Have someone tried if the cellular bug on dual sim 950 is still there?

I am not sure if the issue if face on my Lumia 640 XL dual sim is same as yours. But this is what I see now : When wifi is turned on and there is no internet from wifi, and then if I try to turn on my mobile data, the phone screen freezes. At this point, the only way to get it back to work is to remove the battery and insert it again. Note : I have inserted sim cards in both the sim slots and there is no empty sim slot. I am on build 14342.

Yes the issu is still present in this build. Cellular & SIM option is sometime showing blank.

Using 730DS, cellular data is a big problem. Shifted to slow ring, didn't download thisl update

"We fixed an issue where Glance wouldn't be displayed when hovering hand over proximity sensor". That still doesn't seem to be working as well as it was on Threshold, although it's better than it was on the previous build.

Am I like the only one who got problems with mobile data connection? Everytime when I answer or make a phone call my Lumia 950 losts mobile ineternet connection. I can easily reconnect from action center by shutting mobile connection off and then putting it back on but it's pretty annoying, especially when this has been the case since day one. Everytime when new build comes up I immediately scroll down to see if this is listed somewhere. Is this known issue or is it just my device? As mentioned, Lumia 950, non-insider.

Anyone else since the last build having problems with not all texts going through?

Have they fixed that problem with the brightness settings and quick toggle in Action Center? I installed the previous build twice and I never got back the automatic brightness! And there was also the lock/unlock sounds. They were the same, but they weren't as crisp as usual. How is this build working up until now?

I didn't see your comment and just commented the same thing. My auto brightness is still AWOL.

So far I like it, runs smooth and fluid, no bugs so far. Unless not seeing what I'm typing in this app is OS fault and not apps

Is anyone else seeing that many apps that worked fine on previous fast ring builds no longer start? Amongst Others: LinkedIn, Verizon Universal Identity Services, Pushalot, TVShow, IMDb, NZBConnect, Gleek, INRIX Traffic, ... Add that to the apps that crash on start, such as Insteon Hub and the list of apps that still work on this build is getting really short. I get that this is a fast ring insider build, but I'm really starting to be afraid of where this is going. At this rate there are not going to be any apps left to keep the platform alive!

Anyone facing wifi issues with build 14342 ? My Lumia 640 XL dual drops wifi intermittently where as my Moto G(1st gen) does not drop the wifi.

Hope this build is better than the last, the very first thing I did when I woke up this morning was to attempt to unlock my phone, screen froze after inputting PIN, then about 15 seconds later rebooted itself :( Installing latest build now, finger crossed. Lumia 950.

Anyone else using the Deezer UWP app experiencing choppy music playback? Feels like when your PC's CPU goes to 100% for no apparent reason every few seconds and music playback freezes for a fraction of a second.

Rodneyj is going to be happy now

Liking it so far. Did not get stuck at blue logo screen thankfully. One of the fastest updates as well. Hope it will stay awesome

Its Good.. but new bugs will come out after installation.

The multitasking is very slow l640 xl

Hi, I have update my L1520 this morning and it's stuck on the start window showing MS logo. My phone doesn't start. Any clue please?

Amazon Instant Video? There is no app (yet) for that :)

Amazing, Speech packs downloaded themselves after the update. Finally fixed after months :)

Very bugy on my Icon. Making me regret it.

Same here on my Icon. Very hot. Slow to load.

Amazing, Speech packs downloaded themselves after the update. Finally fixed after months :)

Is it worth to go from release preview to this build?

I have a problem on Instagram and Facebook, I can't see the bottom keys, because the navigation bar covers them, what should I do?

Rather few important stability fixes there which looking forward in receiving on RTM version

Any news on whether this version of WP10M works with the Band? Previously versions did not work with Band because of BT issue.

I just upgraded and it does finally fix Band sync!!!

Any chance Xiaomi MI5 will get latest build?

Groove is not working for me

Well I downloaded the update this morning on my Nokia Lumia 635 fastest update so far only bad thing I have noticed so far is Groove music Seems to be Muted on unprotected mp3's. But that started on the previous build. And I had to use VLC to play my music. I totally think groove music is the worse music player ever I would even use WinAmp before Groove lol.

Music! I has the music! Posted from Windows Central for XL

I can play asphalt 8 in Windows 10

Great build so far. Better battery from what i can see. Much faster in some things, animations are much quicker on the 950xl. Photos app is faster, the iris scanner now knows that my lock screen timeout hasnt passed and tells me to swipe instead of looking for me, its also faster as well, doesnt waist time saying 'welcome name'. This build is looking finger licking good so far. Downloading it on the 1520 next to see it go.

I have an HTC One M8 and a Nokia Lumia 928 both unable to get Redstone builds. It's a shame because TH2 build 10586 runs very smoothly on these phones yet MS refuses to make it happen

Tried to hard reset the phone with this build ... ended up with bricked phone ... the " :( " face shows up .... Lumia 930

Was forced to restore my phone trough the Windows Device Recovery Tool... now on Win 8.1 I`m sad that there are cool design things in 8.1 that are missing or made worse in Win 10 :( Seeing the contact detail on black background as opposed to the accent color in Win 10 ... having full picture when calling ... square contact tiles ... smooth animations all over the OS ... Start Screen actually being below the Lock screen when pulling it up ... the buttons in the little circles in apps like Messaging , the dialer keyboard. Actually having a Phone book (People) button in the dialer as opposed to Win 10 that doesn`t have it and it forces to you switch to people app via going back to Start Screen for searching a contact that you didn`t call recently ... It gives me a feeling that the MS design team has no clue what`s good and appealing on Windows mobile platform...

Guys , how these restone builds are performing? I have 820 and I want to install it ( I know it's not supported , i don't mind changing my phone name) , but about performance , how it is? Also , what's the best supported Lumia to suit my 820?

This build is kinda broke for my Lumia 930 and I was forced to recover my phone back to 8.1 after I tried to do a hard reset ... I wouldn`t recommend this RS build, and for sure not on an unsupported device.

My phone is still hot though

Thought I was doing pretty good at staying up on stuff, but did I miss something that said we no longer have auto feature in brightness. All I have is low, medium, and high in my quick action choices?

This build has finally got my phone close to whole again. Groove seems to be fixed, Cortana is back after not having her for 2 or 3 other builds, and it seems to be much faster and smoother. Couple of issues I've noticed: like many other stated the phone got stuck on the blue windows logo for a while when updating. I forced reboot three time after letting sit on it for a while and it finished installing. Quiet hours didn't work last night. I set a reminder last night and it didn't remind me this morning until I physically went in to the reminders part of Cortana. And the biggest thing, a bunch of apps on my home screen won't open. Says that there might be an update in the store, but there isn't any. An uninstall/reinstall worked for the few I tried it on. Otherwise, I might back out of the fast ring for now since a bunch of stuff was fixed, then evaluate installing the next one instead of automatically updating.

The app issue is where I'm having a major problem because it's my games. Strangely enough the app updates and live tiles are still working, but the game itself isn't available. I was able to uninstall/reinstall the apps and that worked, but the games have history that I don't want to lose.

Is the latest Redstone up to par with the latest release preview for 950/xl?

Anyone else having issues with the data limit warning? L640, had data limits set prior to upgrading. After upgrading, the data limit warning flashes every couple of seconds and after entering the settings, it shows no limits set. Cannot set new limits and cannot get the warnings to stop. Soft reboot and hard reset have done nothing. Even tried removing the battery. Still nothing.

We fixed the issue where Groove Music might show an error saying "Can't play – Another app is controlling your sound right now". That and the DRM issue is the sole reason why I have insider fatigure and abandoned the insider program. I was too involved with it and forgot what a good phone experience felt like. Now I have a 950 XL with the released builds and am enjoying the phone.

Groove is not fixed. Getting error code 0x8004c029 ...

Still no fix for alarms not working? I'm tired of having to use my 520 as my alarm clock.

I haven't had any issue with this build. Actually this is the best build on Redstone I've had yeti realized that recovering the device to win8.1 then upgrading to 10586.107, install applications and setup device as if you are using it as a daily driver. then update to the latest fast ring it give my device more stability.this just work better going this method

Well after a while messing about on this new build I have found everything to be working better and faster only one problem with groove music as I said in an above post but that seems to have been carried across from the previous. Build so might use the tool and go back to 8.1 join fast ring and update strait to this build again. Tho they should just release a insider recovery tool that can install what build you want instead of having to go download 8.1 and start upgrading all the time.

The Settings app may crash when you are re-arranging Quick Actions under Settings > System > Notification & actions. If it does, it could result in one of the Quick Action spots disappearing. If you see this happen, please refrain from changing your Quick Action settings on this build. If you have been impacted by this issue, only a hard reset will revert your Quick Action settings back to default.

This has been happening since before the Windows 10 Mobile release. At least now they're acknowledging it. There's hope.

problem with messaging.I can't send any message

Holy **** this build finally fixed the Band sync!! No more Canadien English for me!

Latest Store version not checking for updates under latest release.

After long wait it does return recent activity which I believe is new.

I still can't add any speech. It gives me a blank option page. Any workaround?

battery life is very poor on this build Lumia 535

I've been downloading the update since 12am and bows its almost 9pm - it went up to 80% and dropped to 49% after a restart because the device began to hang. Anybody experiencing anything like this? If you are, pls share From CoJo101
MS Lumia 950

It took a while for me too

But you've downloaded and updated to the new build?

Yeah. I usually wait til bedtime and wake up to see it installed

Think im gonna have to do that too...again

Batter is draining extremely fast on my Icon with this build. I have had it plugged in for over 3 hours and it has gone up only 4%.

My Icon is suffering the same fate...I'm reverting back to the previous firmware now. Get it fixed please DEVS!! Thanks,

I can't download the update... I'm using a BLU WIN HD LTE the American version.

Off topic : How can I change my phone "RM" using the new interop tools ?

This release causing havoc on my battery. My battery lasted a hour after this installed. I set my phone on my charger for 4 hours and it never made it past 40%. The phone is real hot.

In this build i experience again the keyboard issue. Which has been fixed in the previous builds. When trying to popup the keyboard it does not come up.

Lumia Icon ..Groove issues fixed, but does anyone notice issues with charging? I am unable to get the icon to charge wirelessly and also the charge on the standard chargers seem to take much longer. Did not have this issue with other builds

Link for lockscreen wallpaper please~

Holy ****, since updating my Lumia 930 to 14342 is constanting draining the battery, permenantly HOT, and lasting no more than 2 hrs and then flat. whats caused this issue? the previous update was runing smoothly, this one is terrible. thinking about rolling back. Shocking Microsoft !!!!

Installed last night. Had 100% battery when I left home and now have 22% 3 hours later and I've hardly used it. Ridiculous. Lumia 930

HEATING HEATING HEATING HEATING HEATING HEATING HEATING HEATING HEATING HEATING . lumia 930 on this insider build.i can even hold it for more than 2-3 minutes, as soon i switch from data to wifi it cools down, only if i am back to data. phone metals sides are burning

Cant use flash on my lumia it is not giving an option to turn it on or off

My L650 was getting quite hot after the update. Did not bother studying the battery consumption, did a hard reset. Now works normally, no heating issues / rapid battery draining. Charged the battery some 10 hrs ago, did a 4 hr bicycle ride using Endomondo, battery still showing 74%.

Same for me and it still runs hot.

Please could you share the lock screen image you have. Thanks!

Battery life is not good on this build, even after a hard reset. And it runs really hot. I'm opting out of the insider program right now.

After updating to 14342, my Nokia 1520 is draining its battery very quickly. It used to take one day, sometimes more, to drain a 80% chaged battery. Now, even at 100% charge, it is drained within 3 to 5 hours. I have checked the background apps, turned off blutooth and vibrating, but to no avail. The only change was the updating to this new OS version, I don't know whatelse could I do... Eduardo Quintana

Lost Glance screen brightnes on 950 XL! It is so dim that even at night it hard to see??? How Microsoft managing to do it constanly - fixing one issue - will create new issue??? Feels already lika chinese car manufacturer...

Windows Central Newsletter
Thank you for signing up to Windows Central. You will receive a verification email shortly.
There was a problem. Please refresh the page and try again.