What's been fixed and what's still broken in Windows 10 Mobile build 14322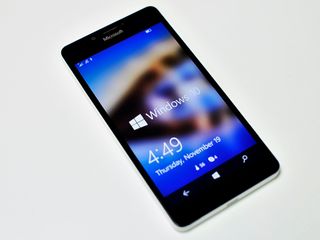 Microsoft just launched Windows 10 Mobile preview build 14322 to Insiders on the Fast ring, bringing plenty of new features and additions to explore. However, a new build usually means a slew of new fixes — along with some lingering known issues — and build 14322 isn't any different.
Here's a comprehensive list of all of the fixes coming along in Windows 10 Mobile build 14322:
While we were researching issues impacting typing accuracy on end user phones, we discovered that many user dictionaries contain incorrect words or have been corrupted over time. As a one time-measure, we are resetting user dictionaries on phones to address this issue. Note that if you suspect that your user dictionary is interfering with efficient typing, you can always manually clean it by going to Settings > Privacy > Speech, Inking and Typing and select "Stop getting to know me", "Turn off", "Start getting to know me", "Turn on". In addition to this, we have added a new context to the Feedback Hub, so you can now directly log feedback for the typing suggestions or corrections. It can be found under the Input and Interaction Methods category. If you're reporting an issue, specific examples of what you're seeing are always helpful.
We fixed an issue resulting in the screen flickering while watching a full screen video or when you first launched the Camera app.
We've tuned the alarm volume ramp up for alarms using your music – the initial volume will be the same softer level we started using in earlier builds as a result of your feedback, but now it will get louder faster.
We updated the reminder and alert notification logic, so if you answer a call while at least one notification is visible, you no longer need to dismiss that notifications before being able to end the call. You will now see the call in-progress banner above the notification while in this state, and tapping it will bypass any existing notifications without having to first dismiss them.
We fixed an issue where pressing the hardware volume controls would quit Netflix playback.
We fixed an issue where Chinese Input Method Editor users would lose their typing history after reboot, as well as an issue resulting in the Chinese 12-key keyboard crashing if you typed "erbo" (㜦).
We fixed an issue where swiping from Start to the All apps list would get stuck after exiting Continuum.
We fixed an issue where music would sometimes stop playing a few minutes after the device had been locked or the screen had been turned off.
We fixed an issue resulting in the keyboard dismissing when you tapped the first key after having interacted with the app bar.
We fixed an issue where trying to delete and re-type an auto-correction would result in it getting auto-corrected again.
We fixed an issue where locking and unlocking the phone quickly with Action Center open could result in Start being stuck on resuming.
We fixed an issue where the keyboard would sometimes show all black when responding to a text in the Action Center above the Lock screen.
We fixed an issue where users with their Lock screen set to Bing would just see the default Windows 10 background.
We fixed an issue resulting a missing Windows logo above the Start screen in the Task Switcher.
We fixed an issue where phone call could stop ringing if interrupted by an SMS notification.
We fixed an issue where the app name on the Start tile could be truncated even though there's space available to display it.
We fixed an issue where volume control would continue to show headphones volume after headphones had been disconnected. Notification text in banners and Action center will now grow larger when the Ease of Access "Text Scaling" option is enabled.
There are, of course, some known issues to be aware of as well. Here's the rundown:
Language and speech packs are unable to be downloaded and will show errors due to a backend issue.
We're investigating a crash with the Camera app when going into your camera roll.
There is an issue in which you may see duplicate apps under All apps showing as pending despite being installed and usable on your phone. You may also see some apps stuck in the Store.
You may see square boxes in certain apps when using some of the new emoji – we're still getting support for the new emoji added throughout the systems, this will be resolved in a future build.
In some cases, users might get in a state where neither space or enter are working on the keyboard. If that happens, pressing and holding one of the apps in the All apps list until a context menu appears may resolve the issue. If this doesn't work, you will need to reboot.
Dan Thorp-Lancaster is the Editor in Chief for Windows Central. He began working with Windows Central as a news writer in 2014 and is obsessed with tech of all sorts. You can follow Dan on Twitter @DthorpL and Instagram @heyitsdtl. Got a hot tip? Send it to daniel.thorp-lancaster@futurenet.com.
Wow! This is a massive update in terms of new stuff

I'm gonna miss that full screen video flicker, made a few things more exciting to watch lol! Great update for sure.

I'm happy the camera will not embarrass me anymore. Posted from PornHub

My "hello" is not working correctly on my 950 now.

Confirmed. Required sign-in after x minutes does not work either. I have to enter the pin every time - even when Windows Hello is disabled. And apps are crashing ... 950XL.

Gonna have to hard nuke my phone and hardest. My phone just blacks out and vibrates until I soft reset.... Posted from PornHub

Did the Hard Reset work as my 830 is doing the same thing

but I did not hard reset it yet

Somewhat. It still happens occasionally.

Same with mine, fingers crossed until the next build

Seriously. Say, I've never asked anyone before, keep my name in mind. I appreciate talking to someone sensible. You could always pm me - although I've never done that either. Ok?

hahahaahahha, cool beans, thanks dude/dudeet :D

Just playing with the whole catfish thing

I figured so. It tis funny. So, I was correct, you are sensible. This site has gone to trash in the past year in some ways.

Has anyone had this weird problem. You know when the screen times out, it goes dim first? When my phone is on low brightness, it gets brighter before it times out

Seems that hello might not work since the front facing camera is boinked. Try swapping it in camera and see if it works. Posted from Windows Central for Windows 10

Yup. When I power the screen off the red emitter on the top right comes on for no reason. Meanwhile Windows Hello is nowhere to be found when you power up.

So all in all this buodl is even more broken then my phone already is :D ? Haha awesome

My 950 XL has the same problem. The problem is that Hello is working with the screen off, si you look at the phone it will unlock and turn on the screen... It's like the hello trigger is inverted because when you turn on the screen with the power button hello turns off, like it should do when you turn off the screen

this is because windows hello starts from the glance screen now you can turn it off on the windows hello settings.

I can't find that setting, care to elaborate? :)

I get a black screen when scrolling sometimes then everything comes back. Do you think it might be related to the screen flicker?

I have this bug ever since I upgraded to W10M. Not the worst of bugs, but annoying sometimes.

It's only been happening to me since upgrading to the previous build.

I also encounter the same. Using lumia 830 W10M Official Upgrade

Yeah. Its an OS problem then. Another lumia 830 user in my contact has same problem. Hope my screen doesn't crashes before fix is released :D

That's disappointing...I hope by the end of the summer Windows 10 is running as smooth as Windows 8.1 was running before the "upgrade".

Had this problem with my 830 as well but never on my 630 or 950.

Am having the same problem since last build.sometimes i have to remove the battery

Once the haptic motor started running and kept running like a lawn mower

same here. Been happening since I started preview builds on my lumia 830. Also get the top of the screen flickering or stuttering when I scroll. Anyone here with that isue?

Lol, what like watching scrambled adult channels back in day? That a knee or; nipple! I saw a nipple! Posted from Windows Central for Windows 10

Is MS could give an option to delete specific words from user dictionary. It doesn't make sense deleting everything.. I'm talking about WP 8.1, 10 is not even baked yet

This update feels really solid so far. Performance is definitely better on my 950. I just hope it lasts.

This update uninstalled HERE apps and FM Radio from my 640. Some apps installed on SD card don't work anymore which also includes apps written for even w10. Music stops playing as soon as I unlock my lock screen. Posted via the Windows Central App for Android

Lost Here and FM radio here too on a 735

Updated Microsoft Maps has same functionality as HERE. Driving directions seems almost like the same app.

That's quite a lot of fixed issues. Awesome

I think that guy at the north pole Sent from pure chaos(windows 10 mobile) and lovin it

god or God? Posted from Windows Central for Windows 10
Using the Alcatel OneTouch Fierce XL for Windows 10

Possibly the tooth fairy.

Yasss!!!! I had been thinking that the keyboard crashing issue was unique to me. Anyways, the alarm volume and screen flickering issues were the most bothering. Hope they also actually fixed song name flickering in volume bar. PS:- Edge has finally got the "forward" function. It's in the See more menu :D

i think you mean the Song title flashing when changing the track, that was fixed couple of build ago.

Yes, I meant that. Microsoft had claimed that they fixed it in the build 14283 but they actually didn't. A feedback in the Feedback Hub app complaining about the song name flickering issue in the build 14295 has garnered 1430 upvotes in just 2 weeks! So, that many people still have that issue in the build 14295, which just preceeded this new build.

I have the same issue. The name flickering when I change songs and the language download bug that prevents me from using Cortana are my two main issues with windows 10.

Many apps still don't open on my 640. Had this issue since last Redstone update still persists. Even apps for w10 don't open specially the ones on sd card. Posted via the Windows Central App for Android

They removed the FM RADIO!!!! Posted via the Windows Central App for Android

Yup, many apps are crashing now on this build and they removed FM.

Glad they know about the random space button issue happening. Sucked every time when it happened I had to reboot. Will try the context menu trick they suggested.

That was happening in my 950xl also
!
Posted from my 950xl for Windows Central!

OFF-TOPIC: Please WindowsCentral.com, post something about Microsoft abandoning Latin America! We don't have any of the new devices... stores are closing... The last Lumia that we can buy is the 640/XL... I'm the owner of a Lumia 930 and don't have any choices to change now... The only option for us here in Brazil is to go Android or iOS, or to keep buying old phones from Microsoft.

Have you tried contacting MS?? WC have no control over MS or their decision to supply devices. I thought this was an argument between MS and a carrier?

Hurry up and move before Trump builds a wall. Posted from PornHub

I live in Jamaica where only Samsung has a store , so I purchased my devices (Surface Pro 3 , Dell Venue Pro, NL 920, NL925, Lumia 535 , HTC One M8 & soon 950XL ) when I visit the USA or on Amazon. Don't limit your experience by waiting for a Microsoft Store.

I can't visit USA right now or when I want (and I think that a lot of people is in the same boat). So what you are saying is not a solution.

Amazon as mentioned in initial response.

You have heard of the internet right. Who buys stuff in a store these days...

US$ 1,00 dolar is equivalent to R$ 3,50 reais. I think I'll pass. There are Zenfones here in Brazil that costs R$ 800,00.

Its not MS its Telcel and some of the other companies. You can buy 640XL and the 650 on Movistar.

Feel you bro! I get people saying "WC has no control", we don't expect them to, but as journalists and part of a big Windows community, WC has weight and opinion and could possibly get an answer from the higher ups. Also, the issue is not between MS and carries, it's general. They pulled off from their stores (which were pretty much a non-presence anywyas since retailers were always cheaper), not published any of the new W10 lineup, zero advertising... And this only changed a few months a go! When it came time to release the x3x WP 8.1 lineup there were adversitment everywhere. People using lumias on TV, commercials every other hour, talk show hosts talking about lumia (Luciano Huck with an 730 for one). Every retailer had a large pool of lumias for sale like 630, 730, 830, 535 and stuff. When came time for the 640/XL MS started a campaign throughout carriers and Vivo began selling it in record time (annoucement in february, started selling in US in april and Vivo already had it by May), Claro also sold it. And then everything went bullocks as the 540 never showed up (not that I was waiting), advertising suddenly ceased, shipments from the already existing lineup all but stopped, and the flagships 950/XL still haven't saw the light of day around here. This is coming from a market where MS consistently overcame iOS in userbase since 2013, and where MS had significant market share because of high build quality and low price for products. We bought phones before and would continue to buy them if only they were avaible. Yes, we are in the middle of a crisis and yes our currency is devalorized, but that isn't stopping Samsung's S7 to sell like water by carriers and retailers! That hasn't stopped Z5 to have a solid launch (even though sales have plummented since). Other companies are selling flagships of insanely high prices with low quality AND PEOPLE ARE BUYING IT! Why the hell wouldn't people buy a good flagship phone from a retailer they know and trust?? We knew MS and trusted MS, but if we have no phones to buy, then there's no MS to know or trust. If they don't act soon, they'll loose a market that could've been theirs. Hell, it was completely foreseable a future where Windows would surpass Android's market share around here

You can order virtually any Windows phone unlocked via expansys.com. My brother bought his 930 off there as it was never released in Canada.Delivery was within a week.

This looks like its will be a great build. Just wish they bring back square contact photos

Get over that already!!, if they wer gona change it it would have happened already!!

Not to be that person, but why is everyone obsessing over the circle contact photos? I think it looks elegant. I've never understood why so many people don't like it... Posted via the WC App for W10M on Lumia 730

I think the problem is how they look on the people tile. I couldn't care less whether they are circular or squared anywhere else but the old people tile looked far superior to the sliding circles we have now.

Yeah, the circles are elegant but the people tile........ They need to change the tile design.

Oh, my people tile is the smallest size so I've never noticed, but I just resized it and yikes it does look horrible :\ Posted via the WC App for W10M on Lumia 730

thousands of users told them that the people app and tile look like crap with the circle design and they did not give a damn about it so...maybe if someone would yell straight into their ears that it looks like CRAP maybe they would listen and at least make an option to chose from old square design and new circle design.

The last things we can do are 1.Go back to 8.(not good) 2.Change the tile size lika Aleksandra did.(Good)

So nothing about the Band connectivity being fixed or did I miss that bullet point?

My bands connected straight away, as did wife's Fitbit surge

Is that after the update? Technically my band is connected (I haven't ran the update yet) even though no notifications give through (unless I do the language workaround)

I've been wondering if it fixed the Band issue too. I'm installing right now, so it'll be the first thing I test.

Nope, still can't find my Band. Looks people will have to stick with the language work-around, or desktop sync. I really hate that they didn't even acknowledge that it's still broke.

I've tried the language trick, but can't make it work. I must be missing a step or something...

Backup your phone and factory reset. Then restore during setup. This is the only true fix right now.

Can't find the Band still. Bummer...haven't been able to use it for awhile now.

I think 14295 is when that one was fixed, though I never saw the note about it. I just noticed my Band was syncing without having to reset or change anything.

no band cortana with 14295, but everything else has worked for me. Downloading the latest build now. A bit concerning it's neither mentioned as a known problem or a fix?

I'm curious about this too. If someone can confirm it definitely works fully, I'll jump on this build like a fat kid jumps on cake. Posted from Windows Central for Windows 10

What gave it away? My interest in a build that works with the band or my interest in cake? Posted from Windows Central for Windows 10

Lol the fat kid cake part. r/fatpeoplestories

That's actually the first time I've used that phase in a very long time, so I'm surprised its what rung reddit alarm bells.

OH MY BABY JESUS OH MY there are music controls on the lock screen!!!!!!!

i am updating rigth now, dont play with my feeling, are you serious about it?

Wait, like back in WP8 when they were always there while music is playing!?

I rolled back from 14295 because of that. Upgraded back to 10 and now 14295 is sitting there downloaded and waiting to be reinstalled. Will do this weekend, install it and get 14322 right away. I hope 14322 fixes it, I don't want to have to roll back again.

I'm just saying... That made my phone super unusable

What phone? Never had issue on my 950's or 950xl.

My 640 is working awesome! Nothing bad until now.

Yeah yeah we all know this answer "Oh what ? nothing wrong on mine !" Good for you, good for you

Oh my... This and a lot of new stuff! Very exciting. I can't wait to install

That's a comprehensive fix list, nice work. Still no fix for my most annoying issue though...

Nice fixes :) but I'm afraid of issues. I'll wait for next build.

While we were researching issues impacting typing accuracy on end user phones, we discovered that many user dictionaries contain incorrect words or have been corrupted over time. As a one time-measure, we are resetting user dictionaries on phones to address this issue. Note that if you suspect that your user dictionary is interfering with efficient typing, you can always manually clean it by going to Settings > Privacy > Speech, Inking and Typing and select "Stop getting to know me", "Turn off", "Start getting to know me", "Turn on". In addition to this, we have added a new context to the Feedback Hub, so you can now directly log feedback for the typing suggestions or corrections. It can be found under the Input and Interaction Methods category. If you're reporting an issue, specific examples of what you're seeing are always helpful.

uh....user dictionaries get corrupted ??? ROFL. Nice QC, guy. Keep it up.

We fixed an issue where pressing the hardware volume controls would quit Netflix playback.

Ouch... Maybe if they stopped using Netflix on their AppleTV, iOS devices and Android.... they could have caught this bug earlier.

Language and speech packs are unable to be downloaded and will show errors due to a backend issue.

So late in the game and still having issues with the backend. No wonder the front-end is in shambles!!!

You may see square boxes in certain apps when using some of the new emoji – we're still getting support for the new emoji added throughout the systems, this will be resolved in a future build.

yeah, we know. Coming soon ™. Looks like the Word Flow keyboard for the IPHONE!!! got much better emoji support then.

Have I missed something then? I didn't realise that this had been declared RTM? It's a preview! There are going to be issues. If they are back end issues they usually aren't as easy to resolve without wiping vast amount of front end data. Also, the Redstone builds are hardly late in the game, and are way ahead of the w10m over a comparable time period. Most others here are more positive.

Don't feed the (retarded) troll

Not everyones opinion has to be positive. He is entitled to his opinion even if you dont like it and calling someone a troll for that is very childish. This type of group think fan boyism is what allows companies like apple to charge exorbitant amounts for hardware and software that is inferior. So many people get offended these days if anyone says anything that goes against their peer pressured group think ideas, it really is disgraceful. And that goes for all fanboys of all tech companies.

when even the RTM builds still struggle with basic smartphone things like keeping a wifi connection or a BT connection no one can expect the preview builds to be better.

Are you stupid? it is an insider preview.

:)) looks like the fans here gave you a lot of thumbs down :)). it always happens like this when someone speaks the truth and the real thing, the blind fans will go in rage :)). If the fans would not be so blind and defend MS in their every step for every crap they make, maybe the OS would be in a different state now.

That's what I'm saying. The insider preview went from usable to not that good. I dont know how you can go backwards at this point. Now my batter life is shot, apps crash all the time. All for some emojis. I dont care enough about emojis. I just wanna phone that works properly.

A good list of "fixes" this time around. Still need to resolve some Bluetooth/SMS issues (i.e. unfunctional) vehicle handsfree systems, USB Audio Class 2 support, & 5Ghz WiFi band connectivity issues.

And don't forget about mirrorlink

And don't forget about mirrorlink

Bluetooth worked great on my Jeep's Uconnect with 8.1 . It has been awful with the 10 previews.

the BT and 5ghz wifi issues are here for a very very long time and they haven't managed to fix them.how incompetent can they be really?

Lot of stuff that was bothering me seems to have been addressed, good work MS. Shame about the space bar issue though.

Space bar issue is making me not want to update to this build even though I love being on the bleeding edge, as I use my phone instead of a PC with Continuum @ work, it would be so annoying to have to mess around with context menus constantly.

I hope they fixed the Bluetooth/Connectivity issues re: hands free in the car. Also, "Hey Cortana" ignores me regularly. I get so frustrated. Hopefullly that will be better..... (right, not holding my breath)

I only had one of those issues. The volume being stuck on headphone after disconnecting them. So, other than that, what's new? I mean I know I always update to the newest and get surprised by new features .. But, there isn't a list of new stuff.

Scratch that.. Just read the article above this one with new features

I m not going to install this build again ...i done with the 14295 nd happy with 10586.218...which is official realese

"We fixed an issue where the keyboard would sometimes show all black when responding to a text in the Action Center above the Lock screen" that was not an issue,I liked that kb! And I wish I could keep it by default

great to see some features that we had in 8.1 brought back, i'm waiting for the read text over bluetooth without having cortana switched on

Still no mention of the lockscreen bug where the keypad does not appear.

Relase official date for OTA ?

Has anyone had problems with apps on sd on build before this one? Most of apps installed on sd were crashing,or stuck on loading...tried formatting sd card,reset phone,back to 8.1->10 no help

I currently have that problem on 14295. When I reboot, I get the message that there's issues with the sd card..this message never came up on the previous build. Also I have a lot of apps stuck on loading...will see if this build fixes that issue. I'm Ok you're Ok

Microsoft edge crashing fixed? Closed tabs reappearing?

I'm still waiting for a way to stop Cortana from asking me if she wants to read a message. We all know how to say "Ignore it". but what if we are in a meeting or church, etc., and we can't just blurt out "Ignore it". Also, sometimes the room is so noisy that Cortana can't understand you. So it just keeps saying "Sorry, I'm not getting it" several more times. It's a real flaw. We need to be able to simply press the start button, etc., to signal an ignore request. Wish they would bring back flip-to-silence!

Sure. If the phone is in my hand that's what I do. But if it's in your pocket and you can't reach for it easily, then that won't work. Also, now you have to remember to turn the volume back up. It's obviously not the solution for us, it's just a workaround, and a poor one at that. Thanks anyway for making that point. Appreciate it

If you are in a place where you will be embarassed when Cortana speaks, you'll be embarassed when the phone rings. So...turn volume down. Your peers will say thank you.

How do you know that, or what is best for me? If you have nothing useful to say, it's ok, please just don't say anything.

Just turn that feature off in settings.

That's not a solution since I want to use the feature. No MSFT needs to add that option. They'll get to it eventually but right now theyhave bigger fish to fry. I understand

Open Cortana > Hit the Hamburger menu in the top left > Settings > scroll down to "Read incoming text messages aloud" > Change value to "Off" or something else. Hope that helps man!

Thanks KillaRizzay. But not looking to simply turn it off. It's a great feature. I want it on. We just need to be able to cancel the feature on the fly like we could with WP8.1. It's a subtle thing they need to add back. Pressing the Start button to mechanically do the same thing as saying "Ignore" is really the best solution. I'm sure they are aware of it. In the meantime, I try to use the volume down trick when I can.

Amd in all of these issues does anyone know if cellular bug and device charging slowly wen connected to any charger resolved? Someone pls tell Windows 10 mobile -L535

Does the language and speech issue include keyboard languages?

On Lumia 930 I recieved the update but after the download, at the end of the reboot and configuration my phone showed me the sad smiley face. Right now I'm trying to roll back to 8.1 with the recovery tool. Wish me luck.

No fix for text/sms no syncing. And NO, hard reset doesn't fix it either

I experienced the space bar inaction yesterday, for some reason. The reboot was all that would fix it. I hope it is not worse now.

Has anyone cheked if theres any problem connecting microsoft band 2 in this build?

I would like to know this as well

Some comments above have reported that it is STILL BROKEN. Pretty bummed about this. Seems like it's a pretty hard fix for them...

I have just tested with my microsoft band, apparently this build does not fix the connection issue.

Had a bug with unlocking the device after a restart the home screen will only show half, while the bottom half (where keyboard was) would be black for a little while. I also hope this fixes the all app list bug as well as the bug where sometimes tiles dont show the tile icon just a blank square....

Have 1520 and it gets stuck in downloading with nothing downloaded... Any help ???

This build is still garbage. **** this. I'm getting out of this preview crap. None of my apps that are on my sd card work. This is a **** show.

Wait, let me get this right. You have been complaining for months how the insider builds, builds that are known to have bugs, problems, not everything will work right, etc. and you were specifically told this when you installed the completely ***voluntairy and optional*** test builds, and instead of going back to the stable builds you would prefer to comment about how it is garbage, how you are getting out, "**** this," "This is a **** show," and so on. The problem isn't the software, it is supposed to have problems which is why it is a preview on the fast ring. The problem is you in that you are incabable of understanding who and what this software is for. If you are inable to comprehend that you will have problems, not may have problems, but will because of the nature of the build, then you are clearly not who these are targeted for and should get "out of this preview crap." I am a software developer, and I don't install insider builds, especially fast ring builds, and if you keep having problems and expect it to be flawless, then you are the **** show, not the software.

Ouch. The hard truth. I like it! Posted via the intertubes

give this man a cookie! he deserves it! (for real) :D

No he's doesn't, because the issues that the first guy expressed I also had, but I'm not in the preview program. A build ago I literally had to uninstall and reinstall every single third party app I had on my phone. I have freezes on wake where I have to hold the power button down to bring up the turn off screen so that the screen activates and I can control it again. This feels like amateur hour.

dude, but we are not talking about the released version... and I haven't had any problem that big until now! he was talking about the people that are making part of the insider project and are raging about everything that they find buggy or wrong! it's people like that that don't help at all to make W10M better for the consumer! We, insiders, are supposed to install these builds to test them, find bugs and report them! It's our job. If you are a person, like that one, that want everything right, then he is in the bad place.
I'm sorry you're having a bad experience, but yes, the dude deserved a cookie for what he said. Posted from Windows Central for Windows 10

...or wrote, whatever. Posted from Windows Central for Windows 10

messenger no longer works... crashes

they've acknowledged this in an update, with workarounds. Check the w10 blog.

So what exactly are the new features? Except for a few new icons for setting menu and action centre

There's actually quite a beefly list of new features: http://www.windowscentral.com/action-center-and-cortana-improvements-par...

Microsoft would like to know as well.

Hmm, quite a few apps have started to crash ... Windows Hello (WH) does not work properly anymore. If I activate Glance Screen with picture, WH will try to find me when the glance screen is on! When I get to the Lock Screen nothing happens. If I touch the Lock Screen, WH will be activated and I can log in. Yes, I have restarted the phone (L950XL)...

The same for me here and have 950xl too

If I re-install the apps, they will run one time, and then they will crash again ...

I do not know, I am thinking to do a reset and try it, but now it's too late. I will see it tommorow

Can't open Edge, nice work Microsoft. But it's fixed everything from Buold 14295 Posted on Lumia 930 with
Windows 10 Mobile

Did it fix app crash ?? L930

Lumia 640 Bing Photo is fixed. Netflix does not launch and crashes closed! Soft reset still gives the message "Scan microSD for Error"! Wi-fi disconnects and does not reconnect automaticcaly Weather Channel App large tile inactive.

I had all those problems on the last build. Netflix still crashes on this one though. 640 xl

So it seems that the wifi bugs are spread to the other series too not only on the x50s

Everything seems so much more polished and refined from what I have seen in my short time post update. But...
Facebook Messenger cannot launch from start or all apps. I can open it via a notification or once after reinstalling it. But no dice any other time. Which is a big issue since 90% of my IM is done on that app with a little sms and telegram sprinkled in. Camera app working just fine for me and so is photos. Back on the messenger topic, it shows as a pending install in my downloads and updates section. So something is off there. Posted via the intertubes

It's probably because the apps didn't finish re-installing post update. You have to wait till the 'pending' messages go away... and if they get stuck... re-install them manually i guess?

As I mentioned I tried reinstalling. Post update pending is from the all apps list. This is in the store I'm seeing this. @windowsinsider on twitter has told me they have gotten a lot of FB messenger reported issues. No word on cause and fix tho. Posted via the intertubes

Syncing sms messages after hard reset fixed or no?

No. Sad for those messages :(

seems faster than previous build but there is a lot of bugs in the store... every app is pending to install and if you uninstall it you cann't install it again

I had the same issue with almost all of my non-native apps (anything that doesn't come on the phone) showing Pending in the All Apps list. I couldn't open anything at all, including Settings. I left it overnight to see if it was maybe processing some stuff...which almost turned out to be a mistake because my Alarms didn't go off this morning! Anyway, I rebooted the phone a couple of times and still had the issue. What ultimately worked for me was a soft reset (power + volume down). After the phone came back up everything worked as it should.

Can anyone give an idea how bad the space bar issue is? Is it quantifiable?

Anyone else having issues with windows hello. Posted from Windows Central for Windows 10

Yepp, does not work properly anymore (L950XL)

Still no love for lumia 930! That's just..... Amazing!! Soon a whole year Microsoft since you destroyed it

My 930 is running it just fine...

Battery life has decreased with win10 and camera is soooo bad. I can't take good pictures and I can't record sound Posted via the Windows Central App for Android

they haven't destroyed only the 930, but all phones with this so called new OS.and they even have the guts to sell new ones with it preinstalled :))

Yep. It was so bad with my lumia 930 and my moms 640 so I jumped over to android. Miss the UI but at least my s7 Edge works Posted via the Windows Central App for Android

I know what you mean. After using many Lumia handsets and a Samsung AtivS I also miss the UI, the awesome camera and the slick and FAST OS. IOS will have to do it for me for now. I did get a L950 in December but sold it after 3 weeks because of the terrible OS; the phone was very nice despite it was all plastic, the screen, the camera, all good, but the OS was a nightmare, everytime it started behaving badly I was wishing that a WP8.1 image would be nice to have for it :( A week ago I sold my iphone 6 16GB model and went to my mobile operator store and tried once more the 950 and the 950XL, yes both of them, and found out the same bad OS, the 950 rebooted when I tried to take a photo and the XL crashed to the home screen when I tried to open some apps, even 1st party ones, lthough both those devices were having the 164 build on them...so I have chosen another iphone 6 with 64GB storage as MS seems incompetent to at least fix the problems with the OS.I could give a damn about some apps if the OS would work as it should, but it does not. When you spend 500EUR on a phone that reboots itself and forgets to start the alarm in the morning, cannot keep a wifi or BT connection or is not able to p[roperly display dark scenes in videos, it's time to move on.

Seems like you got the money ;) but yes I understand you. I work long days so my phone have to last for about 13-16h hours and the S7 edge does that fine meantime my l930 dies after 4-6h. It's so nice to have a phone that's actually a smartphone and where everything works

Word flow no longer works for SMS on 950xl

anyone found on the 640 Cortana is pretty much a bad experience

and downloading from the store is a bit of a nightmare

Having an issue with glance screen, when I set it and lock my phone the infrared light comes on and stays on and glance screen doesn't show. Anyone else have this?

Yeah same light stays on for ages and glance screen is so messed up.

Do you have Hello turned on? Because i'm having the same issues. Just now i had to pull my battery because the screen would not turn on. I suggest others on the 950 NOT to update to this if you haven't already.

I've turned Hello off now to get rid of the infrared light coming on when it's locked and left glance screen on, hope they fix it quicky.

Might be just me, but FM radio is missing now. Can't find it anywhere.

It's becoming iPhone lol. I didn't even see it was missing until you said it

Does miracast work with this build? I remember reading that it would not connect to Miracast receivers in the earlier builds due to which I haven't updated from build 10586

Fm radio app missing after the update... Lumia640.

Anyone with issues with Facebook messenger not opening from start or all apps... You can work around by open the Facebook app then open via the messenger shortcut there. Not ideal but at least useable until a fix. Posted from Windows Central for Windows 10

Messenger crashing for me too. 950XL

Not sure about facebook messenger but same happens with skype for business

It broke my Nokia Lumia 830- as in buggy buggy. The only app that works is the Settings app.

Unable to open UC browser and share it apps after this build, anyone have this issues in their devices..??

Same here, but not only for UC browser, a lot of apps actually. I run this built on a lumia 1520 and it is a disaster, i'm actualy thinking of going back to WP8.1 because it is so bad. For exemple, my messenger app can crash about 20 times a day when im not using it that much...

Do yourself a favor and revert to a stable OS. win10mobile is nothing but a buggy mess. a total crap and they call it public release.even the last 218 public update still has most of the same problems as before.not all, but most of them are still present. BT drops connections, wifi on 5Ghz has the same problems as before, the overall OS feels slow, apps crashing etc. WP8.1 may not have the latest apps but at least it's stable, not a mediocre crap like 10.

When you joined the technical preview program you were warned of these problems.so stop complaining or revert to Windows phone 8.1

I was talking about the Public builds=you know those available without insider preview, those that are still a buggy mess despite they are released as public...not the preview ones which I know very well what they are.

I didn't get the insider update yet...

No one is talking about the problem while recording videos with no sound on the lumia 930?

I'm not able to install any apps at this point, was able to a while ago but not now. Don't know if it's this build after a few hours that this happens or if it's Microsoft servers. The store app just crashes or freezes, happens on my 1520 and 950XL which are both on 322. Have 54 apps already installed on my 950XL but no additional apps on my 1520. This single bug so far is enough for me to go back to TH2

Is facebook messenger working for you?

I confirm that you cannot share pictures through the camera roll again in apps such as LINE. I don't suppose there is a workaround is there?

Video flickr fixed , cool. I've been waiting for this

Good number of apps crashing on this build....

Seems the store app is busted also. Crashed on individual app pages. Posted from Windows Central for Windows 10

Some are fixed and everything broken.silly thing spacebar not working in keyboard ,cellular data connection problem ,..........every update fix one break tens.can they ever final the work.finally I lost hope On MS. shutting down from Microsoft.

I wonder if the issue of the Camera app causing the phone to crush will ever be fixed. It's been around since Windows 10 builds started, and doesn't seem to be fixed, even after Windows 10 is officially released. It's embarrassing when you have beautiful moment to capture, and your phone freezes and restarts. It's a deal breaker for me

one word: incompetence! they are unable to fix many things it seems...wifi is a mess on 5Ghz band and they even don't care!

Maybe they want Windows Mobile to die a nutural death

They did it twice before so I expect them to do it again...MS does not have the guts to tell the users straight forward that the mobile platform is dead. Sure, TM said that their focus is not winmo this year, but who on earth can trust them anymore that they will move their focus back the next year? What about until then? people should continue to buy phones with windowsd 10 mobile in the buggy and despicable state that it is now? are they dreaming well?? As much as I preffer the feeling of the L950XL in my hand compared to a S7 or iphone, I cannot invest in it only to be disappointed by the OS's issues, not the apps, I don't give damn about those, apps come, apps go, bu the OS should run without those issues on basic stuff such as wifi, BT, and NO REBOOTS!!

With new fixes and features, there comes so many issues also. When can we see less issues and more fixes.

Since the update, Gmail "needs attention." Out of date, would you like to fix, sure... Brings me to a "approved browser screen" from google, and edge isn't on it lol hmm Posted from Windows Central for Windows 10

Hmm... After the update I am not able to launch the Messenger app... Anyone else with that issue? Reinstalling the app didn't help.

I found out that I can launch the app pressing the messenger icon in the facebook app. And I can also jump back to it in the task manager.

Sounds like I'll stick with TH2 still on my Fierce XL. This build doesn't seem like it is too great for a daily driver device. Posted from Windows Central for Windows 10
Using the Alcatel OneTouch Fierce XL for Windows 10

I'm having battery issue. It drains fast even on airplane mode without doing anything. Does anyone have the same problem? Should I do a hard reset?

IMHO the worst update till date.. Windows hello is broken big time, the ir led stays on while screen is black, unlocking turns off the ir led but manual pin must be given.. dammit MS!..
battery drain
menu in 2 languages

going back to production.. this really isn't going to work..

Here maps disappeared after the update !!

Not sure if it's already mentioned here. I've found in settings -> lockscreen the "double-tap to wake phone" option which is working now again on my Lumia 640

Nice improvements, but now too many bugs, can't launch fb messenger from start neither from all apps list (only from notifications or windows store), had been editing word document before this update and after update can't find that document, it was on OneDrive.

And, I forgot the worst, Iris scanner randomly turns on while screen is off and when I turn the screen on the scanner turns off. Many apps crashes more frequently than on the last build 10.0.14295.1000

Great! They return checkboxes when tap the left edge of a message in like it was in WP8.1 and it is in Outlook now. It's more useful to delete some no needed messages from chat that to make a long tap on each.

I want change to fast ring so bad, but I cant risk messing up 950xl. It runs almost as smooth as 8.1.

then stay out of fast ring.. I'm leaving too..

of course, the wifi issue on the x50 series phones is not fixed. WTF is MS waiting for? they are either blind or plain stupid.!

Aaaaand still a lot of random reboots on l950, but I'm starting to think it is a hardware related issue on some devices batch..

So, end of waiting for most of Lumia owners ? I want to know than will this happen to new Lumia x5x or surfacephone devices 2 years after the production ? 'Cause thats one of the reason android users blame companies for not upgrading many models and on the other hand until this point nokia was keeping all modeks updated ...

Fun thing. All the knows issues have been there for me for like 2 builds and 3 updates now. Just asking why those are still known issues and not yet fixed ?

Anyone's band connecting?

Can't see the update on my 920 fast ring!!!

I hope this build will fix all my missing features and the fact that I still can't rollback to 8.1 because of that OsError I always get

Anyone's ms band connecting?

Fixed: Missing Windows Logo! Introduced: Crash in Camera Roll! Err...perhaps its not such a good build...?

my camera doesn't working.pleade fix it.

Great update! I'm so excited to update now. Too bad the all black keyboard on the lock screen is gone, though. Posted via the Windows Central App for Android

I found 2 bugs:
1. There is extras folder insider extras folder on setting.
2. There are 2 ways to setup glancescreen. Inside the extras folder is the old style ui and the new one is under personalization folder. Both ui interference each other and making glancecreen setting unpredictable. And then I can't make my glancescreen being in'peek mode' any more. Yes it's default being peek mode from long time ago, but now it doesn't work Any More. Sent from affordable flagship wannabe Lumia 830.

I found turning off the glance screen settings in personalization folder and turning on the old settings in the extras folders have fixed all the glance screen issues with this build....950XL

I can't open Microsoft Edge

This build is horrible! Full of bugs, constant crashes, apps don't work. I know this new build is taking windows 10 to a better direction. But needs fixing fast. I have trust in Microsoft, that they listen to our feedback and get this bugs fixed. There's more bugs on this build than what they actually published.

Agreed. I'm going to have to roll back to production ring. This update nearly broke my 950 dual sim. Airplane mode didn't turn everything off and when I turned off airplane mode, neither sim would turn on. It took almost ten restarts to get them working again.
Bluetooth disconnected too often,
Iris scanner broken.
Two glance screen options.
Battery life sucks
Half of my apps won't start (regardless of where they are installed). It started off well, but that honeymoon period was short-lived. What I don't understand is: If they are known issues, why release it with them in the first place? Unknown issues are what we are here to test for. Maybe I'll give it another day to see if it settles down because I like the new features of Redstone... but I'm not holding my breath.

Thank god. I was missing my bing background. Install quicker dang it! :)

"We fixed an issue where the keyboard would sometimes show all black when responding to a text in the Action Center above the Lock screen." Oh, this is a bug? I thought it was an intentional choice, and was hoping they'd one day make it a display option for the keyboard. I thought it looked badass (And could technically save a tiny bit of juice for AMOLED devices).

I'm glad they're finally admitting that there is a typing accuracy issue...

Seems like you got the money ;) but yes I understand you. I work long days so my phone have to last for about 13-16h hours and the S7 edge does that fine meantime my l930 dies after 4-6h. It's so nice to have a phone that's actually a smartphone and where everything works

Downloaded on my Lumia 535 and camera doesn't work at all. Not even after turning the phone off and on multipele times.

Good thanks many issue fixed :)

Guys .... will MSFT offer an way to migrate the HERE Maps content to the new Maps app ?? I just saw we can't even install HERE anymore, after this build update... And they said it would be plenty useful until June .... :(( ( I have years of favorited places and some routes there in HERE 'universe' )


I don't know if this is new, but you can select messages by tapping the left edge, like in WP7/8. The "Connect" app/settings page also has a search bar now. Also, some of the new emojis don't seem to actually show after you tap them on the keyboard (e.g. the unicorn, or the puke face).

Edge is not crashing! And new stupid emojis

Bloody update...... Camera doesn't work...

This build seems to have fixed the Band 2 connectivity issue. I'm able to respond to text on my Band and use Cortana. That was pleasent and much wanted fix, after having issue with that for soooo long. I just hope it stays fixed and future builds don't break it again.

i have problem with Microsoft Edge, it cant be opened. It crashes all the time. Someone knew what to do?

This build works far better on my L730 than any build before. Great

Still there is many bugs in build 14322. Glance screen is not working well and many app are crashing..

has anybody noticed that some of wp8.1 based apps are crashing on this later build?? when we open that kind of apps it stays day for a while and closes immediately. I'm experiencing this ok messenger, uc browser etc

has anybody noticed that some of wp8.1 based apps are crashing on this later build?? when we open that kind of apps it stays day for a while and closes immediately. I'm experiencing this ok messenger, uc browser.

hello, could any one help me please! my cellular data is not working! please get fixed! ... im using Nokia Lumia 830 updated 14322

Apps are double appearing in apps list.
Camera is not working.
Messenger is not opening.
Language packs are not downloading.
After sometime everything suddenly crashes!
Please tell me how to fix these??!!

Is the update available for lumia 730 devices?? i have currently installed upgrade advisor and installed windows 10 build. if i download & install windows insider app on windows 10 will i be able to get to the build 14322? Please answer me Thanks Ashwin

I think so... Posted via the Windows Central App for Android

I have tons of duplicate apps and apps pending in the store.... It doesn't seem to affect the useablility of most apps EXCEPT for Messenger, which doesn't open when I click on the tile. The only way I can open it is to open it from the Facebook app (the Messenger icon on the top right) and then never close it and go back to it using long-press back arrow > swipe to Messenger.

Any update in the "pending issue" on the store?. It it really bothering me.

Cellular connection is not working after 14322 update in my Lumia 830
Windows Central Newsletter
Get the best of Windows Central in in your inbox, every day!
Thank you for signing up to Windows Central. You will receive a verification email shortly.
There was a problem. Please refresh the page and try again.