What's new on Cortana for the Windows 10 Creators Update
By Mauro Huculak last updated
Microsoft is updating Cortana with the Windows 10 Creators Update, and here we show you everything you need to know.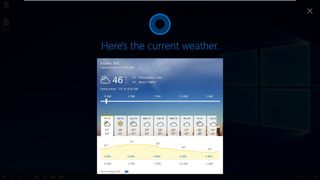 The Creators Update for Windows 10 has finally arrived, and with it, Microsoft is yet again introducing a new set of features and improvements.
This time around, you'll find support for 3D and mixed reality, new gaming features like Game Mode and Beam. Microsoft Edge gets vastly improved with new tab tools and an e-book reader. And the new Windows Defender Security Center allows you take more control of your device security and health.
Alongside these new enhancements, in this latest release, Cortana is also getting some interesting new features that make your personal digital assistant more useful whether you use it at work or home.
On the Creators Update, Cortana can help you to complete setting up your device for the first time, there is a new full-screen experience, you can use new voice commands, and perhaps one of the most exciting new features is the ability to resume tasks from another device.
In this Windows 10 guide, we'll show you the most important changes and improvements with Cortana included with the Creators Update.
Cortana new features and changes
Setting up your PC using Cortana makes things a lot easier
In addition to all the new improvements, the Windows 10 Creators Update also introduces a new version of the out-of-box-experience (OOBE) that adds Cortana to assist you to configure your computer for the first time.
Starting with the Creators Update, when you're setting up a brand-new device, or you're reinstalling Windows 10 when it comes the time to complete the setup, Cortana will be there to help you on every step — even with voice commands.
In this new experience, Cortana will explain each step and ask you simply "yes" or "no" questions to select the right option on every screen. If you're not quite sure about something, you can always use natural language to ask Cortana any question. (Although it may be obvious, remember that you'll need a microphone to interact with the digital assistant.)
While the out-of-box-experience wasn't exactly complicated before, the new improvements make it a lot easier for anyone, including non-technical users, to quickly and easily complete the Windows 10 setup without any external help.
You can also check our guide to learn more about the new Windows 10 setup process experience.
Pick up where you left off using Cortana
Perhaps one of the most exciting additions in Cortana is the ability to switch devices and be able to resume certain tasks you were working on another computer.
The feature is known as "pick up where I left off," and it's similar to Apple's macOS "Handoff." You can now start working on an app, Office (or SharePoint) document, or website using Microsoft Edge on one device, and then pick up where you left off on another computer. Of course, as long as you're using the same Microsoft account on both devices.
For example, let's say you're on the road and you started reading an exclusive article on Windows Central using Microsoft Edge on your tablet. Now when you arrive home, you can switch to your desktop PC running the Creators Update, and when you open Action Center, Cortana will have the link ready to resume the article.
This new feature on Cortana should be enabled by default on your computer, but if it's not working, the chances are that it's disabled.
You can enable the feature by going to Cortana > Notebook > Pick up where I left off, and make sure to turn on the Help me pick up where I left off toggle switch.
If you want to try this feature, simply open Microsoft Edge and open a website, such as WindowsCentral.com, and lock your PC (Windows key + L). Then on another device that is using the same Microsoft account, open Action Center (Windows key + A), and you should see a "Resume from your other devices" notifications with the links to continue where you left off.
Note: The "pick up where I left off" feature is currently only available for Windows 10 users in the United States.
Cortana now goes full-screen on your desktop
On the Anniversary Update, Cortana introduced a new full-screen experience above the Lock screen that you can use to ask questions or create reminders without having to unlock your PC. On the Windows 10 Creators Update, Microsoft is bringing the same full-screen experience to the desktop.
If your PC is unlocked and idle for at least 10 seconds, when you use "Hey Cortana," you'll now get a full-screen experience, instead of Cortana in listening mode.
The idea is to optimize the experience for long distance reading and interaction with the digital assistant. Also, Microsoft has added a few other tweaks to improve Cortana's long distance hearing.
You can quickly make sure "Hey Cortana" is enabled to use the new experience by going to Cortana > Settings, and check the Hey Cortana toggle switch is turned on, and also make sure to select the Respond when anyone says "Hey Cortana" option.
Cortana in full-screen is available in markets where the assistant is supported.
Cortana gets even smarter
Along with from all the great improvements that Cortana brings with the Creators Update, the digital assistant also introduces a number of small changes, such as new voice commands and other nifty tricks.
Improvements on music
Cortana now can control music playback on even more music apps, and you can use natural language to interact with iHeartRadio and TuneIn Radio.
You can try commands like:
Play Bon Jovi on iHeartRadio
Play Top 40 on iHeartRadio
Play jazz music on TuneIn Radio
The digital assistant also remembers the last music app you used. This means that you no longer have to repeat the name of the app on every query.
For example, you can say: "Hey Cortana, play Bon Jovi on TuneIn Radio," and then say: "Hey Cortana, play next song," and Cortana will skip to the next track using TuneIn Radio.
Using Cortana with Groove is now possible to play music by mood, activity, or category.
For example, you can say: "Hey Cortana, play workout music on Groove."
Note: The above changes might not be available in all regions.
And that's not all. It's also possible to control your device's volume using voice command. You can try this feature by saying something like: "Hey Cortana, lower the volume" or "turn up the volume."
Although Cortana has been able to tell which song is playing, it didn't recognize music for customers in China. On the Creators Update, you can now click the music note icon on the top-right corner, and the assistant will identify and tell you what song is playing.
Improvements on reminders
Cortana already offers the ability to create reminders based on a person, time, and location, but while you have able to create recurring reminders, you were limited to make the recurrence based on the days of the week. On the Creators Update, based on feedback, you can also create recurring reminders for every month or year.
You can try this by setting up a reminder by typing or saying something like "remind me to wash the car every Saturday" or "remind me to pay the electrical bill every 5th of every month". If you need to change the recurrence, simply click the current schedule and set it to recur on another day.
Additional tweaks on Cortana
Inside the Cortana's settings page there are not significant changes, but now there is a new Keyboard shortcut option that allows you to open Cortana on listening mode when using the Windows key + C keyboard shortcut.
You'll also notice that at the bottom of the Settings page there is a new SafeSearch section that allows you to change your search filter levels to Strict, Moderate, or Off.
Other smaller tweaks include an updated Cortana search box microphone icon, and it's the same icon you'll see on Cortana across devices.
When searching, as you type the name of an app or file, the search box will try to complete the search query.
On Action Center, Cortana now groups notifications, and other minor changes have been added to show the text on notifications with larger font size, and the text now uses the accent color of your system.
Finally, the digital assistant now supports sign-in with Azure Active Directory identity to allow you to sign-in with your school or work account. This allows you to use Cortana even if your organization does not support the use of a Microsoft account.
Wrapping things up
Although in this new version of Windows 10, Cortana brings new exciting features, Microsoft seems to have cut off some of the improvements originally planned for the assistant.
For example, while you can ask Cortana to lock your PC using voice commands, starting with the Creators Update, you should also be able to use commands to shutdown, restart, and sleep your computer. However, if you ask, Cortana will respond to check back again for future updates.
In order to help users learn new commands you can use on apps, on early previews of this new feature update, Cortana listed suggested commands as you typed the name of the app in the search box. However, these suggestions seem to be also missing after installing the final version of Windows 10.
Additionally, in early pre-releases, you were able to access "pick up where you left off" items opening Cortana, but now it looks like that you can only resume tasks using Action Center.
What's your favorite new feature on Cortana? Let us know in the comments.
More Windows 10 resources
For more help articles, coverage, and answers to common questions about Windows 10 visit the following resources:
Windows 10 help, tips, and tricks
Mauro Huculak is technical writer for WindowsCentral.com. His primary focus is to write comprehensive how-tos to help users get the most out of Windows 10 and its many related technologies. He has an IT background with professional certifications from Microsoft, Cisco, and CompTIA, and he's a recognized member of the Microsoft MVP community.
One big new "feature" in cortana is that you no longer require a skynet account to simply check the weather...joke aside, wonder what crack they were smoking that made them previously demand such in earlier versions of windows 10.

I haven't seen any Pick up Where I Left Off info yet. Both devise have it turned on. I really like the full screen use when not sitting in front of the PC/Device.

again only a feature for people in United States, where it will never get used :(

I'm in the US, and have it turned on both on my Surface Book and my Lumia Icon, and I haven't seen a single notification.

its as reliable as edge fav-reading syncing

These features are only available to those devices on the Creatros Update, right? So for those of us on W10 Mobile phones that will not get the update, we won't get these features such as 'pick up where you left off'?

You get the 'pack up and eff off' branch from Microsoft instead.

Indeed, that's a branch anyone who has used Microsoft products and services is very familiar with.

Especially if you're outside the US. They don't want us Canadians mixing in with the American ecosystem.

If you live in the USA or GB.... Can somebody please tell me why Cortana is available in Germany but not in Austria? It's the same language. Andy why is the german Cortana not even close to the US Cortana?

That's probably because MS notoriously ignores markets outside the US.

You should read the article from a couple months back here on WC about licensing and laws in different countries.

and why it is a problem for MS but not for Apple or Google?

Exactly. It took MS around 5+ years (!!!!) to sort out the licensing for music purchases. Zune wasn't available outside the US simply because people couldn't buy music through the Zune store. I had to wait until the end of 2011 before it was available in Australia (bringing the total to 18 or so countries), which was a full year after WP7 came out! While at the same time (end of 2011) Apple had ITunes available in 51 countries. It was truly ridiculous that people could buy Windows Phones but couldn't buy anything but apps/games for it... and MS wonder why people ignore their music & video offerings. I like MS products but they are horrendously slow when it comes to anything outside the US. I've said it a hundred times - they need to adopt the Apple model of:
1) Announce
2) Release it within 2-4 weeks to ALL major markets
3) ...
4) Profit. Unfortunately MS adopts the model of:
1) Announce
2) Wait 6-12 months until all knowledge and excitement has died
3) Release it in the US with no announcement or marketing
4) Wait 6-12 months
5) Release it to a couple of markets with no announcement or marketing, usually missing a lot of features still available in the US.
6) Wait 6-12 months
7) Abandon releasing it to any other markets
8) Wait 6-12 months
9) Finally release all of the missing features to those countries that actually got it in the first place
10) Wait 6-12 months
11) Abandon it completely "due to low popularity"
12) Don't profit

It's more or less available in Austria - just set the language used to "Deutsch (Deutschland)". It'll warn you that some stuff might not work, but mostly it does. Source: https://windowsblog.at/2015/07/22/howto-cortana-fuer-oesterreich-oder-sc...

I wouldn't worry too much as the UK misses out on a lot of the features the US has as well.

Because the US Cortana shaves her armpits, that's why!

When using Hey Cortana in full screen mode, any idea how to dismiss the answer using voice rather than clicking/tapping close? It's either not very intuitive or I'm dumb (or both).

Cortana / Bing on IOS is nice looking. Looks terrible on W10 mobile.

I like the music updates, but please MS, make Groove a continuous client! I want to stop my music when I get out of my car, and have it pick up where I left off on my Xbox or PC!

I like that it now syncs with Cortana on my Android phone. I can send text messages (for example "hey Cortana, text Dad" will open a box so I can send a message to dad). And received texts appear in the notification centre, I can reply directly from there.

Is having Cortana installed on your Android phone working for you? I'm reading a lot of negative feedback regarding the app. I'd love to have the option of the Google Assistant AND Cortana on my Nexus 5x.

Still holding out hope for an "Uninstall Cortana" option soon. This whole digital assisstant "feature" needs to ende ASAP. It's an absolute disaster. (Not just Cortana or Win 10. Digital Assisstants overall.)

then don't use it. Nobody's forcing you

There is a way you can disable it completely.

I don't know about that. The Google Assistant is pretty handy when I need to travel.

I wish the lock feature came to W10 Mobile. It sucks when I'm driving, and I ask Cortana to do something, then she just leaves my phone unlocked. Cortana should keep the phone locked if that's how it was when I said "Hey Cortana".

Is there a way to have Cortana reminders show up on multiple accounts? That sure would help to simplify my life, lol.

Don't know. Still waiting for more language support for Cortana. 3 years and waiting.

Okay guys, I'm having an issue here. While updating to the Creators Update, via Windows Update (once) and via ISO (thrice), I faced the same issue again and again where one time the "Working on updates" got stuck at 73% and at 71% thrice, with even the circular dots (indicating progress) became motionless.
Any workaround to this? I'm using an Acer Aspire E1-572G

Still not available in Greek.

I'm so glad "Pickup where left off" has been added, and the return of the win+C shortcut! Cortana also got some conversational improvements too, cross device and OS.

First thing I did was disable cortana. What a garbage program, people don't need this.

No, YOU don't need it. Stop trying to make it sound as though no one needs it!!!!!!

In defense of Anon (10218304)'s comment -- my desktop is perpetually set to quiet hours, and Cortana is one of the reasons why. I have found her to be a largely useless novelty thus far. I have a refurbished fourth-generation Kindle Fire that just received the Alexa AI in the last nine days, and it has already proven to be more practical than Cortana has been the entire time it's been loaded on my desktop. It doesn't make any sense. I'm all for the AI/digital assistant, but only as long as it's useful. So far, Cortana can tell jokes, roll dice and call heads or tails, and I have precious little practical use for any of those skills. Microsoft can do better, and I'm hoping the Creators update proves to be the Cortana improvement that makes the difference.

What does Alexa offer that Cortana does not?

The one thing that I hope they improve about Cortana is not having the Digital Assistant break with Internet Explorer disabled. As Microsoft should be making the most use of Edge to...Promote their newer browser, making Internet Explorer a relic of the past.

The thing they really need to work on is syncroniation between devices. "hey cortana" yep both my phone and Surface try to reply. Also notifications between devices, I clear one one on my phone but if I turn the Surface on then it reminds me too....

does the "Pick up where you left" work on mobile ?? how to do a Windows key + L on phone?

When I search using Cortana, the resultant answer appears in IE and not in Edge. Is this correct?

just open Microsoft edge, then go to settings>advance settings... now look for the option called "Optimize taskbar web search results for screen readers" and turn it off. It will work.

Excellent, Thank you AlexxX0811.

Weird, I know I shouldn't but I did get notifications to "Pick up where I left off" one time

Safe Search section was there since WP8.1 on phone and TH1 on desktop. It's nothing new.

Creators update is amazing. I love it. Edge is actually GOOOOOD now. This just makes me wish MS didn't screw up Windows phones. Cortana and creators on both devices, so so good. no apps.... dead horse

I'm with you! I'd be using a Windows Phone right now if it weren't for the lack of app support for the mobile OS. To have the synch of my phone and desktop would be a nirvana for me! And as for Edge, I've been using it vigorously. I find a browser without extensions installed to be as useful as one loaded with them. I use five browsers interchangeably at home (I've assigned each of them monitors and specific tasks).

No Cortana in Norway, it's such a shame to be left out of such a service as Cortana. Siri even understands my rough dialect. Can't understand why Microsoft don't push this in more languages.

Cortana is so limited, an even in an off chance she understands what you are saying, she will just do a Bing search... Useless..

Tweaks, schmeaks...she still won't tell me how big her flapjacks are.

Of course.. all these handy things are friggin USA only. the weather here is still the old white tile.. So frustrated with Microsoft's retarted global roll outs. Is it any wonder that Windows Mobile didn't go anywhere. All the Microsoft services weren't available I'm on my last Microsoft Mobile phone that's for sure.

"What's new on Cortana for the Windows 10 Creators Update" Nothing new if you live in Norway. Still no support for Norwegian.

Would love to have a favourite new feature only if i had any to choose from.
1. Volume controls. Nope.
2. Pick up where you left off. Nope
3. The new weather widget. Nope.
Don't mention the blue colour and large size of cortana cuz these are just cosmetics and do nothing to add a new functionality

Would love if Cortana could type on-demand in any text input (like this one) as it does on my Win Phone. Or am I missing how to do that?

My ONLY wish, would be... to be able to change from "Hey Cortana" to "Hey Computer," "Hey, Xbox," and/or "Hey Lumia." Because sitting in my home office with the Xbox One/Kinect, PC, and Win10 Phone by my side I feel like Cortana is attacking me from all sides.

I agree with that! However you can leave your Xbox responding to the "Xbox" command rather than "Hey Cortana". I switched mine back after they made that change.

Can't even get it to work after I clean installed Windows CU "The internet's not cooperating. Please check back in a few." or "I didn't get the bandwidth I needed" - to think my internet is perfectly working on a 1GB up/down bandwidth. Oh well!

I am using cortana mainly to create reminders for various tasks. It's useful and ideal for managing a number of daily life activities. I am a blogger, wrote a detailed post on this based on my experience and usage.

Most sources mentioning this update agree on saying that it adds something really new.
Even though they are welcome additions, I keep wondering why they haven't been available at the start. To be called "new" now, after a time?
Windows Central Newsletter
Get the best of Windows Central in in your inbox, every day!
Thank you for signing up to Windows Central. You will receive a verification email shortly.
There was a problem. Please refresh the page and try again.