What's new with Microsoft Edge in the Windows 10 Fall Creators Update
Microsoft Edge introduces additional features and a slew of minor tweaks with the Windows 10 Fall Creators Update, and here's everything you need to know.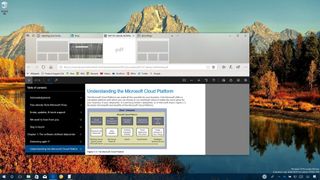 Alongside the new features and changes included in the Windows 10 Fall Creators Update, Microsoft is also delivering a number of improvements to the Edge web browser.
In this new version, Microsoft Edge revamps the look and feel with elements of the new Fluent Design System. It improves support for PDF and EPUB files. There is an updated experience to manage your favorites. You can finally pin sites to the taskbar, and there are several new tweaks under-the-hood to enhance the overall experience and save battery life.
In this Windows 10 guide, we'll give you a closer look at the most important changes that you'll find with Microsoft Edge for the Fall Creators Update.
Microsoft Edge new features and improvements
Fluent Design
Microsoft Edge receives some noticeable visual changes around the frame using Fluent Design elements. Starting with the Windows 10 Fall Creators Update, the browser uses Acrylic material across the tab bar and other controls adding transparency and a sense of depth.
PDF support
In this new version, the browser introduces better support for PDF files.
Along with previously available PDF reader features, it's now possible to edit, print, and save PDF forms on the web, or files locally stored on your device.
You've been able to annotate web pages since the browser was first introduced with Windows 10, but starting with the Fall Creators Update, Windows Ink is also expanding to PDF files with features like a ballpoint pen and touch writing, highlighter, and eraser.
On long documents, Microsoft Edge can now display its table of contents for easier navigation. If the file includes this feature, you'll see a Table of Contents button on the top-left side of the PDF toolbar, which you can click to quickly jump to a particular part of the file.
When working with scanned documents that don't have the proper orientation, you can now use the option on the top-right corner of the toolbar to rotate the file.
In the toolbar, you'll also find a new Layout menu with options to switch between one-page to two-page layout, and an option to use continuous scrolling.
Another interesting feature with this update is the ability of Microsoft Edge to read PDF files aloud. The option is available in the toolbar or using the Ctrl + Alt + R keyboard shortcut. While using this feature, you will get access to controls, including to play/pause, jump to the next or previous line, and an option to change the voice and speed.
In addition, when working with PDFs, selecting text will get you access to a new context menu that allows you to use the highlighter, copy, ask Cortana or add notes.
EPUB support
Microsoft Edge is also getting better handling EPUB files. Alongside internal improvements, starting with the Windows 10 Fall Creators Update, you can now annotate EPUBs using highlighter, underlining, and adding comments.
You can use these new annotation features by selecting text on the e-book to access a new context menu with options to use the highlighter, underline text, copy, ask Cortana, and add notes.
Additionally, when creating notes, you can use the keyboard or Windows Ink using your digital pen. (Though, it's not possible to use your pen to annotate directly into a page like in PDF files.)
If you're reading books you've purchased from the Windows Store, then your reading progress, bookmarks, and notes will sync automatically across devices.
Favorites improvements
This new version of the default web browser for Windows 10 is also updating the Favorites experience with a new folder-three view that you can drill-down to quickly select where you want to save a new link, instead of using a drop-down menu.
Saving a new favorite, you'll also notice a new animation making it clear that your link got saved in your Favorites list.
Additionally, it's now possible to right-click and select Edit URL on saved link from favorites bar to modify the site URL.
Finally, when accessing the right-context menu for tabs, you'll find a new option to Add tabs to favorites, which when selected will create a new folder in Favorites with all the sites that you have open in the tab bar.
Website permissions
As more websites start supporting push notifications and location-based services, you'll see more requests for permissions to enable notifications, access to camera, or track your location. In order to help manage the permissions you grant to the sites you visit, Microsoft Edge now introduces a new Show site information page to review permissions.
Once you've upgraded to the Windows 10 Fall Creators Update, on any website, you can click the lock or "i" icon on the right-side of the address bar to see and manage the site permissions.
Alternatively, you can go to Microsoft Edge settings > View advanced settings, and under Website Permissions, click the Manage button to see and change the permissions you've already granted to websites.
Microsoft Edge new 'about:flags' settings
Similar to other modern web browsers, Microsoft Edge includes an "about:flags" page with settings and experimental features meant for developers and advanced users, and this time around Edge is eliminating most of the options, instead of adding more.
On the Windows 10 Fall Creators Update, when accessing "about:flags," you'll find that the page is now divided into two sections: "Developer settings" and "Standards Preview."
In the Developer settings section, the available options remain the same as before with the exception that you'll now find the "Hide my local IP address over WebRTC connections" option.
Under Standards Preview, you can control only a few experimental features, including touch events, VP9 video format, JavaScript features, service workers, standard fullscreen API, individual transforms, and CSS Masking.
Microsoft Edge new settings
In the settings page for Microsoft Edge, you won't find significant changes, but there a few new improvements. For example, in the section to import settings from other browsers, if you're switching from Chrome, you can now bring your Cookies and Settings, in addition to bookmarks, browsing history, and save passwords.
The "Advanced settings" section now adds an option to show search history, and another one to show site you frequently visit on "Top sites."
Other improvements
Along with the new enhancements, Microsoft Edge incorporates some other minor tweaks.
When launching the browser, you'll notice a new splash page that allows smoother color transitions to the Start and new tab pages.
Opening the tab preview bar your current tab stands out from the rest with a subtle highlight, while inactive tabs will show a slightly transparent preview. Also, in this new version, tabs will open and close more smoothly to feel faster and more responsive than before, and when closing tabs the close "X" button will remain clickable even when a JavaScript dialog is open.
In the main menu, you'll now find turn on to enable Read aloud, pin a page to the taskbar -- just like using Internet Explorer --, and a new button to use the browser in fullscreen mode (F11).
Buttons introduce a new click animation to feel more responsive, Hub has been updated with a new star icon, and the share experience has been tweaked to appear below the Share button, instead of in the center.
Starting with this new version, WebVR adds support for motion controllers to interact with digital objects while using virtual reality.
As part of the ongoing effort to bring Progressive Web Apps to the browser, Microsoft Edge now includes a preview of Service Workers support, which can be enabled in the about:flags page.
If you're not familiar with Service Workers, these are event-driven scripts to enable features (e.g., notifications, background sync, local storage) previously only available in native apps.
Under-the-hood Microsoft is updating the Payment Request API to match most up-to-date W3C Payment Request API specification.
The DevTools is getting a few interesting changes that developers will appreciate, including the ability to set DOM mutation breakpoints, view ancestor event listeners and CSS "@" rules in the Styles page, and more.
The Console and Debugger receive several improvements and preview support for developers to start debugging Progressive Web Apps. Also, the browser introduces support for unprefixed implementation of CSS Grid Layout, CSS properties object-fit and object-position.
Additionally, on Windows 10 Enterprise, Microsoft Edge will include Windows Defender Application Guard, which is a new feature that offers a sandbox experience for web pages to protect against zero day attacks and malware.
The new feature also provides data persistent, which means that once an Application Guard session is open, users will be able to safely and seamlessly access favorites, Cookies, and saved passwords.
Wrapping things up
As you can see, the new features and changes included in this version of Windows 10 are not significant, but they're welcome additions that should help to improve the experience while browsing the web and working with PDF and EPUB files.
More Windows 10 resources
For more helpful articles, coverage, and answers to common questions about Windows 10, visit the following resources:
Windows 10 help, tips, and tricks
Get the Windows Central Newsletter
All the latest news, reviews, and guides for Windows and Xbox diehards.
Mauro Huculak is technical writer for WindowsCentral.com. His primary focus is to write comprehensive how-tos to help users get the most out of Windows 10 and its many related technologies. He has an IT background with professional certifications from Microsoft, Cisco, and CompTIA, and he's a recognized member of the Microsoft MVP community.