What's new with multitasking on Windows 11
You now have even more ways to multitask on Windows 11 using Snap groups, Desktops, and more.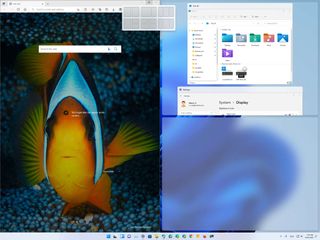 (Image credit: Windows Central)
On Windows 11, Microsoft is also improving the way users work with multiple applications with new features, such as Snap layouts and Snap groups, to make snapping windows on the desktop a little easier, especially to manage windows in wider displays.
The Virtual Desktop experience has also been updated with a new name (Desktops), a better interface, and the ability to choose a different background image per desktop. Windows 11 introduces new settings to make it easier to work with apps with external monitors, and you can now decide whether to enable or disable the title bar window shake feature.
In this Windows 11 guide, we dive into the multitasking improvements available in the new version.
Windows 11 new multitasking improvements
As part of the multitasking improvements, Windows 11 brings changes to Snap assist with Snap groups, Virtual Desktops becomes Desktops and includes a new design and various tweaks. And, you can now enable or disable the title bar window shake feature.
Snap assist
Snap assist has been around for a long time, and it's a feature designed to help you organize the windows on the screen quickly. Although the feature can help you snap windows perfectly on the side or corners, it hasn't been an intuitive experience for most users since they didn't have any visual aid.
As a result, Windows 11 now ships with new features, including Snap layouts and Snap groups, to improve the experience when multitasking with various windows.
Snap layouts
"Snap layouts" is a feature that brings up a menu with different grids when hovering over the maximize button. Once you select a layout and position, Snap assist will guide you to continue positioning windows in the remaining zones.
In the past, Snap assist only supported around three different layouts to arrange the windows, but with Snap layouts, you now have up to six different layouts. However, the number will depend on the size of the screen.
If you are using a tablet in portrait mode, when snapping to the right and left sides of the screen, Snap assist will smartly position one window at the bottom and the other one at the top.
When dragging windows manually to either side or corners, you will also notice that the Snap assist preview has been updated with the same interface design that Microsoft is using on Windows 11, including rounded corners and frosted glass transparency.
On Windows 11, you can open the Snap layouts menu by hovering over the maximize button or using the Windows key + Z keyboard shortcut.
Snap groups
Snap groups is also part of the Snap assist experience. However, it's a feature available through the Taskbar that allows you to switch to different groups of snapped windows when switching to another app. This way, you don't have to re-snap them again to get back to what you were doing a little faster.
To see Snap groups in action, you need to snap windows as you would normally do, then if you switch focus to another app, you can hover over one of the apps that belong to the snapped group, and the preview will display another preview of the snapped group, which you can choose to return to the previous group of snapped windows.
Snap assist settings
Snap layouts, and Snap groups come enabled by default, but you can decide to disable them from Settings > Multitasking.
The option that enables or disables Snap layouts is the one that reads: Show snap layouts when I hover over a window's maximize buttons.
The option that enables or disables Snap groups is the one that reads: Show snap layouts what the app is part of when I hover over the taskbar buttons.
Multiple displays
Windows 11 also comes with a new feature to make it easier to use external monitors. For example, when you disconnect the external display, all the applications on the secondary screen will minimize automatically. Then when you reconnect the monitor, the apps will restore automatically to their original location.
The feature comes enabled by default, but you can choose to enable or disable it from Settings > Display > Scale & layout > Multiple displays and checking or clearing these options:
Remember window locations based on monitor connection.
Minimize windows when a monitor is disconnected.
Desktops
On Windows 11, "Virtual Desktops" becomes "Desktops," and in the same way as before, the ability to use multiple desktops allows you to create different spaces to keep unrelated tasks separated, such as work, school, and gaming.
Although the feature still works as before, you will find a redesigned interface and various other tweaks in this new version of Windows.
The feature starts with a new redesigned Task View button that sits in the Taskbar, and when you click it, you will access a view that shows all your running applications and desktops. You will no longer find Timeline as it's not part of the OS anymore. Unlike the experience available on Windows 10, the desktops are at the bottom rather than at the top. You will find an interface that continues the design trend on Windows 11 with blurry semi-transparent material and rounded corners.
In the new experience, you can reorganize, create, and customize as many virtual desktops as you want, and each one can have a different background.
If you want to set a different background, you need to right-click the desktop and select the Choose background option to open the "Settings" app in the Background settings and choose the image you want.
The context menu also includes options to change the position of the desktop to left or right.
Another interesting improvement is that when changing the background image, if the Settings app is open on another desktop, it'll be forced to the desktop you invoke the Settings.
Aside from the name change and the redesigned interface, everything continues to be the same. You can continue access the experience using the Windows key + Tab keyboard shortcut. Right-clicking a running application in Task View inside a particular desktop gives you the same options. And you can still use all the same shortcuts as in the previous version of Windows.
Title bar window shake
Finally, in the past, you could grab a title bar and shake it (also referred as "aero shake") with a mouse to minimize all the other windows to remove the clutter from the desktop to focus on a specific task.
On Windows 11, for some odd reason, the feature comes disabled by default. However, if it helps you improve your multitasking experience, you can now re-enable it from Settings > Multitasking and turn on the Title bar windows shake toggle switch.
What are your thoughts on the multitasking improvements that Microsoft is shipping on Windows 11? Let us know in the comments.
More Windows resources
For more helpful articles, coverage, and answers to common questions about Windows 10 and Windows 11, visit the following resources:
Windows 10 help, tips, and tricks
Windows Central Newsletter
Get the best of Windows Central in your inbox, every day!
Mauro Huculak is technical writer for WindowsCentral.com. His primary focus is to write comprehensive how-tos to help users get the most out of Windows 10 and its many related technologies. He has an IT background with professional certifications from Microsoft, Cisco, and CompTIA, and he's a recognized member of the Microsoft MVP community.
Some subtle but useful points made here. "If you are using a tablet in portrait mode, when snapping to the right and left sides of the screen, Snap assist will smartly position one window at the bottom and the other one at the top." I think this also applies to other screens in portrait mode. This was a huge issue for me resolved only with FancyZones (a feature in PowerToys). Now I can natively snap to the top or bottom of a screen when it's in portrait orientation.