Why Microsoft's digital inking strategy may be a win for the company
Digital inking isn't new to Windows, but Microsoft's integrating it throughout its products and services positions it as a first-class personal computing input modality.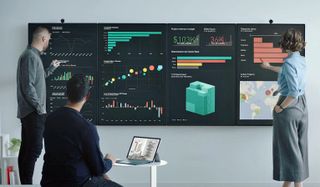 Apple's former CEO, the late Steve Jobs, mocked the stylus as an inferior input tool as he touted fingers as the most natural form of UI interaction. There's merit to his statement. Microsoft's all-out commitment to touch throughout its Surface hardware family indicates Redmond gets that.
Touch interaction with our digital devices is so pervasive that my toddler sometimes touches the television screen expecting Netflix to respond. Ironically Apple stubbornly resists bringing touch to the Mac and MacBook having conceded a mere touch strip on the Macbook. Conversely, Apple's iPad Pro and newer iPad, with the Apple pencil is Apple's digital inking strategy within a segment of its ecosystem.
Still, Microsoft's "universal touch strategy" positioned the company to evolve inking, pushing it to the forefront of personal computing throughout Windows and Microsoft's other products. Though touching with our fingers is natural, interacting with surfaces via a crayon, pencil or pen is something we learn even before we learn to read. That skill develops naturally as we mature, thus writing is interwoven throughout our personal and professional lives. Integrating that natural communication and record keeping skill into the digital landscape is Microsoft's goal with Windows Ink.
Microsoft and digital inking
Microsofts has pushed inking throughout many of its products:
Whiteboard is a cloud-based digital canvas that allows users in remote locations to collaborate real-time in a shared digital space. Integrated AI supports mathematic computations and shape drawing. Office products like Word, OneNote and others allows users to write directly into documents as naturally as they would paper. Handwritten content can also be converted into text and pen setups can be saved via the cloud for cross-device use. Microsoft's Edge web browser allow users to annotate directly on a web page, and save and even share what's written.
With the click of a button on the Surface Pen users to launch Sticky Note, Sketchpad or Screensketch where one can begin writing directly on their desktop. Microsoft's Surface Hub and Hub 2 are touch, collaboration and inking focused computers. Microsoft Surface Pro, with its touch screen, Surface Pen, 165 degree kickstand (studio mode) and detachable display makes it ideal for inking and drawing.
The "art" of the matter
I'm no Leonardo da Vinci, but my Surface Pro in studio mode allowed me to draw the above picture of a man using Microsoft's rumored Surface Andromeda digital journal.
Macs have historically been the go to-do devices for artists. Microsoft's touch-centric immersive Surface Studio, other Surface devices, software like Paint 3D and system wide inking have begun swaying artists to Microsoft's hardware.
Microsoft's inking quest is not only focused on inspiring artistic creativity. Inking and collaboration also targets lateral thinkers, or creatives. These are people like teachers, manufacturing managers and mathematicians who don't think in a linear fashion. They process in an analog manner then share their thoughts for others to build on.
Microsoft and others within the industry see this form of thinking as one that inspires creativity (opens in new tab) within an organization. Thus, Microsoft's pursuit of inking is to provide the tools and platforms that will help facilitate creativity.
Microsoft's rumored "Surface Andromeda" digital journal is expected to bring inking to a very personal, mobile and collaboration-focused form factor. As an always-connected, pocketable Windows Core OS PC with telephony, it may fit alongside Microsoft's other Surface devices.
How Microsoft is prepping the enterprise for digital journals
Windows Central Newsletter
Get the best of Windows Central in in your inbox, every day!
Jason L Ward is a columnist at Windows Central. He provides unique big picture analysis of the complex world of Microsoft. Jason takes the small clues and gives you an insightful big picture perspective through storytelling that you won't find *anywhere* else. Seriously, this dude thinks outside the box. Follow him on Twitter at @JLTechWord. He's doing the "write" thing!
I don't think you can look at the state of Windows 10 and make a convincing case Microsoft is committed to touch. Windows 10 is absolutely USER-SPITEFUL when it comes to touch screens. And while I DO use my Surface Pen with my Surface Pro, the number of people I A) see carrying tablets of any kind and B) see using any sort of stylus, whether for work or recreation, is virtually zero. I only know of one person in all my circles who even has a Galaxy Note device.

I agree, but I counter that the main reason for the inferior tablet/touch mode of windows 10, is probably because of the coming Andromeda/Core OS devices that Microsoft has been working on. Windows 10's current role is to win over (or avoid continuing to lose) laptop and Desktop users, and reestablish Windows as a platform that is relevant. Essentially to satisfy the masses after the Windows 8 Debacle. The Mobile/Touch/Tablet market will be addressed with the next generation of devices. (I hope)

Even ios is better with the pencil. So while win10 may not be touch perfect ios is not pen perfect

I had a Surface 3 Pro for 3 years and the pen was one of the main reasons I bought it. I didn't end up using it very much, only to impress people in meetings ocassionally, and I'd always end up having to retype it all up afterwards 😅 MS did a shocking job of coming up with apps for it though. Other than OneNote and the very occasional Photoshop (once they eventually got it working correctly) there weren't that many useful applications at the time. I can't fault the technical execution of the os-wide inking but it felt like it was almost being kept secret or was a beta feature e.g. Office ink capability.

In my university there are tons of people using Surfaces + Pen + OneNote or, less, iPad + pen. I'm inside the former group, and I've just forgotten paper, inking is super useful!!!

I'm also the absolute same, my Surface Pro is a lifesaver for lectures. Being able to scribble over copies of the lecture slides and then upload it all to the cloud is just so useful, as are the smaller but no less minor abilities of being able to easily switch pen colours, paste things from the web, convert to text and draw shapes. I find it so much quicker and much more effective at getting the notes down. Like you, I gave up on paper in lectures ages ago!

@DRDiver, I don't have market data on this, but the fact that Samsung continues to develop and sell the Note suggests they too believe there's a market for that. Perhaps your circle of friends is not entirely representative of the broader market (or maybe it is and if you know 300 people, with only 1 using a Note, maybe the Galaxy Note is below 1% market share, I just don't know). In any case, minimally, Samsung must either find it profitable at its current volumes, believe there is a halo benefit to their other products, or expect market share to grow in the future.

Colin, while it's possible my circles (which span from youth groups to teachers to military/border patrol groups) aren't representative, you'd think that over time I'd see more people using a Note (the other Galaxy models are very popular, though, among those who aren't iSheep). And, Yattaboy, like I said, I do use my Surface Pen quite a bit. But you arealso talking about university. I'm talking about everywhere else. I think there are specific places/instances where inking is much more likely, but I find I'm (once again) unique outside of those instances. But, having said all that, I still maintain that Microsoft has done a HORRIFIC job of supporting Touch. It's INEXCUSABLE to use Inking as the reason for refusing to make Windows much more Touch-friendly. I LOVED Windows 8 because it was gorgeous on the Surface (well, everywhere, as far as I'm concerned) and was a joy to use as a touch-favorable OS. Windows 10 is the exact opposite. In fact, there are even plenty of things I really hate about it even using my Surface Pen.

Jason, I'm an Artist / Architect and I've been criticized a lot (which is a common factor in my field). So I give your Art, a 7.5 out of 10 😁. I feel that Windows devices should be a medium for Creators, for times to come. A medium where one could access everything from one (possibly a cross platform) device. I loved the idea of Creators Update and I love where MSFT is heading with feature updates twice a year. All I hope for Andromeda is to be a device that fits right in this world. Like it belongs to whoever (Creator) is holding it. 🤞🏼

Thanks RayTiger. I appreciate the support. 7.5 isn't bad. :-) lol

What I was planning to state earlier this afternoon on my other device is that the focus on digital inking in almost every form is what will allow Microsoft to stand out from other OS and Application vendors. My concern is there is a vast market that can't afford any part of the Surface lineup, including myself. The technology needs to work on basic smartphones and NuVision class tablets as well, not just "premium" devices.

Is there any device that is not $1000? how much is an iPadPro, iPhone X, Surface Pro, Samsung Note? The reality is inking is still building out the technology. I remember in 1987 working at USMicom and we installed the sun microsystems workstations. We could spend our lunchtime flying against each other from our workstations. I used Intergraph Cad systems. At no point were any of these technologies approachable my 99% of consumers. But here we are almost 30 years later, and the power and versatility of a Surface Pro is far and above anything I used in the government. That said, being able to tie 20 surface Pros located in 20 countries from Asia, Europe, Africa, Australia, South America and North Amerca working simultaneously on a creative project is astounding and I dont think Google or Apple are anywhere close to matching the power of MSFT ecosystem. I also should mention that MSFT will also transcribe and translate (in real time) all the other vocal interaction within the group. Powerful.

No one else, but MSFT, has touch and pen deeply embedded in the OS. Now that I am used to pen and touch, I would not think of buying a computer that does not have it. For me, it is a must have.

Can anyone at all please help me understand why Microsoft Whiteboard removed the Image Search feature? Why would they get rid of their best feature? Why??

That's because the technology isn't there yet. I have a Surface 4 and the inking is nowhere near the fidelity of real pens. Try writing cursive quickly with a stylus, it will not pick up all the details, it will look like a mess. In fact, just write the letter "w" at normal pen speed. The middle upper corner of the "w" letter will not rise to the top even though your hand does, it will register as being lower than the two upper sides because the stylus can't pick up that detail at that speed. You need to write exceptionally slow in order for the stylus to pick up the actual details of your movements. That's bad.

Hi eigenscape. I'm snot sure what inking experience is like on your Surface 4, but it sounds VERY different than my experience on the Surface Pro (2017). I don't have the highest in model. I have the Core i5 4GB RAM and 128 storage. My inking experience has always been great and has impressed me thus far. After reading your comment about the failure to register 'W's' and cursive accurately I immediately tried both to see if I saw the problems you indicated. I did not. As a matter of fact cursive and "W's" flowed and showed up VERY smoothly. Perhaps the problems you're seeing were resolved with the Surface Pro 2017 and newer pen. 🤔

I disagree completely. My Surface tablets (I'm on my 3rd now) have made me rediscover handwriting, and I love it. I hand-write notes (which I can convert later to typed text), create sketches that are at least as good as pen and paper, and mark up photos with dimensions and notes. It's what a tablet should be. That said, the newest Surface Pro (which I just bought 3 days ago) has a much better pen, and the whole handwriting input has been greatly improved. I'm sure the updates are coming to older Surfaces as well, and just the new pen is well worth the extra $$.

I think digitial inking is a valuable investment by microsoft.
Windows Central Newsletter
Thank you for signing up to Windows Central. You will receive a verification email shortly.
There was a problem. Please refresh the page and try again.