Windows 10 Anniversary Update keeps freezing? Here's how to fix the problem
If Windows 10 keeps freezing after installing the Anniversary Update, use this guide to fix the issue.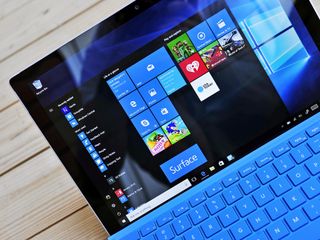 While the Windows 10 Anniversary Update brings a lot of new great features and improvements, the rollout has been a bumpy road for many users. Since the update was made available to everyone, we have seen a number of issues popping up, such as problems migrating settings, apps crashing, failure to install the update and a few other problems. However, one problem that's affecting many users is the entire computer freezing when attempting to sign in.
According to the Microsoft, some users who had moved app information to a second logical (virtual) drive came across this issue. Currently the cumulative update KB3176938 addresses the problem, but if your Windows 10 device keeps freezing or you can't find a way to install the update, and you're in the situation where you have two logical drives, and you moved app data to the second drive, you can use one of these three options to try fix the problem.
1. Use a second Windows 10 account to install the update
If you haven't been able to apply the update because your computer freezes every time you sign in and you have a second Administrator account do the following:
Restart your computer.
Sign in with the second Administrator account.
Open Settings.
Click on Update & security.
Click on Windows Update.
Click the Check for update button and make sure your system downloads the KB3176938.
Click Restart now.
Sign in with your primary user account
After applying the update, you should no longer see your computer freezing up when signing in to your account.
2. Reinstall the Windows 10 Anniversary Update
The second recommended method (opens in new tab) is to uninstall the Anniversary Update, and then reinstall it again using the update tool.
Uninstalling the Anniversary Update using the recovery option
Restart your computer.
On the sign-in screen, hold the shift key down while selecting Restart from the Power menu in the bottom-right corner.
Your computer will reboot into the Advanced start menu, select Troubleshoot.
Click on Advanced Options.
Click on Go back to the previous build, and follow the on-screen directions complete the task.
Uninstall the Anniversary Update using Safe Mode
Restart your computer.
On the sign-in screen, hold the shift key down while selecting Restart from the Power menu in the bottom-right corner.
Your computer will reboot into the Advanced start menu, select Troubleshoot.
Click on Advanced Options.
Click on Startup Settings.
Click on Restart.
Select option 4 or press F4 to boot in Safe Mode.
Open Settings.
Click on Update & security.
Click on Recovery.
Under "Go back to an earlier build", click the Get started button and follow the on-screen directions to complete the task.
Reinstalling the Windows 10 Anniversary Update
After using one of the methods mentioned above to uninstall the Windows 10 Anniversary Update, do the following to reinstall the update on your computer:
Head over this Microsoft support page

(opens in new tab)

.
Click the Update now button to download the Windows 10 Update Assistant.
Double-click the file you just downloaded to begin the update process.
Click the Update Now button to re-apply the Anniversary Update.
Follow the on-screen directions to complete the task.
3. Migrate to a new Windows account
Alternatively, if you continue with the same issue, but you don't experience any problems when signing in to the second account, you can move to another account to resolve the freezing problem.
Do you still have the freezing issue with the Windows 10 Anniversary Update? Tell us in the comments below.
More Windows 10 resources
For more help articles, coverage, and answers on Windows 10, you can visit the following resources:
Windows 10 help, tips, and tricks
Mauro Huculak is technical writer for WindowsCentral.com. His primary focus is to write comprehensive how-tos to help users get the most out of Windows 10 and its many related technologies. He has an IT background with professional certifications from Microsoft, Cisco, and CompTIA, and he's a recognized member of the Microsoft MVP community.
No freezing for me. Well, virtual drive is not my use case anyway.

Also for me.. But i m facing slow internet problem..

Idk if I'm super lucky or what, but I've never experienced problems with Windows Update. Even Vista worked flawlessly for me .

Vista was really only an issue for early adopters on older hardware with incompatible drivers. I used it when SP2 was out, on new hardware, and it worked like a dream. It was definitely much better than XP SP3 that I'd been using for years

I miss Windows Vista man Posted via the Windows Central App for Android (LG V10 or Nexus 5x)

Me too, the time I got my Vista it was with SP1 and works just fine. Way better experience than my XP machine at that time. Though I did but completely new PC the time I got my Vista since my XP is bit overdue. Vista issues largely with drivers that causes quirks to the OS which I did experience unplugging my older printer without proper software ejection. It then crash the system. Funny/not funny though, I experience more BSOD with Windows 10 than my years with Vista.

Yeah, I even used ME with few issues. Though back then I used to reformat every few weeks and go between 98, ME, and 2000. Remember when many games didn't run on NT kernel?

the first experience after installing the anniversary update was horrible.i was not even able to open anything due to freezing on the first click anywhere.had to do a reset from the login screen itself and everything works flawlessly now.Loving every bit of this anniversary update.

Mine were fortunately fine, but Edge is still horrendous to use with occasional freezing and crashing. It's absolutely ridiculous that Edge for me is unusable for longer periods, it's a ticking bomb. Even one of my friends PC having issues with Edge despite having more modern hardware, though lesser issue than mine. There is issue with WinRT runtime that it tends to misbehave and freeze, thus all UWP/WinRT related stuff that even Start menu and Action Center won't respond. Restarting the process is the only known workaround. Still its ridiculous that even freaking hog Chrome runs around flawlessly (I use Opera as my primary though). Extensions on Edge doesn't always works well such as Adblock not even showing settings.

luckily,edge has been really kind to me,although I am not a very heavy user.but I have to use chrome just for the youtube thing because of these slow indian internet connections.

Isn't it too late to go back to an earlier build? MS had already cut the time to 10 days which is a facepalm for some users.

Ours just installed two days ago, so we still have time.

Although I can't complain too much, there is something that doesn't work properly with the AU. In "autologin" i.e. without enter password, with Windows 8, 8.1, 10 version 10240 and version 1511, I saw the login screen for one second. After AU update, at the beginning, I saw it 15-20 seconds, and now 8 seconds. It's 8 X longer than before.

Are you using Windows Hello? if so have you tried recalibrating?

No on PC without cam. What is strange, is that with clean boot or without, no difference, so it's the OS. And I would add that I have less applications at startup than with the 1511 version! I'm not the only one, there is a topic on this subject on the MS community. Some complain of slow extinction or slow wake up from standby also, for me it's only start and restart. 8 or 9 seconds on the login screen, it's not much, but it's totally abnormal for me.

Is MS catalog website downloader not another alternative???
I had recommended it to my friend after facing this error. And it worked great.

I have never experienced an update problem because I always do a fresh install of Windows. It's the best and fastest way go. All one has to do is to make sure that all their files are backed up. Also guys who are experiencing delays with Windows 10 or with Windows overall, It's probably because your hard drive is going. You should give the Samsung ssd 850 evo a try, it works wonders trust me.

I did a fresh install and i still have problems.

None of my 200+ enterprise computers are freezing.

The issue we have with one laptop is ever since the anniversary update the computer freezes up when auto installing any updates. It'll sit there for hours and you just see a black screen with the dots circling. I have to turn the laptop off and it boots up and says the updates installed. This happen about every Wed after the updates come out. Laptop never had issues prior to installing the anniversary update. Posted via the Windows Central App for Android

Quite sad actually. But I didn't have this issue on any of my devices.

I have the same issue with an HP, Pavillion desktop. Evidently Microsoft loaded a new update last Tuesday night as it has been locked with the dots circling for 6 days. Power cycling does not help. If I press escape while booting it comes up in an hp, diagnostics screen. Help wife is about to divorce me

I've not had the freezing problem Posted via the Windows Central App for Android

Windows 10 Anniversary Update just keeps NOT COMING

I had to do a recovery re-install on my surface pro 4. Now it works amazing! Hopefully future updates are more smooth for Microsoft

My 950xl keeps freezing anyway to stop that

In you're microwave press defrost. Posted via the Windows Central App for Android

How about addressing some of the issues with the anniversary update for Windows Mobile. I haven't seen a real review or commentary on the anniversary update for Windows mobile in some.time.

Mine doesn't freeze but the Power Driver State Failure BSOD is more common.
:'(

This update screwed up my brother's laptop altogether. It keeps crashing when trying to play any games (never had any performance issues before). It also sucks on my desktop, but at least it runs smoothly. It looks too much like the hideous Windows 8 and not enough like Windows 7/ Vista. I have a desktop, not a flipping tablet... and I want it to look the part.

I went back to last build cause this update also messed around with a lot of drivers. Posted via the Windows Central App for Android

I am done with the Insider Program on Win 10 mobile - 950XL. Not worth the aggravation!!! Sorry MS

PROBLEM: After updating my Windows 10 system with this recent Anniversary Update (version 1607), it became TERRIBLY slow on start-up and would freeze or crash after a painstaking minute or two after logging in. SOLUTION: I fixed it by starting the computer up in safe mode (in Windows 10, hold the "Shift" key down while (re)starting). I then looked under Recovery options, selected "Roll back to previous build", and let the system alone to uninstall the problematic anniversary (version 1607) update. When it finished, it restarted itself and continued to revert itself back to the previously working Windows 10 build. Once it booted back up and worked okay, I downloaded Microsoft's Media Creation Tool (https://www.microsoft.com/en-us/software-download/windows10) and reinstalled the update this way (rather than throught the Windows Update on the computer, which was giving me problems). The computer reinstalled the update, rebooted and has been working just fine since. I hope this helps someone else! Good luck!

I am fortunate, too; I updated to version 1607 without any problems. On the first version I installed, all the Microsoft widgets on the bottom bar (Start, Cortana, Alerts) all went unresponsive. A Microsoft tech helped me, he took control of my machine and tried three things but could not fix it. So eventually he made a new user account (with matching privileges to my old account) and copied all my documents to the new user account. Those of you who know enough are probably thinking "what about stuff programs store under Applications\Data?". Good question. I didn't think of that. My email program kept its address book there. Anyway, ignoring that issue, I was not reassured - there was no guarantee that my NEW account would not experience the same problem eventually. But it has not. So I was trying to find out if version 1607 actually FIXES that problem. I didn't find out, but the search led me here. I should consider myself lucking that the update worked. Geesh.

My Windows update continues to freeze during the update process. It has done a "forced update" 4 times now and everythime it tries, it gets either 32% or 71% completed, and it freezes. I have waited more than 8 hours, but still no action. The only option I have is to hit the power button to hard reboot. After re-booting, it reverts to the prior version, and then comes back up. However, now my Start Menu no longer works, so not only am I wasting hours when it decides to do a forced update, but I no longer have a working Start Menu. I have tried everything in this forum and still no luck.... I need my PC for work, and I am now at the point where I am slipping schedules due to this crappy issue. Is there no solution?

I have the exact same issue and am being "forced" to go back to 8.1 until Microsoft gets it right. I :(

Windows 10 rubbish. After spending 15 plus hours over 4 days, on to support, I have a computer that is wiped clean with windows 10 160715 on it, but it still freezes. Support says its a hardware problem, so I must now find a tech to check hardware, and if there is something wrong, to fix it, I can't roll it back to a previous Windows as everything has been wiped clean. What a mess. Help.

Apparently there are many reasons why computers freeze. Here is how I solved mine. I had a stable Windows 10, had updated the drivers and bios of my custom computer, but it still was freezing. I had DDR4 memory, rated at 1.2V. The voltage was 1.2V and it wasn't overclocked, so there was no reason to think the voltage had problems. But, I tried upping the voltage of the DRAM to 1.35V and the freezing stopped. So, the memory voltage was insufficient for whatever reason. I should mention that if you up any voltage, you should monitor the heat of your cpu, and motherboard for awhile.

Supposedly the Power Management has changed on Windows 10 Anniversary, so if you go into Power Options, access "PCI Express" and turn off Link State Power Management that makes a difference. Also I noticed that my video card (ATI) had an entry there and put it onto "maximum performance" because I was pretty sure it partially had to do with the video being updated or not... so give those things a try.

I have an asus n56vm that responded unkindly to the Anniversary Update, but there were a number of vectors that coincided to make the update a horror story. I had recently travelled to Turkey from the UK for a long term stay so that setting up a secure internet connection took some time. There was a period of 2 months during which time I was not connected and a number of updates had been missed. Having been through a nightmare with the a previous Win 10 build, because of a conflict in sfc with NVidia driver versions I have been mindful of how sensitive Win 10 is to updated drivers. So having installed the Anniversary Update I wasn't surprised to get application freezes, STOPCODE screens, having to do forced shutdowns, and the dreaded Black Screen Of Death that prevent windows booting and access to the BIOS. However I persevered, and finally bullied the laptop into booting up, (over a couple of days, denying the laptop of both mains and battery power for long periods, and having used a few naughty words), and although it was creaking I managed to install anti-malware that detected and removed some hostile elements. Next - inbetween crashes - I installed IObit Driver Booster 4 (free) that found a number of outdated drivers and updated them. Updated Java. That improved browsing and helped to reduce browsing freezes in IE11. The key improvement was updating the graphics drivers. The N56VM has two gpus - a nvidia GT Gforce 630m card and intel HD 4000 integrated with the cpu. It was in fact the Intel HD 4000 that was causing a problem. Although Device Manager reported that the best drivers were installed, this was in fact well off the mark. Driver Booster identified that the driver was out-of-date and updated to a newer version. Because there are other components of the Intel hardware that also could have outdated drivers I installed the Intel Driver Update Utility and this pulled up a newer graphics driver than that which Driver Booster detected. So with everything there now up-to-date, windows is running fine, quietly and smoothly. Another point worth noting hat also caused issues was the fact that Turkey did not end daylight saving time in October as they usually have done. This decision was taken late on in the summer and still managed to take a lot of people by surprise when the clocks didn't go back as expected and puts Turkey three hours ahead of GMT and not two as expected. Now Microsoft got this right and the time correctly did not change. However some third party applications providers did not note the change and this caused sync issues that was resolved though a simple tweak to the calendar with the Microsoft account. We had a similar issue on a smart TV with an android based system on-board. I would just remind readers that Windows 10 seems more sensitive to out-of-date drivers, and don't take it for granted that Device Manager is correct when it goes through the motions to check on drivers for your hardware that it really is accessing the most up-to-date database. The clue to a problem around the intel drivers comes where the laptop didn't seem capable of multi-tasking, so that freezes and hangs were most likely to occur when there were background tasks going, and having to wait to free up the cursor. Use Event Manager to trace where issues are occuring, and this will point in a more precise than general direction where there are persistent problems. Task Manager would not always be able to open when I needed to observe which applications were using the resources, so that couldn't always help. It is patience, reason and a bit of detective work that gets to the light at the end of the tunnel. I can keep on working with ease now, even with Windows Compatibility Telemetry going like the clappers in the Background.

Thanks. Your answer is the most useful comment that i ever saw, it's much more useful than the article itself. My windows freezes when i watch high graphic content videos which aliens with the graphic cards drivers updates. I changed my time/date to manual to stop the sync problems as well. Now, I gonna try your recommendations and see how'll work.

Microsoft sucks including their windows 10
Windows Central Newsletter
Get the best of Windows Central in in your inbox, every day!
Thank you for signing up to Windows Central. You will receive a verification email shortly.
There was a problem. Please refresh the page and try again.