Windows 10 build 10114 unveils new Start menu, Settings tweaks, and overhauled Insider app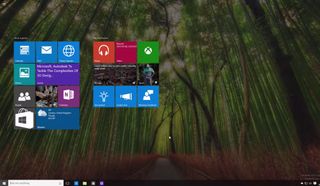 While Microsoft has recently rolled out a new preview of Windows 10 with a number of changes and improvements, a new unreleased version of the operating system, which hasn't even leaked onto the web, has surfaced revealing a few UI changes and improvements.
This time it is Windows 10 build 10114 (which is another partner build from winmain_prs channel) that has appeared in a new video published on YouTube highlighting improvements in the Start menu, Settings app, and a new overhauled Insider Hub app, among other things.
Let's break down the new changes in Windows 10 build 10114!
Start menu
The Start menu in this unreleased version of Windows 10 preview, shows many similar changes that Microsoft revealed at the Build and Ignite conference. However, during the Build conference the company showed a number of changes on Windows 10 build 10072, 10105, and 10110, and during the Ignite conference build 10072, 10074, and 10107. That all means that seeing a bigger build number doesn't necessary mean that they will include all the changes Microsoft is planning for its operating system.
Now, like in Windows 10 build 10072, we can see in build 10114 that Microsoft is relocating File Explorer and Settings links above the Power options and each link now features their appropriate icon.
"Recently Added" apps list also appears below the "Most used" app list.
It's worth pointing out that Microsoft says that the Recently Added list will also become the "Suggested" list over time, which will highlight apps you haven't tried from the Windows Store.
As I have previously mentioned, we can now see that Microsoft indeed is removing the full-screen button located in the top-right corner of the Start menu, and there is a good reason. It's because, the software giant is opting to move this particular setting to the Personalization area. Now, opening the Settings app and going to Personalization, users will find a new "Start" area to customize the menu.
The new Start area includes two section: "Customize list" and "Start behaviors".
The Customize list has all the settings grayed out, which means that they are currently unavailable. But we might be able to change them once they appear in a public preview.
In this first section, users will find the following configuration options:
Occasionally show apps and content suggestions in the Start menu (default behavior is On)
Store and display recently opened programs in Start (default behavior is Off)
Show the recently added apps groups (default behavior is On)
As you can see, eventually Microsoft will give users more control on how the operating system promotes apps from the Store and how already installed apps will surface into the Start menu.
The Start behaviors is where things get a more interesting. This section is where users will be able to configure the Start menu into full-screen mode.
The Start behaviors contain two options:
Use full-screen Start when in the desktop (default behavior is Off)
Store and display recently opened items in the Start and the taskbar (default behavior is On)
Like in previous builds, enabling full screen on the Start menu does not require users to log off of their system. It transforms the menu into something very similar to the Start screen for Windows 8.1 (Yes! The Start screen is back!).
Once the Start menu goes into full-screen mode, users will notice that tiles will get bigger (refer to the feature image above), which is a welcome tweak as it will make easier for touch-enabled devices.
Furthermore, the full-screen version of the Start menu only features Live Tiles -- long gone is the Windows 7-like part of the menu. Now, Microsoft is including a new hamburger button on the top-left corner of the screen to access the "Most recent" list, File Explorer, Settings, Power options, and All Apps.
If you remember, we had already seen this behavior during the Build conference when Microsoft's Joe Belfiore showed off Windows 10 for small tablets. The new change makes the Start menu less cluttered, something that those Windows 8.1 fans will appreciate.
Settings
The Settings app looks almost unchanged since Windows 10 build 10108. All the settings appeared centered, but users will see that "Devices" now features a new icon, which looks more appropriate.
In Windows 10 build 10114, the slider to change settings and control the system volume has been updated too.
Insider app
The Insider Hub app has been completely overhauled with a significant new user-interface. The UI looks very similar to a blog site. There are two main areas: the content list and the sidebar with information about the user's profile, the version of Windows 10 preview you are currently running, activity, feedback activity, and announcements.
The app also features a hamburger menu button on the top-left corner of the screen to access the different areas, including Announcements, Alerts, and Your Profile.
Announcements: In this area, users will find all the official announcements from Microsoft.
Alerts: This area will include all the alerts as they become available.
Profile: In here, users will find all the profile information. You can check Achievements, Windows Feedback, Quests, and System activity.
Dark theme
In Windows 10 build 10074 and previous builds, we have seen that the operating system will also include a new dark theme. In build 10114, the theme has improved though it is still not working properly.
As you can see in the image below, the Calculator and Alarms & Clock apps have a white title bar, even though the dark theme is enabled. However, the Settings app does show a dark title bar, which should be the correct behavior. Although, Settings takes the system color, some things are not working, as you can see in the image, the font color is dark when it clearly should be white.
Cortana
If you were expecting to see any changes on Cortana, well, this is not your day. In Windows 10 build 10114, Cortana appears unchanged, but it includes all the new UI improvements we have seen in Windows 10 build 10074.
However, it's worth noting that more tweaks are coming to Cortana. We have previously seen in build 10107 that Microsoft plans to include a new mini version of the digital assistant with a dark background that appears when users invoke the "Hey Cortana" command.
Wrapping things up
Although, these changes aren't major, they are welcome additions that bring all the elements of Windows 10 closer together.
Now, we start to see a Windows 10 that looks good, and this is something we all have waiting for a long time.
Moving forward, we are going to continue to see small changes. Instead of big improvements the company is focused on fixing bugs, and improving what's already included to make the operating system stable for its release later this summer.
Finally, Windows 10 Build 10114 is not a version that Microsoft is planning to release to Windows Insiders, but we might start seeing some of these changes and improvements in upcoming public releases.
What do you think of the subtle changes? Is this an OS that you can stand behind? Let us know in comments!
Source YouTube (WinBeta)
Mauro Huculak is technical writer for WindowsCentral.com. His primary focus is to write comprehensive how-tos to help users get the most out of Windows 10 and its many related technologies. He has an IT background with professional certifications from Microsoft, Cisco, and CompTIA, and he's a recognized member of the Microsoft MVP community.
Nevermind! New start looks cool.

Really like the "try the new features" are actually quests

I also like the dark theme. I think this should be the default, just as it is on Windows Phone. And they should work hard between now and June to add polish, polish, polish. Polish is what Windows 8 and Windows Vista were both severely lacking at release. They were fine OSes "structurally" but they just didn't shine. Indeed, Windows 7 is pretty much just Vista SP3, but people love it. And XP, which many consider the high-watermark of Windows, was widely hated until SP2, which was when MS basically just got all the kinks worked out. Weirdness -- of which there is plenty in the current builds of W10 -- with be the death of this OS if MS doesn't wring it out by release. "I polished up that handle so carefully that now I am the ruler of the Queen's Navy."

"polish" is a big one. None of the Windows versions that I have worked on have been polished, at least not to the extent of OS X. And that is a bug reason lots of people like Apple. Their OS looks so good. Lately, I have been noticing that build 10074 is more polished. The way the Start screen opens, the 3D Live tiles... We just need more.

It's hard to polish things when your Design Language and the APIs you're pushing to developers are constantly in flux. Before the Windows developers can even start to spit shine the OS, management is already telling them to pivot yet again. Same issue with Windows Phone. Before they could really bring it to feature Parity with iOS/Android they were made to pivot, and it's happened 2-3 times already which really limits on how must post-release work you can do (since there is no use innovating on a dead base platform (before move to NT Kernel) or dead APIs (going from current app model to Universal Apps, etc.)). Before Microsoft can really polish Windows and Windows Phone to the extent that Apple does wiht thier platforms (and Google is starting to do with Android), they have to stabilize its development and get it to a point where it's on a road that isn't going to fork in the near future. That hasn't been the case since Windows 7 was in development (which is why it was pretty universally viewed as a big Vista Service Pack), and that version was Polished up pretty nicely.

Let me preface this post by saying what should be painfully obvious but which many people miss: This is my opinion. -------- Actually, I think OSX looks horrible. Like it fell out of the ugly tree and hit every branch on the way down. I hate Apple's skewmorphic, gradient, metallic, cutesy interface. It is, quite possibly, the worst I've ever seen with respect to esthetics. Well, okay, Bob was worse. I think an interface should be a black screen with nice, big, plain, obvious targets, high-contrast controls, and no skewmorphism. To me, the calculator app shown above is pretty much perfect. I want the whole OS to look like that. (This viewpoint is why I think those stupid-ass "circles" in the people hub are a monstrosity. Why?!? What was wrong with squares? Don't get cute on me, MS...) That being said, what Apple gets undeniably right is consistency. Their OS may be disgusting to look at, but it is coherent from top to bottom. And I can get over ugly. I can even learn to love ugly...if ugly works to lower my cognitive burdon. I want everything to be as obvious and efficient as possible. Windows 10 still feels like a complete mess...a hodgepodge of styles and interface decisions made by committee. MS should take a good hard look at Windows Phone 7.5 and try to make everything as close to that as possible, interface-wise. That was a "no-BS" OS which, limited though it might have been in functionality, was at least consistent and undeniably elegant. It may be the only time in recent history where MS has pulled that off, and, to my mind, represents their high watermark in interface design.

Apple's interface isn't Skeumorphic or Metallic. :|

Mavericks and earlier most definitely look metallic and skewmorphic to me! I just checked out Yosemite, and it looks better..still ugly, IMHO...but better, for sure. Weird gradients are everywhere and the RYG buttons look awful. But I didn't realize how far Apple had gone to remove that look from Yosemite. Good for them and all the more reason for MS to go a step further in that direction with Windows 10.

We'll just have to agree to disagree. I moved from Windows for my non-gaming needs, despite having a SP 3, because I really like the UI of OS X. It's just so... consistent and elegant in my opinion.

Totally fair. Everyone is entitled to their own opinion on esthetics. I'll agree wholeheartedly with consistent. Elegent...that's not in Apple's repertoire. All their designs (hardware and software) are quite tacky, IMHO. But to each their own.

Sorry, but I *despise* the new "Flat" look being shoved in our faces these days. Between that and the "hamburger" menu, it's like being back on MSWindows 2.0. To be precise, the hamburger menu is a throwback to MSWin 1.0 (that's a one-dot-zero, not ten). I've been running the Win10 preview on a scrap laptop, but with the flat/"modern" look being perpretrated by the design-challenged graphics departments of Apple and Microsoft, makes me glad my actual *working* machines (every other computer in the house) has Linux. At least there you have the ability to use non-fugly interfaces.


...then why are you on a Windows Phone Web site? There's nothing wrong with disliking flat and liking Linux, but I do think you're in rather the wrong place if those are your preferences.

Agreed. WP 7.5 and 8 were what brought me to the platform in the first place. To see that clean and elegant design language get further and further watered down with each version has been disheartening to say the least. While there are some things I like going on in W10 it's not enough to pull me away from 8.1 any time soon. Even more so for the mobile version which is a train wreck at the moment.

Yeah, even the writers here are saying they won't be adding any major features for a while, they'll be ironing out the bugs in the OS. It's gonna be great when it goes live (RTM).

When it will release full version officially for windows 10 phone

Actually, no. That's a lie. No one knows when any full version will be released.

but how great whould it be, huh?

It's better to talk about the preview

Unfortunately, your phone is not eligible for the upgrade. Only your phone though. ;)

Seems , moving on we can feel everthing same exp on phone and PC too

Well, for it to be even more familiar, the app list should be in the left side and the action centre should be accessed through a swipe from the top right corner of the screen. It also should include the option for the start screen to have the background (the place in between each and every tile) into an ios-esque blur effect (which amazingly they copied from Windows aero of course) too. I think.

I would expect the windows phone home screen to mimic the windows start screen. In other words, tiles with a hamburger to open all apps, settings and power.

Where is the new build for the Phone??? That's all I care for Microsoft

I want an answer for this Q. Please someone be helpful and answer...

They ducked up bet you...

Beautiful, looks like the future.

That escalated way too quickly.

That power button placement is ugly, should be the lowest option there Windows Central App for Android- Lenovo IdeaTab A3000

My sentiments exactly, have clicked all apps button by mistake few times. It should be just above windows button, or may be better on taskbar, next to Windows button.

Would be good if there was an option to hide the labels as well so you end up with just a horizontal row of icons. Can't see that happening though.

then suggest it on feedback app

I miss the option to right click the start button

You can still right click the start button... It has the same options in it as win 8

so moving the power button one step lower and the all apps one step higher will make it beautiful? got it. this proves people will bitch about the most mundane things. moving the power button won't enhance the asthetic quality of the OS at all.

I say delete the power button. That's what electrical cords are for.

I'm just saying, it's kinda out of place above "all apps." It's not an app anyway. Windows Central App for Android- Lenovo IdeaTab A3000

Hate the snot-green theme. Someone chose that? Nutter.

My theme is the same(ish) green on all my stuff because it reminds me of Xbox

That's some hardcore brand loyalty.

I from time to time will use emerald color and the other times I use grey

If the start button is normally in the bottom left, why would you want the hamburger icon at the top? I'd put it above the start button...

You're right - that's atrocious placement. Power needs to be a long way away from anything else, to prevent accidental presses.

It's because some people requested it and Microsoft listened

I assume the power button will open a confirmation dialog first

Oh. I've just checked my 10074 build and the power button's there already. I haven't used Start menus for years. I still hope it moves though.

easier to click with your thumb when using a tablet. the start screen is the tablet mode after all.

They probably want the hamburger icon in the same place everywhere and that turns out to be the top-left.

I wonder what they are going to do about Cortana in the rest of the world... I am living in Sweden and when I use the search thing, Cortana says she doesn't support this country. Why doesn't they just open her up for the hole world (in English)?

Maybe changing your language to English us and maybe your country too to US or to other supported regions will work

Why doesn't they just open her up for the hole world (in English)?

Because although she may understand what you say as an "app", she'd be dumb as a box of hair - they'd be no data for her to analyse and return to you.

Yeah its works when I changes region and language, but then my pic is in English... And Cortana knows what the weather is here, she can search thing and say jokes here in Sweden to... But she said it in English :P

Maybe because it's still in BETA

And that's the problem. Cortana should be available to everyone regardless of region. Did Apple wait years to make Siri available to the rest of the world?

Thanks Microsoft now I love my yoga tablet 2 more

Sometimes the most seemingly minor changes make all the difference. The start menu looks nicer and the start options moved to personalization makes sense.

Would anyone recommend installing Win10 as it is currently on your primary PC? I've been itching but not sure how it will affect me. I use my PC regularly for gaming, surfing, downloading etc. And I keep seeing these new updates to the tech preview often so I'm wondering if most of the bigger bugs have been squashed by now. Suggestions anyone?

No no no no no no no no no! Don't ever use an unfinished OS on your main device. Just don't.

Yup. Several potatoes is right. It will f the h out of your PC

Here's the "Is it right for me?" guidance: http://windows.microsoft.com/en-au/windows/preview-faq

Depends. I have been using it on both my home and work PCs since November. It has had many bugs and issues, some minor, few of them major. Many of them have required me to use very technical knowledge to work around them. Even the most recent build.
Tl;dr if you are familiar with Windows admin tools, registry, and computer management program, then it won't pose an issue. Otherwise, I recommend you wait.

I use it on my primary laptop and for the most part in this current build only one or two things crash in back end software

Definitely install it, it's awesome

The latest build has caused battlefield 4 to crash several times. Other than that the only problems I've found is that not all the store shops work properly yet.

Nah I think thats just battlefield ppl at work were complaining about it and are on win 7 or 8. Lol

If you're on a large screen and have start screen open as full screen, why not show the hamburger menu contents automatically if there is ample space. Saves the start screen looking barren on a decent size monitor and needing to click to get at certain items. I get not many may use full screen option on a big monitor but making it a bit more intuitive and responsive to screen sizes sounds like a good default option.

This is the way it is in the current build and it's awful. Don't give them any ideas. The hamburger menu is a good compromise. Maybe allow people to pin it open if they really like it (I don't). Now if they would just have all apps fly out and replace the tiles so you can see more we'd be pretty much good to go on the Start Menu update.

Allowing the user to pin it open would be the best solution. That way everybody gets what they want.

I disagree totally. Having that hamburger menu always open would be so cluttered, like having the start menu in W7 always open.

Moving ahead ! Go Microsoft Go !

That start menu seems much better for my tablet. :D

My phone while playing Asphalt 8 is laggy even when i was on 8.1

I don't get it, why are the settings centered? It looks weird..