Windows 10 for Desktop build 10166: What's new, changes, improvements, and gallery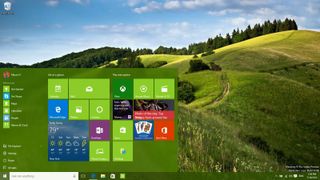 As we get closer to the final release of Windows 10, Microsoft has just rolled out a new preview for PCs. This time was the turn of Windows 10 build 10166, and the company made it available through the Fast ring of updates. The new build also rolls out only days after the company released build 10162 and three weeks before the general availability, which will occur on July 29th.
While Windows 10 build 10166 includes a number of changes and improvements over previous builds, the new changes aren't very significant. The new build is all about fixing bugs and completing everything that is already in place. As such, it's likely that what you see today on Windows 10 is pretty close to what you're going to see at the end of July.
On my personal experience, I'm noticing that Windows 10 is getting snappier, smoother, and close to being completed. In previous releases, I've seen the blue screen of death trying to upgrade and when try to do a clean installation. On build 10162, I had another issue, where resuming my PC from sleep will simply freeze the operating system, and I needed to reboot the system every time. Now, all these problems are gone.
The software maker also includes a few changes to its new web browser. On Windows 10 build 10166, Microsoft Edge brings some bug fixes and improvements. Among the improvements include localhost loopback enabled by default. Users can easily disable this option by accessing the experimental settings page by typing "about:flags" in the address bar and hitting Enter. In addition, about:flags has also been improved for languages other than en-US.
Another feature recently discovered (Neowin) in the Insider Preview is a hidden mode called "retail mode." While this isn't a feature that you probably won't be using, it's new to the operating system.
It's worth pointing out that "retail mode" is not a new feature in build 10166, as I can trace it back to build 10158, but it has just been discovered.
In Windows 10, "retail mode" is a feature designed to highlight the new features in Windows 10 and the benefits of Office 365.
If you're a Windows Insider and you're already thinking on trying the new feature, you need to keep in mind that enabling "retail mode" will erase all the content on your PC. Additionally, you will need a password to uninstall the experience, and the password isn't available to the public. As such, you can try the new feature at your own risk, but only after you created a full backup that you can use to restore your system.
Enabling the feature is easy, open the Settings app, navigate to Update & recovery > Activation, and the click five times the title Windows. Then a dialog box will appear confirming that you're about to change to retail mode. You'll be prompted to enter a password, but you can leave this field blank, after the computer reboots, you'll be signed in as Darrin DeYoung.
The mode also includes a screensaver called "attract loop" that will run after a certain amount time the computer is not being used. (You can see loop in the video below.)
Finally, the company also announced that users can now try the new Microsoft Wi-Fi app, which allows you to purchase internet access through the Windows Store. However, the app is only available for those located in Seattle. The same service will soon be available in the rest of the U.S. Also, the company is planning to bring the same app to iOS, Mac OS X, and Android.
Here is a gallery of images for Windows 10 build 10166
Image 1 of 19
As you can see, the new build doesn't include huge changes, but now each new release is more stable and less buggy, which brings Windows 10 closer to be an operating system that you can use in the daily basis.
Are you satisfied with the direction Microsoft has taken with Windows 10? Tell us what you think in the comments below.
Windows Central Newsletter
Get the best of Windows Central in your inbox, every day!
Mauro Huculak is technical writer for WindowsCentral.com. His primary focus is to write comprehensive how-tos to help users get the most out of Windows 10 and its many related technologies. He has an IT background with professional certifications from Microsoft, Cisco, and CompTIA, and he's a recognized member of the Microsoft MVP community.
I was aware of that. Thanks.

You must be forgetting the myriad of Windows tablets with only 16 or 32GB of space...
For those devices, saving apps to SD is a huge deal.

I had forgotten that actually. Thank you for explaining.

Yeah. Not having them at launch would give headaches to those users suffering from low storage space warnings.

Maybe windows is aware about the difference between desktop PC and tablets? And so it doesn't offers the option on full PC

I don't think that's the case. I think they disabled it due to bugs and will launch without it.

Maybe people should stop being a cheap-ass and think of storage space when making a purchase...

Really, you -still- cannot save apps to SD card?

Dafuq isnt this available until now

This. Didn't we have this feature already enabled several builds back or did I just imagine it? Whatever the issue is with this, I hope they get it fully functional by launch...

It was definitely enabled before, now it's greyed out.

Yes it was.... it's essential for me.... Posted via the Windows Central App for Android

You just need to redirect the install folder to the SD.

I cant even muster how annoyed I am with windows central. This is a post for yesterday not today. That build came out yesterday. Was waiting for the mobile build post and instead I am getting pc build post that's supposed to be from yesterday.

Then wait for the post you want and don't read this one. I just saved you about five minutes.

Sounds like somebody's panties are getting a little chapped.

Umm...you kind of need a little time with the os to find out what stands out. Impatient much?

So do pray tell, is everyone you know telepathic or have access to a crystal ball? I imagine that answer to be a no, so how do you expect these guys to know what is in the build without using it?? Lol, the ignorance of some is just unbelievable.

The background reminds me of the Witcher 3 :)

Since both mobile and desktop have the same build number, does that mean they are at the same progressing toward retail products?

Unfortunately no. That just means there have been the same number of times that the developers have hit "Compile" on their code for both pc and mobile builds.

I don't think so. The level of polish of the desktop builds is far ahead of the mobile ones. Also, one is due this month while the other IIRC will be released around October.

I personally think it'll be out in September, before iOS 9.

I'm on build 10162 and can't find this update.. Tried reseting the windows update, tried almost everything but still it says up to date. Any solution to this?

Are you on fast ring? If not it might not be available to you yet. I think you can switch to fast ring from the update page if you arent already. Not sure why else it wouldnt show up. I got it last night on my surface pro 2.

Yes, I'm already on the fast ring. Don't really know what the problem is.

Same here. I'm on fast ring but still on 10162.

Same here but i am glad there are more people with the problem :D

Check that you have Windows Insider app installed and opted in, that got me from 10162 to 10166. Good luck

My update was automatic, didn't even have to run Windows Update :)

In case you are not aware, Microsoft makes it impossible to change default search provider to Google in Edge. You can only change search provider to a website that supports OpenSearch protocol, which Google does not. So I guess I have to use Chrome with google rather than Edge with Bing.

That's on Google for not embracing the standard.

When you got a new browser and you want people to use it, you need to support the most essential functions. One of them is able to change the search provider to google. Actually they just need to support google and bing and everyone would be happy. They don't need to embrace a crappy standard that has little practical use. Why would I want to use wikipedia or twitter as the default search provider?

I hope before RTM they will update Edge to at least support that. If not, there are number of users will not use Edge or worse bash it on the social media for not having "Google".

Google doesn't support Windows in any other way and nobody gives a damn, Microsoft makes this new browser where Google search isn't compatible with it and everybody loses their mind

When Google doesn't support Windows Phone, no one cares because no one (except 3%) uses Windows Phone. When Microsoft does not support Google search, everyone cares because almost everyone (90% of desktop users) uses Windows and not having Google as the search engine is a major dealbreaker.

I see where you're trying to go, but I disagree. Google is openly hostile towards Microsoft but everyone just gives them a pass. And don't you think you have to partially count windows 8 and not having any apps there? Oh, and one more small correction, Google has about 75% share of desktop search in the US and about 70% globally. Bing has roughly 20% in case you were wondering.

illidanx We get it You love Google and you hate Microsoft.
Please keep posting anyway /s

I think, like me, he likes Microsoft but grudgingly admits that Google's search engine kicks the arse out of Bing. At least in the UK.

Maybe this means less people will use Google, who's products suck anyway. We can only hope! :D

Google could stand a bit of humility. Were it not for Windows, they would not be in the position they are today. Eventually the axiom "cut your nose of to spite your face" will teach Google a thing or two.

@J David: Google has all their services on their website so they don't need to make metro apps on W8. The majority of people don't care about metro apps anyway. About the market share you mentioned, well 20% users can use Edge if they want to, the rest just use Chrome. @Jimmy James I think it will be the opposite. People will move to Chrome and no one cares about Edge. @Mark Richey I don't think it will have any negative effect on Google. MS just shoot themselves in the foot when people keep using Chrome and don't give a damn about Edge. @Clamdigger63 I'm being critical here because I want MS to succeed with their new product but they keep shooting themselves in the foot with decisions like this. This is not the 90s when other companies have to support what MS want. This is 2015 when MS has to give what people need to succeed.

It isn't much of a standard if the search engine with 75% of the market doesn't use it. He has a point. Posted via the Windows Central App for Android

That's kind of a backwards argument. Guess micro-USB isn't much of a standard since iPhones don't use it. Standards are created to improve compatibility which the leader often does not want. It is often the case the proprietary 'standard' being used by the industry leader becomes the ad-hoc standard, which may, or may not be subject to licensing fees. That applies to hardware and software standards.

Screw Google. I wish Windows settings had a 'block all Google stuff' toggle.
Then I could sleep easier knowing I'm not being monitored and tracked by those evil bastards.
Sure I might miss the odd YouTube vid, but life would go on.

So speaks the voice of paranoid America.

I never miss YouTube vids with MyTube, better than anything Google offers.

A lot of websites will stop working. Because they are damn clever by running a CDN.

Can I ask where you got those wallpapers from?

It's a Windows Theme called "Footpaths". Thanks,

Pretty. Posted via the Windows Central App for Android

I kind of disappointed that the login screen still don't follow the desktop wallpaper and have an option to choose between image background or color theme. Still stuck with Hero image. :(

Eeeew. That hero image sucks. MS better give us an option to change it in RTM!

Obviously you can choose whatever picture you like. Sigh.

A login screen doesn't even makes sense. Why do I need another image after the lock screen and before the desktop screen?

I have started getting random shut Downs on my Acer S7 pro after upgrading to this build. This is the first build that I have experienced this.

There are aero glass theme in windows 10?

You can enable it from registry.

Great wallpapers! Would you mind sharing them? Especially the wallpaper/background on the first images.

I think I saw the 3D tile animation in Windows mobile version in the "Attract Loop" video

Need download and install manually options so that people will use windows 10 apps


I'm also getting my first serious bug in this build. My start button, Cortana or action center won't open, although I can access everything else on the task bar. Hot keys don't work either.

Desktop 10166 is a step backwards in as much as there is a new bug that make it difficult to use. The Start Menu crashes/closes almost as soon as you open it. I've had Cortana problems, I didn't have on 10662. The question is whether to wait for the next build and hope they fix it fast or restore to previous working build, which is a lot of work.

I think somebody needs to take 10 seconds to proofread an article before posting.

I cannot this to download on my Lenovo ThinkPad 8. I've tried every thing and am on the fast ring running 10162.

I'm new to the preview, is there no Onedrive app anymore? Posted via the Windows Central App for Android

Yup, no OneDrive app...and I'm mad as hell, and I'm not going to take it any more. ;). I really hope that will change. Since the placeholder files are gone, and you only get to see those files/folders you sync in file manager, having a dedicated way to see and manage all your OneDrive files, other than web browser, really would be nice. (actually essential)

Has anyone tried this on a Surface 3??? Got it on my Dell Venue 8 Pro and it seems rock solid although the well known screen sensitivity issue (multiple "hits") with the V8P is back. I imagine W10 has installed a generic driver instead of the Dell sourced driver but yet to look at that.

Tried getting the drivers from Dell? My Venue 8 seems OK, but my Venue 11 didn't support the pen at all before going out to Dell and getting the Synaptics drivers.

اطلب من ميكروسوفت ويندوز بهذا الشكل شاهد الفيديو http://www.youtube.com/watch?v=YEac5y9rB04

I'm unable to set the start screen background in wp10 tp 10166 please help me regarding this