Here is what's new in January's Windows 10 cumulative OS update (KB3213986) for PC and Mobile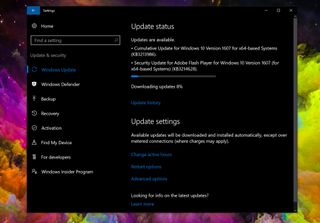 Microsoft has pushed the button for Windows 10 build 14393.693 for PC and Mobile users (non-Insiders, Production; also Release Preview).
There is no changelog yet posted, but we'll update this article with new information as it becomes available. For PC users, KB3213986 (opens in new tab) is the cumulative patch that will be installed.
As usual, there are no new features expected. However, improvements to the OS, bug fixes, and general optimizations are a part of this regular 'Patch Tuesday' rollout.
Update: The full changelog (opens in new tab) is now live. Here is what's new in KB3213986 for PC and Mobile
Improved the reliability of Groove Music playback in the background, App-V, video playback and Remote Desktop.
Addressed issue where after successful fingerprint authentication on a device with the screen off, the screen does not turn back on.
Addressed issue where only one input device works when you connect two similar input devices to the same machine.
Addressed issue in the App-V Connection Group that allows users to have access to pieces of functionality that they were not designated to for access.
Addressed issue that prevents users from selecting multiple certificates simultaneously through the UI.
Addressed issue where the Request Control function does not work with Remote Assistance if the user being assisted is on Windows Server 2008 R2 or Windows Server 2012.
Addressed issue that prevents a smart card module from pairing with a contactless smart card reader.
Addressed issue with license conversion of Server Core from evaluation version to a retail version.
Addressed issue that prevents users from opening Internet shortcut (.URL) files with Internet Explorer when Enhanced Protected Mode is enabled.
Addressed issue that prevents users from logging on if a device has been away from the corporate network over a period of time.
Addressed additional issues with Microsoft Edge, clustering, Internet Explorer, Windows Update, input devices, facial recognition, Logon, Hyper-V, PCI bus drivers and Windows Kernel.
Windows Central Newsletter
Get the best of Windows Central in in your inbox, every day!
Daniel Rubino is the Editor-in-chief of Windows Central, head reviewer, podcast co-host, and analyst. He has been covering Microsoft since 2007 when this site was called WMExperts (and later Windows Phone Central). His interests include Windows, laptops, next-gen computing, and for some reason, watches. Before all this tech stuff, he worked on a Ph.D. in linguistics, watched people sleep (for medical purposes!), and ran the projectors at movie theaters because it was fun.
Also available for release preview. Downloading on 950 and a PC at this moment.

Hope it solves the huge battery drain on 930 .... Please ... Microsoft hear your users :(

The battery gets old. The same thing for the processor. And since Windows 10 requires more and more hardware resources on mobile, I suspect that in the not so distant future, support and updates for devices like the 830, 930 and 1520 will stop, because the hardware won't be able to keep up with the development of the OS. The same story with the 920, 925, 1020 and the others will happen. So, all I can say is that it will get worse as time goes by..

I don't think that the hardware is the issue I know 2 more people that happens exactly the same with 930, beside that not long ago I had to reset the phone with DRT and I had it running 8.1 for 2 days and it was normal the battery life, and you see newer phones having the same issues I think it's software related, my sister for example as a 950 xl and stands for a day for example with normal usage but be careful, don't browser to much, don't check your pass, because if so even a day lasts for a phone with those specs is too little I think, but who am i ... Just an opinion

I only go through about half my battery in a day on my 950XL. Personally I would look at the applications running in the background and see what might be hogging the battery.

My 930 was a power eating monster on 8.1

Batteries also have a lifespan which also gets affected by how users charge their devices'...so it's definitely more hardware related and usage than the OS itself.

Agreed. I go ballistic at my drivers if they run the company phones completely flat. Arrgghh. Bugs the hell out of me. Overtime it can affect the conditioning of the battery.

My icon will go from 75% battery to 10% sitting on the nightstand overnight with nothing on. :\

check in battery which app is the drainer in the past 6 hours

I have the 930 and no issues with the battery.

I have had issues with battery and overheating ever since Windows 10 became available for the wide public. Lumia 930.

.594 seemed to fix the battery issues I had on .576 on my idol 4s

Same. 1 day mostly easily.

Same with 730. And also a display brightness issue.

Same with my 1520.. When i open instagram or camera for 2-5 mins, it drains from 95% to 5% and restarts, but it will not switch on until i plug in the charger. With the charger plugged in, no issues at all. I don't wanna throw away my battery before making sure it's the issue with battery or not. It all started after recent updates and really piss me off during urgent situations. Even after this latest update, it's the same -_-
Hope Microsoft solve this as i have seen much people having the same problem with the battery drain.

Same was happening to my L1520, i couldn't find a replacement battery so i bought 950XL.. But someone in the forums said battery dies if wireless charging is used extensively (which i did for more than an year)... Have you done the same?

No i haven't, just the regualr charging only.. It had no issues until last year May which is when i updated to W10. Since September or October i have this battery issue, all of a sudden after the update. Until that night it was all good, and the next day as usual i was checking the instagram in the morning and boom 100% to battery low. I'm planning to go back to W8.1 once i get a new phone. If the issue still continue, then i may replace the battery.

The 930 has always suffered pitifully with the battery. On top of that the phone is now getting old. Slippery downward slope for the power pack. Even a recent NOS purchase of a 930 will suffer with batt issues due to aging and no conditioning of cell / charging routine. I always try and go removable cell for easy cure of battery degradation. On the other hand, the 950xl and 950 have had a vast improvement on production, and even better on RS2!!

I used to have this issue. Try a hard reset and NO restore from backup.

You know, now that you have mention that in earlier versions once I have done that, don't remember in which version and I notice a big improvement in battery life, at the time I thought uau this version is rocking .... And now I see maybe your right maybe was the reset without restore, but everything got wrong again when a newer version came at the time, and thought dam Microsoft not again .... People here's my opinion again everyone one is telling that is the hardware, but I keep my opinion, this is software related, you guys remember when Microsoft starts to push updates that in the log said "battery improvements for older devices like 830,930....." that reference came in log for 3 or 4 versions anyone noticed improvements at the time ???? I didn't and they kept pushing updates for that and it was always the same, I think they gave up, and I think even in new ones the OS needs to be polished but a big big polish, hey don't hate me I love the OS, but let's get real this thing needs polish, and also change the store I hate the store not the store app but the apps inside it we are light years way from the other platforms in quantity and quality

Installing it on Lumia 638 Hope it fixes screen brightness issue after screen time out in Lumia 635/638

Did it fixed the brightness?

I hope there are some updates associated with the Photos app. I am having a weird problem where certain pictures aren't sharable for a day or so.....However, judging by the changelog it doesn't appear this will be addressed.

I'm in the fast ring, I have loads of issues with photos. Some won't display, some won't share.

I'm actually in production, so I was hoping to miss out on issues like this

Doesn't take me days, but does take me minutes sometimes. This only started happening recently.

It is just weird because I see the photo in the Photos app, but when I go to share it it isn't even available as a selection. (This is sharing via FB, Instagram, Twitter, Messaging)

I thought Windows already allows two similar input devices at the same time? I've been using a mechanical keyboard during the day and regular wireless membrane one at night for months.

I have an issue where Bluetooth keyboard stops working at random times. It stays connected to Bluetooth fine, but the button don't register in the phone anymore. I hope this addresses that.

My phone don't receive it yet iam in fast ring

This is production version not insider

You will not receive this update. You are on Red Stone 2 (Creators Update). This is an update to Red Stone 1 (Anniversary Update).

Just reading through the comments I didn't realise how common a problem was with the brightness issue! 950xl

I think it is hardware issue, it only happens to 950xl

not only for 950, lot of older devices have the same problem

Are the live tiles for Mail and Calendar still broken?

The last update screwed up Bluetooth (poor audio, wasn't transferring contacts to my car), screen would dim and not brighten, slow opening apps and a few other issues. I hope this fixes them. That last update made me feel like the OS made me feel when it first came out.

Me 2 guy. The December update was a steaming pile of💩. Downloading this now.

Couldn't agree more. Worst build in a long time.

Me too!!but still no update for my unlocked 959xl :'(

They didn't mention a thing about mobile in their changelog

Given the change log makes no mention to mobiles fixes/changes not sure why everyone is so excited.

Because we love updates 💋

Just updated on my Lumia 950. I think i see a small performance boost but im not sure

I noticed a performance increase as well. But then again, that last update kind of made my 950 run sluggish.

true.. something feels different... a biiiiit snappier perhaps :)

Definitely performing better..at least for now :D

After last update my lumia 830 doesn't restart.It shows Microsoft logo on display.Soft reset or returning to factory settings cannot turn the mobile on.

Same here on 735. Been sitting on the Blue Windows logo for quite some time...

It's a sign to you, Nokia android is coming.... Get ready to grab one

Don't see much that applies to mobile....

downloading it right now on my PC

To all those that say they notice performance improvements, I think it's placebo effect because when you update you have to restart your phoen and when you restart your phone you start your OS afresh so natually you will see an initial performance boost. I doubt they would tackle performance issues in Production builds.

My Lumia 650 stuck on windows logo

Download for PC seems to be stuck on 95% (HP Envy)... No, just took a while!
Mobile update seems to work fine (950) too.

Damn the WP10 has lots of bugs! They hurt their reputation with constant patches. I'd gladly pay for a working OS that introduced new features (if there were any phones available).

Downloaded and installed on L950 UK C.V seems to be the same nothing feels different. I wish they would fix the issue of notifications not clearing properly from Action Centre and random reboots

Anyone tried vpn in this mobile build? Hotspot shield for example?

Yes I did a moment ago and it still doesn't work.

Thanks. Now this is why i left insider program and why i'll remain in mobile build 10586.318. This is the only VPN working build. If an important function is broken I don't care how fast the phone is. Typical MS, don't cares feedbacks, fixes some bugs and creating more.

I use L2TP VPN connection to my own Synology NAS and to commercial VPN provider.. works, never have had any problems.. I manually enter the VPN specs...


Getting the update on PC but no sign of it on my 950xl.

Anyone out there with a 950XL that is having an issue with their front facing camera? When I launch mine, it stays black and then eventually throws an error message. I looked up the error message and it seems as if it may be a hardware issue. This issie isn't related to this update.

Hii guys!! Whats the change log for mobiles?? Any idea!!?

Boohoo... Still no Bluetooth

Ugh. It downloaded the update. Is there a way to reject these updates? Each update breaks my Plex synced files each time.

The camera app on my L950 hasnt been working for about two weeks now, sort of privacy settings issue.
I can use office lens though, so i don't think its a hardware problem.
I was hoping this update would fix this. Sad it didnt. Not sure if i can wait for the next Camera app update or attempt a restore to factory settings.

That's the battle cry of Windows 10 Mobile... "oh, your phone is doing what? Well that's because you didn't factory reset it". That lame excuse has run It's course. If I hear that as a solution again, I'm going to puke.

Thought I was the only one.

Are they even trying to fix the Camera app mobile version? Other apps can use the camera e.g. Skype preview, Office lens. Unable to launch Camera app and capture from within OneNote.

This broke the Messaging app. The new messages received starts with "Me:" followed by the actual message. It appears this was intended for new sent messages.

This build has my idol getting hot again....594 had fixed this issue and now its back on .693 .... Microsoft is beginning to piss me off

After reading all these comments i decided not to update 😄 on lumia 730.

Iam using L730 and find no issues

Now I Can't change backround wallpaper and Lockscreen again.. After apdate to build 10.0.393.594 and update again to this build I have same problem.. "Try a different photo" we can't set this one as your background.. Why.. this make mo bored..

I Mean build 10.0.14393.594

I am not getting any update in my mobile lumia 540. I am on insider fast ring

This update only for non insider...

I noticed increased performance. This update is way to much better than December update. Microsoft edge crashing issue in Windows 10 mobile (due to December update) has been resolved with this update.

December update was very smooth in my mobile. I see no changes in mobile with this update. May be some fixes.....

I hope this fixes the content resetting of my 950xl. The constant black screens because the os has crashed is making me wanna give up on win10. To me have nothing to look forward to or to get excited about and issues like this makes the dark time worse!

It could be a battery issue. I faced the same problem with my 950xl, and I replaced the battery with a new one. Now it's working fine.

I have a 930 and use it for work. I run lightspeed PointOfSales webapp from a pinned edge webpage. My battery juices out completely after 4-6 hour shift and possibly 2 hours outside of work- During the shift I occasionally read and watch news on the news app (great improvement, I definitely read more on the app after it got better- about an hour). I process about 3 sales an hour, make a phone or skype call (skype has also greatly improved) (5-10 minutes), use telegram and WhatsApp for about 30-45 minutes (all the time put together). Some updates have had the battery run better and cooler than others. When putting my phone to charge on most days I feel like the phone performed fairly well to impressive within every inch of It's 2420mAh battery. The dry details of how I typically use my phone will help you assess for yourself and hopefully with the following settings your 930 will do much better as well. (You will only enjoy the) Read ahead only if you consider battery life to be the single most necessary aspect of your phone. The main trade off (for most it may be the bitter pill to swallow) is the amoled display. Color profiles- the less vibrant the better. My phone background is a black (another tangent: I love the utilitarian look of this phone and having a black screen with transparent tiles and white icons fuses in so seamlessly with the black sides and top of the phone and the white backlit buttons go so well with those white icons. Always have my phone brightness on low. I have the dark theme with dark teal windows color. I make it a habit to shut apps the moment I'm done with them. I close unwanted tabs in my explorer often. I only have, cellular data and wifi lit in the drag down settings. Use location as and when needed, don't leave it on. I do have animations on although I haven't seen much difference in battery with it off. I would guess there is albeit minute. Only have the most crucial of apps with notifications turned on in the notification center. I have 5 notifications with sound active. Restart phone at least every second day. Using 930 while it charges is a big no-no. The battery becomes an easy-bake. I charge my phone when I come home from work usually stays connected for 2-3 hours. Standard original charger and cable. When I go to sleep I put it on its fatboy wireless charger pad and it stays there till I wake and then it goes on and off the pad as and when I use it (1 hour of news and telegram messages). It's like putting it to bed on a low voltage pillow. I like to believe this isn't as bad for the battery as the charging cord but Im no expert. And my phone is always on low ringer volume, vibrate on although vibrate off helps for longer battery. The latest update works fine. I have regular issues with html5 not loading properly in edge, always been an issue. The battery has been cool. The camera button has a mind of its own. It captures pictures and then the next moment It's behaving like the power button and restarting the phone. I have strong suspicions this has to do with software coding for reset/restart. 930 is going to get a little better but a lot worse. The speed of the phone especially when accessing photo gallery and such is going to get slower. Other aspects of the phone will progressively slow too. If anything, clearing up some space on the internal memory should help going further. Like another user said- The phone wasn't built for windows 10. It's doing a fair job so far. If you survived, hope this helps.

Build 15002 on fast ring for PC is available. I'm not sure if this is new, but I'm downloading it now

people with dated device should just chill and try to source out new batteries, no amount of software update will fix physical hardware issue. rechargable batteries tend to die after a certain charge cycle. nothing lasts forever.

Download n installed, working smooth.... L550 India

Very weird the update is 38mbs

They should do this kind of patches way often. I mean, my 950 xl has one Year now. ONE year. And still has bugs. Till they are solved another big update with changes and full of bugs emerges. So, their is no more bug free use with windows 10? They should step up the game. Soon another update comes out, and Anniversary update is still full of bugs and some things are still unfinished.

My battery drains like $#@% after this update.....urghh..... On my Lumia 540!

I still got issues with Remote desktop, even after the update. When i wanna make a - it becomes + really annoying. Danish Langue phone. So that bug has been for some time now.

Installed on l640. Same as before

Groove lag was sooooooooo annoying. Hope its really fixed.

Check if your SD card is faulty, it shouldn't lag

Brightness issue on L950 is still there....

L640 Lte - after upgrade it seems that the backside gets warm once I wake the screen up

Installed yesterday on 950XL. So far so good. Fuyll charge 5PM ... Now 11:20 and at 78%. Limited use. All apps functioning as they should.

Has anyone noticed the performance improvements rendering pages in Edge browser? When they yanked Amazon app, we were forced to go to the mobile site and at least for me, I had issues getting the site to load on Edge mobile. It was very unreliable. After this update, it has completely turned over for the better. I have a Lumia 950 ATT btw. From this improvement alone, I am very satisfied with this update. Curious if anyone else had these issues with Amazon's mobile site?

Amazon has a new app for windows 10 mobile devices go ahead and download the right.

Bricked my phone! ​AT&T 950. stuck on windows logo all night. Tried even removing battery, same thing. No other option than hard reset!!!

I stopped using the eye sign in as it used 60% of the battery 🔋 it was a joke

Maps still not working properly. Aerial mode just goes into a black screen. Doesn't load entirely if it does and slow. Crashes when trying to exit.

Crashing apps and web pages won't load. This update is in the garbage can!

This has stopped WiFi calling from working on my 950xl. It is enabled but never connects, tried restarting without sim trick, soft reset, nothing. May try a hard reset tomorrow.

All i can complain, is battery: Sucks!!! Big time. Lumia950xl

MS Edge browser is often unresponsive (not completely hanged) on PC version.

boy windows 10 mobile is a mess, my 950xl is all over the place when iti comes to watching videos across any website on the internet not just YouTube

http://www.Windows10KeySale.com I am afraid that you are unable to activate your Windows 7 Professional Key without a product key. You can just order one from the online site http://www.Windows10KeySale.com cooperated with Microsoft. All the product keys are legitimate and official. Then just activate your Windows 7 Professional Key with the purchased product key. The activation process is simple and easy to operate. http://www.Windows10KeySale.com
Windows Central Newsletter
Thank you for signing up to Windows Central. You will receive a verification email shortly.
There was a problem. Please refresh the page and try again.